Saç kavurma is a simple Turkish dish made with sauteed meat (often lamb or goat), peppers and spices. The dish is easy to prepare at home, and though it's traditionally made in a special cooking vessel known as a saç, it can be made in a Wok (or a cast iron pan in a pinch).
What is Saç Kavurma?
Kavurma refers to a dish made from onions and meat that's fried over high heat, namely in a traditional cooking vessel known as a saç. A saç is a thin metal pan used for cooking food at high temperatures. It's used like an Asian wok, and the metal is a similar thickness. The shape of a saç is different, and it's shaped more like a large metal plate than a bowl-shaped wok. (You can see one here.)
The word kavurma actually serves as the root word for other dishes in the region, namely korma in India, qovurma in Azerbaijan and ghormeh in Iran. At this point, the dishes aren't particularly related as they've all gone off in their own culinary direction.
Even if you don't have a Turkish saç pan, you can still make saç kavurma using a standard wok to create high heat and sear the meat in its own fat. Lacking a thin metal pan, you could also substitute a cast iron pan, just be sure to get the pan very hot before adding the meat.
Ingredients for Saç Kavurma
Generally, Turkish saç kavurma is made with either lamb or goat, cooked in its own fat and juices. There are also vegetarian saç kavurma variations that are made for fasting holidays.
This recipe for saç kavurma is adapted from The Turkish Cookbook, where it's described as the "ultimate Eid-al-Adha feast" because the lamb is traditionally roasted in its own fat (rendered lamb tail fat). Eid-al-Adha is an Islamic holiday known as the "Feast of the Sacrifice" because it honors Abraham's willingness to sacrifice his own son in obedience to God's command. This particular festival generally falls sometime mid-August.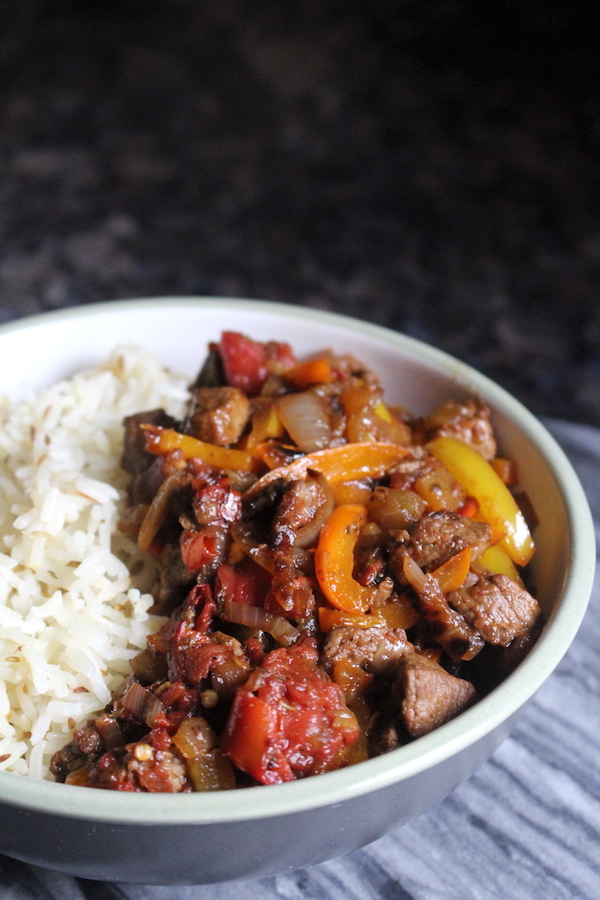 Lamb tail fat is a common ingredient in cultures where the cuisine relies heavily on lamb and mutton. It's common in many Mongolian dishes as well. We actually contacted a local sheep farmer trying to get a whole lamb (or mutton) to use in making traditional ethnic recipes, and we were told that he could not get the head or tail returned from the butcher (let alone the lungs which we also requested trying to make traditional Italian Easter recipes that call for "the pluck" or heart, liver, lungs, and esophagus all in one piece).
If you want a lamb tail for this one, you might have trouble finding it in the states. The original recipe suggests using ghee instead, and you might also be able to source just lamb fat for home rendering right from your butcher.
Yield: 4 servings
Saç Kavurma (Turkish Sautéed Spiced Lamb)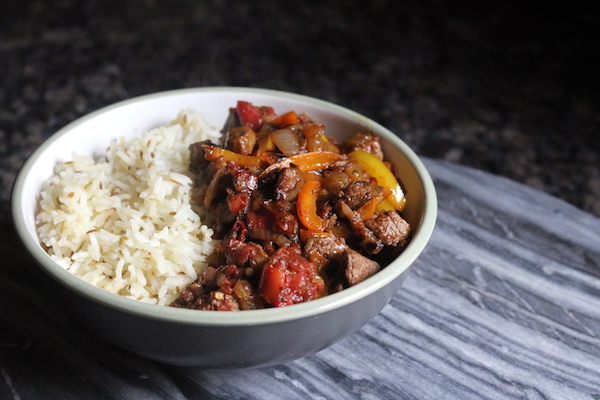 This Turkish Sautéed Spiced Lamb dish is a simple way to enjoy lamb. Start to finish in 30 minutes, it's delicious as well as traditional.
Ingredients
1/2 cup ghee (or rendered lamb fat)
1 1/2 lbs lamb kebab meat, finely diced (leg, backstrap, etc)
1 large onion, chopped
2-4 hot chili peppers (diced)
1 sweet pepper, seeded & chopped
1 tsp oregano, dried
1 tsp red pepper flakes, dried
1/2 tsp cumin, ground
1/2 tsp salt (more to taste if desired)
2 medium tomatoes, chopped
Cooked Rice to Serve
Instructions
Heat a large pan (sac, wok or cast iron pan) until very hot. Add oil (ghee or rendered fat) and heat for about 1 minute until the oil is almost smoking.
Add diced lamb meat and cook 8-10 minutes over high heat, stirring continuously.
Add the diced onion to the meat, and continue to cook for 8-10 minutes.
Add all the peppers, chilies and seasoning and continue to cook for 5 minutes.
Finally, add the tomatoes and cook for about 5 more minutes.
Remove from heat and serve with rice or flatbread.
Other Types of Kavurma
When I was looking for more background information on this dish, I found that there is another Turkish dish that's also called Kavurma. That variation is the "winter" version made by slowly rendering the finely minced meat similar to the technique for making confit in the west. Just as confit was traditionally used in France to store fatty meats such as duck in their own fat for extended periods, this "winter kavurma" was used in turkey to store lamb sealed in a layer of fat.
The lambs were traditionally slaughtered in the late fall, made into kavurma for storage, and used throughout the winter to flavor vegetable and rice dishes. In that way, a small amount of meat could be preserved to add flavor to meals for months, without having to feed an extra sheep through the winter.
Similar dishes are made throughout the middle east, and it's known as awarma in Lebanon and qāwurma in Iraq. I even found a very similar recipe in The Nordic Cookbook that's used in Iceland and Finland, so this potted lamb technique is far from limited to middle eastern cuisine.