Nothing like a little vegan winter comfort food right out of the slow cooker to boost your spirits in cold weather. Warm curry spices combined with cinnamon really bring this Lebanese butternut squash stew together.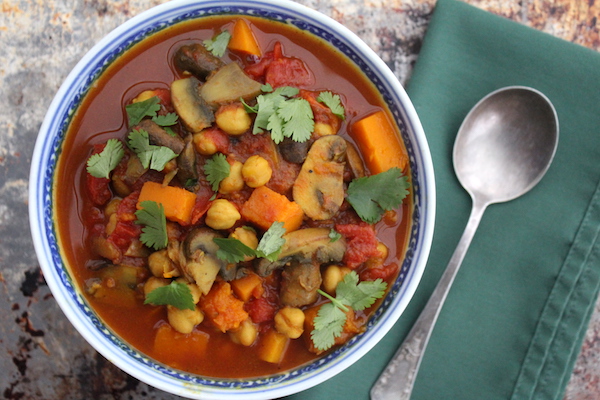 I came across this recipe for a middle eastern butternut squash stew in The Lebanese Kitchen, one of my new favorite cookbooks. I've yet to see a recipe in that book I didn't want to make, and it has over 500… I'm going to be busy with warm spices, sumac and pomegranate molasses for the foreseeable future.
Flipping through the pages I came across this simple stew and the combination of flavors caught my eye. Chickpeas add a bit of exotic flair, while mushrooms give a vegan stew a bit of umami. Warm curry and cinnamon tie it all together and infuse wonderfully into the butternut squash.
Even better, I had just about everything in the house except the mushrooms. An exotic meal without having to shell out for pricey ingredients? Yes, please!
The cookbook had you make this stew in a dutch oven, slowly simmered in a low oven. Instead of a dutch oven bake, I've made this stew in the slow cooker for convenience. Other than sauteeing up the onions, it's more or less a "dump and go" slow cooker recipe. Even the sautee step could be skipped if you're in a rush.
This batch went into the slow cooker as I was running out the door with the little ones, and when we returned later in the day, I'm happy to report that the recipe is toddler approved. The seasoning is just warm enough from the cinnamon and curry, but nothing particularly spicey is involved.
More Delicious Soup Recipes
Looking to expand your soup & stew collection? Try these recipes for bowls of comfort…
Lebanese Butternut Squash Stew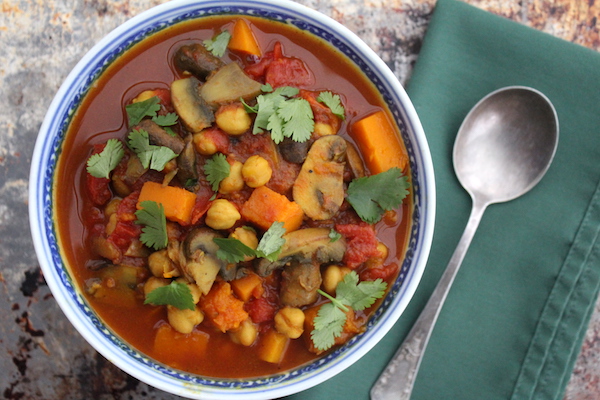 Butternut squash blends beautifully with chickpeas, mushrooms, and tomatoes in this warming middle eastern vegan comfort food.
Ingredients
3 cups butternut squash, peeled, seeded and cubed
2 cups stock
1 14 oz can chickpeas
3-4 cups cremini mushrooms, chopped
1 15 oz can diced tomatoes
2 tbsp tomato paste
2 tbsp dried minced onion, (or 1 onion, minced and sauteed)
2 tbsp curry powder
1 tsp garlic powder
1 tsp cumin
1 tsp salt
1 cinnamon stick
cillantro, to garnish, optional
Instructions
Add all ingredients into the slow cooker. Cook on low for 4 to 6 hours, until the squash is tender and the flavors are melded. Alternately, cook on high for 2-3 hours.