Dandelion liqueur captures the subtle honey herbal flavor of spring dandelion petals and it's a creative way to appreciate these short-lived sunny blossoms.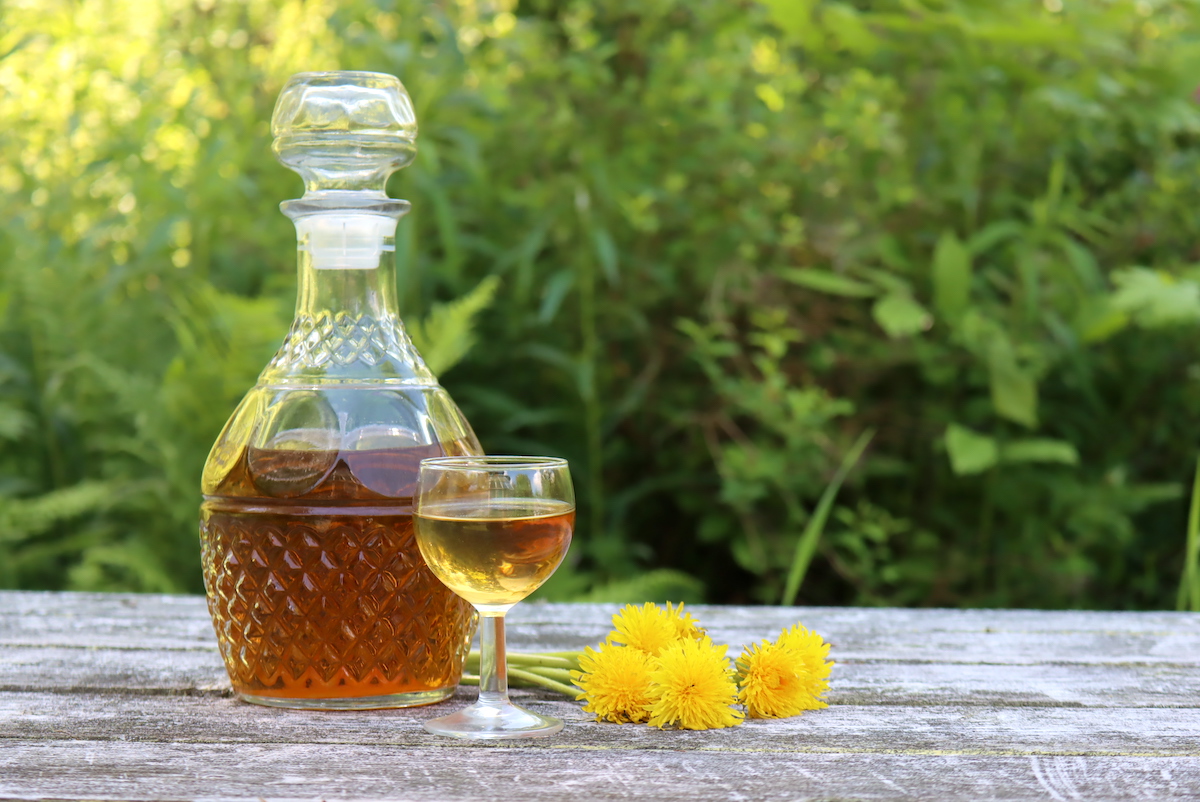 Dandelions are a short-lived treat, decorating our lawns when we're in such desperate need for color. I know, most people hate seeing this "weed' in their lawns, but I love them.
Not only are they some of the first flowers of spring, but they're also delicious edible flowers! Dandelion petals taste a bit like honey, and they're perfect in all manner of delicious dandelion recipes.
I make them into dandelion cookies with my kids each year, and when we're feeling ambitious, we'll even make homemade dandelion marshmallows. My son's favorite treats are squishy gummy bears, so we even made a batch of homemade dandelion gummy bears special for him.
Those kid-friendly treats are one of the ways I get my littles to pick extra blossoms for more adult recipes. Most years, we go all out and make homemade dandelion wine, but that's quite a project. This year, I was looking for something simpler.
With a dandelion cordial or liqueur, the alcohol is already made because it's a simple infusion made with vodka (or another neutral spirit). It's ready in just a few weeks (rather than months with wine), and you don't need all the winemaking equipment that's required for making a full-blown homemade wine.
This simple dandelion liqueur recipe is perfect for preserving the sunny honey-like flavor of dandelion blossoms for year-round sipping!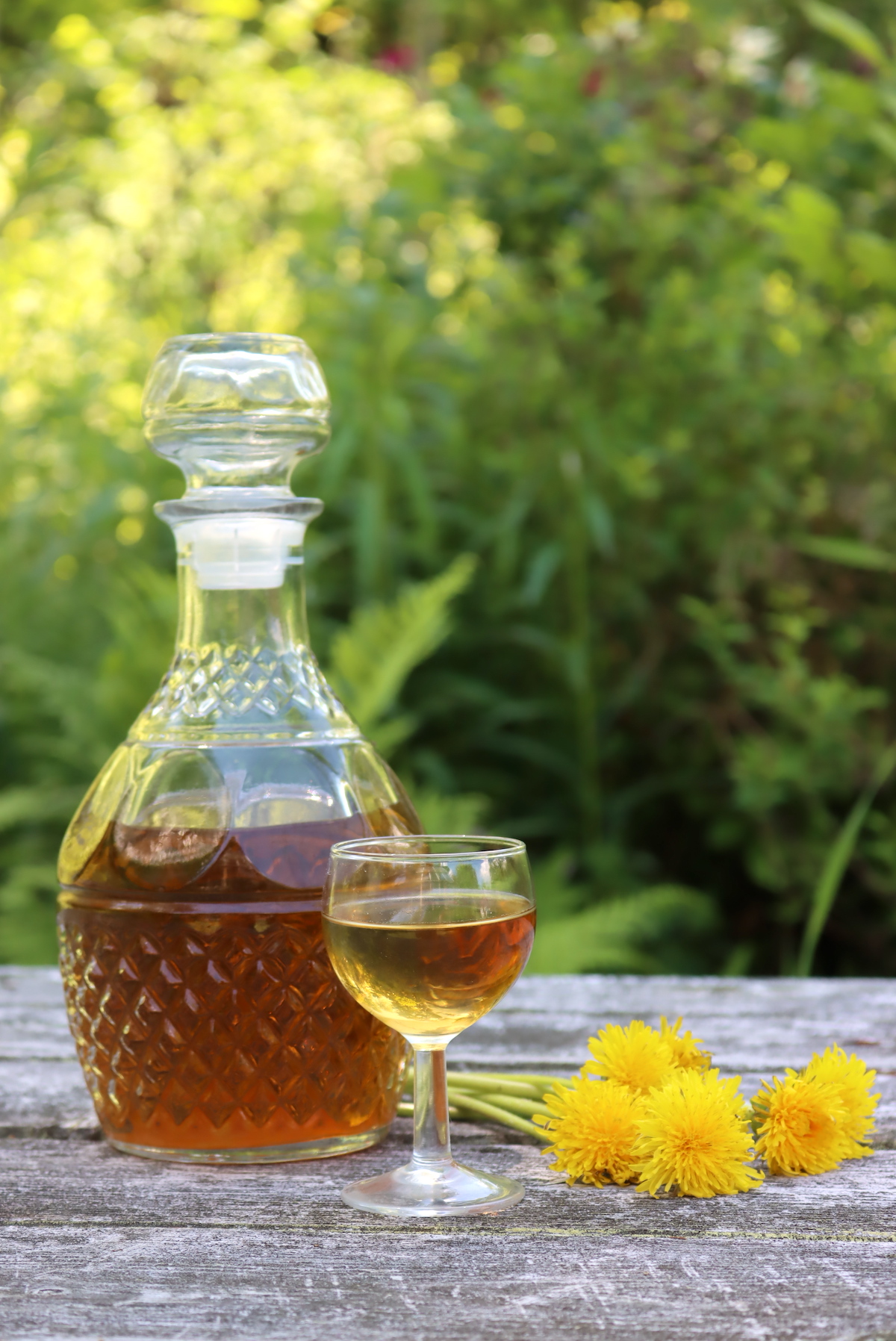 Recipe for Dandelion Liqueur
Found a recipe for "dandelion cordial" in the book "Wild Food for Every Table." It's a boozy American-type cordial, what people in Europe (and most other places) would call a liqueur.
Here are the instructions from Wild Food for Every Table:
"This golden cordial uses much less sugar than dandelion wine, and packs a stronger medicinal punch. Drink it straight or with seltzer over ice as an aperitif, or heat for a soothing toddy. In the depths of winter a sip of dandelion cordial is just like a hit of warm sunshine, and it will take you right back to the beautiful spring day when you picked the flowers — such a gift! For one quart: Pick at least 3 cups of dandelion flowerheads in full bloom. Once picked, the flowers will begin to close up, so work quickly to pull the yellow petals away from the bitter green base, and put the petals into a quart jar. Add a scant 1/3 cup of demerara sugar and the peel of one lemon, and fill the jar with vodka. Shake to mix, label, date, and leave to infuse for at least three weeks — longer is better, and this can steep for up to a year if you can wait that long to enjoy it. When ready, strain and store in another glass jar or bottle. Refrigeration not necessary. NOTE: To double the batch, don't double the sugar. Use a scant 1/2 cup for 1/2 gallon."
I actually used quite a bit more petals than that, and it was overwhelming. I'd suggest filling the jar no more than 1/4 to 1/3 with cleaned dandelion petals for best results.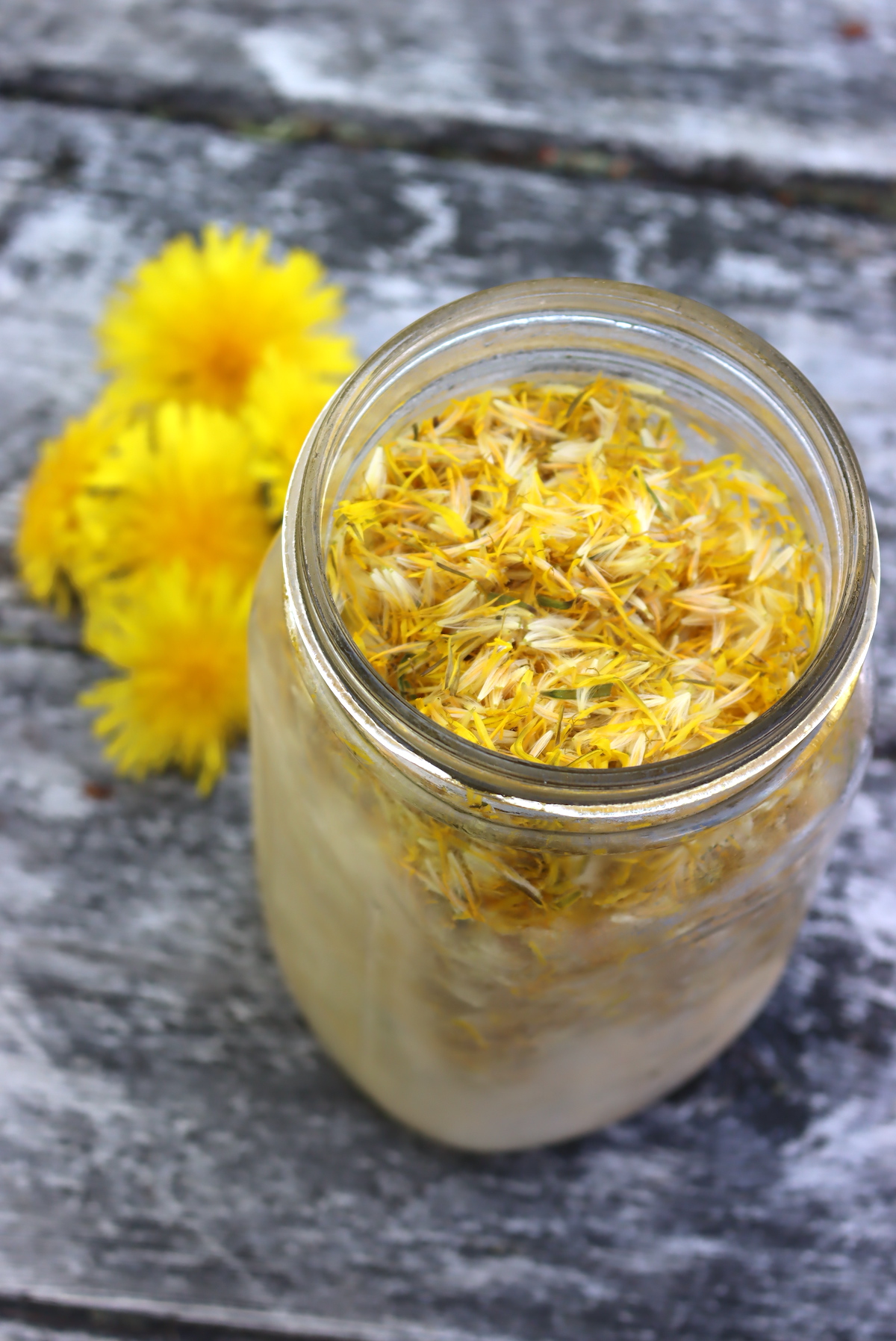 Ingredients for Dandelion Liqueur
To make dandelion liqueur, you'll need the following ingredients:
Dandelion petals, sepals removed
Neutral Spirit (like vodka)
Light Honey (like clover) or Demura Sugar
Lemon and orange zest & juice, optional
The recipe gets lots of herbal notes from the dandelion petals, and uses a light honey for sweetening, to bring out the honey natural honey flavor of the flowers. A bit of lemon zest adds balance, making this the perfect dandelion liqueur recipe.
It tastes like a herbal honey liqueur, largely because dandelions taste like honey (or maybe honey tastes like dandelions, depending on how you look at it…).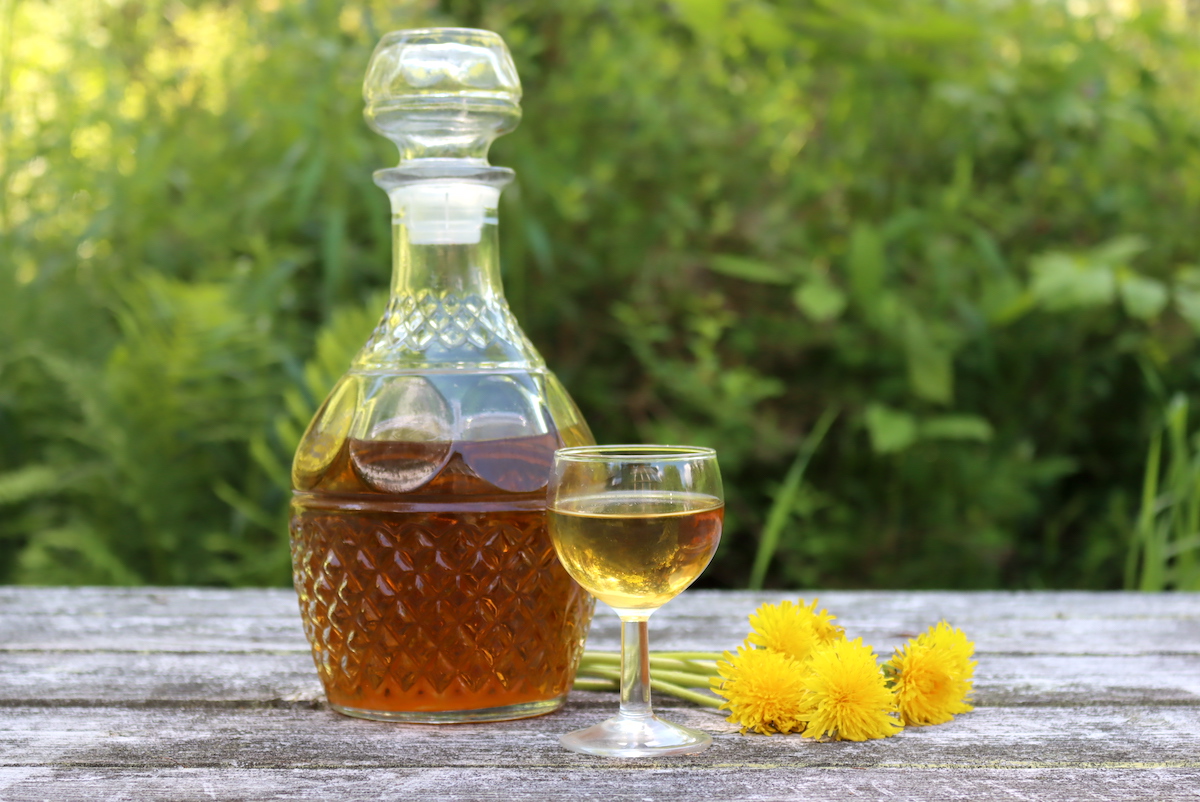 Making Dandelion Liqueur
To make dandelion liqueur, start by picking whole dandelion flower heads. You'll need about a quart of full, open blossoms to make a cup of cleaned dandelion petals.
Gently pull the dandelion petals out of the blossoms, taking care to leave all the green bits behind. The green parts of dandelions are bitter, and while they're edible, they won't taste good in dandelion liqueur.
Fill a quart jar about 1/4 of the way full of dandelion petals (this is a rough measurement, you can use slightly more or less). The first time I made this, I filled the jar all the way up with petals and it was overwhelming. Stick with just 1/4 to 1/3 of a jar full.
You can harvest dandelions as they bloom and clean them, then freeze the petals until you have enough. (Don't freeze the whole blossoms, as they close up quickly after picking and it's impossible to remove the petals unless they're fresh).
Fill the jar the rest of the way up with vodka, or a neutral spirit. (You want a mid-grade vodka here, as cheap vodka will ruin the taste.)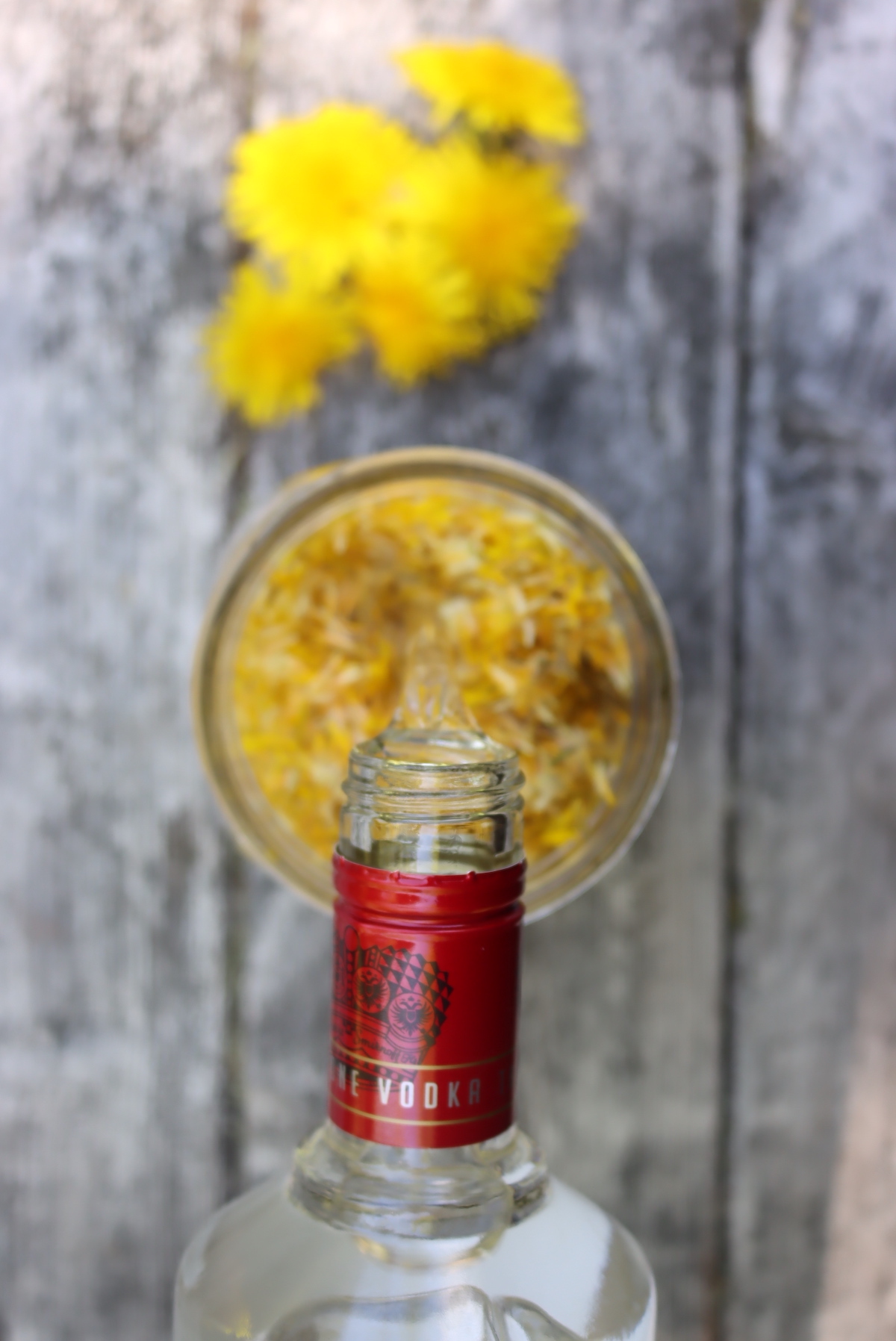 Allow the petals to infuse into the liqueur for about 2 to 3 weeks, shaking the jar every few days.
Once the petals have infused, strain through a fine mesh strainer.
Sweeten to taste, using light honey, or just plain sugar. I'd suggest about 1/4 cup if you're following this recipe. You'll have a bit less than a quart of dandelion infusion when you strain out the petals, and you should add roughly 1/4 cup of sweetener to the resulting infusion. (But adjust to your tastes, and either more or less is fine.)
Stir to combine, and then enjoy.
Once strained, this liqueur will keep indefinitely, but some of the flavors will start to fade after about a year. If you like it, plan on making a fresh batch each year.
Yield: Makes about 3 cups (roughly 800 ml)
Dandelion Liqueur
Dandelion liqueur captures the sweet honey like flavors of dandelion petals in an easy to make liqueur that can be enjoyed year round!
Additional Time
10 minutes
Total Time
14 days
30 minutes
Ingredients
1 cup dandelion petals (from 1 quart blossoms)
750 ml vodka (or neutral spirit)
1/4 cup light honey (or sugar)
Instructions
Harvest dandelion blossoms from a clean, un-sprayed location. The blossoms should be whole open dandelion flowers.
Carefully remove the dandelion petals (yellow parts), removing all the green parts. Do not leave any green parts, as they're bitter (but technically edible). From 1 quart of blossoms, you should get about 1 cup of petals.
Place the dandelion petals in a quart jar and cover with 750 ml of vodka (or neutral spirit). Cap with a tight fitting lid and shake to mix.
Allow the mixture to infuse for about 2 to 3 weeks, shaking every few days.
Once infused, strain through a fine mesh strainer.
Sweeten to taste with a light honey or sugar. I'd suggest about 1/4 cup for this recipe, but use more or less as it suits you.
Bottle and store, or enjoy immediately.
Notes
Once strained, this liqueur will keep indefinitely, but some of the flavors will start to fade after about a year.  If you like it, plan on making a fresh batch each year.
Dandelion Recipes
Looking for more easy ways to use dandelions in the kitchen?