This easy potato, leek, and nettle soup is a wonderful way to transition between winter and spring.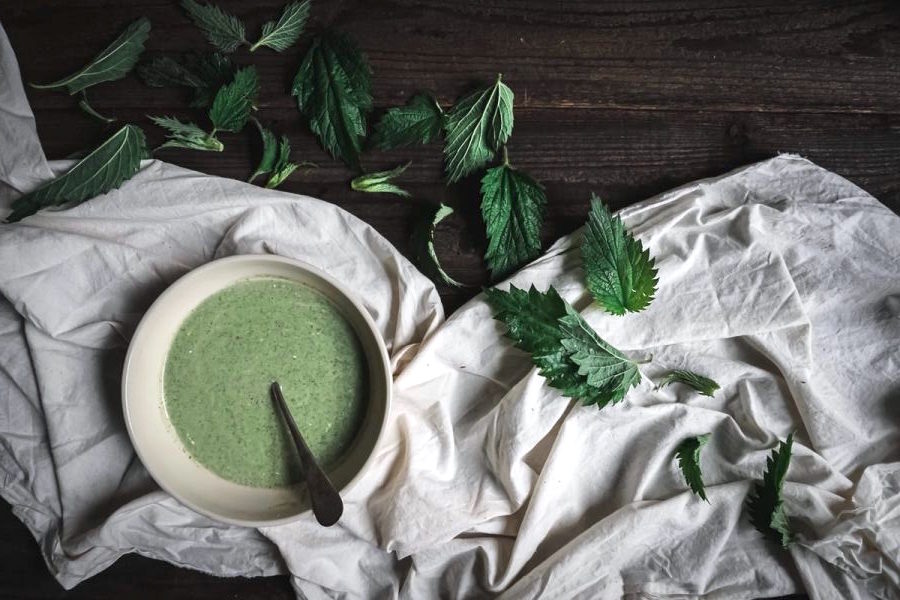 (This post was contributed by Melissa Keyser.)
Winter may be on its way out the door, but on those days that are dreary, or you just want a bowl of comfort, soup is always the answer. And nothing bridges the gap between winter and spring better than nettle soup!
I foraged for the nettles I'm using, but you can occasionally find them at farmers markets or upscale grocery stores. Most people consider them a weed, so it's unlikely you'll find them growing as a crop at your local farm. However, ask around! Your local farmer may very well have them growing on their farm edge and happy to harvest you some.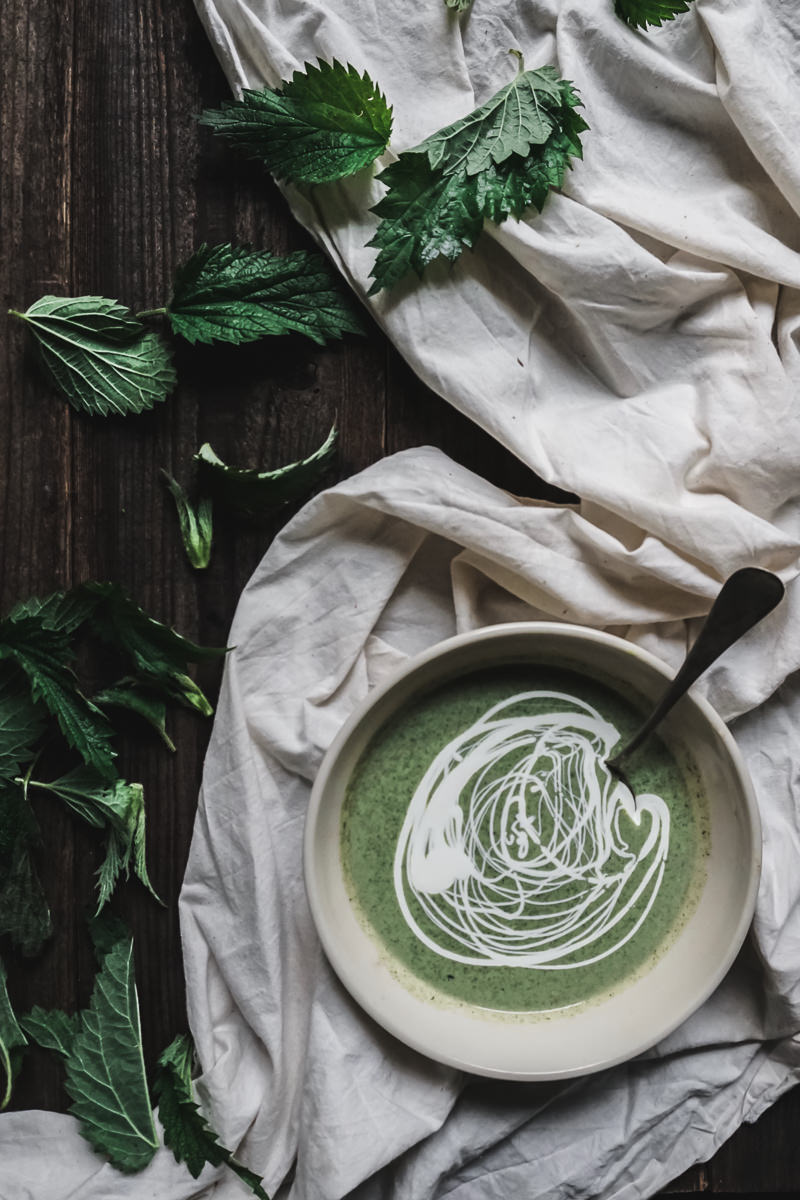 Nettle season is short, as they go to flower once it starts to warm up, so make sure to enjoy some nettle soup before it's too late!
Raw nettles will sting you. The hollow hairs that cover the leaves and stems are filled with formic acid (the same stuff in bee stings and ant bites) and will cause burning and itching for hours. Yet don't be discouraged from enjoying these spring greens! Simply use gloves while handling. The heat will disarm their sting, so make sure they are fully cooked before eating.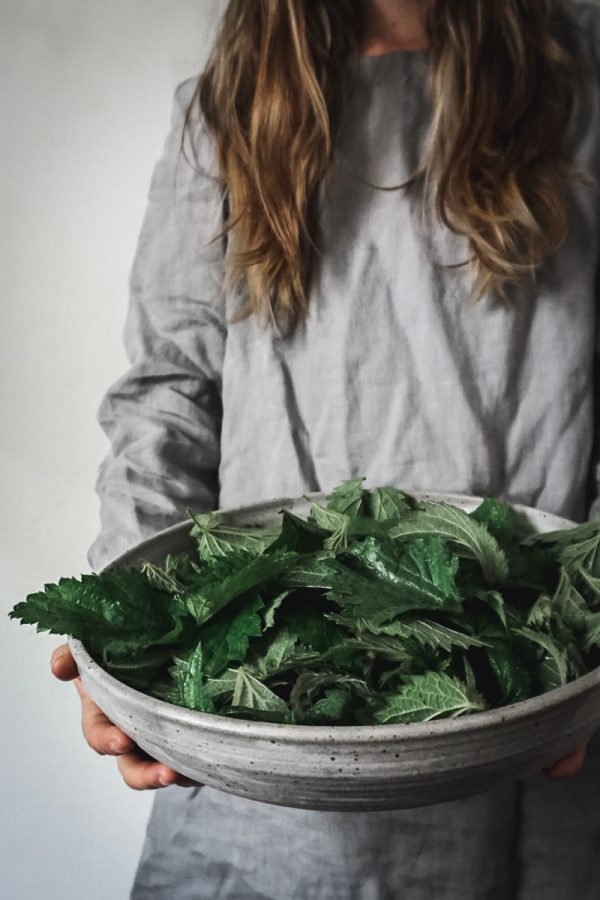 So why bother with such bothersome weeds?
Stinging nettles are super nutritious, containing vitamins A and C, iron, potassium, manganese and calcium. When used medicinally, they are considered to be anti-inflammatory and antirheumatic. And, when eaten in nettle soup, and other recipes, they are just plain delicious!
Besides the nettles, I used leeks and potatoes that I received in my weekly CSA box. The potatoes coming from the last harvest. If you live in a 4-season climate, this is the most beautiful soup to celebrate the bounty of spring! Newly dug young potatoes, rich cream, tender leeks, and of course, the vibrant green of the nettles combine for a delicious soup. Homemade chicken broth or stock is ideal, but store-bought works just as fine.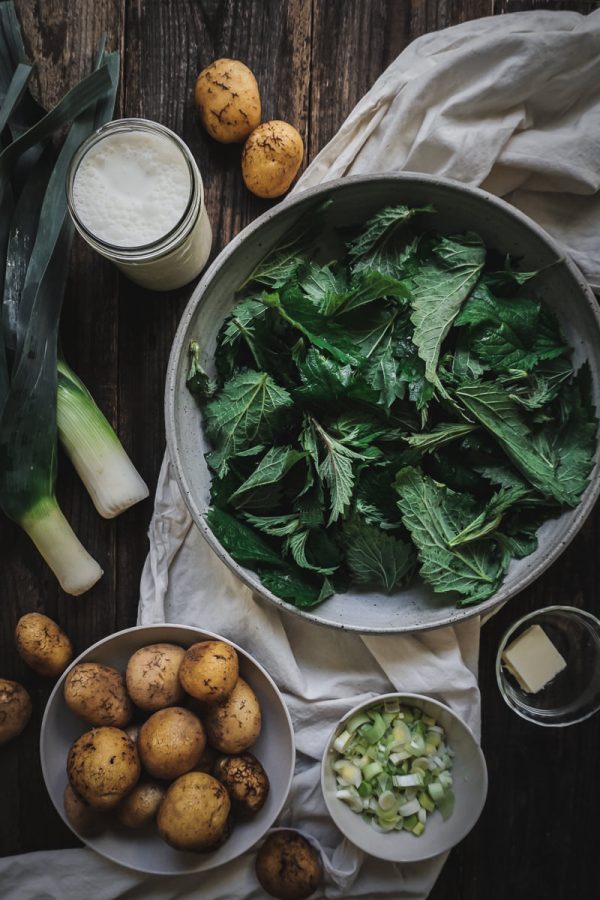 I shared this pot of nettle soup with my parents. Neither had enjoyed nettles before. My mom said it reminded her of cream of asparagus soup. Dad said it tasted "earthy". I think nettles add a bit of nuttiness to dishes, and in this soup, it adds a different dimension, another layer of flavor, to the more common leek and potato soup.
While I haven't tried it myself, I would imagine this would freeze well prior to adding the cream, making it possible to enjoy nettle soup season just a little bit longer. Before serving, for an added bit of luxury, stir in a swirl of crème fraîche. Serve alongside roasted meat, a salad, or cornbread for a fuller meal, or enjoy as a smaller portion.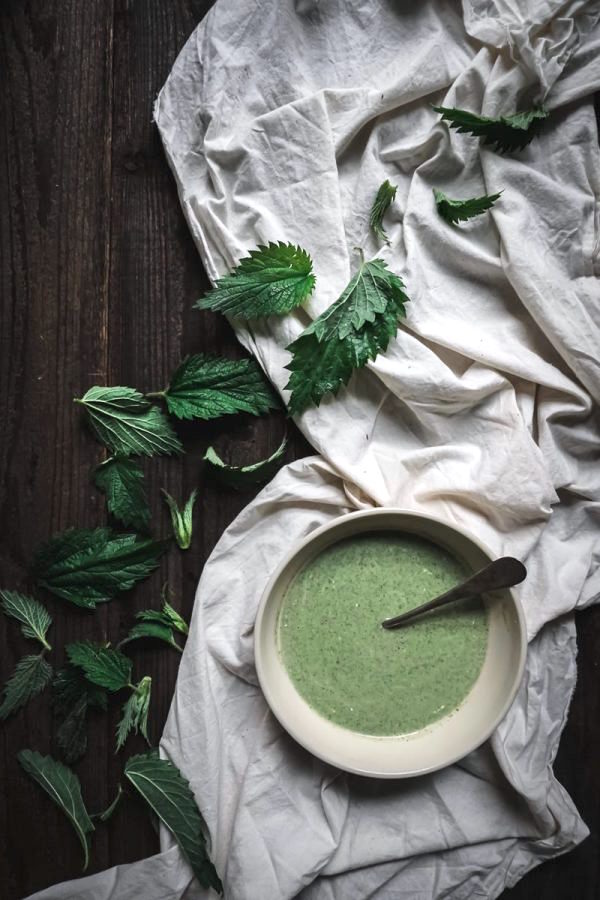 Make up a pot yourself and let me know how you like it!
More Delicious Soup Recipes
Looking to expand your soup & stew collection? Try these recipes for bowls of comfort…
Yield: 3-4 Servings
Potato, Leek and Nettle Soup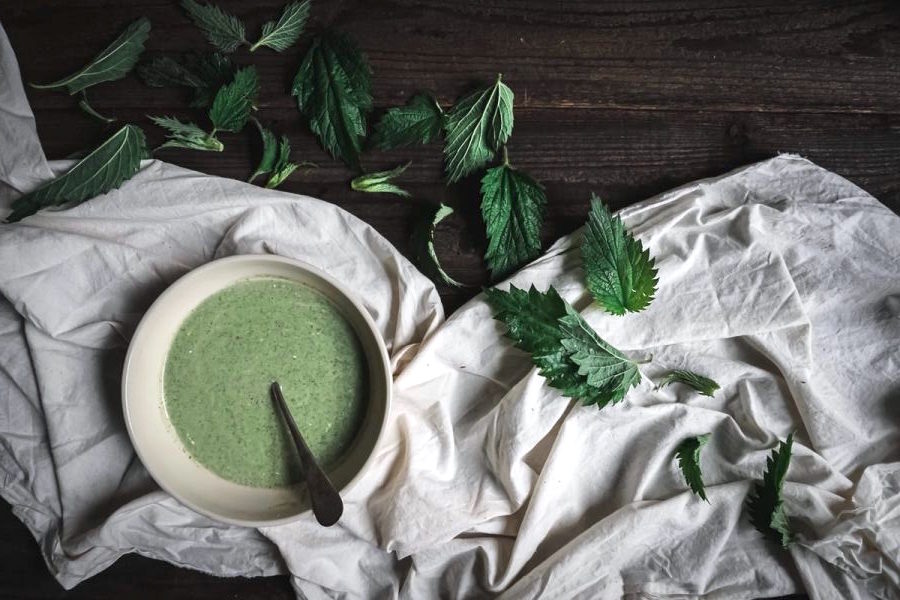 This easy potato, leek, and nettle soup is a wonderful way to transition between winter and spring.
Ingredients
about 4 oz fresh nettles
1 cup leeks, sliced into rounds
1 Tablespoon butter
1 clove garlic, chopped
about 1/2 pound Yukon Gold potatoes, peeled and chopped
4 cups chicken broth
1 cup cream
optional: crème fraîche
Instructions
Melt the butter in a soup pot, and add the leeks. Cook over medium heat until softened. Add the garlic, cook for a few minutes more.
Add the potatoes and the broth, cover, and simmer until the potatoes are almost tender.
Add the nettles and using a spoon to push the leaves under the liquid. Cover and simmer until potatoes are completely soft and nettle leaves are wilted.
Use an immersion blender, or carefully work in batches with a standup blender, puree the soup until smooth.
Add the cream and stir to combine. Warm over low heat if needed to bring back to temperature.
If desired, serve with a spoonful of crème fraîche.