Eplepai, or Norwegian Apple Pie, is a traditional apple dessert that's more like a cake than a pie. It takes just minutes to make and is packed with rich appley flavor.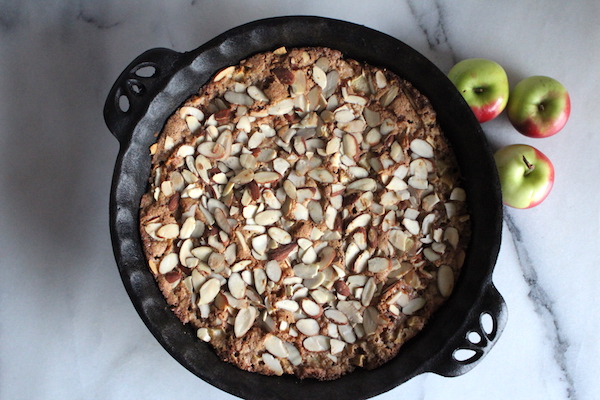 Apple cakes have become a staple in my household, especially with two apple loving pre-schoolers underfoot. To them, apple desserts are just about the perfect food, and I can't disagree.
Still, it gets old making the same apple pastries, and in an effort to keep things fresh I'm trying apple desserts from around the world. Searching for Norwegian Apple Cake, I actually found this tasty dessert instead.
This particular dessert is actually called an "apple pie" in Norway, and it's baked in a pie pan. Most of the world would consider it a cake, as the apples are stirred right into a stiff batter.
I found the recipe in The Great Scandinavian Baking Book, which notes that:
"Although this is called a "pie" in Norway, we would think of it as a cake. Incredibly simple to make, it's a perfect last-minute dessert when fresh apples are in season."
It is, in fact, incredibly simple to make and the most time-consuming part is peeling and chopping 3 apples…which takes all of 3 minutes.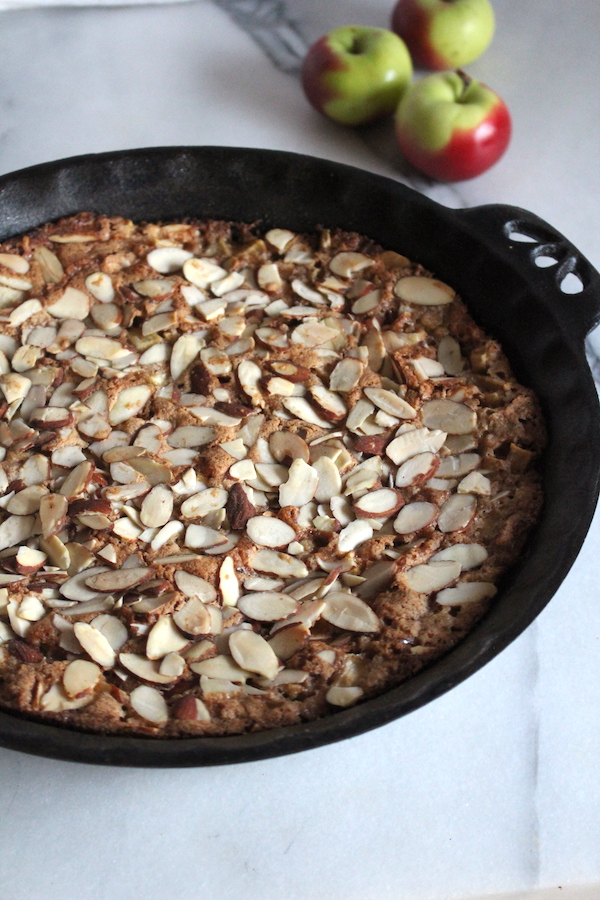 All the ingredients are thrown into a bowl, mixed, and then spooned into a pie pan. I chose to arrange the sliced almonds on top, but really they could just be stirred into the batter if you prefer.
Either way, the dessert comes together in about 10 minutes of hands-on time, followed by 30 minutes in the oven.
My 3-year-old son especially liked this one, and he asks for it by name now when I try to make other apple cakes. I can't complain, since by far this is the simplest apple cake I've made to date.
Yield: 1 pie (9'')
Norwegian Apple Pie (Eplepai)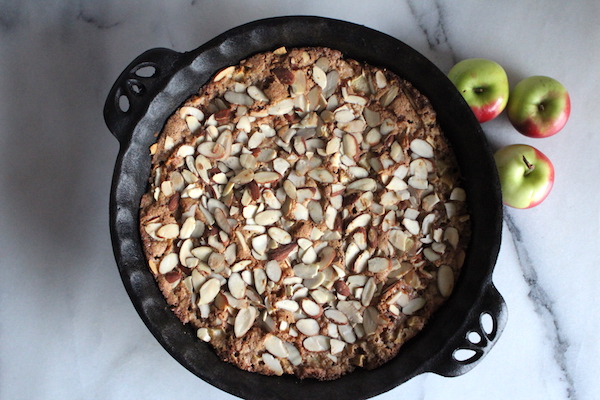 Eplepai or Norwegian Apple Pie is a quick homemade apple dessert that comes together in minutes.
Ingredients
1 egg
3/4 cup sugar
1 tsp vanilla extract
1 tsp baking powder
1/4 tsp salt
1 tsp cinnamon
1/2 cup flour (white all-purpose)
1/2 cup almonds, sliced
3 apples, pared, cored, and diced
topping
whipping cream
powdered sugar
Instructions
Preheat the oven to 350 degrees F (175 C).
Butter a 9'' pie pan, generously coating the bottom and sides.
Add all ingredients (except apples & almonds) into a large bowl and stir to combine.
Add apples and stir to coat (Mixture will be quite stiff).
Spoon the mixture into the pie pan, flatten with the back of a spoon, and top with sliced almonds.
Bake for 30 minutes until completely browned and cooked through.
Slice into wedges to serve.
Eplepai may be servee on its own, or topped with powdered sugar, whipped cream or ice cream.
Traditional Norwegian Dessert Recipes
Looking for more Norwegian treats? Here are a few to keep you cooking: