Brunede kartofler is a rare treat in Denmark but one that makes the holidays even more special. These caramel glazed potatoes will make you eat way too much as you sneak into the kitchen for just one more even after the meal, that is, if there are any left at all.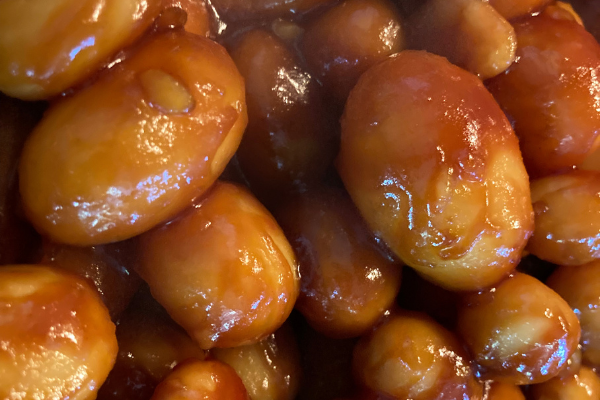 (This post is written by Pia Sonne, a native of Denmark and the writer behind the blog Busy Hands, Quiet Hearts.)
Most Danes eat brunede kartofler only twice a year, and they're a real treat that brings back memories of holidays past.
The first time is on Morten's aften (Morten's night, November 11th) where it's served as a side to either goose or duck.
The second time is on Christmas Eve, where Danes mostly eat it as a side to either a pork belly roast or duck or – let's be honest – both! They're eaten alongside all manner of other delicious Danish Christmas Recipes.
Regular boiled white potatoes are served along with the brunede kartofler.
The History of Brunede Kartofler
Danes have known of potatoes since the 1750s but it wasn't deemed fit for human consumption for a long time and it wasn't until the first half of the 19th century that it became a staple in Danish farm kitchens.
Around the 1890s the simple boiled potato found its way to the Christmas Eve dinner table in Denmark.
Brunede kartofler found their way there much earlier, at least in poorer households. It had been customary to serve goose with caramel-coated chestnuts since the middle ages. Chestnuts, however, were expensive, so the poor began using potatoes instead somewhere around 1820-1850.
(Ironic because chestnuts and chestnut flour were considered poor people's food just a few hundred years before that. Funny how times change, and now chestnuts are rich cuisine!)
Nowadays, brunede kartofler are viewed as a decadent dish, if not for the cost of the sugar, then because of the added calories. What was once a meager substitution is now something most Danes look forward to all year.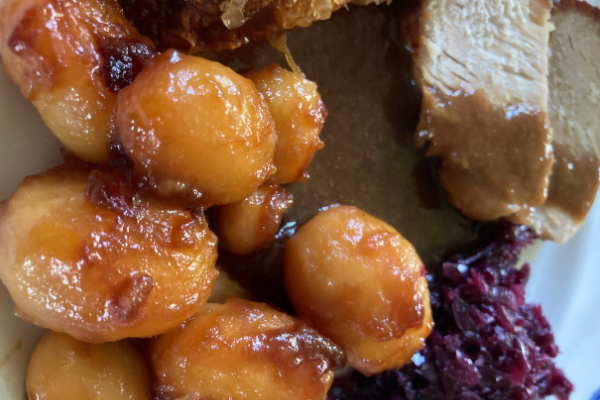 Tips for Making Perfect Brunede Kartofler
Brunede Kartofler is a simple, yet decadent dish, but it can go wrong if you're not careful.
Discard burned sugar
There's no saving burned sugar. It gets a really bad, bitter taste. If you burn the sugar or the caramel, then your only hope is to start over in a clean and dry pan.
Be careful
Not only is it easy to burn the sugar, but it'll also burn your skin like crazy if it gets on you. While you're working with the sugar, it's best to give it your full attention. Don't be texting or messing with your children at the same time.
Use the smallest potatoes you can find
There's no such thing as a too small potato when it comes to brunede kartofler. But there is such a thing as too big potatoes. For the best result and that perfect caramel taste in each bite, use the smallest potatoes you can get.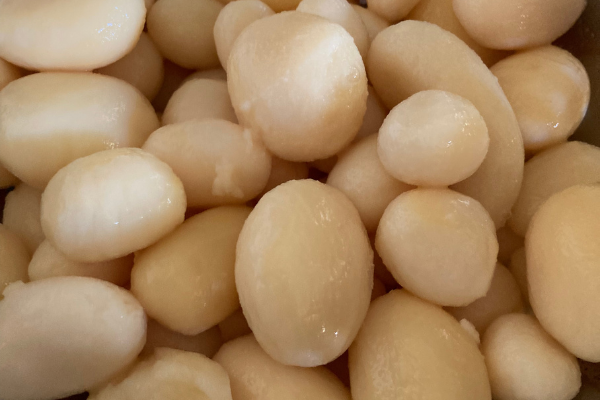 Variations in Denmark
Though it's a tradtional food, there are a number of variations in Denmark.
Adding Duck Fat
If you happen to have some duck fat on hand, then you can replace half of the butter with duck fat. This will deepen the flavor immensely.
Adding Water
Some like the caramel runnier and add a bit of water to get their desired consistency. If you'd like to add water to the recipe given here, try with 5 fluid oz (150 ml).
Brunede Kartofler Ingredients
Potatoes – I grew up using small jarred potatoes. These are essentially canned potatoes. If you can't find jarred potatoes or simply prefer using fresh potatoes, small baby potatoes or asparagus potatoes work best. Avoid using bigger potatoes, even if you cut them up, the result isn't quite the same.
Sugar – Danes traditionally use sugar from sugarbeets but you can also use cane sugar. Any crystalized white sugar will give you the most original taste but feel free to experiment with a caramel based on sugars with a deeper taste such as muscovado.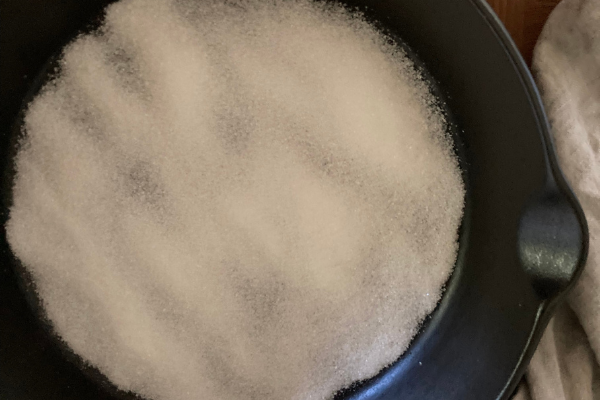 Butter – There really is no point attempting to make these with anything but real, delicious butter. Raw, organic, and fresh butter is always best. Don't bother attempting it with margarine.
How to Make Brunede Kartofler
Brunede kartofler needs to be made right before serving but you can do a lot of the prep work the day before or earlier the same day.
This recipe comes from The Nordic Cookbook, which is an excellent resource.
Preparation
If you are working with jarred/canned potatoes, you can skip the prep work and go straight to serving day. (If you'd like, you can even can your own potatoes at home to save some prep work, provided you know how to use a pressure canner.)
If you are working with raw potatoes, you'll need to boil them and let them cool before you can use them for brunede kartofler.
First, slit an x in each end of the potato. This will make peeling them easier once they are boiled.
Then boil the potatoes in lightly salted water until they are just shy of tender. If you overcook them, they will have a tendency to get mushy when you add them to the caramel.
Place the boiled potatoes in a container filled with ice or cold water and peel them one by one. The cold water will stop the cooking process and make them easier to peel.
Once peeled, dab the potatoes dry and let them cool completely before moving on to the next step.
If you have prepared the potatoes the day before you need them, then store them in an airtight container in the fridge overnight.
On serving day
If you are using jarred potatoes, then dab them dry before adding them to the caramel.
Distribute the sugar evenly in a large frying pan big enough to hold and turn all the potatoes.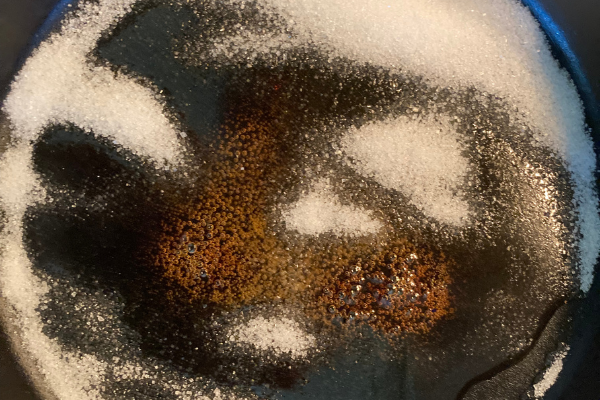 Melt the sugar over medium heat without stirring it until lightly golden. If you stir, the sugar will turn into rock hard lumps.
Add the butter to the sugar and let it bubble up and froth. Stir vigorously to combine the butter and sugar into a smooth, golden caramel.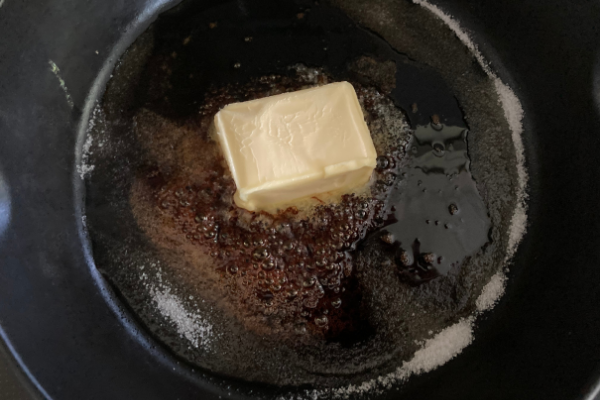 Add the potatoes to the caramel and turn them frequently to create an even coat of caramel on all sides.
Let the potatoes brown for about 15 min. They are done once they are all completely coated in caramel and warm.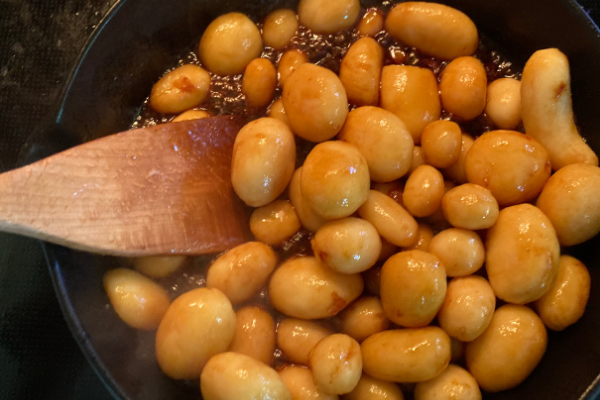 Serve straight away.
If you aren't serving all of them at once, you can keep them warm on the lowest heat while loosely covered by tin foil.
Yield: Serves 4-6 people as a side dish
Danish Brunede Kartofler (Browned Potatoes)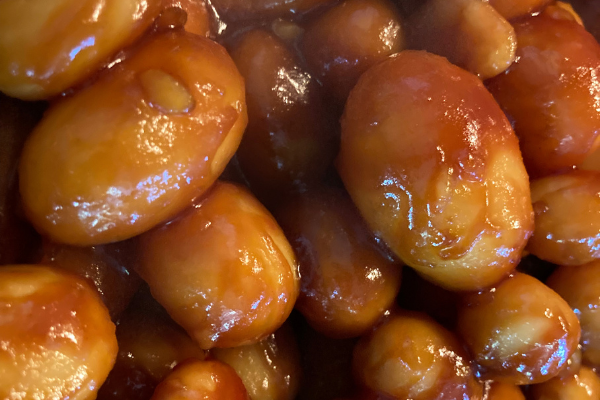 Danish Brunede Kartofler (Browned Potatoes) are a real treat for traditional holiday celebrations.
Ingredients
2 1/4 lb (1 kg) small, waxy jarred potatoes or fresh raw baby potatoes
3 oz (85 g) sugar
2 1/2 oz (50 g) butter
Instructions
Steps 1-4 can either be done the day before or the same day, several hours before serving.
If you are using raw potatoes, then make a small x with a knife on both ends of each potato, this will make them easier to peel once boiled.
Boil the potatoes in lightly salted water until just shy of tender.
Put the boiled potatoes in a container of cold or ice water and peel them using a small knife.
Dab the potatoes with a kitchen towel until they are dry and let them cool completely before continuing. Store in an airtight container in the fridge if you are preparing the potatoes the day before serving. If you are using jarred potatoes, then you can dab them dry just before you want to make the caramel.
Melt the sugar without stirring it over medium heat in a large frying pan until lightly golden.
Add the butter and let it bubble up.
Stir vigorously until you have a beautiful golden caramel.
Add the potatoes and let them brown in the pan for about 15 min while you turn them regularly. They are done once they are evenly coated and warm.
Serve straight away. You can keep the potatoes warm in the pan over low heat with a piece of tin foil lightly covering the pan.
Notes
You can add salt to taste but many Danes don't salt their brunede kartofler.
Further Reading on Brunede Kartofler
Looking for more information on making Brunede Kartofler?
Danish Recipes
Looking for other traditional Danish food to serve with your Danish Brown Potatoes?