Bread Machine Focaccia is a simple way to make delicious focaccia dough, and it's incredibly easy to bake in the oven once the bread machine has done all the hard work.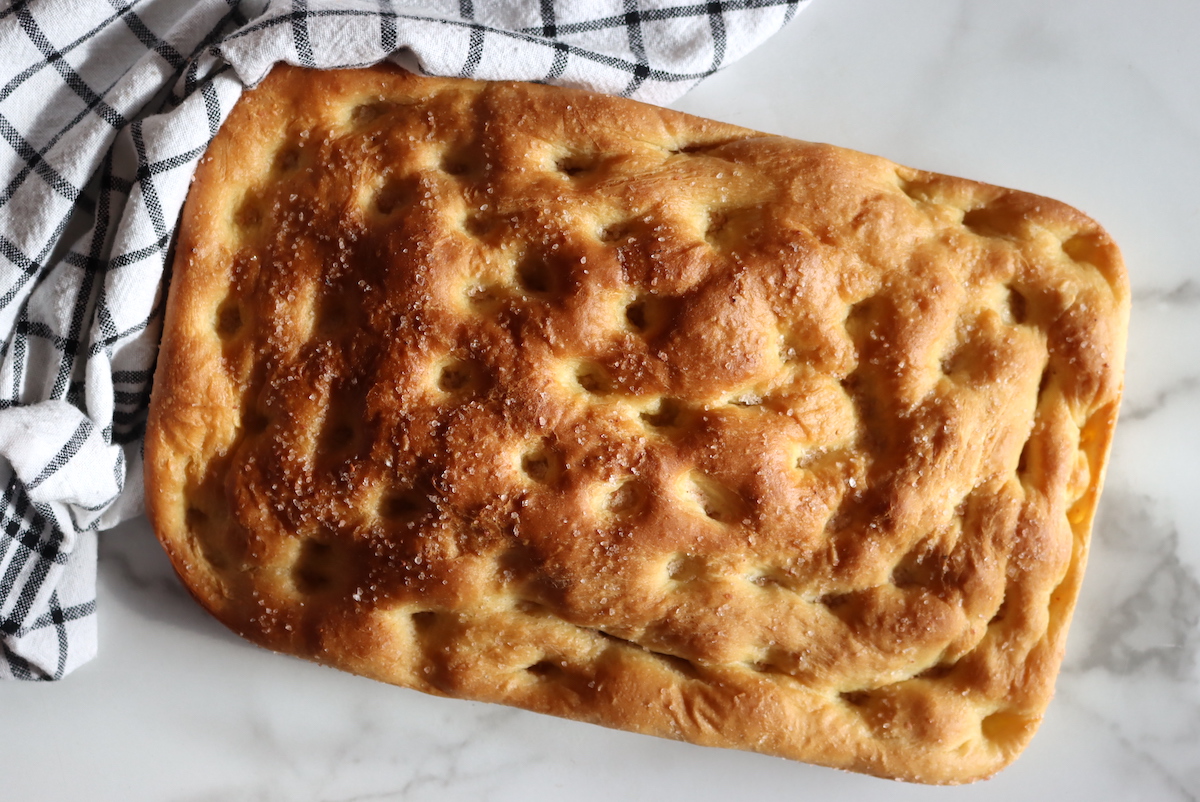 Homemade focaccia dough is incredibly easy to make in the bread machine, and it bakes up easily for a tasty homemade bread that's sure to please just about everyone at the table.
This easy-to-make flatbread is perfect with soups, Italian dishes, or sliced in half for tasty sandwiches.
Homemade sandwiches are actually the main reason I wanted to learn how to make focaccia in the bread machine. There's this incredible local bakery that used to make the absolute best sandwiches on fluffy focaccia bread. They baked it in a slightly smaller pan than you otherwise would, and it was just a bit thicker than the traditional flatbread. That means you could slice it in half horizontally and get two fluffy sandwich pieces with that perfect crisp salty piece on top.
The sandwiches themselves were simple, it was the bread that made them amazing. While homemade focaccia may seem intimidating, it's a snap if you make the dough in a bread machine.
With the help of a bread machine, making focaccia dough is effortless, and then it only takes a small amount of preparation to bake the dough into traditional crisp focaccia in the oven.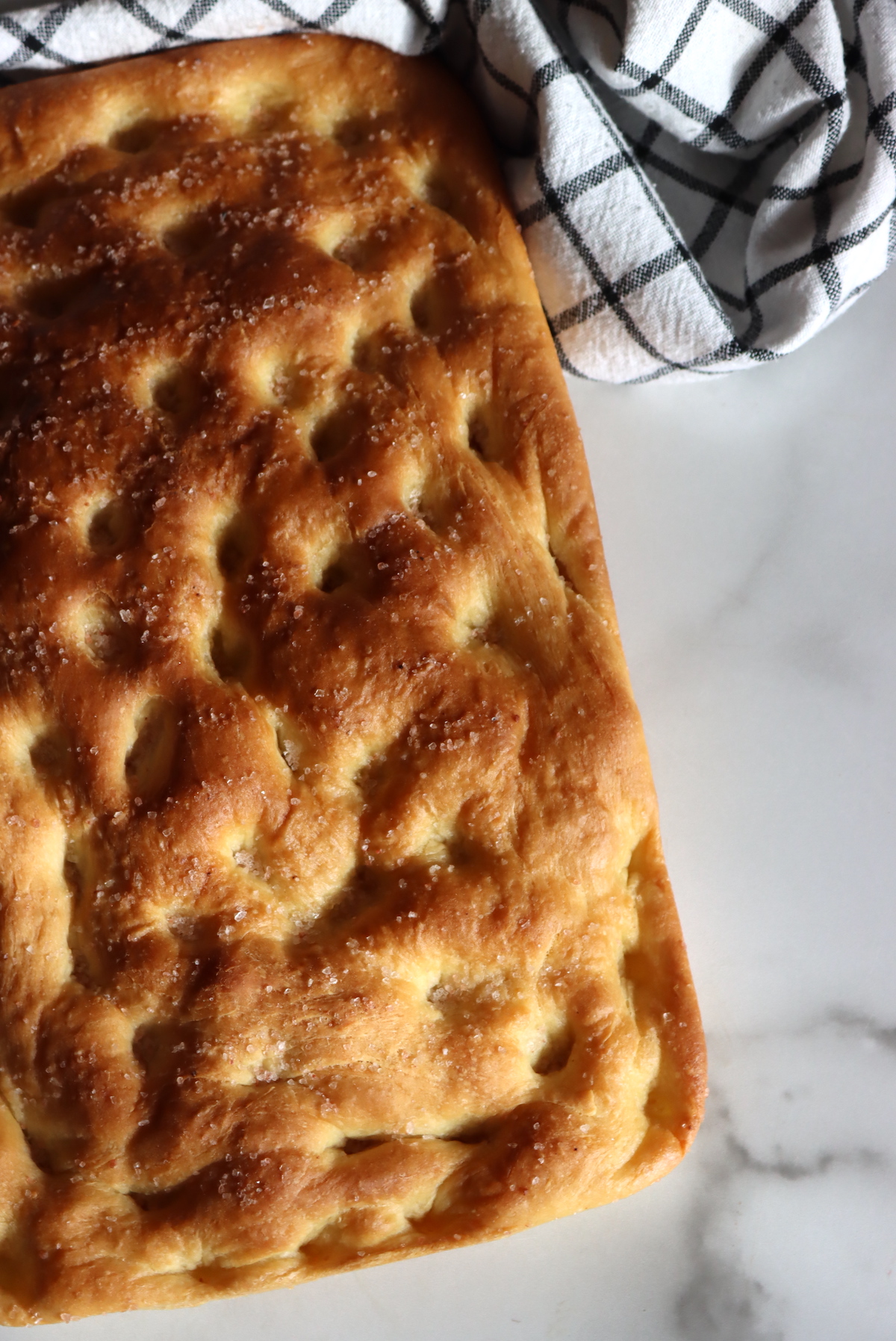 Making Focaccia Dough in the Bread Machine
If you're familiar with how a bread machine works, you know they're pretty simple to operate. The main difference here is we're making dough, not baking bread. All you need to do is select the dough cycle, which should be somewhere between an hour and a half and 2 hours long, depending on your machine.
Mine runs right at 1 hour 50 minutes, but the first 20 minutes are "preheat" which brings the ingredients up to the ideal temperature for the yeast. If you start with lukewarm (not hot) water, you can actually skip that preheat step and just program your bread machine using the manual setting if it has one. That'll cut the total time down to somewhere around 1 hour and 30 minutes with all the knead and rise steps included.
Start by adding all the wet ingredients to the bowl, which in this case includes water and olive oil.
Next, make a little island on top of the flour, and then place the yeast and salt in little wells in the flour island. The main reason for this is it allows you to use the time delay feature on your bread machine if you'd like, and that way the yeast isn't activated until the machine turns on.
Beyond that, keeping the flour on an island ensures that it mixes in evenly, and doesn't clump. The paddles pull down just a bit at a time into the liquid, ensuring even mixing.
When the cycle is complete, you should have a beautifully risen dough waiting for you inside your bread machine.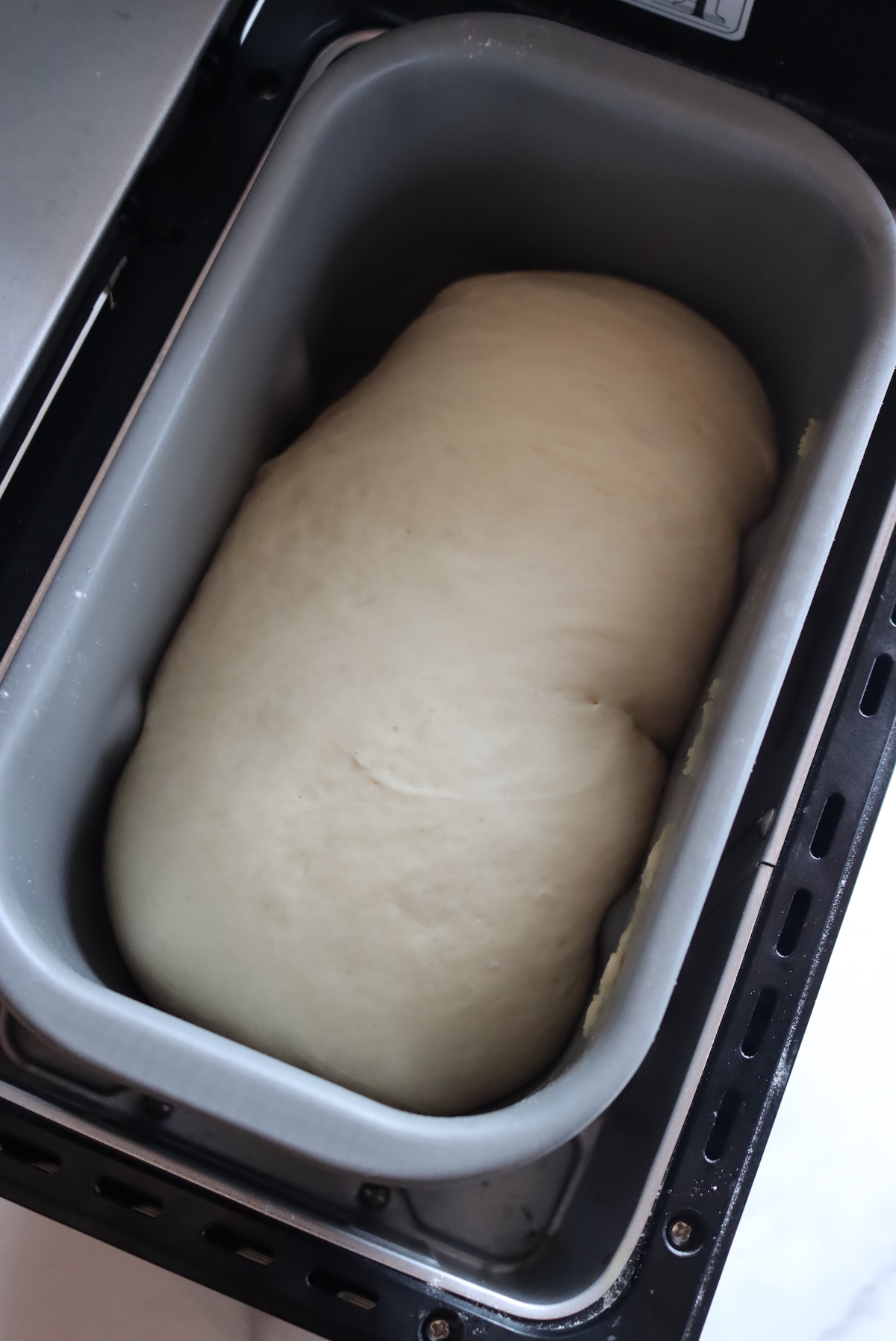 After the first rise, the bread machine turns off because that's when the dough should be punched down and shaped.
For cinnamon rolls or even just dinner rolls, you'd have a good bit of work on your hands, but for focaccia, all you have to do is press it out into a greased 9×13 in baking pan. Liberally greased with olive oil (you'll be adding more on top too).
I like to sprinkle salt on top too because it gives the finished focaccia a nice salty crunch.
You can use whatever toppings you like, or none at all. Traditional focaccia toppings include rosemary, caramelized onions, and kalamata olives. Or just salt and oil, as is my preference.
When the focaccia was shaped, all the air was pressed out, but that's ok. It's now time for the second rise.
Give it 45 minutes to an hour in a warm, draft-free spot until it's doubled in bulk. I usually set it on top of my stovetop while my oven is preheating. Just warm enough, around 80-90 degrees, but not hot enough to start it cooking.
If you don't have a warm spot in your house, no worries, it'll just take a bit longer but it'll get there. More like 90 minutes at a cool room temperature (60 to 70 degrees F).
Once it's doubled in bulk, time to finger press, and drizzle with olive oil and coarse salt.
Your goal in creating divots with your fingers is to prevent the loaf from puffing up into a cake, so it keeps part of its flatbread character. You don't want to punch out all the air here, just dimple it with fingerprints to help it retain its shape.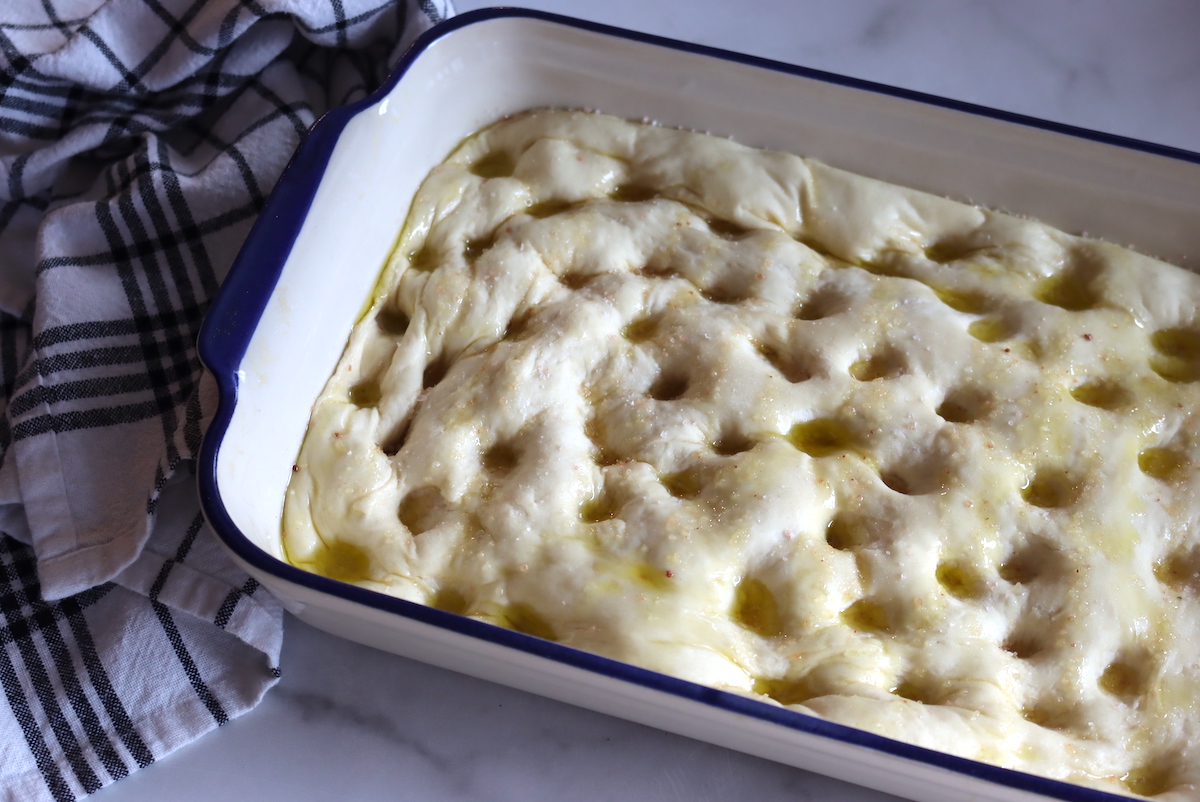 Baking Bread Machine Focaccia in the Oven
Even though you make focaccia dough in the bread machine, it has to bake in the oven, but it's worth it.
Focaccia really needs a nice wide pan so it stays as a flatbread.
If you really want crisp focaccia, bring a kettle of water to a boil on the stove and then pour it into a baking dish that you place in the oven with the focaccia. The steam in the oven will help form a nice crisp crust on the focaccia, and that's what commercial bakeries do. (Though they're using "steam injected ovens" rather than a simple pan of water, but it's the same effect.)
Preheat the oven to 425 degrees F and bake the focaccia for 20 to 25 minutes until golden brown and crisp.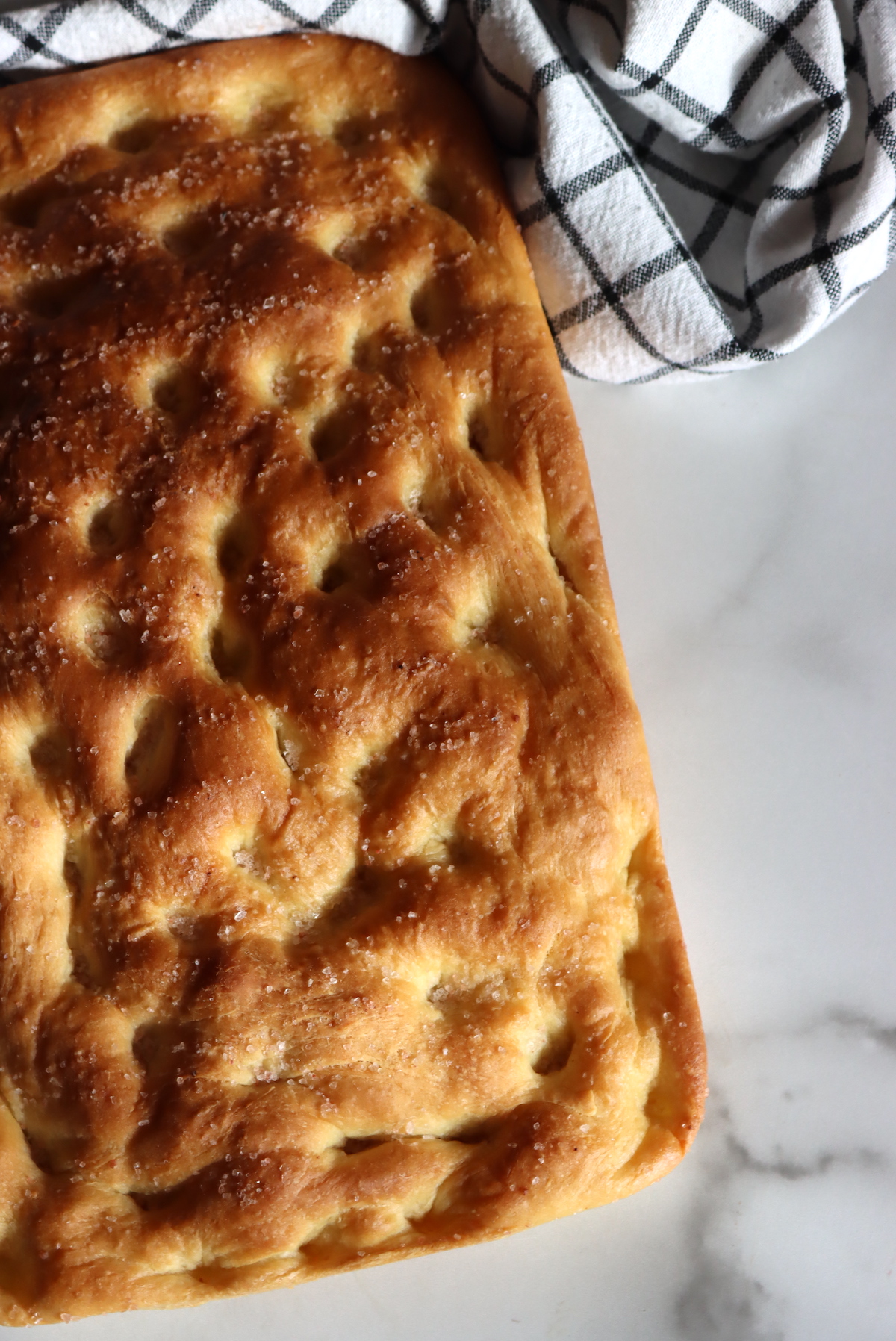 This recipe for bread machine focaccia is adapted from The All-New Ultimate Bread Machine Cookbook by Tom Lacalamita. I particularly love this bread machine cookbook because it has a number of really unique bread machine recipes, especially for international bread and specialty celebration breads (like easter bread, etc).
It also has an extensive collection of bread machine dough recipes, where the dough is made in the bread machine for ease and convenience, and then the actual bread is shaped and baked in a conventional oven.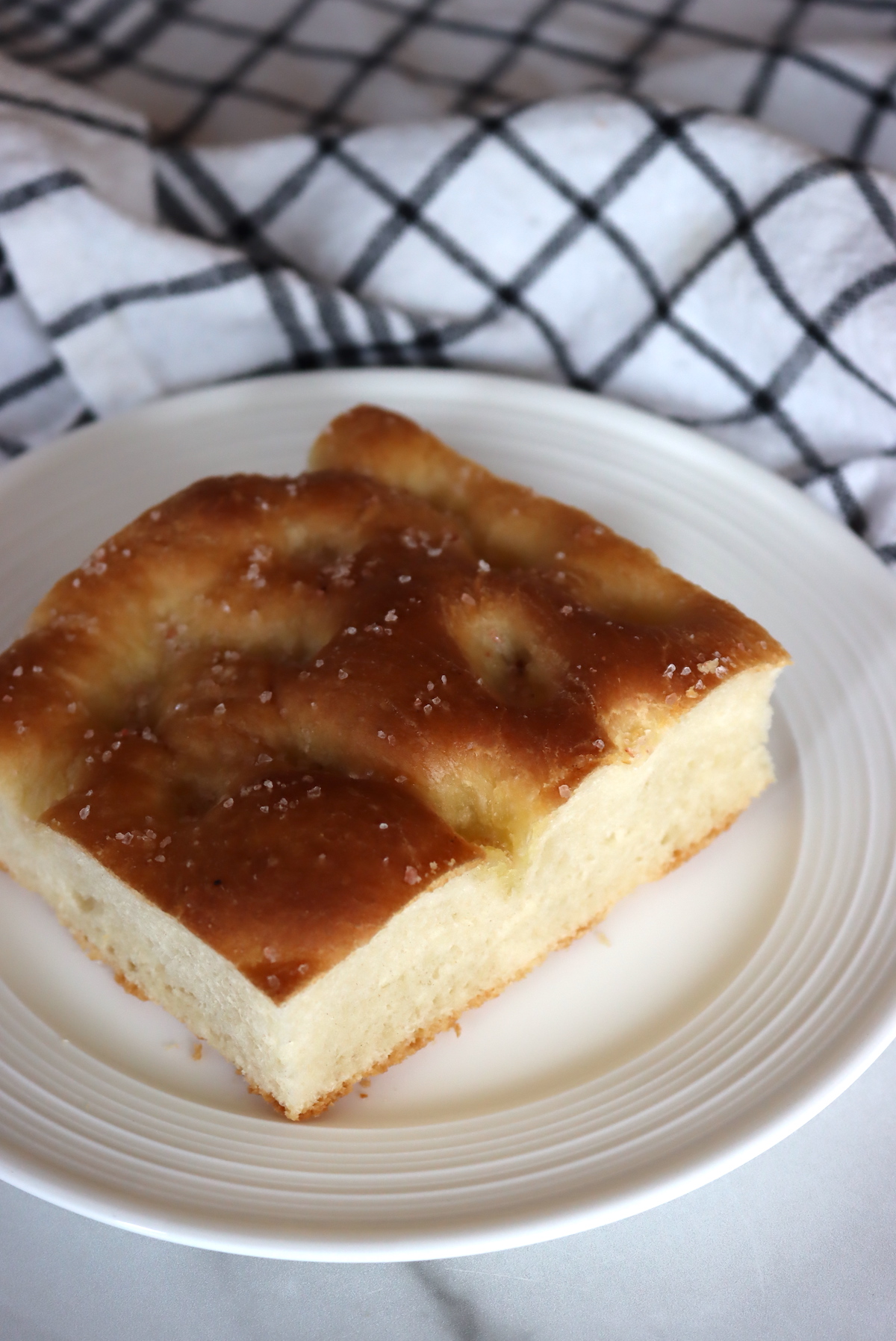 The hardest part of baking bread is making the dough, and getting everything kneaded properly. Using a bread machine automates that step, and still allows you to have perfectly baked bread.
There are nearly a dozen different shaped sweetbreads in the book, from brioche to sticky buns and Danish Kringle. He also has recipes for making yeasted donut dough in the bread machine, if you're adventurous enough to fry them afterward.
Yield: Makes on large 9x13 flatbread
Bread Machine Focaccia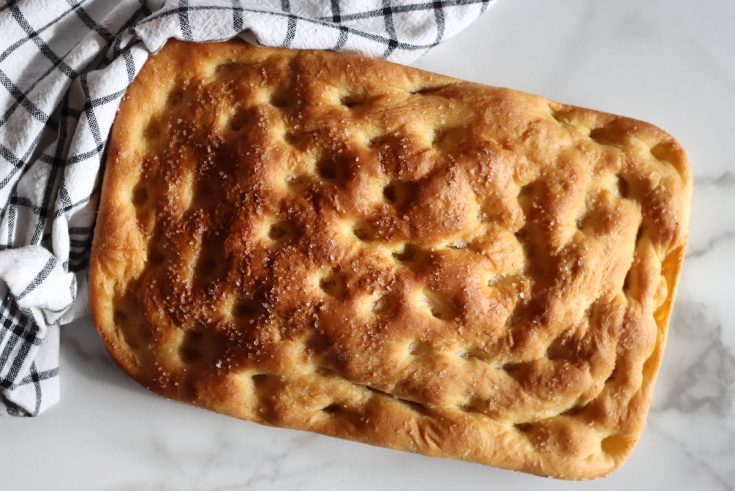 Bread machine focaccia takes the work out of making focaccia dough, so all you have to do is shape and bake!
Cook Time
1 hour
45 minutes
Additional Time
1 hour
10 minutes
Ingredients
1 cup water
3 Tbsp. olive oil
3 cups bread flour (or all purpose flour)
1 1/2 tsp salt
2 1/2 tsp dry yeast
Instructions
Place the wet ingredients in the bread machine pan first. This includes water and olive oil.
Make an "island" with the flour on top of the wet ingredients, and then make tiny wells or divots in the flour to hold the salt and dry yeast so they don't fall into the water (yet).
Turn on the bread machine and select the "dough" cycle.
Choose "start" or set a time delay to begin making this dough. Most bread machines take about 1 hour and 40 minutes to 2 hours to complete a dough cycle.
When the dough cycle is complete, grease a 9x13 inch pan with olive oil.
Remove the focaccia dough from the machine and press it into the greased pan.
Cover with a towel and allow the focaccia to rise for 45 minutes to an hour in a warm, draft-free place until it's doubled in bulk. (In a cool house, it could take up to 90 minutes.)
While the bread rises, preheat the oven to 425 degrees F (220 C).
Once the dough has doubled in bulk, drizzle with olive oil and then dimple the surface of the dough with your fingertips. Sprinkle with coarse salt.
Bake the focaccia for 20 to 25 minutes, until golden brown.
Remove the tray from the oven and allow it to cool for 5 to 10 minutes before turning it out to cool completely on a cooling rack.
Bread Machine Recipes
Looking for more tasty bread machine recipes to keep your bread box full?