Pineberries are a new fruit to the U.S. This being so, pineberry recipes can be hard to find. Luckily, we've rounded up all the best ones right here for you.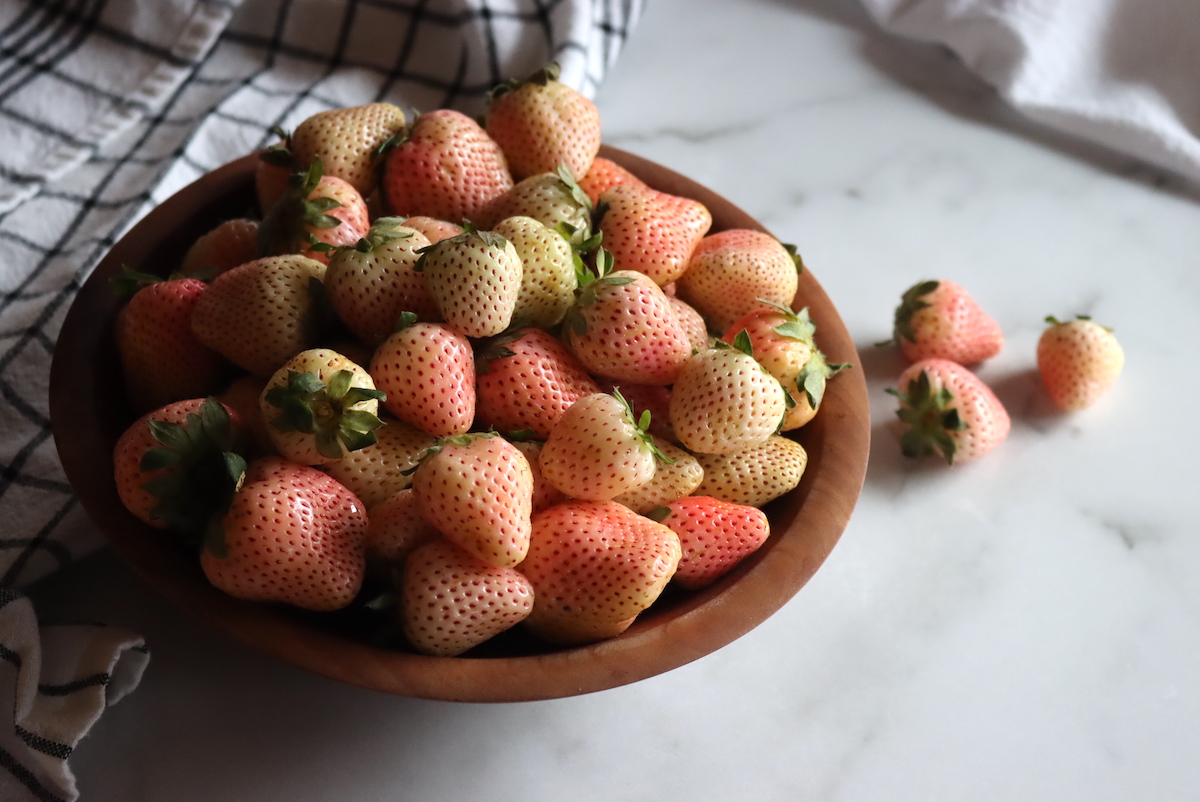 Pineberries are a rare and somewhat startling-looking fruit. They look like strawberries that have been completely drained of color, sometimes with just a hint of blush. These albino-like strawberries have tiny red seeds and taste like a blend of pineapple and strawberry, hence the name "pineberry."
Also known as hula berry, these fruits are hard to source in many supermarkets. One of the reasons for this is that the berry is much more perishable than regular strawberries, and has a much shorter shelf life. Luckily, if you live in USDA hardiness zones 4–8 and grow regular red strawberries, you can easily grow pineberries alongside them to source your own fresh pineberries for an assortment of recipes.
These plants can take over gardens, so it's not terribly unusual to find yourself under a pile of pineberries. Fortunately, we have plenty of recipes to help use them up. Multiple preservation options are available as well.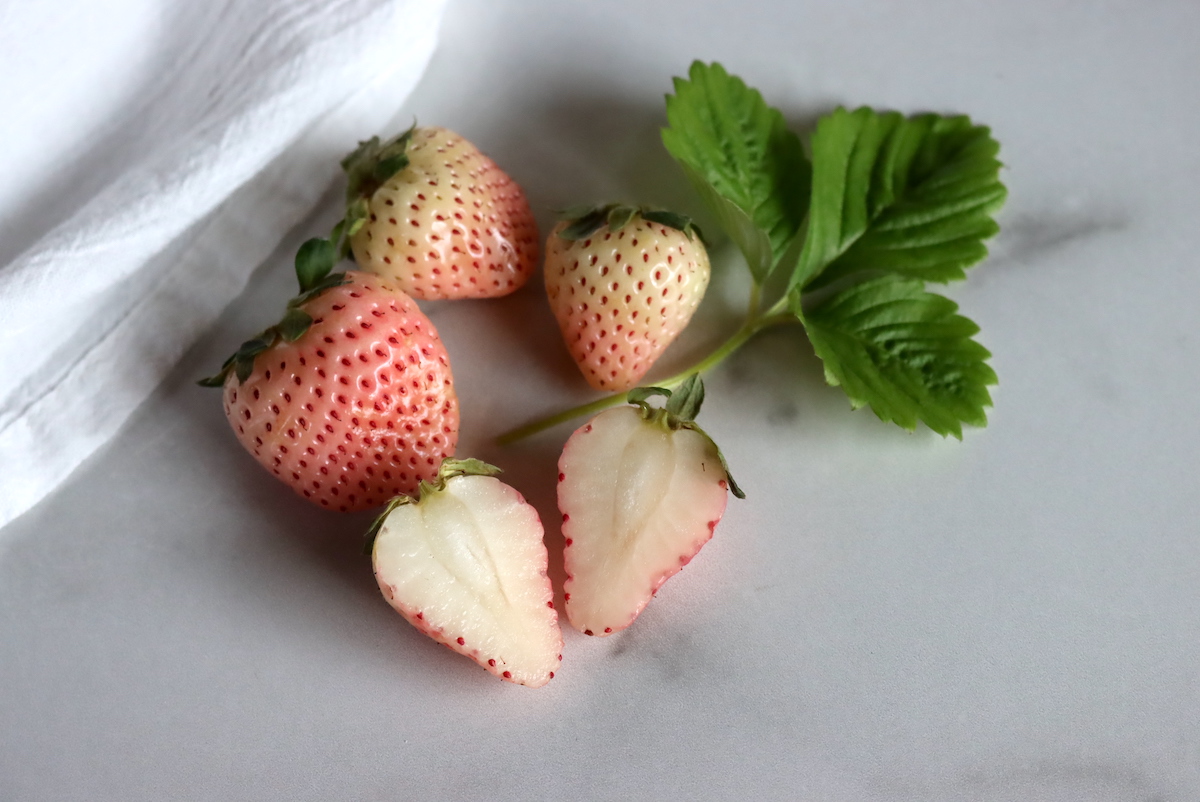 Choosing the Best Pineberry
Although red strawberries were introduced to North America in the 17th century by way of Europe, white pineberries weren't imported for another century, coming this time from South America. More difficult to grow than regular red strawberries, they are much harder to find in stores, actually only having shown up on U.S. store shelves in the past decade.
There are also a few places where you can order them if you cant find them locally.
Keep pineberries chilled until serving or preparing, being they are so perishable. If it's the right season, you can even pick them fresh off the plant. Pineberries ripen in late spring and early summer along with regular strawberries.
As pineberries look unripe pretty much always, it can be hard to know when to pick them. The best way to determine if pineberries are prime for picking is to take a look at the seeds – they should turn bright red when ripe. Some also notice the berries turn a creamier shade of white when ripe, but this may not be the best indicator alone.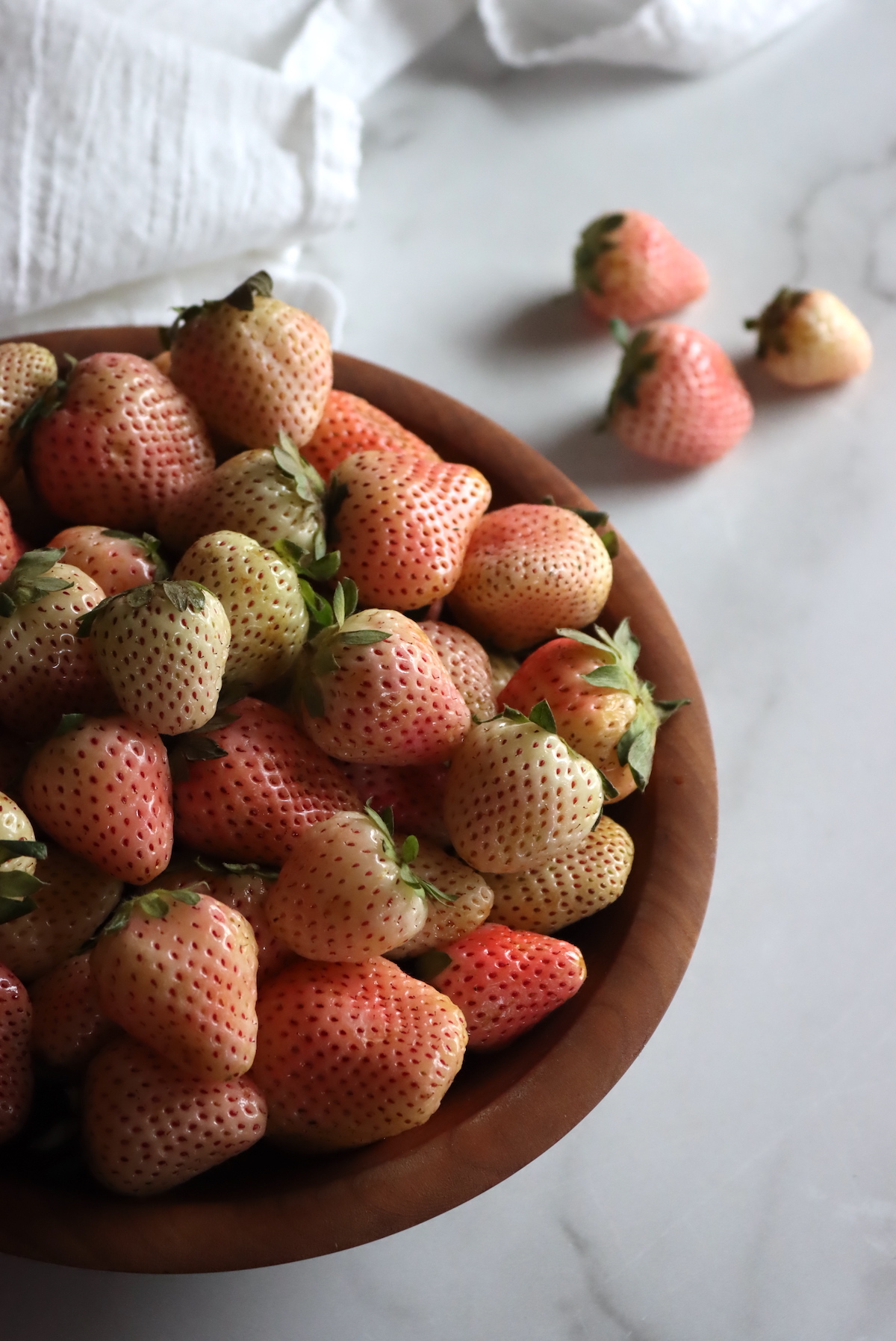 Pineberry Recipes
Wondering how to use the relatively new fruit in the kitchen? Conveniently, pineberries can be used in many of the same recipes as regular strawberries. The fruit can be eaten fresh, blended into drinks or used to top breakfast items, desserts and more. You'll simply need to hull the fruit and slice.
Pineberries taste more tropical than their red counterparts, having strong notes of pineapple. They pair extremely well with sweet notes of vanilla, coconut, cream and white chocolate in addition to other berries.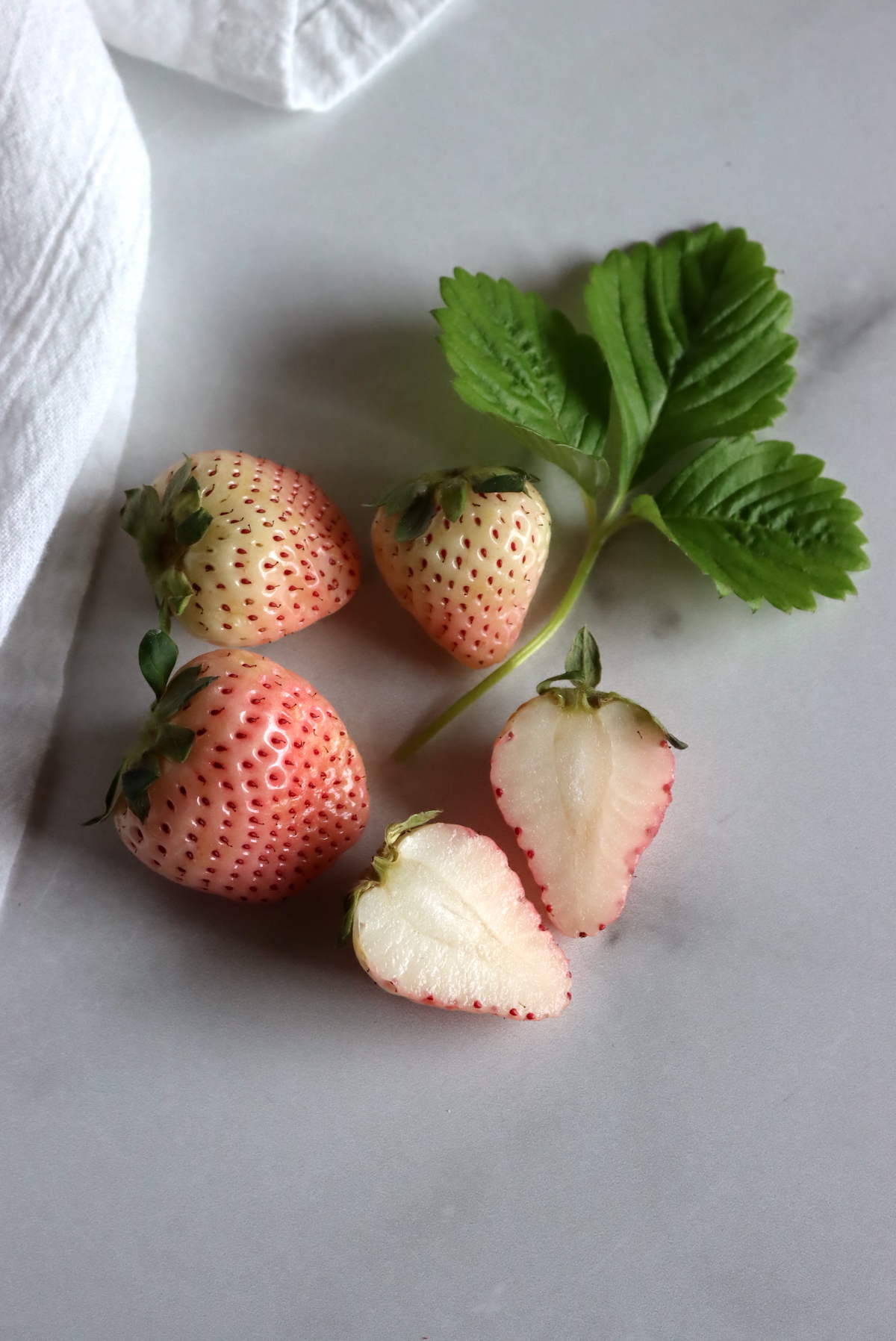 Fresh Pineberry Recipes
Eating pineberries fresh is one of the best ways to consume this delicate, creamy-toned fruit. Pineberies taste best at room temperature, so allow them to sit out for 30 minutes to best enjoy their flavor – but don't leave them out too long, pineberries can spoil more quickly than regular strawberries.
Fresh pineberries can be baked into tarts on their own or mixed with red strawberries for beautiful results. In addition, they can be used in many appetizers as a contrast due to their unusual color like this Valentine's Day-themed charcuterie board. Salads are another delightful option – top greens and cucumber salads with sliced pineberries or blend into salad dressing.
Tarts
Appetizers
Salads

Preserving Pineberry
Were you lucky enough to collect a large haul of pineberries this season? In that case, you'll likely need to preserve this fruit due to its shorter shelf life.
One of the best ways to preserve pineberries is to freeze them. To freeze pineberries, you'll want to wash, dry and hull the fruit, slicing them into your desired thickness or keeping them whole. You can then place the pineberries on a lined baking sheet and freeze them (using parchment paper will help them from sticking). Once frozen, place them into freezer bags and pop out whenever you need them.
Another option for preservation is pineberry jam. Try pineberries on their own or combine with other tropical fruits like mango or bright berries like raspberry and blackberry. Even rhubarb can be a great addition for a tangy taste experience.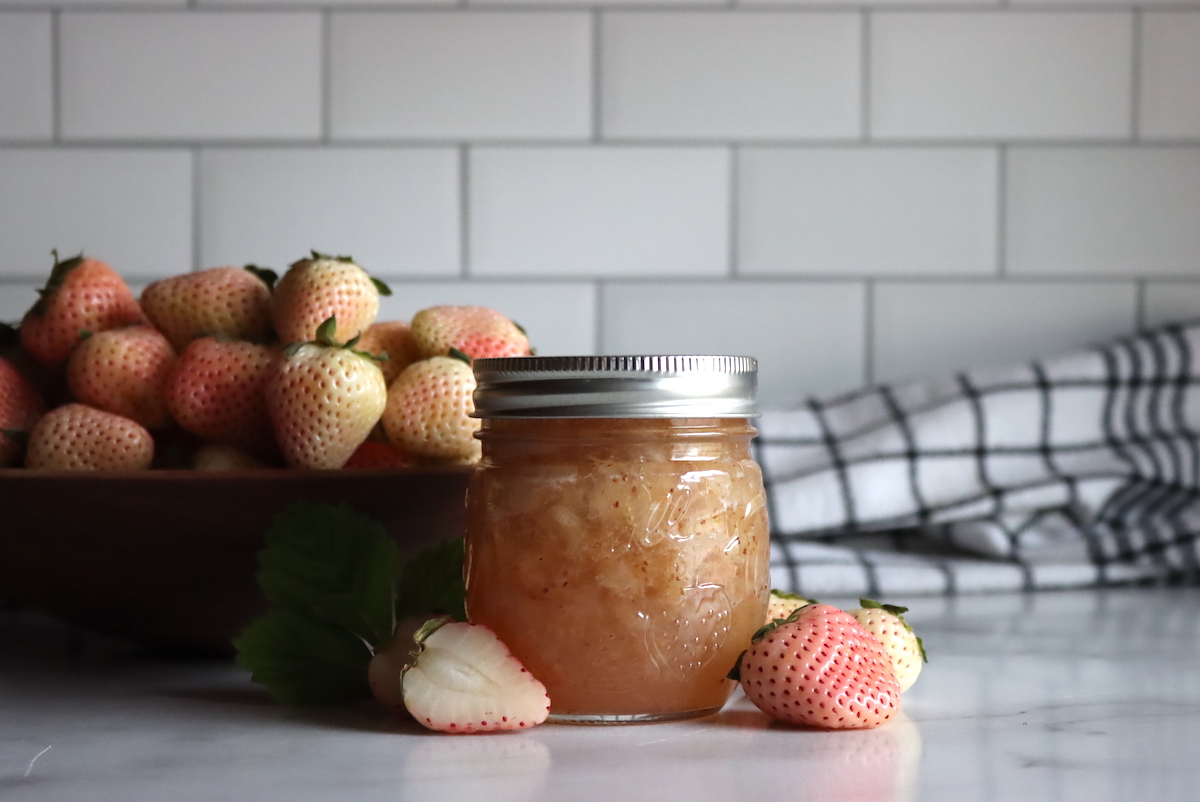 Pineberry Breakfast Recipes
Pineberries can be used to top an assortment of breakfast items as well. Slice pineberries to embellish waffles, pancakes, oatmeal and yogurt, or use inside delicate crepes. You can also use pineberries atop sweetened toast for a lavish breakfast treat to begin your day.
In search of something healthier? Add pineberries to your favorite smoothie recipe or create an entirely new one. Add coconut, greek yogurt and other fresh fruits for a flavor-packed health boost first thing in the morning. Pineberry muffins are another alternative. Try adding savory goat cheese and honey for an unexpected combination.
Pineberry Drink Recipes
In addition to smoothies and blended beverages, pineberry can be added to a variety of refreshing drinks. You can make a pineberry puree or juice pineberries with the help of a juicer to be added to tropical beverages. Try adding a splash to lemonade for an exotic refreshment.
Similarly, cocktails can benefit from this flavorful fruit as well. Try blending pineberries and muddling with club soda and vodka or gin and sparkling rosè. Pineapples and citrus flavors work great as well.
Pineberry Snack Recipes
Pineberries are packed with vitamins C and A making them a snack that is as healthy as it is delicious. To make better use of these nutritious vitamins, pineberries can be added or substituted for either pineapples or strawberries in this Strawberry Pineapple Popsicle recipe. Another spectacularly snackable option is Homemade Fruit Leather.
Fruit-filled salads are yet another healthful pineberry snack. This white-fleshed fruit makes a delightful contrast to nutrient-rich fruit salads. For some more indulgent treats, consider trying pineberry s'mores or fruity skewers combined with baked treats.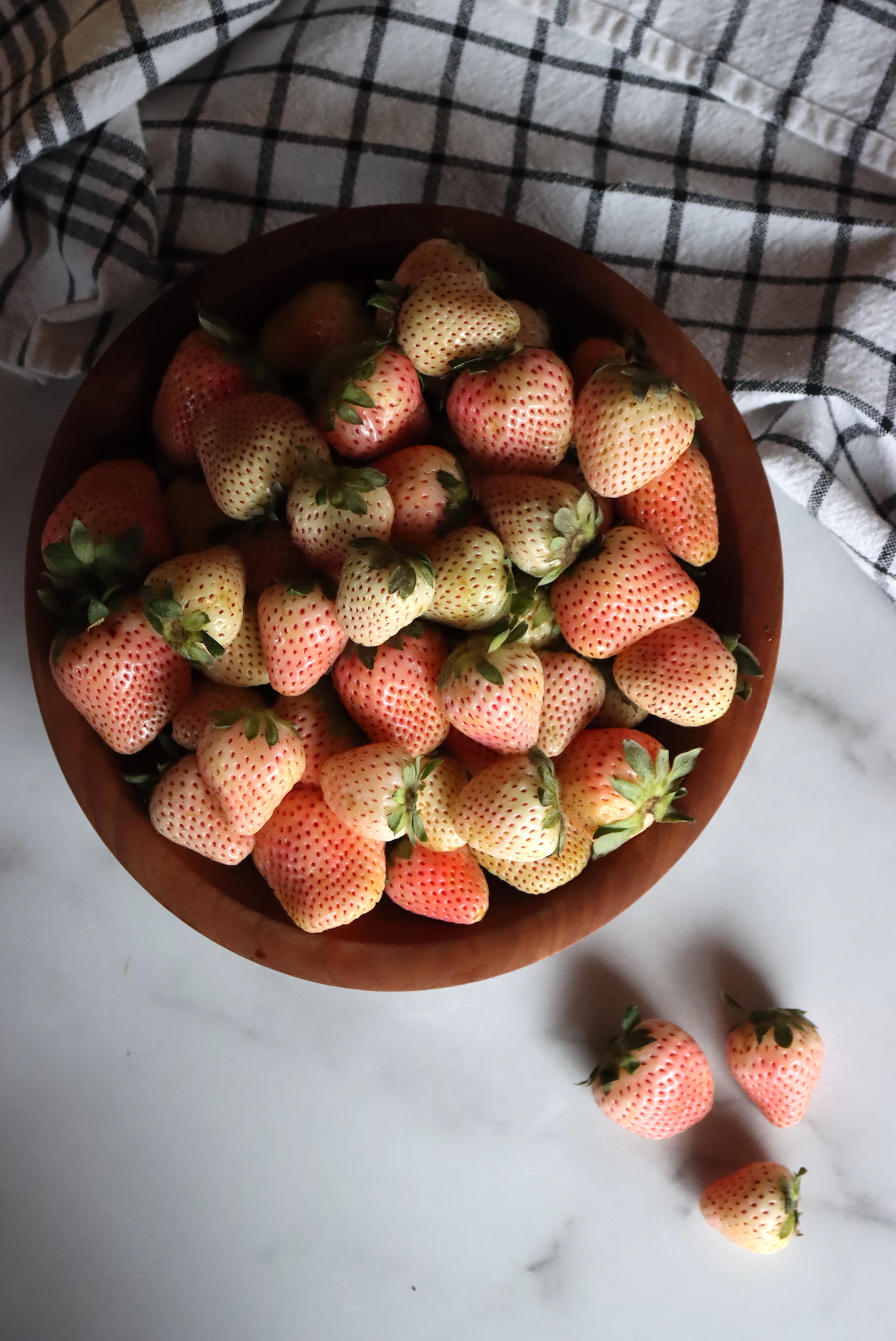 Pineberry Dessert Recipes
Many of your regular strawberry dessert recipes can be adapted to include pineberries. Try substituting the fruit or adding it along with regular strawberries to stretch out your precious pineberry supply.
Experiment with pineberries in cream pies or atop desserts like cheesecake, cupcakes and pavlova. Pineberries can also be layered inside cakes and other delights. Combine with flavors like peach and almond and topping with decadent buttercream frosting.
Cultured & Fermented Pineberry
Not many established recipes exist for using pineberries in fermenting, as this fruit is difficult to obtain and less widespread. However, you can follow these general recipes for making homemade wine and mead for pineberries. Feel free to experiment in this little-traversed territory! Add other fruits and herbs and see what you come up with. My bet is that it would be delicious.
Seasonal Fruit Cooking Guides
Looking for more ways to use fresh seasonal ingredients?