Black raspberries recipes are as unique as this sweet, woodsy wild fruit and they lend their own distinctive flavor wherever they're used. They're especially popular in jam-making, baked goods, but they find their way into all manner of dishes, from savory to sweet.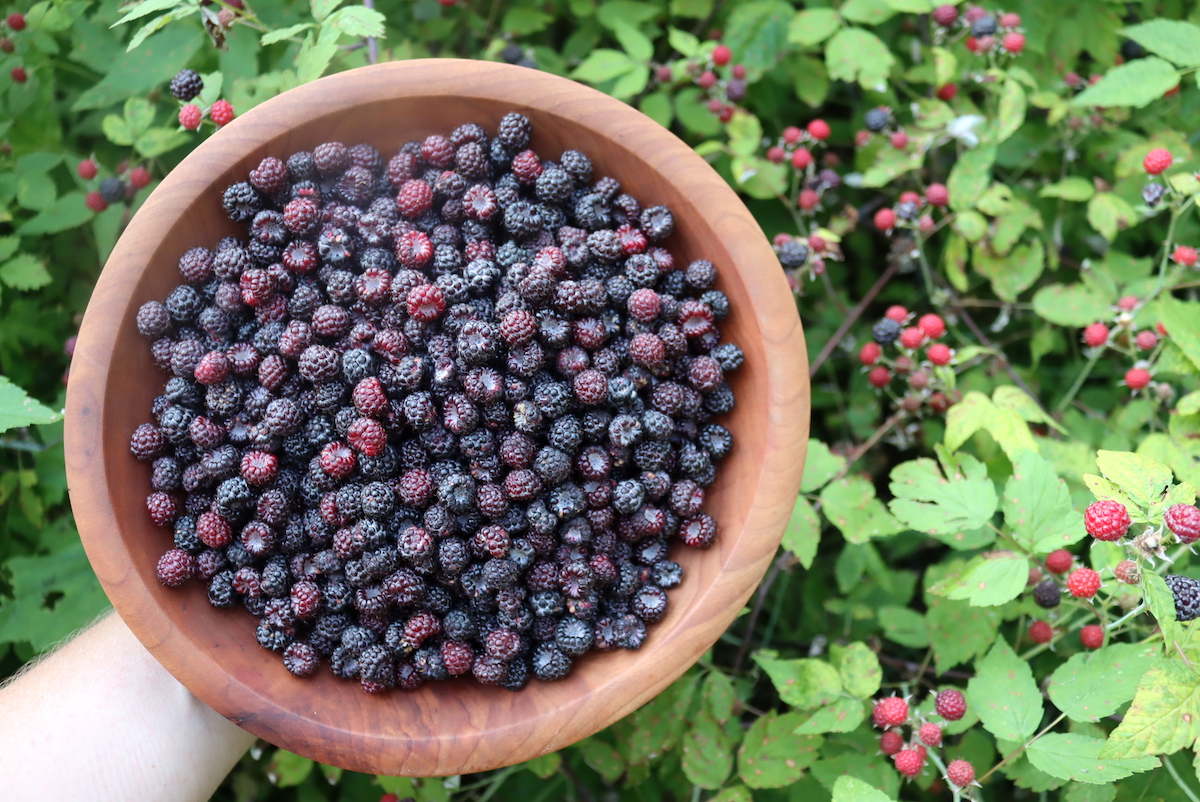 Black raspberries, also occasionally referred to as black caps, are a robust and sweet fruit. Similar to regular raspberries in their hollow center and slightly hairy appearance, black raspberries possess a stronger flavor, which some describe as sweeter than regular raspberries with tart notes of woodsy and earthy flavors.
Black raspberries (Rubus occidentalis) are less widely available than their red cousins (Rubus idaeus), growing mostly in the Northeastern US and Oregon. Their harvest season is short, often ripening in late June and early July.
These fruits are best picked when ripe before the birds or other wildlife can get them. They can then be frozen and stored for later uses in cooking, preserves or winemaking.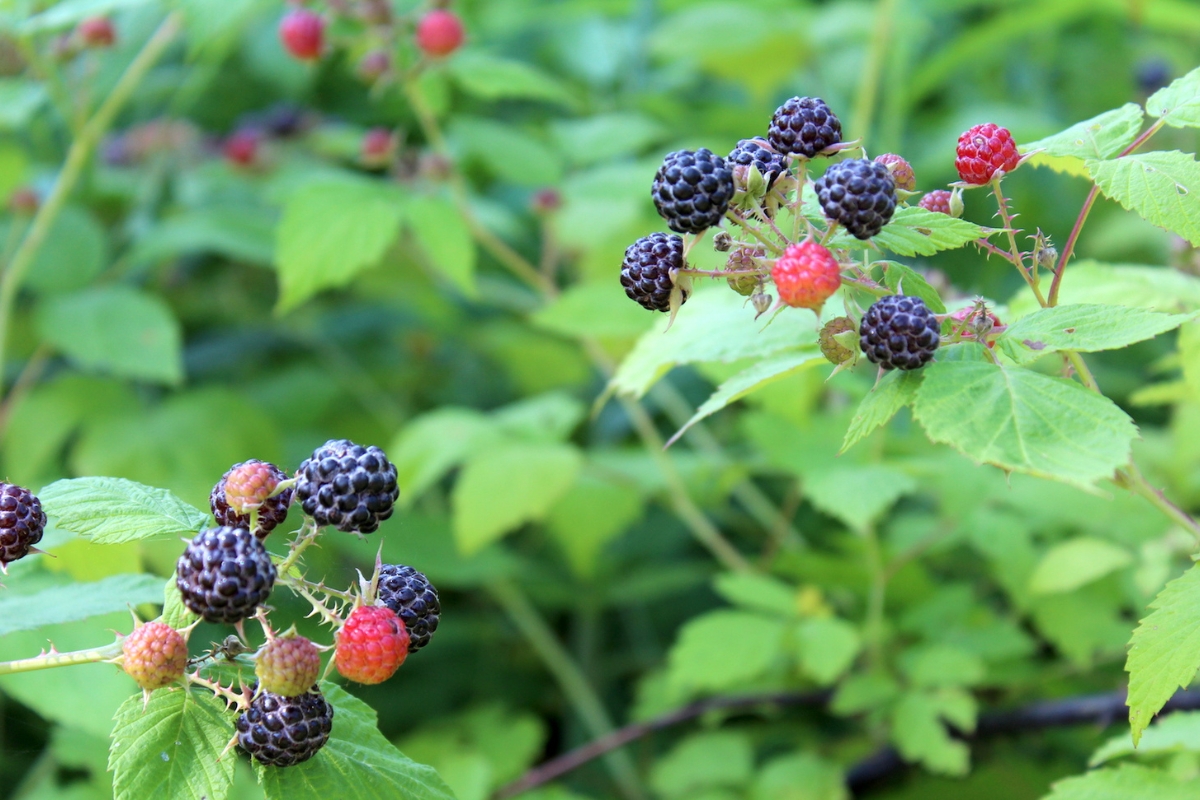 Choosing the Best Black Raspberries
You may wish to grow your own black raspberries to ensure a regular supply, as these fruits can be hard to source in markets and grocery stores. They grow well in USDA hardiness zones 5-8 and are self-pollinating.
Once ripe, black raspberries will turn a dark purple-black shade. This is when they are optimal for picking. Leave the red berries until they fully ripen – these will be too tart for most baking uses anyhow. Ripe berries should be easily pulled from branches, after which they should be washed to remove any pesky insects or lingering debris.
Black Raspberry Recipes
Black raspberries are a lovely addition to a variety of dishes, and they're healthy as well. Black raspberries have even more antioxidants than red raspberries, in addition to being high in vitamin C and fiber.
Black raspberries pair with a medley of flavors including chocolate, vanilla, cream and citrus flavors. Even salads and dinners can incorporate black raspberries into their courses.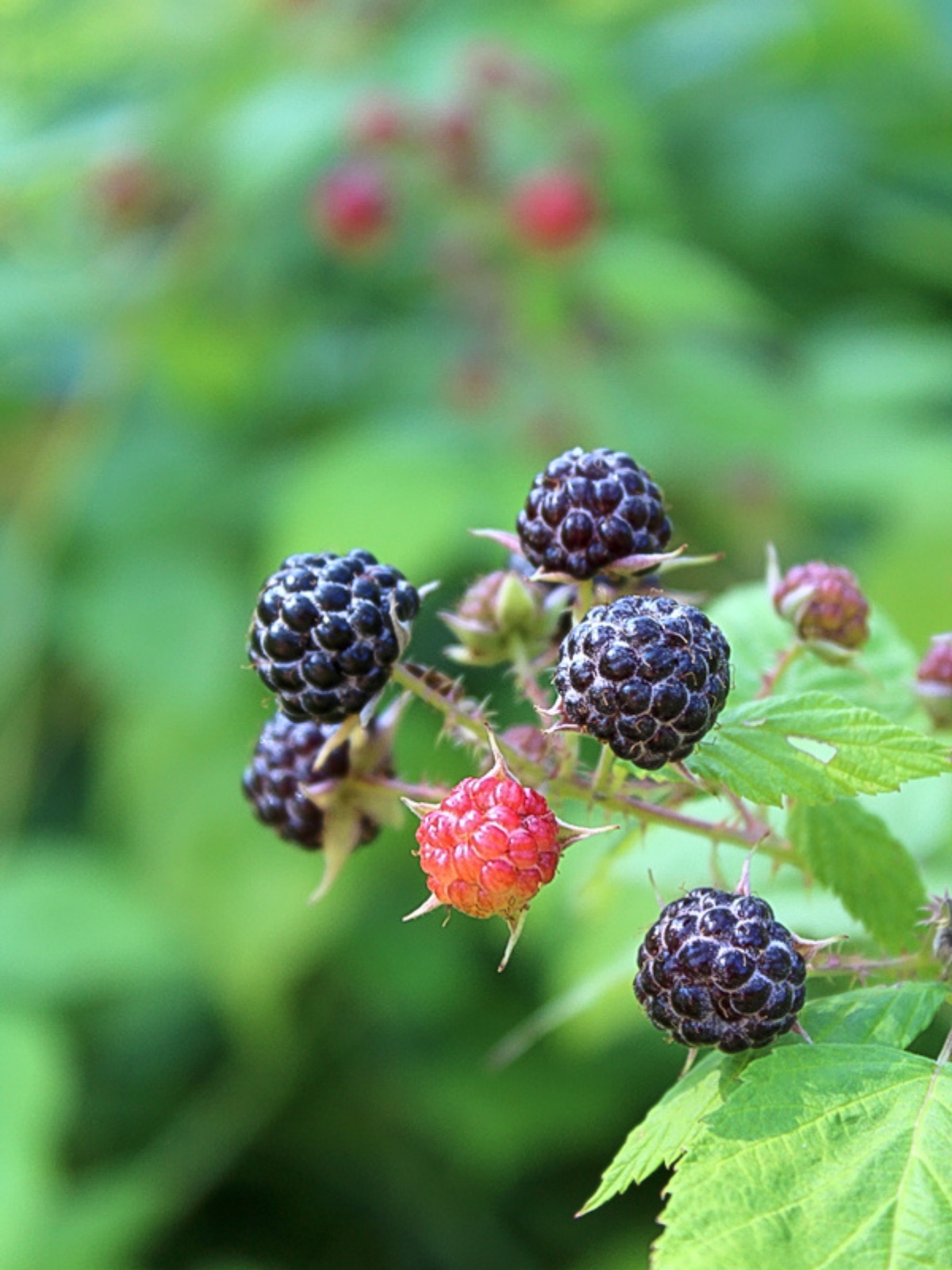 Fresh Black Raspberry Recipes
Black raspberries can be made into a fruity vinaigrette or tossed directly into salads. Try pairing them with soft, pungent cheeses like goat cheese or feta and garnishing with nuts for a crunchy bite. Fruit salads, as well, can make use of this darkly sweet berry. Try topping with a citrus-honey drizzle for added flavor.
Mix fresh black raspberries, as well, into baked goods like muffins, crisps, and tarts. Be sure to top crisps and pies with vanilla ice cream for a tart and creamy combination.
Salads
Fruit Salads
Black Raspberry Muffins and Baked Goods

I'm a particular fan of using black raspberries in baked goods, where their firm texture holds up to baking without falling apart like regular raspberries tend to.
Black raspberry muffins are one of the best uses, but you can bake them into just about anything. Since the fruit are relatively dry, they do well in scones too.
Black Raspberry Breakfast Recipes
Black raspberries make a delightful addition to many breakfast items. Fresh berries can be tossed into pancake batters, yogurt and oatmeal, or a compote can be made to spoon over pancakes and waffles.
In still more uses, black raspberries can be added to overnight oats, yogurt parfaits, or folded into savory crepes with cheese. Consider mixing with other fruits and berries for even more complex flavors on classic breakfast treats.
Preserving Black Raspberries
On occasion, you may find that you've got more black raspberries on your hands than you know what to do with. You can't leave them on the bush or risk wildlife stealing them away. The best option in cases such as these is to preserve the fruit so you can decide what to do with it later.
You can freeze whole black raspberries or can them. You can also dehydrate black raspberries and even turn them into a healthy powder to be added to smoothies, whipped cream and other concoctions.
In addition, you can make black raspberry jams and jellies which are great for storing or gifting. Black raspberry preserves can be incorporated into a variety of recipes including baked breads and no-bake cream pies. And best of all, they keep quite long when properly canned and stored.

Black Raspberry Savory Main Courses
Black raspberries are best incorporated into savory dishes in the form of marinades and sauces. These can be made from fresh or frozen black raspberries or occasionally black raspberry jams to make a glaze for pork and chicken.
Additionally, black raspberry sauce pairs exceedingly well with gamey fares like duck or venison. Drizzle it atop meats and savory cheeses or pair on the side for dipping. Black raspberry jam can also be added to savory sandwiches, like finger-sized chicken sandwiches for sweet and savory pairings.
Black Raspberry Drink Recipes
Looking for thirst-quenching recipes to use up those black raspberries? Try blending black raspberries with cream cheese, milk and ice cream for an indulgent black raspberry milkshake. Fresh fruit smoothies can be made also – try pairing black raspberries with strawberries, bananas and honey for a mellow flavor and nutrient-packed drink.
For more adult beverages, black raspberries can be blended into icy margaritas or muddled into cocktails and lemonades. A black raspberry syrup can be made as well and added to a variety of refreshing drinks.
Black Raspberry Snack Recipes
Even snacks can be embellished with the flavors of black raspberry. Consider black raspberry pop tarts or black raspberry PB&J's made with black raspberry jelly to tempt young children to try this antioxidant-rich fruit.
Black raspberry fruit leather is another tasty option, perfect for packing in lunch bags or backpacks for day trips, hikes and picnics. After a long hot day, nothing sounds better than icy popsicles. Try the refreshing flavor combination of black raspberry and cucumber in shaved ice or popsicle form.
And for dessert? Try black raspberry milkshakes with black raspberry fudge sauce. Decadent and delicious!
Black Raspberry Dessert Recipes
Of course, there exist an abundance of desserts that benefit from black raspberries – here are just a few to get you started.
As previously mentioned, black raspberries pair well with dairy and cream, so cream pies and cheesecakes are at the top of this list. You can make a black raspberry cream pie with black raspberry jam or make a compote to top or swirl into cheesecake.
Fresh berries can be used to make a berry cobbler, black raspberry cakes, or black raspberry ice cream and sorbet. And to boot, black raspberries lend all these desserts a delightful pinky-purple hue that is completely gorgeous to behold.
Cultured & Fermented Black Raspberries
Black raspberries can be fermented in a few ways. There is black raspberry wine which is relatively uncomplicated to make. The result is a rich, fruit wine characteristic of ripe berries which pairs well with desserts like chocolate and cheesecake.
Kvass is another option. Russian kvass is a fermented drink originally made from rye bread but also fruits and vegetables as well. Fruit kvass is a quickly fermenting drink similar in alcohol content to kombucha. Only four ingredients are needed: fruit, honey, water and whey.
And if you've got some time on your hands, there's always berry mead or melomel. The following recipe from Beer and Brewing recommends that it be aged for 4 to 6 years! That's a little long for my taste, so here's a basic recipe for making fruit mead that is a tad shorter – black raspberries can be substituted, of course!
You can always try cider-making with berries as well.
Seasonal Fruit Cooking Guides
Looking for more ways to use fresh seasonal ingredients?