Honeyberries (or haskap fruit) are some of the season's first fruits, and they're especially popular in northern climates. They're making their way into farmers' markets and backyard gardens because they're delicious and ripen before the first spring strawberries.
These Honeyberry recipes will help you make the most of fresh haskap fruit in season.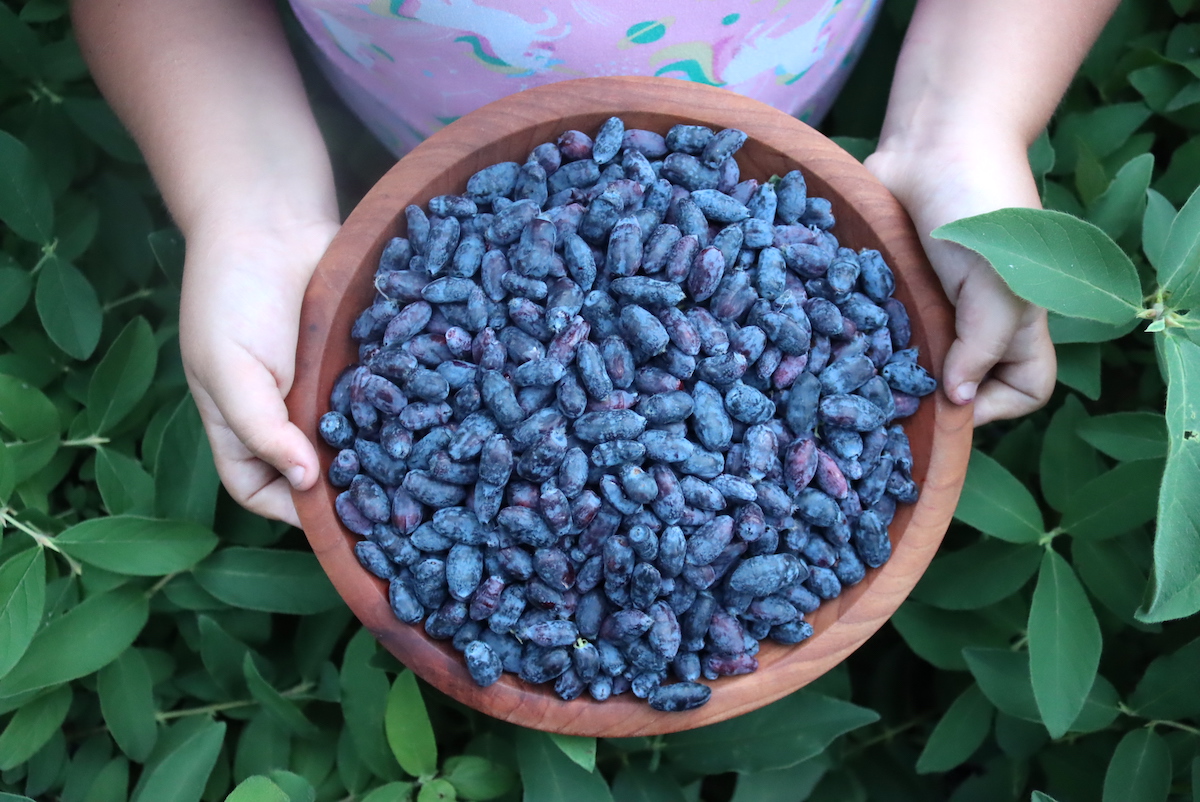 Honeyberry plants are native to northern Eurasia and Canada but grow bountifully in colder climates in the United States. The berries are similar to a slightly under-ripe blueberry or blackberry, and can be used to replace these fruits in many recipes.
Honeyberries (Lonicera caerulea) go by many names. They are also referred to as sweetberry honeysuckle, blue honeysuckle, fly honeysuckle, blue fly honeysuckle, blue-berried honeysuckle, Zhimolost in Russia or haskap as they are called in Japan. But for now, let's just call them honeyberries!
Although they look similar to a droopy blueberry, these berries actually come from a plant of the honeysuckle family – which you may have gathered from some of its other names. This plant flourishes in colder climates (hardiness zones 2 to 7) and can produce berries in just two years.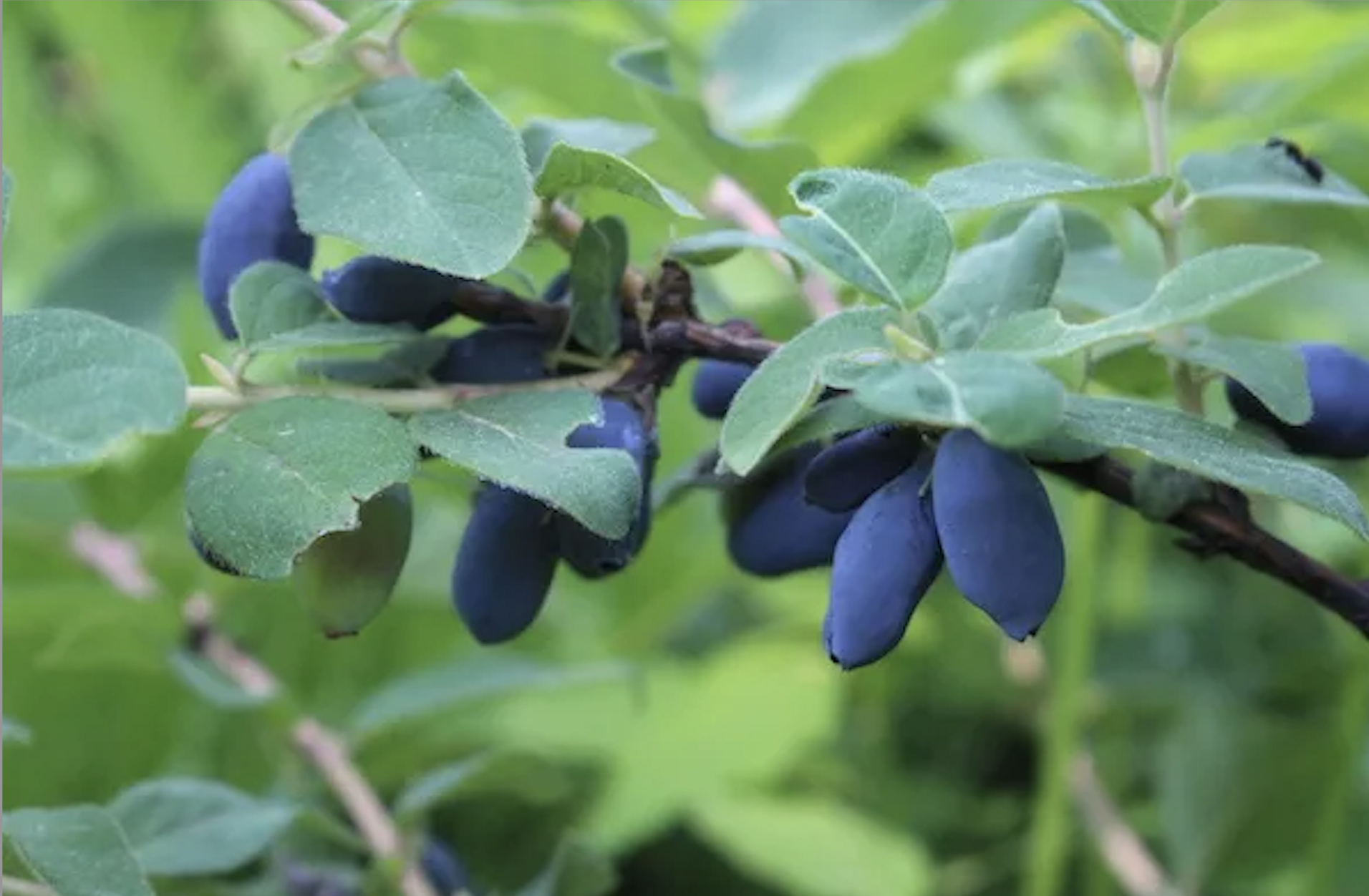 The berries are in peak season in June and early May and can leave you with a large supply of this tart, nutrient-rich fruit to be used. Luckily, they can be used in a vast array of ways whether eaten raw, enjoyed in liquid form, or preserved in jams and wine.
Additionally, these berries are considered quite healthy. Like blueberries, honeyberries are rich in antioxidants and have more vitamin C than other fruits like blueberries, raspberries, and strawberries.
Since they're one of the first fruits of the season, they're becoming popular at farmer's markets as some vendors hope to be the first to have edible berries each year. (They're 2 weeks before strawberries.)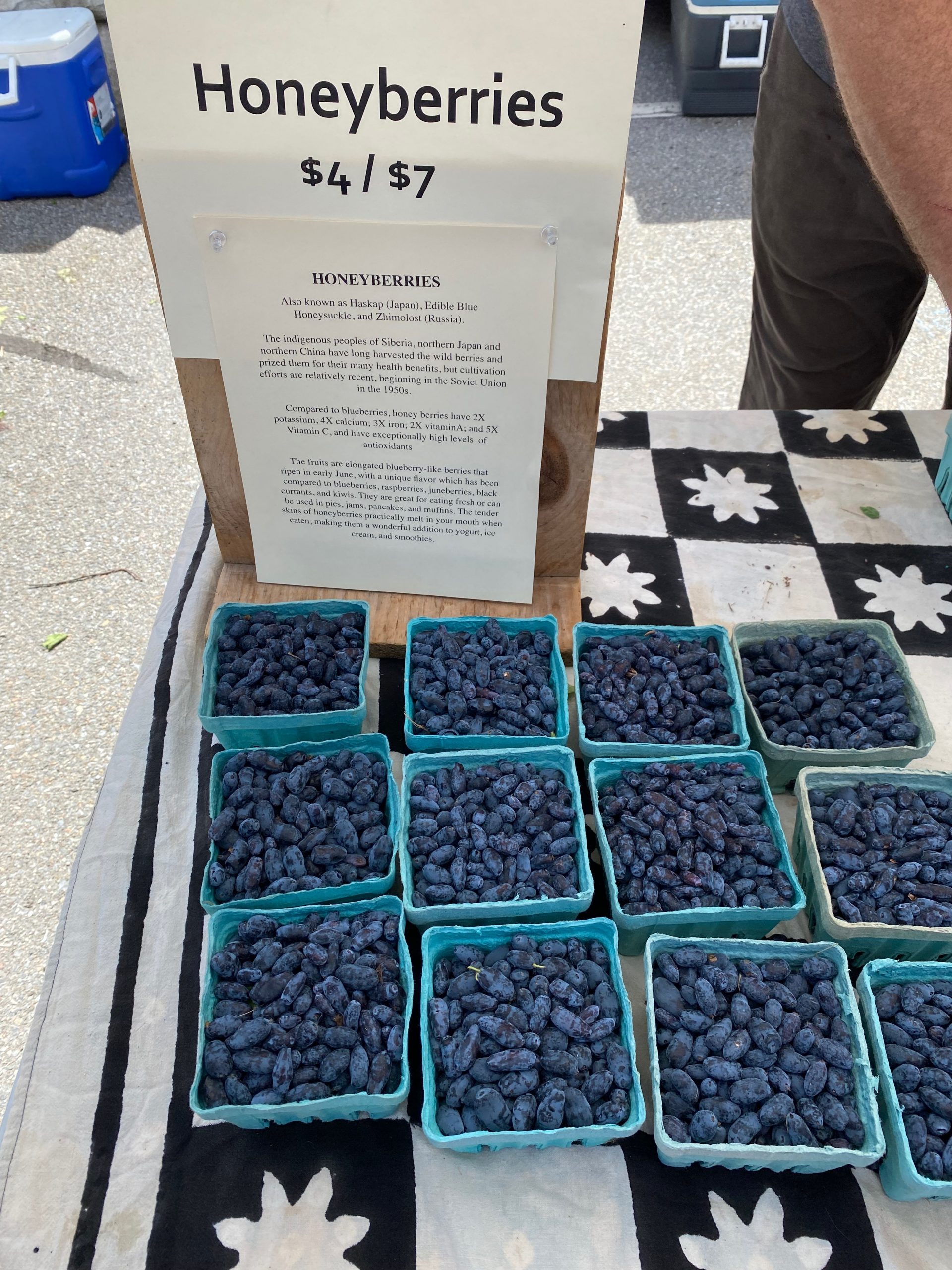 Choosing the Best Honeyberries
Honeyberries tend to ripen in late spring to early summer depending on the variety. You'll need to be careful when picking, as ripe berries are quite soft. Fortunately, ripe berries are easy to remove (if they aren't your berries aren't yet ripe).
Many recommend spreading a tarp below your honeyberry bushes and gently shaking the plant to collect ripe fruit. You can see this method in action here at a honeyberry farm.
Some popular varieties of honeyberry in North America include Anja, Aurora, Borealis, Indigo Gem and Cinderella.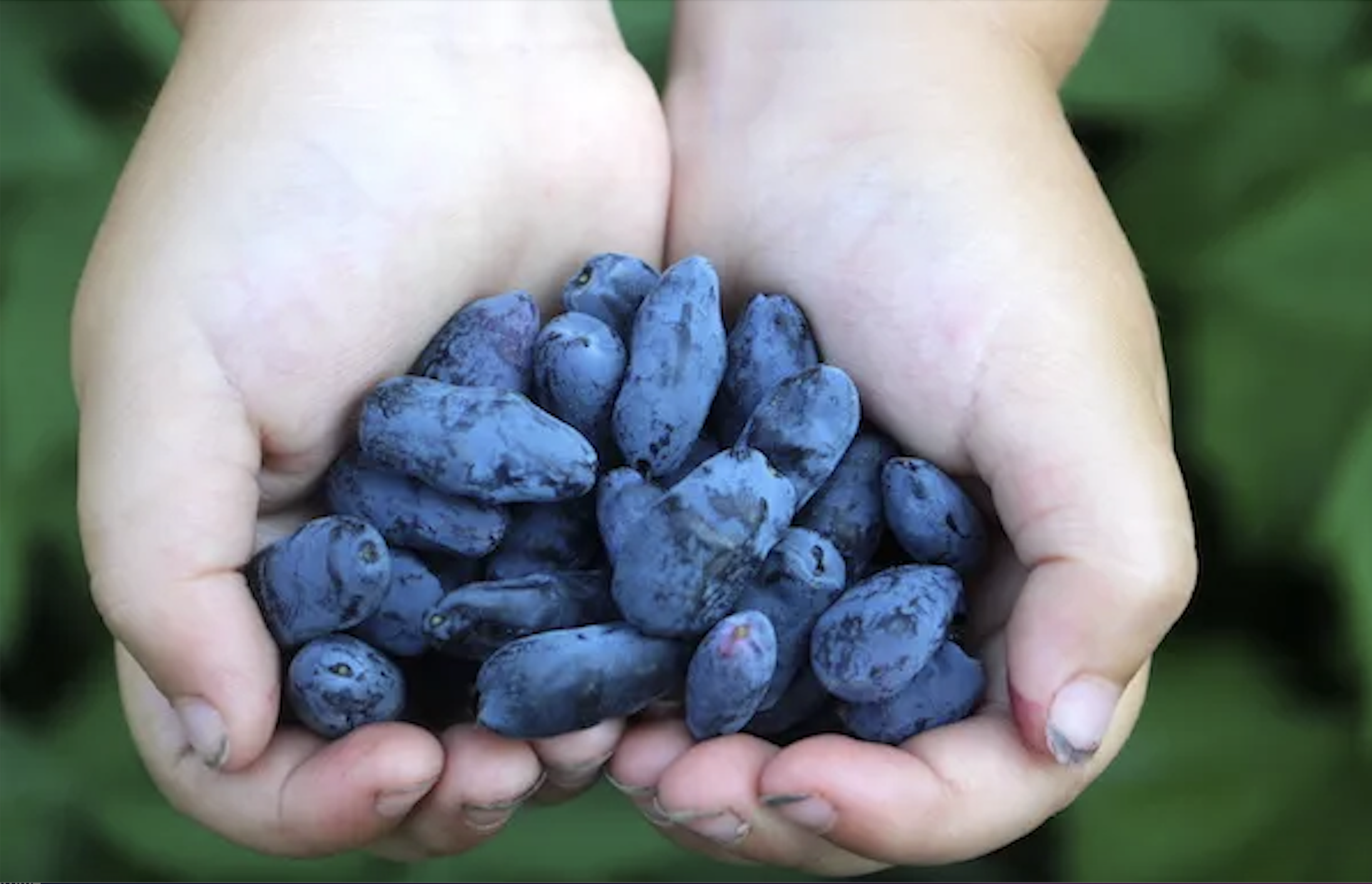 Honeyberries Recipes
Many people liken honey berries to tasting like a combination of a blackberry, raspberry and blueberry or a "mystery berry" with some even saying the berry reminds them of black currant or elderberry.
This may be because there are multiple varieties of honeyberry with slight variations in taste. Aurora and Indigo Gem are sweeter varieties while Borealis is tangier. Berry Blue and Tundra have a great balance of sweetness with tartness.
Some still recommend a mixture of all berries together in pies to create a balance of flavor. Luckily, multiple varieties are necessary for cross-pollination, so if growing your own honeyberries, you should have a collection of different varieties nearby.
Additionally, there are an abundance of recipes for all these varieties of sweet, tart, and tangy berries. Honeyberries can be substituted in almost any recipe that calls for blueberries. Many chefs even prefer them in muffins and smoothies as their delicate skin easily breaks down and disintegrates when cooked.
Even more beneficial, honeyberries contain more antioxidants than cranberries, strawberries, red raspberries, or wild blueberries, in addition to possessing a healthy dose of potassium, fiber, and vitamin C. These berries are both tasty and healthy, especially when eaten fresh.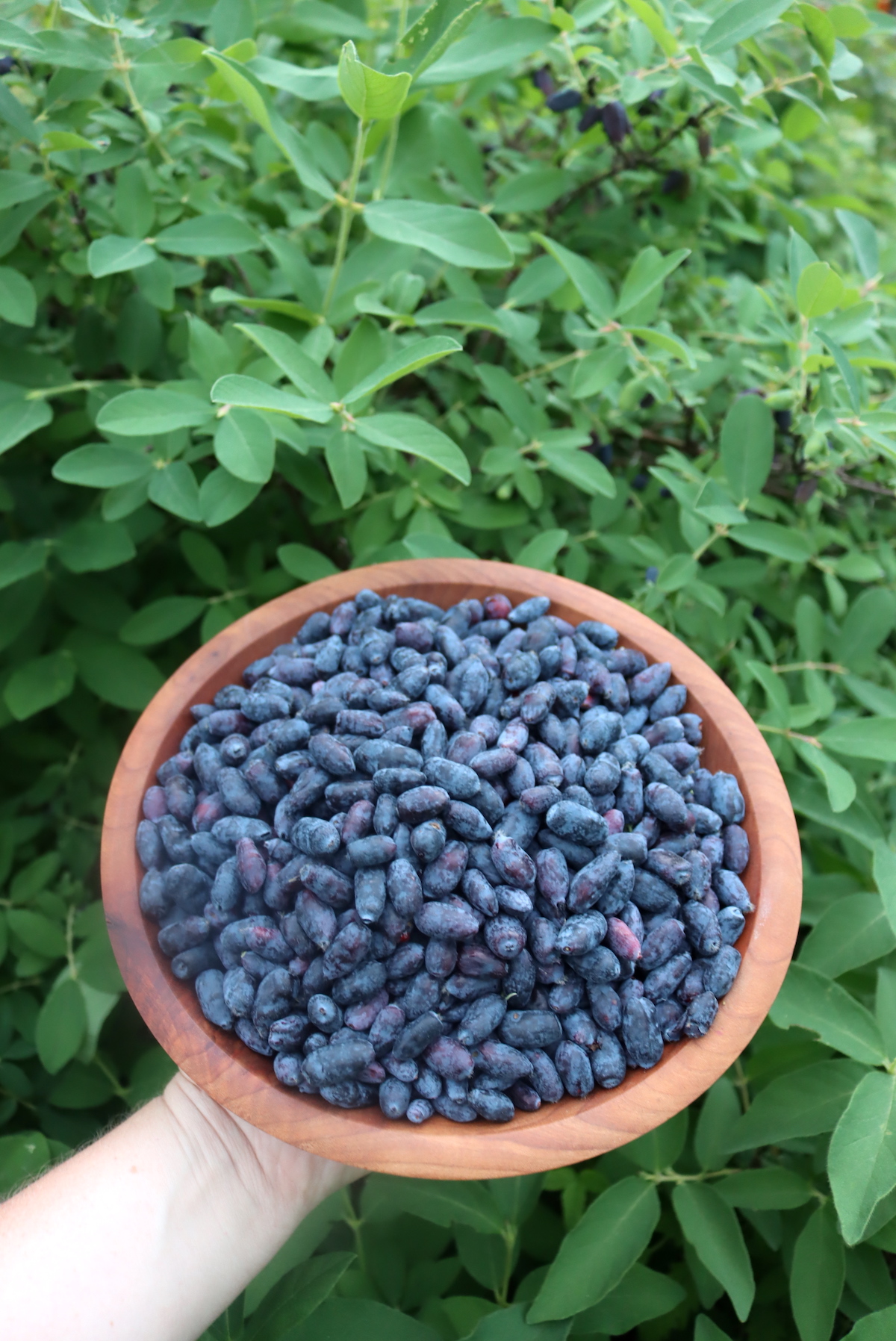 Fresh Honeyberries Recipes
Honeyberries are delectable enough to be eaten straight off the bush, but you should always wash them first. You never know what critters or bacteria may be lingering there.
After this initial cleansing, you'll find these juicy berries taste lovely in a variety of dishes from fresh salads to baked pies and tarts. Honeyberries make a delightful dressing to be drizzled on salads along with a few fresh berries for an antioxidant boost. You can reward yourself after with a slice of honeyberry cake or a personal-sized pie!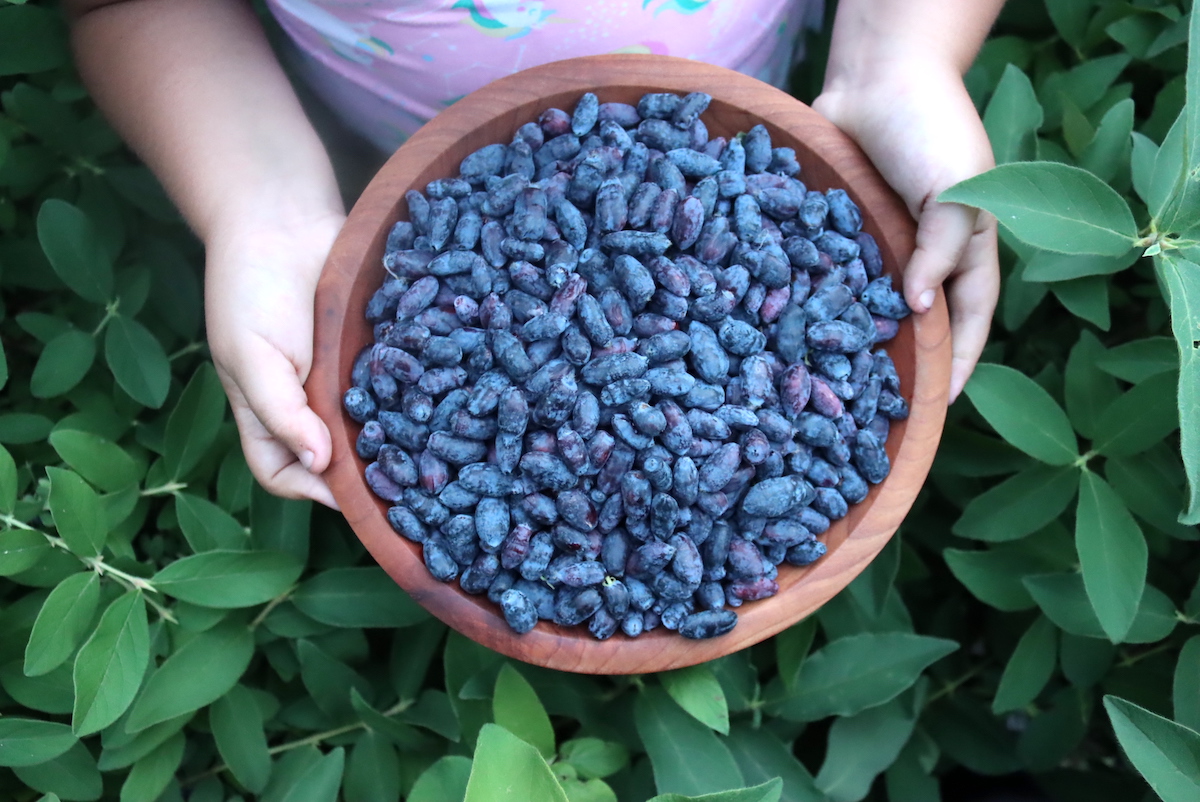 Honeyberries Breakfast Recipes
Honeyberries are delightful enough to eat morning, noon and night so let's start with breakfast! Honeyberries can be tossed into muffins, pancakes and even oatmeal. When baked, the skin breaks down entirely, rendering a palatable texture that children love.
Honeyberries can also be added to yogurt and parfaits. Their beautiful coloring turns dairy products a gorgeous purple shade that is as appealing to look at as it is to eat. In still more ways, honeyberries can be made into a compote to top breakfast treats like French toast and crepes.
Honeyberries Savory Main Courses
Think honeyberries are only for dessert? Honeyberries can be implemented in many-a-savory-dish, especially as a sauce. Honeyberries pair well with a variety of meat and fish, particularly when blended with additional herbs and flavorings like rosemary, thyme and honey.
Honeyberries and pork make a lovely combination for dinner. Try spooning some honeyberry sauce or glaze atop pork chops or toss ribs with a savory barbeque sauce made from honeyberries, bourbon, molasses and brown sugar.
Honeyberries Drink Recipes
You can easily make use of honeyberries in drink recipes as well. Adults of imbibing age will find honeyberries can be made into a sweet syrup for cocktails. In addition, the berries themselves make an eye-catching garnish on summer cocktails.
Even youngsters can enjoy this berry in its drinkable form. Blend fresh or frozen honeyberries to make smoothies and slushies with an added health boost. For a refreshing daytime sipper, make a simple syrup to add to green tea or freeze into ice cubes by simmering and infusing berries.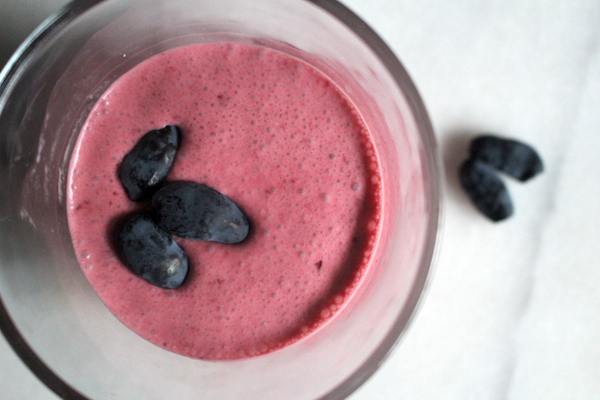 Honeyberries Snack Recipes
Even snack time can benefit from this versatile fruit. A delightful candied popcorn can be made with a honeyberry simple syrup or haskap powder mixed with sugar to make a candied coating that will harden.
Honeyberry popsicles are another option for a refreshing snack. Just blend fresh fruit, honey, apple juice and a dash of lemon juice, pop into popsicle molds and freeze.
Looking for something a little more adult? This vibrant fruit can be blended with earthy beets and chickpeas for a beautiful burgundy-hued hummus. Accompany with crostini and soft cheese for a delicious snack.
Honeyberries Dessert Recipes
You didn't think we'd skip dessert, did you? Honeyberries can be made into a number of desserts, be they baked into sweetened goodies or blended into a decadent ice cream. Honeyberry crumble is a delicious summertime treat made stovetop with fresh honeyberries and a buttermilk batter.
Honeyberries can be made into desserts with other berries or kept solitary to preserve their distinct flavor. This highly-hued berry lends its lavender shade to dairy products like ice cream or show-stopping cheesecake made with either fresh and frozen berries or simply honeyberry juice.
Cultured & Fermented Honeyberries
Wondering if you can use honeyberries in fermenting? Some winemakers have found honeyberries to be quite comparable to grapes for making wine. When made into juice and fermented, it can develop characteristics similar to red grape wines. The versatile fruit can be made into a variety of wines and fermented concoctions from cider, to table and dessert wines.
You'll find some tips in the recipes below for making honeyberry wine as well as melomel, a type of fruit mead.
Preserving Honeyberries
Sometimes, you just find yourself with more fruit than you can handle. In this case, preservation may be your best friend. Honeyberries can be easily frozen by washing and freezing berries in a single layer atop a cookie sheet. Once frozen, move to freezer bags.
Honeyberries can also be dehydrated into a raisin-like form or made into honeyberry jam for pantry storage and gifting.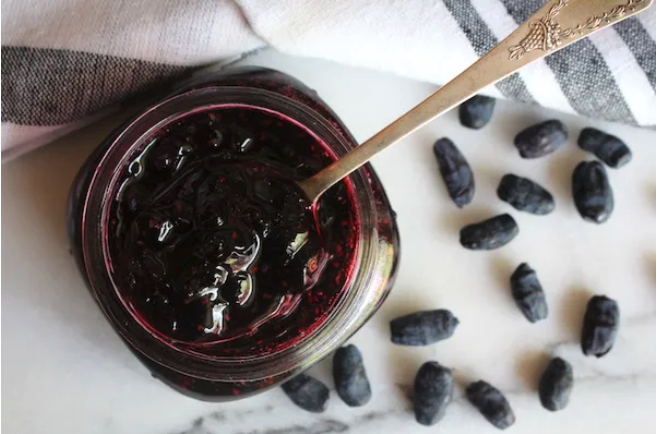 Seasonal Fruit Cooking Guides
Looking for more ways to use fresh seasonal ingredients?