German hazelnut macarons (Haselnussmakronen) are a traditional Christmas cookie, with all the warmth and sweetness of the season.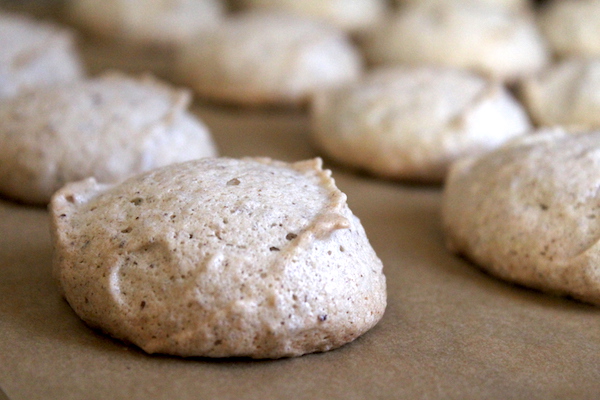 Years ago I worked for a catering company that wanted to break into the gluten-free market. They asked me to research converting some of their recipes into gluten-free versions by substituting some kind of gluten free flour mixtures. I suggested that the results would be a lot better if they just started with baked goods that were naturally gluten-free by accident.
My boss looked at me like I had two heads. There's nothing that's gluten-free by accident, everything has flour in it, right? Nope.
There are plenty of traditional cookies from around the world that are made without any flour at all. German haselnussmakronen are just one tasty example.
A traditional German Christmas cookie, haselnussmakronen (hazelnut macarons) or sometimes called just Nussmakronen (nut macarons), are made simply. Just whipped egg whites for lift, sugar for sweetness, a bit of ground nuts for richness, and then a tiny hint of spice. That's it.
Switching out the sugar in these cookies for coconut sugar, honey or some other sweetener of choice makes them paleo too. That's hardly traditional, but fitting modern lifestyles into traditional cookies is one way to keep the old recipes alive. I have made them with honey, reducing the amount down to just 2 -3 tablespoons for a healthier treat.
Start by whipping the egg whites into stiff peaks…
Then whip in sugar, salt and cinnamon. For an extra special treat, add in a few tablespoons of cocoa powder. Though I'm not sure cocao powder is traditional, it is delicious and compliments the cookies nicely.
Once the sugar and spices are mixed in, it's time to gently fold in hazelnut flour. I'm using premade hazelnut flour from bobs red mill. It's really convenient and has a wonderfully consistent fine grind. My real reason for using it is that my toddlers are terrified of the food processor, so this mama has to find a workaround.
If you have fresh hazelnuts, just pulse them in a food processor until they form a coarse meal. Be sure to stop before they turn into hazelnut butter. If that happens, just make homemade Nutella and pretend you did it on purpose…
Spoon the loose batter into rounds on a cookie sheet and bake in a low oven (300 F) for 23-25 minutes. If you do have whole hazelnuts, it's traditional to top each cookie with one whole nut right in the center before baking, for decoration. I didn't have any, so they went without. They do look quite festive with a hazelnut in the middle, so try to plan ahead and have them on hand at baking time.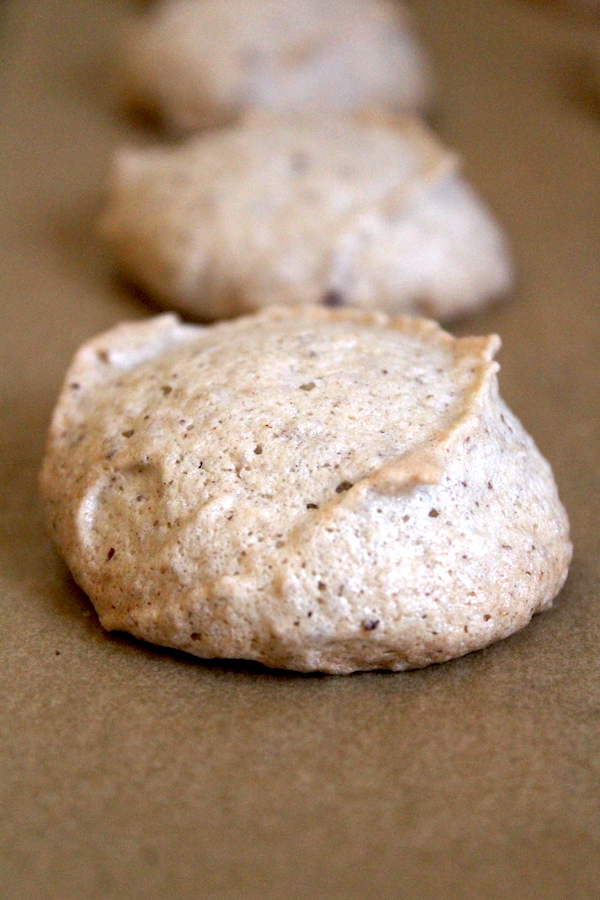 Haselnussmakronen (German Hazelnut Macaroons)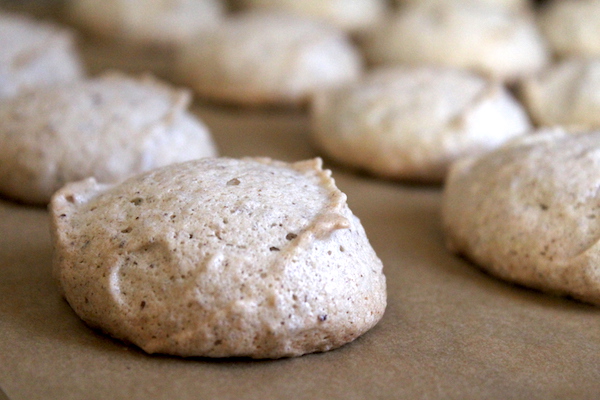 These traditional German Christmas cookies are naturally grain free without any alterations to an old time recipe.
Ingredients
4 egg whites
3/4 cup sugar, or sub. 3 Tbsp. Honey instead of sugar
1/2 tsp cinnamon
1/2 tsp salt
1 1/2 cups hazelnut flour, or hazelnuts pulsed in a food processor
whole hazelnuts, optional- for decoration
Instructions
Preheat oven to 300 degrees f.
Beat egg whites until they form stiff peaks
Add in sugar, cinnamon, and salt. Beat for another 30 seconds until incorporated.
Fold in hazelnut flour (premade or grind whole hazelnuts in a food processor until they form a meal).
Spoon dough onto a cookie sheet. Optionally, add 1 hazelnut to the top of each cookie for decoration. Bake for about 23-25 minutes, until browned on the bottom and cooked through.
Notes
Substituting 3 tablespoons of honey in place of the sugar makes these refined sugar free.  With that amount, they're just sweet enough to feel like dessert but not so sweet that they spoil a meal.  That's a great option for a paleo grain free dessert.
More Cookie Recipes
Satisfy your sweet tooth with some of our favorite cookie recipes!