Three ingredient oatmeal raisin cookies are incredibly simple to make at home. With just oatmeal, raisins and banana they're perfect for young bakers and tiny hands.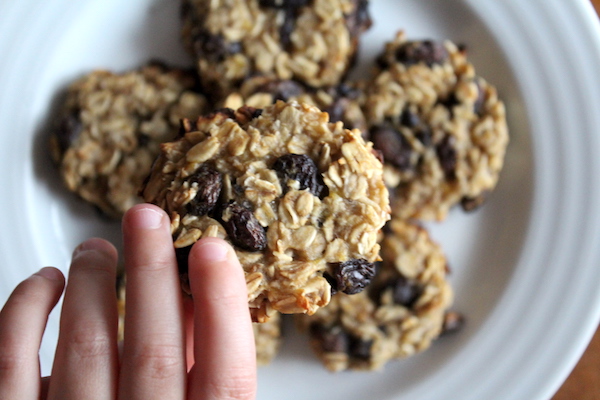 Sometimes you just want a treat, but the reality is you don't really "need" one. Especially when you're a rambunctious 3-year-old and it's only 7am…
Three ingredient oatmeal raisin cookies are easy enough that a 3-year-old can make their own cookies, and a mama won't feel bad watching the plate cleaned by tiny hands. Though they're cookies at heart, they also make a quick and tasty breakfast on the go.
If you're gluten-free, make sure to choose certified gluten-free oats. Then mix up the batter by mashing a very ripe banana and mixing in the oats and raisins. Bananas are an excellent binder, and they're used in recipes as a vegan egg substitute. In this recipe, they also add just enough sweetness without spoiling your meal.
The dough is sticky until it's cooked, so I'm using a small triggered cookie scoop to help spoon out the batter onto a cookie sheet. Use parchment paper or grease the cookie sheet to make sure these come up easily once cooked.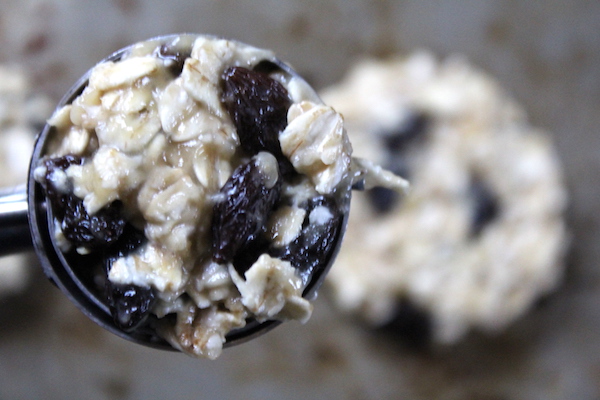 These oatmeal raisin cookies will keep in an airtight container for about a week, but I've scaled the recipe small so that there are no extras. With one banana and just a tiny bit of oats and raisins, this recipe only makes 6 cookies. Just enough to satisfy a sweet tooth, but not enough to overdo it.
Feel free to make a double or triple batch if you're feeding a crowd.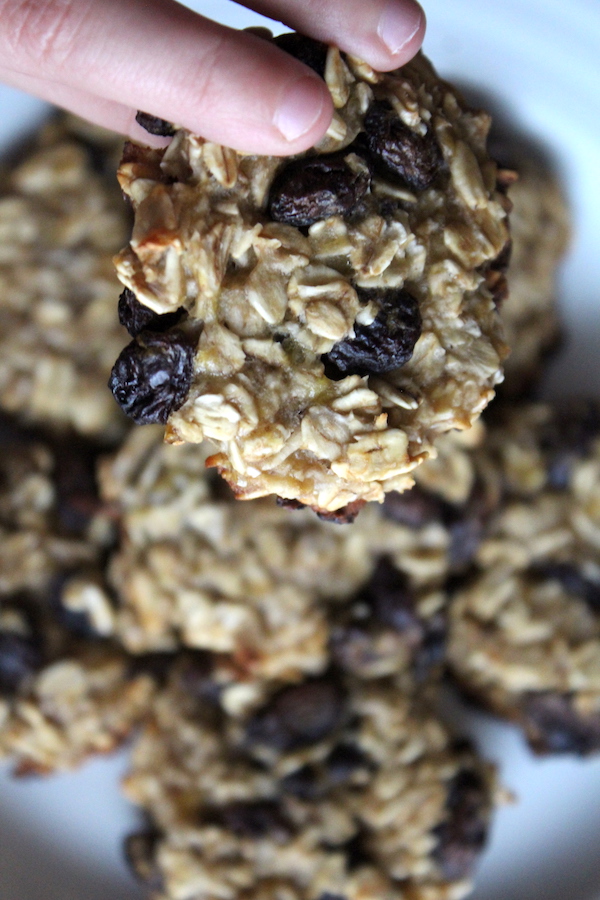 Yield: Makes about 6 cookies
3 Ingredient Oatmeal Raisin Cookies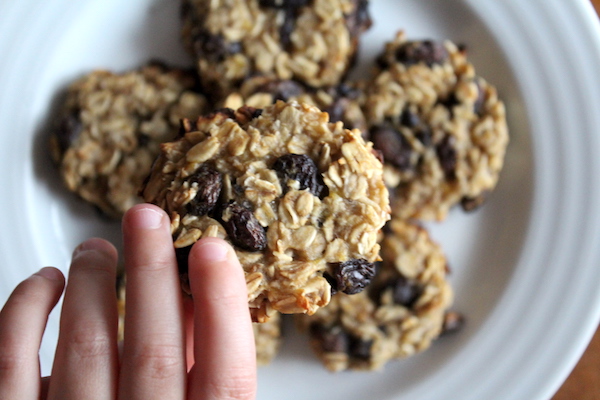 SImple to make, these 3 ingredient oatmeal raisin cookies are perfect for young bakers.
Ingredients
1/2 cup rolled oats, quick cooking type
1 banana, very ripe
1/4 cup raisins
Instructions
Preheat the oven to 350 degrees.
Mash bananas with a fork until smooth.
Add rolled oats and raisins.
Scoop heaping tablespoons of dough onto a cookie sheet.
Bake for 18-20 minutes until lightly browned. Cool completely before eating.
More Oatmeal Raisin Cookies to Try…
Loving these easy oatmeal cookies? Try a few more…
More Cookie Recipes
Satisfy your sweet tooth with some of our favorite cookie recipes!