Mid-Winter is cassoulet season in our house. When winter stretches from October to May, you need something, more than the traditional "holidays" to keep your spirits up. Every February we make a different version of an old French classic: Cassoulet.
A combination of white beans, confit, sausage, bacon and just about every animal in the farmyard makes its way into a cassoulet. While cassoulet is delicious, it's very time-consuming. With two toddlers in the house, this years version needed to be simple.
Thus this "easy cassoulet" was born.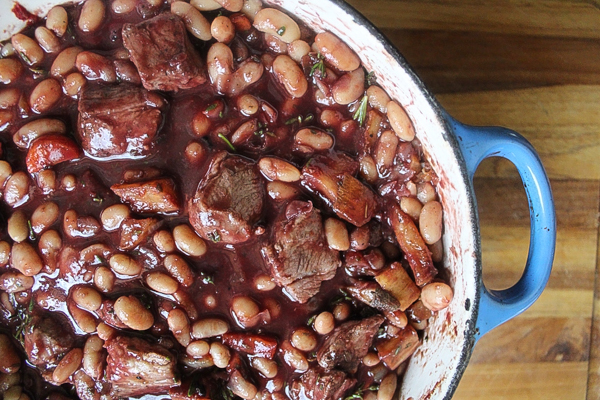 Perhaps simplified cassoulet is a better term. This dutch oven cassoulet can spend all day on low in the oven, or it can be assembled and quickly browned before hitting the table.
The complicated steps…duck confit and the like, are all skipped, but the end result is spectacular.
The most time-consuming step is chopping the vegetables and then browning all the ingredients. Chopped and browned a day in advance and then quickly assembled the cassoulet in the morning in just a few minutes.
The vegetables in our cassoulet are always the same: garlic, onions, carrots and parsnips. All are caramelized to perfection in the drippings from the browned cassoulet meat plus a little extra olive oil. Don't skimp on the parsnips, they're like little-hidden bits of candy inside the cassoulet and a real treat.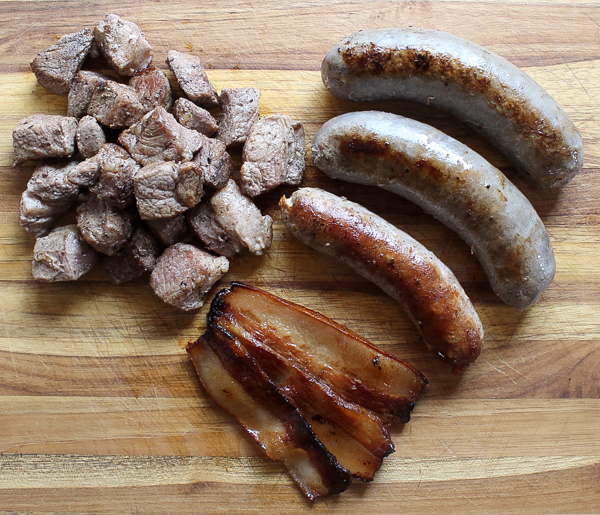 Our meat selection changes from year to year, but this year it included lamb sausages, red wine and garlic pork sausage, pork shoulder chunks and fresh jowl bacon (guanciale) that we just finished curing. Any bacon will do just fine.
Assembling the cassoulet is simple. Start with a dutch oven and add in a bit of your cassoulet "gravy." This year's cassoulet sauce is made with a mixture of red wine (Malbec) and tomato paste, thus the rich red color.
Add in cooked great northern beans and stir in the browned vegetables.
Layer in the meats, and line the outside edges with the bacon to ensure a good distribution of salt and fat. Traditionally a bacon lining helped keep everything from sticking, but our dutch oven is enameled so that's less of a concern. If you're making a cast iron dutch oven cassoulet, be sure to line the edges with bacon to help keep it greased.
Once all the meats are layered into the vegetable and beans, I add on the last of the cassoulet sauce to ensure that the whole pot stays moist during the cooking process.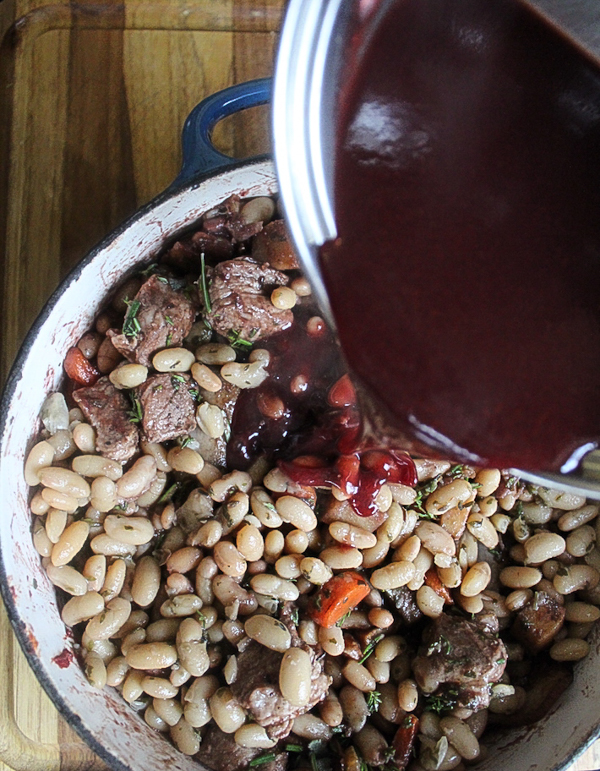 Cover your dutch oven and bake in the oven until heated through. This is the part where you can either allow the cassoulet to slow cook all day, or speed it up and get the cassoulet on the table quickly.
Once the cassoulet is "done," remove the lid and top it with breadcrumbs and pats of butter, and turn on the broiler. Toast the top until crispy, about 2 to 3 minutes under a high broiler.
Scoop it into bowls and serve with red wine or a full-bodied beer.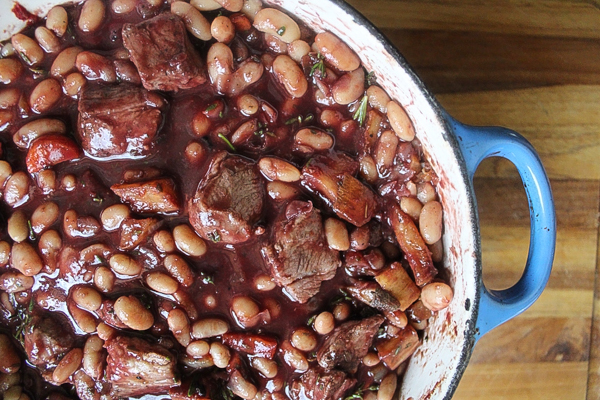 A simplified version of the French classic.  Easy enough to make even with babies in the house.
Ingredients
6 cups Great Northern Beans, cooked in stock (we used an Instant Pot)
1 can Tomato Paste
1 bottle Red wine (I use dry malbec)
6-8 pieces Bacon
2 Lamb Sausages
2 Pork Sausages
1 pound Pork Shoulder, cut into hunks
2 cups Parsnips, chopped
1 cup Carrots, chopped
1 cup Onions, chopped
1 tablespoon Thyme, preferably fresh
1 tablespoon rosemary, preferably fresh
2-3 sage leaves, optional
1 bulb garlic, yes the whole bulb
1 teaspoon sea salt
2-3 tablespoons olive oil, for browning meat & veggies
Instructions
1. Cook the great northern beans if they're not already cooked. If you're starting with dry beans, this recipe uses roughly 1 pound of dry beans. Ideally, the beans would be cooked in a rich stock but you can use pre-cooked canned beans to save time.

2. Simmer the can of tomato paste in the red wine to reduce slightly, and make a sauce. Stir in fresh rosemary, thyme, and sage. Pour half the sauce over the beans and mix. Reserve the remaining sauce to adjust moisture levels later.

3. Cook the bacon and brown all the meats, then set aside.

4. Cook the chopped parsnips, carrots, garlic, and onions until browned in the fat from the meat. Add a bit of olive oil if necessary to prevent sticking.

5. Mix the cooked vegetables into the beans in a dutch oven.

6. Layer in the meats, lining the bacon around the edges and ensuring that the sausages and pork shoulder are completely covered by beans.

7. Add in the remaining sauce.

8. Bake at 350 for at least an hour to allow the flavors to combine. Preferably 2-3 hours.

9. Top with bread crumbs and melted butter and brown using a high broiler.

10. Serve in bowls with a crusty bread and a hearty beer.
Recommended Products
As an Amazon Associate and member of other affiliate programs, I earn from qualifying purchases.
Hearty Dinner Ideas
Try some of our other comforting dinner ideas when you make your next menu plan.