Confit de Canard is a delicious way to cook duck, and one of the most iconic French duck recipes. Originally developed as a way to preserve duck without refrigeration for months on end, the technique was so tasty that it's still common even with modern refrigeration.
While confit means to preserve, these days confit de canard is usually savored fresh.
What is Confit de Canard?
Confit is French for preserve, and confit de canard is a specific preparation that preserves a duck in its own fat. Duck confit is an incredibly tender and flavorful way to prepare duck, and it's the starting point for a number of traditional French recipes including cassoulet.
These days, confit de canard is less about preserving duck without refrigeration and more about crafting incredible flavor.
Historically, the duck would have been salted, then slow cooked submerged in rendered duck fat. Once cooked, the duck meat was meticulously layered into an earthenware crock and several cups of pure duck fat were poured over the top to surround the meat. Finally, a layer of solid pork fat, along with a bit of paper or cloth was poured over the top to seal the crock.
If kept in a cool place, this fat sealed crock would keep for 3 to 4 months, long enough to allow a family to enjoy fresh meat through the winter months.
These days, duck confit almost always means confit duck leg, since the breasts are more commonly seared in modern kitchens. Confit of whole duck is the more traditional preparation, which leaves you with incredibly tender, flavorful duck breasts that are ready to be browned and served for a show-stopping dinner.
Basics of Making Duck Confit
Making duck confit might at first seem complicated, but it's actually just a few simple steps. More detailed instructions will follow, but this will allow you to familiarize yourself with the basics of making duck confit to decide if you're ready to try it at home.
Start by parting up a whole duck, or if you're just using duck legs/thighs, those are likely already ready to go. Trim off any skin or fat that's hanging off the edges, and save it for rendering.
Next, sprinkle salt over the duck and allow it to sit in the refrigerator for 24 hours.
While the duck is in the dry brine, place the trimmed duck skin and fat in a small pan with a bit of water. Set the heat to low and slowly render the fat. Be sure to keep the heat low so it doesn't scorch. It should take 1-2 hours total.
Strain out the cracklings, and reserve the strained fat.
The next day, rinse the salt from the duck and pat dry. Arrange the pieces in a deep dutch oven and pour the rendered duck fat over the top of the pieces. If you don't have quite enough to cover, add additional store-bought duck fat.
Slow cook either on the stovetop or in a low oven, keeping the heat low, around 180 degrees.
The confit de canard is ready when the duck is fork-tender, after about 3 hours.
At this point, the meat can be browed for serving as is, or reserved for making any of a myriad of French dishes that begin with confit de canard.
How to Make Confit de Canard
These days most instructions for making confit de canard do not include preservation or a ripening period that gives the confit incredible flavor. I have two old school cookbooks (The Cooking of Southwest France by Paula Wolfert and Charcuterie by Michael Ruhlman) that go through the traditional process start to finish, giving the option of preservation.
The instructions are quite similar in both books, but the 1983 book by Paula Wolfert breaks it up into what she describes as "detailed steps to the perfect confit of duck."
I'm going to take you through those steps, starting as she does with two whole ducks. (The process is 10 steps for a basic duck confit, but a bit longer if you're going to store it for extended periods.)
The process and time commitment are the same whether you're making a single duck leg or several whole ducks, so you might as well make enough for several dishes.
Since the duck needs to sit in a dry brine of salt overnight, the process for making duck confit is broken up into two days.
Day One
There are just a few steps on the first day. The fat is rendered and set aside, and the duck itself is quartered and dry brined (salted) overnight.
Step 1
Start by trimming lose fat and skin from the duck. Remove the fat from the cavity, and trim the loose skin from around the neck. Save all the trimmings for rendering.
Step 2
Part the whole ducks up into pieces. From two ducks you should have 4 breasts, 4 wings and 4 legs with the thigh attached. Trim the wing tips and save them for stock. Remove the skin from the duck back and save it with the other trimmings for rendering.
Step 3
Weigh the duck pieces. For every pound of duck, add 2 generous teaspoons of salt. (For a more precise measurement, weight the duck in grams and multiply the weight by 0.03 to get 3% salt. It should be about 13.6 grams per pound. For long preservation, Wolfert has you double this salt quantity to 6%, but Rhulman does not. Use your best judgment, I went with 3%.) Combine the salt spices and aromatics such as shallots, parsley, peppercorns, bay leaf, garlic, and thyme. (Only use spices but not onion/shallot/garlic if storing for extended periods.) Coat duck pieces in the mixture, cover and refrigerate 18 to 24 hours.
Step 4
While still on day one, now that the duck is in the salt, start rendering the duck fat.
Trim the duck skin and fat into 1/4 inch pieces. Combine with a few tablespoons of water in a heavy saucepan and simmer uncovered for about an hour. The rendered fat should be a clear/golden color and the skin pieces should cook down to small cracklings.
All the fat is rendered when the bubbles stop, as the bubbles are a result of water remaining in the skin/fat. For more details, see this article on rendering pork leaf lard as the process is the same. Strain the cracklings, cool to room temperature and store the jar in the refrigerator with the salted meat until the following day.
Day Two
After the preparations on the first day, the real action happens on day two. The duck confit will be slow-cooked in rendered duck fat, either on the stovetop (traditional) or in the oven (modern variation).
Step 5
Place the rendered fat in a large heavy-bottomed dutch oven. I'm using a 6 quart enameled dutch oven and two 6 pound ducks just barely fit if tightly puzzle pieced together. Heat the rendered duck fat on low until it's just melted.
Step 6
Remove dry brined duck pieces from the refrigerator. Rinse the salt off under cold running water and pat dry. (Still slightly wet is fine.)
Step 7
Place duck into melted duck fat inside the dutch oven. Carefully fitting the pieces together with minimal space will reduce the total amount of rendered duck fat required.
When carefully pieced together, the fat I rendered just barely came to the surface of the meat but did not completely cover it. I added roughly 1 1/2 cups rendered duck fat that I purchased in a separate jar 11 oz.
(Note: When we've raised our own ducks in the past, there's enough fat on a duck to make confit. Much of the visceral (internal) fat is removed from store-bought whole ducks, to be rendered and sold separately. That's why additional fat must be purchased unless you're harvesting your own ducks.)
Wolfert's recipe suggested adding 4-6 cups additional duck fat, which may be necessary if you're using a large wide cooking vessel or you do not fit the pieces together tightly.
Step 8
Bring the duck confit to 190 degrees. Traditionally, confit de canard is made in an uncovered dutch oven on the stovetop, on very low heat.
Enclosed ovens within home kitchens are a relatively new addition, not arriving until the past 100 to 150 years or so. Duck confit is much older than that.
In modern kitchens, it's often cooked uncovered in an oven set to 180 or 190 degrees, which allows you to make duck confit with less active attention.
A crockpot set to low is also a good option, but that method may take an hour or two longer as the slow cooker comes up to temperature.
Stovetop, oven or slow cooker, it makes no difference. However, you cook confit de canard, be sure that it's uncovered so liquid can evaporate.
After about 3 hours of cooking, test each piece with a fork or skewer. It should be easy to pierce the tender duck meat when it's done.
Modern Americanized versions will slow cook the duck at 170 to 180 F for 8 to 10 hours, until it's completely falling apart, nearly melting off the bone. Traditional French recipes for confit de canard generally take 3-ish hours and result in duck confit with a bit more bite to it.
When cooked, remove the duck pieces with a slotted spoon and set aside.
Step 9
Ladle the remaining duck fat into a heavy saucepan, leaving the dark duck drippings behind. Heat the duck fat on the stove over medium-high heat. Heat uncovered for about 10-15 minutes, watching carefully that it does not burn.
It will bubble as the remaining moisture from the duck meat is driven out of the duck fat. When the sputtering and bubbling stops, and the surface remains undisturbed, turn off the heat.
(Be careful and don't allow the duck fat to smoke or overheat.)
Step 10
Ready a clean, dry container to store the duck confit. For immediate use, choose any convenient bowl or storage container. For long term storage, glass mason jars or a glazed stoneware crock work well.
For Immediate Use within a few weeks ~ Place the duck pieces in the container and ladle the rendered duck fat over the top until completely covered. Store in the refrigerator for use with a few weeks.
Preparing Duck Confit for Storage
If you plan to store duck confit, be it in the refrigerator or a cool basement, it takes a bit of extra preparation.
A heavy, glazed one-gallon earthenware crock is perfect for storage, but something like a clean enameled dutch oven or a few large glass jars will work as well.
Pour boiling water into each container, carefully swirl it around to sterilize and then pour it out. Dry each container completely.
Add 1/2 tsp of salt the bottom of each container. She notes that this salt "prevents meat juices (salarque) that may seep from the duck during the ripening process from turning sour."
Remove any loose bones from the duck meat and use them to make a criss-cross platform at the bottom of the crock to keep the meat up off the bottom. (Thigh bones are a good choice here.)
Reheat the duck fat. Remember, you've only skimmed off the fat and left meat juices behind in the original cooking dutch oven. Use only clear, rendered duck fat at this point.)
Ladle clear rendered duck fat through a fine-mesh sieve into the container. Fill the container about halfway, and then carefully slip the meat pieces into the crock without crowding. Keep them away from the sides and bottom, so that all pieces are completely surrounded by duck fat.
Ladle more duck fat on top to completely cover, but be sure to leave a generous inch of air space above the surface and the top of the crock. Let the crock completely cool to room temperature.
The next day, seal the crock with just under 1 inch of melted pork lard. The lard is more solid when cooled than duck fat, and will form a better barrier at the top of the crock to preserve the duck meat.
Cover the container and store in the refrigerator for up to 4 months. During this time, the duck confit will "ripen" and the flavor will develop further.
Traditionally, the duck would have been stored in a cool basement or root cellar. Obviously that's worked historically, but try that method at your own risk.
Storing Duck Confit without Refrigeration
The original purpose for this cooking technique was preservation, and to ensure a supply of meat all winter long. In modern kitchens it's most commonly consumed immediately, so traditional confit de canard recipes have changed over time to accommodate that use.
If you plan to store the duck, there are a few necessary alterations to the basic recipe:
Salt Quantity ~ Paula Wolfert suggests doubling the initial amount of salt. The basic recipe uses 3% the weight of the meat, dry brined overnight, and then rinses it off before cooking. For storage, she suggests 6%. Other sources say that 3% is sufficient.
Use of Aromatic Vegetables ~ Duck confit recipes often incorporated onions, shallots, garlic, and other aromatics. If storing, avoid using these during the cooking process as they can harbor botulism spores and may cause issues during extended storage.
Salting Container Bottom ~ Be sure to salt the bottom of the container before placing the meat back in, and use the bones to create a rack to keep the meat off the bottom. Juices will come from the meat during storage, and they should be allowed to seep to the bottom away from the stored meat.
Only Use Clear Rendered Duck Fat ~ During cooking the duck will put out a large quantity of tasty drippings, as well as fat. Leave the drippings behind for anouther use, and only use clear rendered duck fat to submerge the duck confit for storage.
Seal with Lard ~ Duck fat is more penetrable than lard, and remains more liquid in storage. For a better seal, cap the stored duck confit with an inch or so of lard.
Preserve at Your Own Risk ~ Obviously anytime you undertake a food storage project it's at your own risk. Be aware that the refrigerator is the preferred and safer way to store duck confit.
How to Serve Confit de Canard
There are so many ways to use duck confit. The simplest is to just brown it on the stove until the skin crisps and the meat is fully heated.
Simple, yet spectacular, and excellent with potatoes and Brussels sprouts.
The smaller pieces of meat are often picked off the bone, and pounded with a bit of duck fat into a smooth spread known as rillettes.
This delicious meaty spread can then be stored sealed with a layer of fat (just like duck confit) or used immediately. It's fabulous spread on crackers.
Beyond that, duck confit is essential for cassoulet, a traditional long-cooked french dish with beans, meat, and wine. I have a simplified, easy cassoulet recipe that you can try.
Next on my list to try is "Parmentier de confit de canard" which is a traditional French dish that basically amounts to a confit shepherds pie or gratin. The confit is mixed with red wine, stock, and herbs and then baked under a layer of mashed potatoes.
The most popular preparation in my house though? Duck confit risotto.
The flavorful drippings from the original confit are used to make a homemade risotto. Add a few shreds of confit to the risotto, or place a browned piece of duck confit right on top.
My two-year-old gobbles it right up…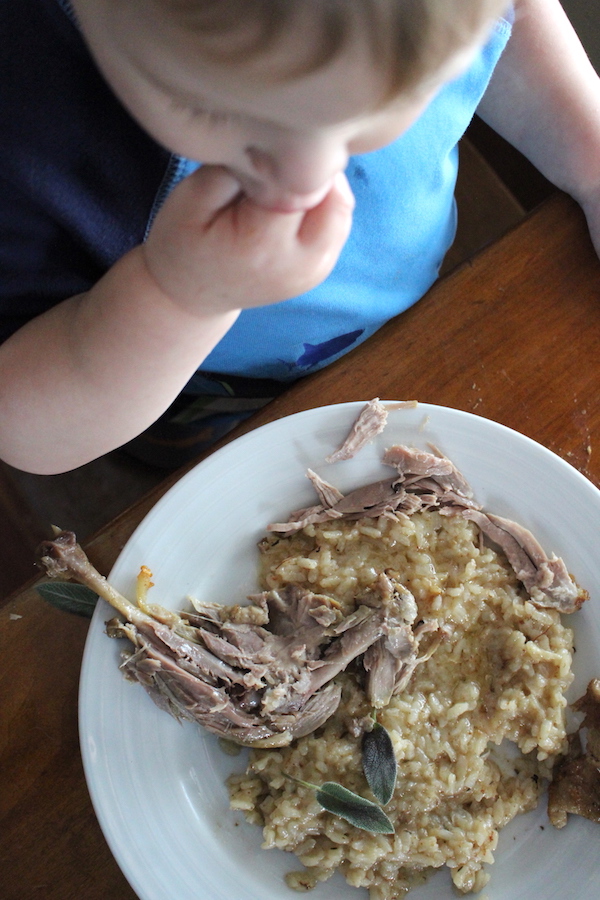 More Whole Duck Recipes
Looking for more ways to cook a whole duck?
More French Duck Recipes
How about more ways to prepare duck in the French Style?