Persimmon upsidedown cake is a delicious way to use up a bumper crop of persimmons. Storebought persimmons or wild foraged persimmons work well in this simple almond flour and honey cake.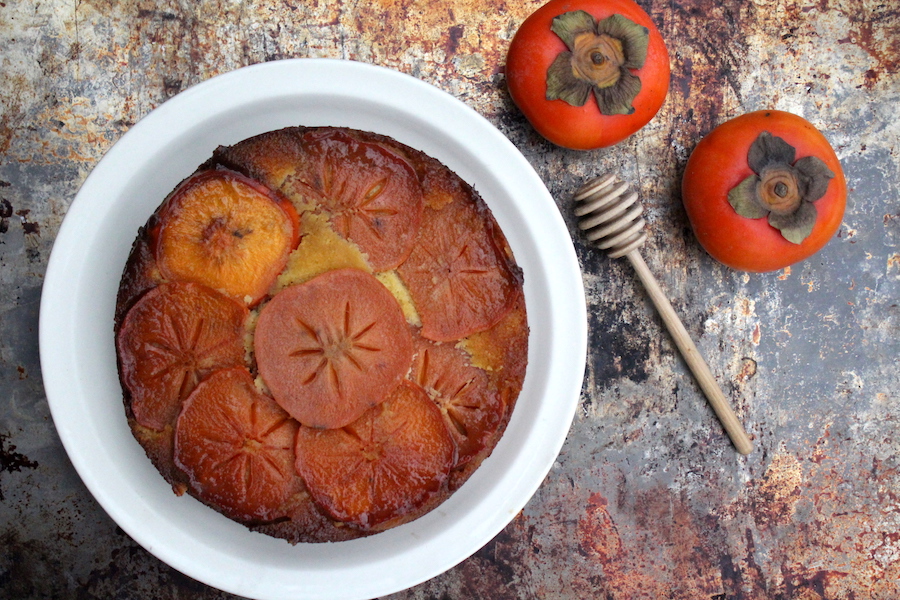 Persimmons were my grandmother's favorite fruit and she'd always have them on her counter in season. Just one bit takes me back to her kitchen in my youth, and when they come in season I just can't help myself.
Every year I make persimmon jam, which is one of my husband's favorites. This year, I went a bit further and made this delectable persimmon upside-down cake for my 3-year-old daughter. She's a bit of a honey fiend, and her favorite cake to date is a almond flour strawberry shortcake, so I knew this would be a hit.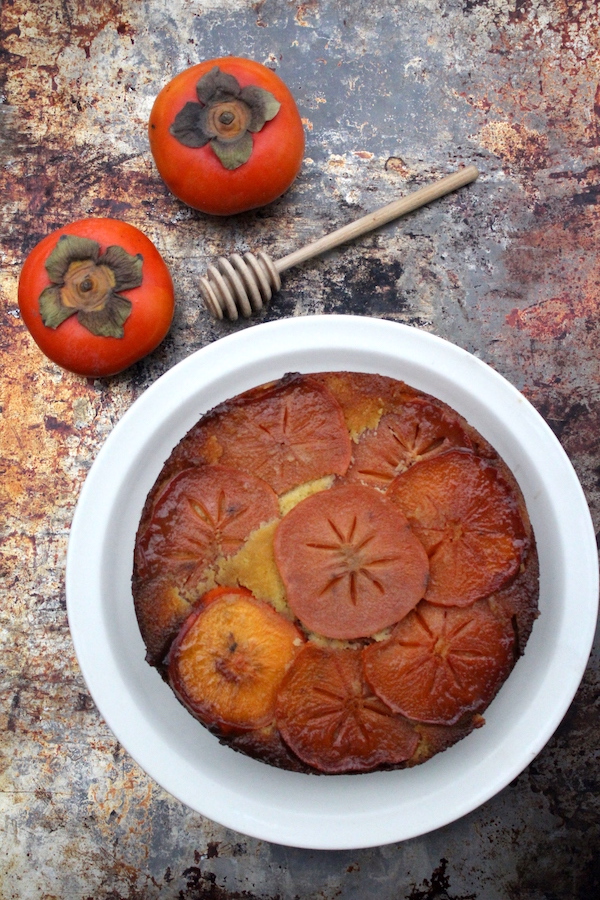 The persimmons I'm using are quite firm, which helps them hold together at the bottom of this cake. Honey is in every part of this cake from the tender crumb to the persimmon topping layer. They help the top (which used to be the bottom) carmelize a bit in the pan, which adds quite a bit of sweetness to the persimmons.
On her first bite, my daughter tells me that this is now her favorite cake! It is good, but I imagine that her favorite cake is whatever is at hand. It's nice to be three…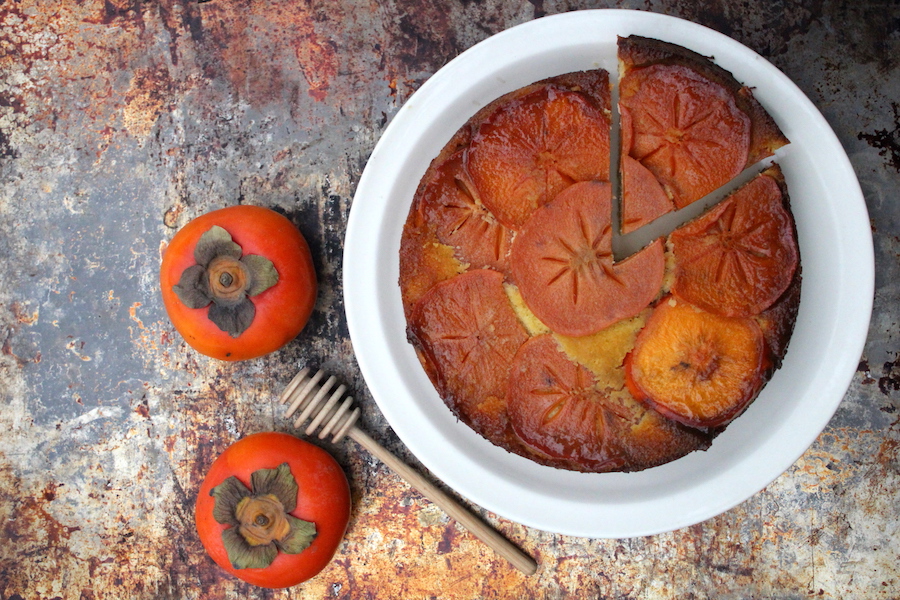 Recipe adapted from The Kitchen McCabe where rhubarb is used instead of persimmon. The original recipe also includes cane sugar, and I've switched it out to honey.
Yield: 9'' cake
Honey Persimmon Upside Down Cake (Grain-Free)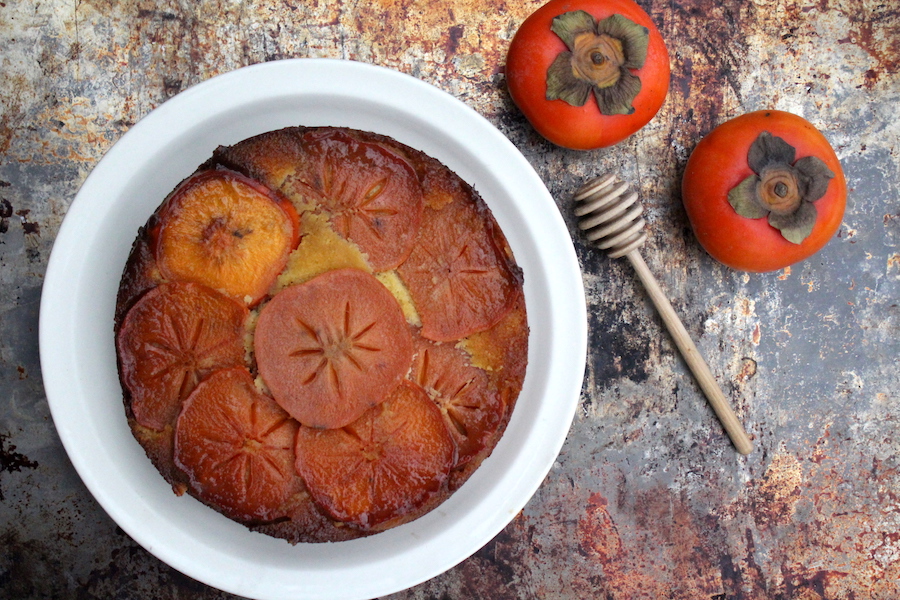 Honey and persimmon combine beautifully into this simple grain free upside down cake.
Ingredients
FOR THE PERSIMMON TOPPING:
2 large fuyu persimmons
2-3 tbsp thin liquid honey
FOR THE ALMOND CAKE:
¾ cup Butter, softened
1/2 cup honey
1/2 tsp Salt
1 tsp Vanilla
4 Large Eggs
2 cups Almond Flour
Instructions
Preheat the oven to 350 degrees.
Prepare a 9'' springform pan by generously coating it with butter.
Slice a two persimmons and arrange the slices in a single layer at the bottom of the springform pan. Drizzle 2-3 tablespoons of thin liquid honey over the top of the persimmons. Set aside.
Prepare the cake by beating butter, honey, salt and vanilla in a mixing bowl for about 2-3 minutes until light and fluffy.
Beat in eggs, one at a time, making sure each is thoroughly incorporated before adding another.
Add almond flour and beat until the mixture is just combined.
Pour the cake batter on top of the sliced honeyed persimmons in the prepared springform pan.
Bake at 350 degrees for 55 to 60 minutes until a toothpick inserted in the center comes out clean and the top is evenly browned.
Remove the cake from the oven, and working quickly run a knife around the outside edge of the pan before releasing the spring form pan.
Place a plate on top of the cake and invert the pan. Run a knife along the pan bottom to separate the cake from the pan bottom if necessary.
Notes
It's important to remove the cake from the pan while it's still very hot to prevent the honey persimmon topping from hardening into the pan. Remove it while it's still very hot fresh from the oven for best results.
Delicious Homemade Desserts
Looking for more ways to sweeten things up?