A chocolate beetroot cake is incredibly moist and delicious. With subtle hints of red in a dark chocolate background, adding beets is the perfect way to make a Red Velvet cake without food coloring. The beets add color and keep the cake wonderfully moist, but you won't taste them at all.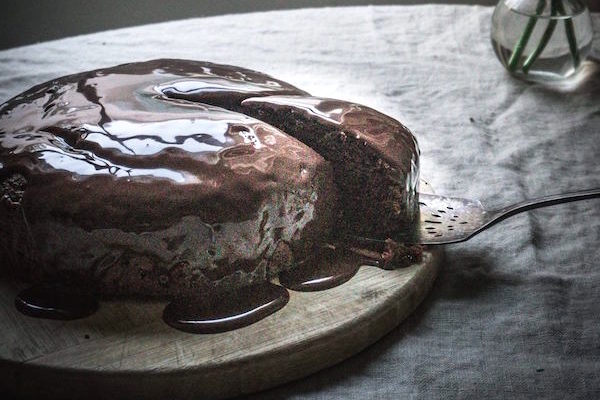 (This post was contributed by Melissa Keyser.)
The deal with Red Velvet Cakes
Red velvet cake is a chocolate cake that usually has a red tint to it. If you've ever watched a baking show, seen any social media, or ever visited a trendy cupcake shop, I'm sure you've seen this cake- usually white frosting with a deep and vibrant red cake.
According to Wikipedia, it's thought that red velvet cakes originated during the Victorian era, and was enjoyed as a fancy dessert. The term velvet indicated it was a "soft and velvety crumb cake". Devil's Food cakes are similar, but made with chocolate, while the red velvet cakes were made with cocoa.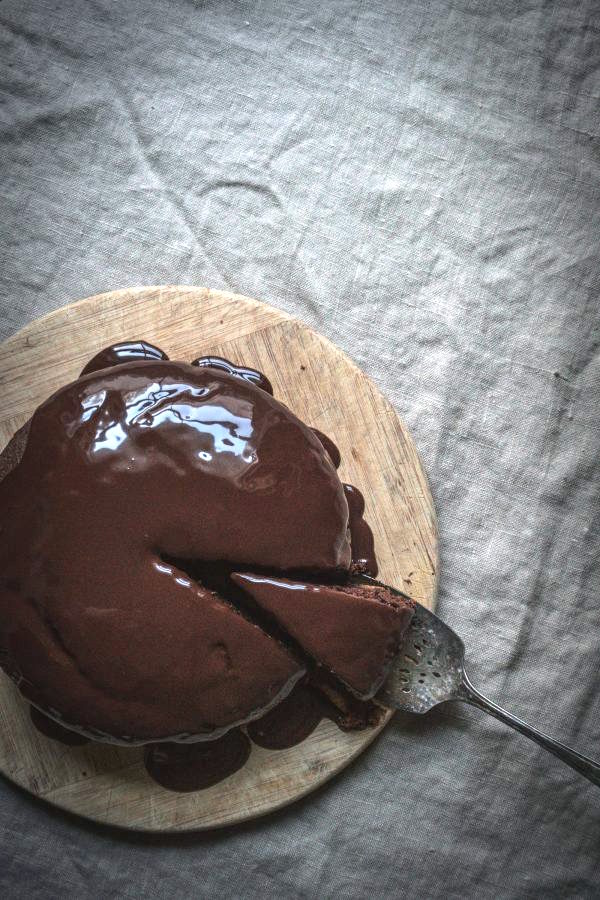 I can only assume that proper Victorian woman, who enjoyed a good cake, couldn't support eating something with connotations to the dark side, so they embraced the red velvet cake name.
But were the red velvet cakes actually red in Victorian times?
Red velvet cakes became popular in America during the Great Depression when an extract company introduced the concept of red extract with promotional recipe cards. Cocoa powder already lent to a slightly red tint of the batter and added color made them more vibrant. During the food rations of the World Wars, bakers increased the color of their cakes with boiled beet juice.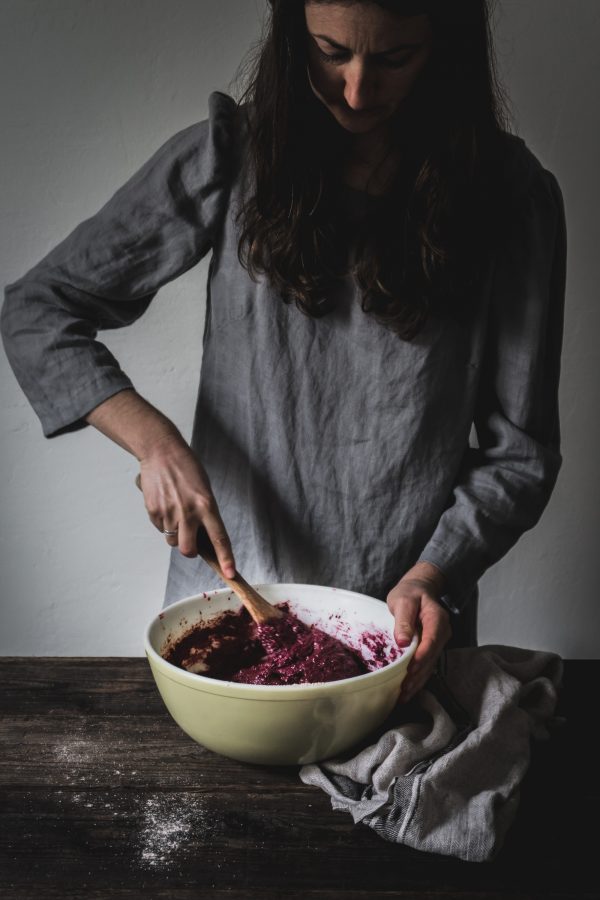 Today, however, all modern red velvet cakes contain food coloring.
Never a fan of Red Food Dye 40, I've always avoided red velvet cakes. I've also avoided baking with beets, despite seeing many recipes that use them. I have nothing against a nice beet and goat cheese salad, but overall, beets aren't my favorite. They always have a slight, well, dirt flavor.
Not something I ever thought would be great in a cake.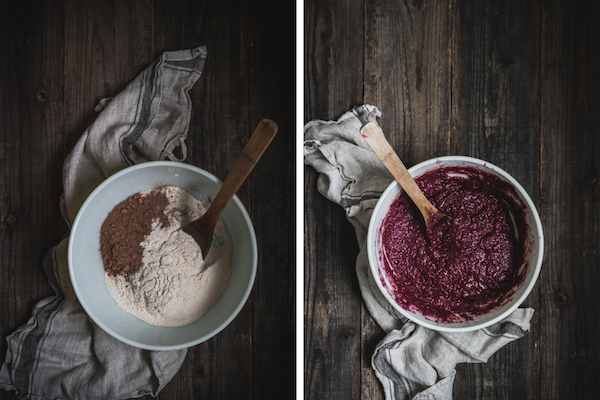 Yesterday was Valentine's Day.
This holiday doesn't mean much in my house. Despite being in a loving relationship, I honestly hate the holiday. I don't like out-of-season roses, I don't like cheap chocolate, I don't like Hallmark greeting cards. I don't do romance and I don't do mushy. I don't like overly priced "special menus" or the forced feeling of today-you-should-feel-happy-and-in-love! The only Valentine's Day Card I've ever really enjoyed getting was a few years ago from my friend: "If there were a zombie apocalypse, I'd eat you last."
Am I a Valentine's Grinch? 100%.
It's usually always best if we just ignore it and pretend it doesn't exist.
But, my dear online friend Heidi, of the vegan food blog, The Simple Green, posted a Vegan Chocolate Cake made with beetroot for valentines day.
I was intrigued.
I don't tend to keep vegan cooking staples on hand, but this recipe was easy enough to convert to common pantry ingredients with real eggs and cream.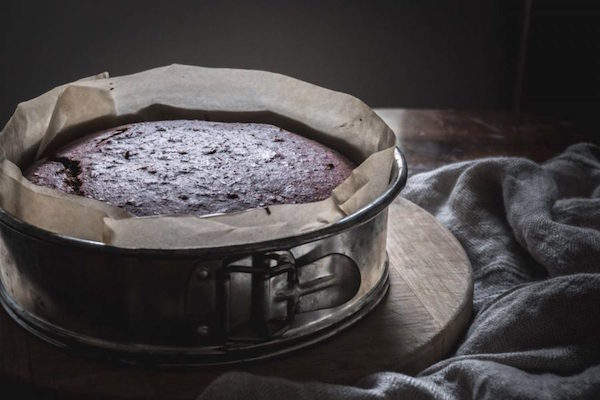 Me, being me, had done no romantic gestures for my husband or made special dinner plans. I planned on having frozen tortellini. Special, I know. And, despite my feelings towards the holiday, I don't honestly know much about how he feels about it. It's possible he loves it, or, he might not even remember (obviously, a conversation we should have had one of these past 1o years). So I thought, I could do a cake, just in case he cared.
While Heidi didn't mention her cake recipe as a red velvet cake- it has cocoa and beets, so it sounds like my vision of a totally authentic Victorian style. And I love all things Victorian.
So what could be more Valentine-y?
Plus, it has beets in it, so even if it turned out that my husband also hated the holiday, I could pretend it's healthy and I could get my veggie serving of dinner out of the way. You know, multitasking.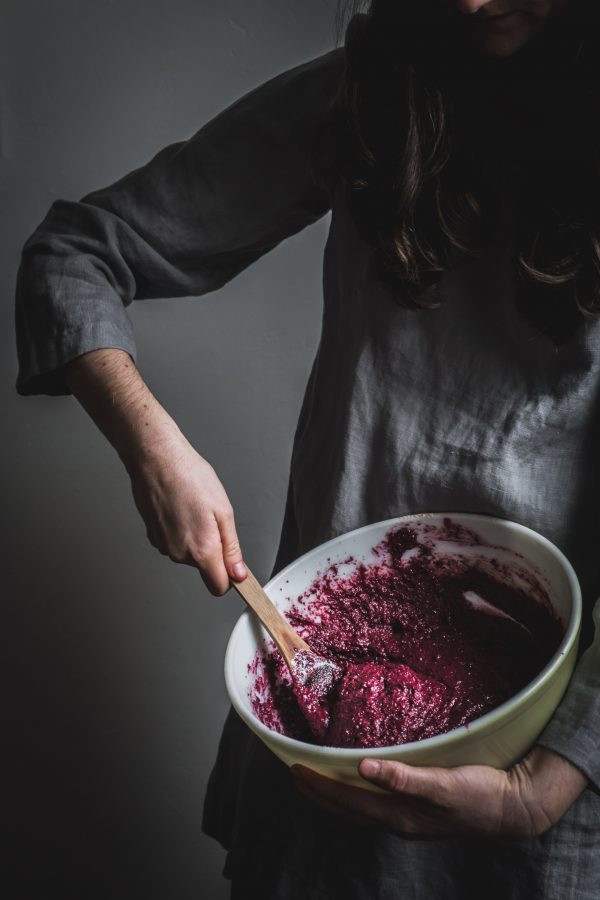 Notes about this Chocolate Beetroot/ Authentic Red Velvet Cake Recipe
I steamed the beets, but next time I'd roast them. I think a lot of the juice and the sugars were lost in the steaming process (as the water in the pan turned a brilliant shade of scarlet and had a syrup like consistency). Roasting would keep all that goodness in the beets.
I didn't have a cake pan- despite my husband once being a professional baker, we have surprisingly little baking equipment. I did find a slightly rusty springform pan at the back of the cabinet, so cobbled together a parchment liner of both the sides and bottom.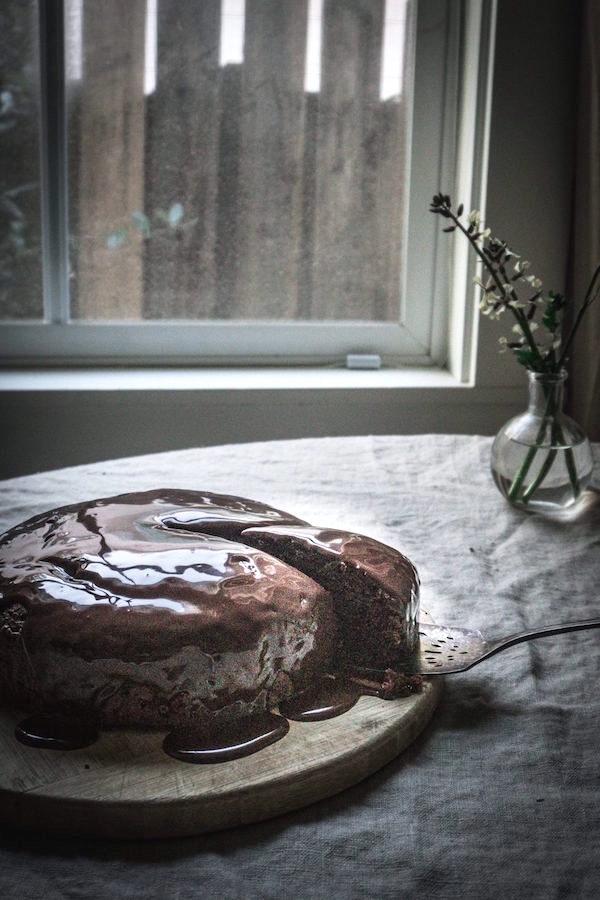 The frosting is brilliant and so easy. A simple ganache with heavy cream and dark chocolate comes together in minutes. Delicious. I must find more ways to use this. But, it does take a long time to firm up to a spreadable consistency. I was impatient, wanting to get a picture before it got too late in the day and dark in my house. So I tried to spoon it on while it was still warm. It just slipped off, creating a beautiful mirror glaze that is so sought after on the British Baking Show, but not the thick, fudging frosting I was hoping for.
So I took my photos, then tried to re-frost once it cooled. Visually, that turned into a disaster and would recommend just being patient.
And my husband said he agrees on the dislike commercialization of the holiday. But he did like the cake.
Delicious Homemade Desserts
Looking for more ways to sweeten things up?
Yield: 1 8'' cake
Chocolate Beetroot Cake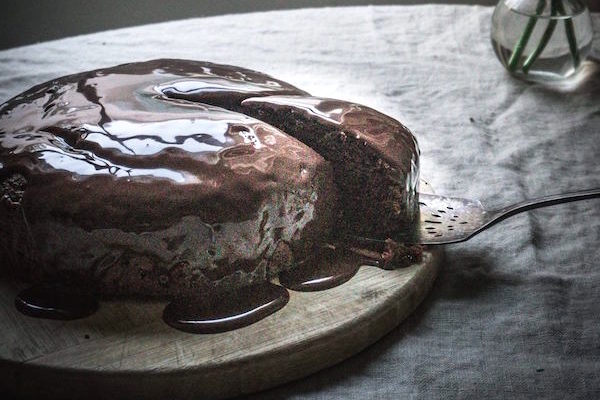 A chocolate beetroot cake is incredibly moist and delicious.  With subtle hints of red in a dark chocolate background, adding beets is the perfect way to make a Red Velvet cake without food coloring.  The beets add color and keep the cake wonderfully moist, but you won't taste them at all.
Ingredients
1 cup beet puree (roasted, cooled & pureed)
2 eggs
2 cups whole wheat flour (or white flour)
1/3 cup cocoa powder
1 cup cane sugar
1 1/2 teaspoons baking soda
1/2 teaspoon sea salt
1/4 cup oil
3/4 cup milk
2 teaspoons pure vanilla extract
Chocolate Ganache Frosting
6 oz semi-sweet dark chocolate, chopped into pieces
3/4 cup heavy cream
Instructions
Preheat the oven to 350 F. Prepare an 8'' round cake pan by lining it with parchment or greasing thoroughly.

Mix together dry ingredients including flour, cane sugar, cocoa powder, baking soda, and salt.

In a separate bowl, combine the eggs, cooled beetroot puree, oil, milk and vanilla.

Add the wet mixture into the dry and stir until just combined.

Pour into prepared pan and bake for 50-55 minutes. Test for doneness with a toothpick in the center, it should come out clean.

Allow the cake to stand for about 5 minutes, and then remove from the pan to cool completely.

Ganache topping

Place the chocolate pieces in a heat proof bowl. Create a double boiler by placing a bit of water in the bottom of a saucepan, and placing the bowl on top. Bring the water to a simmer to melt the chocolate, and then remove from heat and add the heavy cream.

Allow the ganache to cool for about an hour, until it reaches a thick spreadable consistency. Be patient!

Frost the cooled cake with the cooled frosting and serve.