Making Sun tea is easy, and takes advantage of the summer sun and brew up a jar of flavorful tea! Learn how to make sun tea, and take part in this essential summer ritual, plus get the recipe and suggested flavor combos here!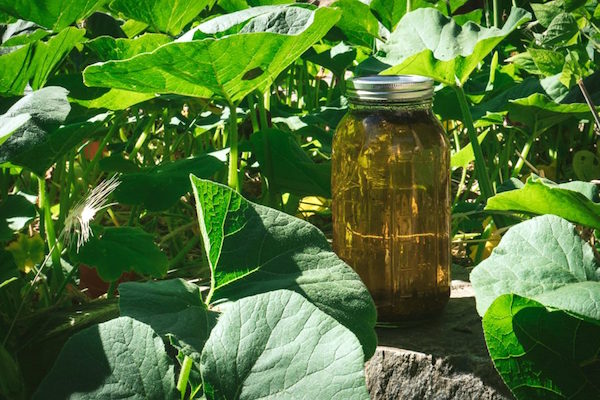 (This post was contributed by Melissa Keyser.)
It's hot. It's summer. You want something to refreshing and to quench your thirst, but not plain water. You have no desire to turn on the stove or go to the store. So, what do you do? You make sun tea.
I love tea. For most of the year, my morning ritual includes brewing a cup of hot herbal or green tea and enjoying it while I spend time in the garden or write in my journal. But, come summer, when the thermometer is hovering around 100 degrees, my ritual shifts. No, no hot tea for me.
Instead, I make jars of sun tea.
Sun tea evokes childhood memories and brings back a bit of nostalgia. Did your family also have a sun tea jar painted with sunflowers and a plastic lid?
Such a drink seems like such a treat and is a ritual I look forward to all year. In the morning I fill a jar with tea or herbs and water, then set out in the garden during my morning walk. I thank the sun for providing the heat and light to steep the tea and herbs, infusing the water.
Come noon, I've already enjoyed a few glasses, poured from the jar in the fridge from yesterday's brew. When the sun reaches its peak of the day, I'll bring my new jar, still warm from the sun, to the fridge, to be enjoyed tomorrow. An endless cycle on hot summer days.
Even on sunny winter or spring days when I could brew sun tea, I still make my tea on the stove. I save this simple project for only during the summer. Sun Tea is a small consolation to the stifling heat I experience in my area.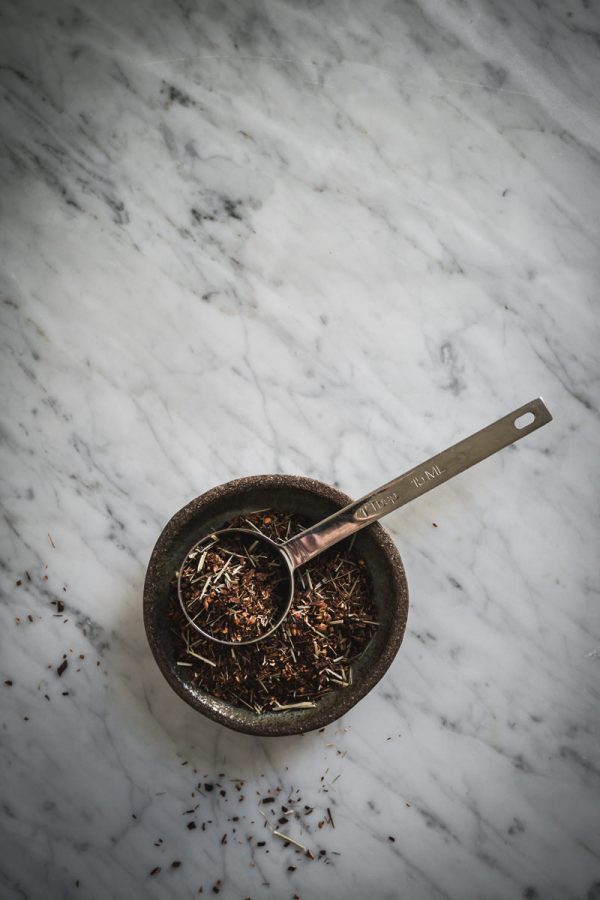 What is Sun Tea?
Sun Tea, or as I like to think of it, Lazy Tea, is simply tea where the sun did all the work. The light and heat of the sun warms the water and steep the tea instead of you having to stand over a hot stove, boiling water (not that that's really hard, but still. summer. f'ing hot.)
It's iced tea that sounds fancy. And remember, I love fancy. I don't buy premade beverages (well, other than alcohol), so it's blissful to have something cold to drink during a hot day besides water. The nice flavors are also encouraging if you are trying to drink more water, something we all need to do in summer!
Sun tea is supppeeerrr easy to make, you just need a bit of thinking forward and prep!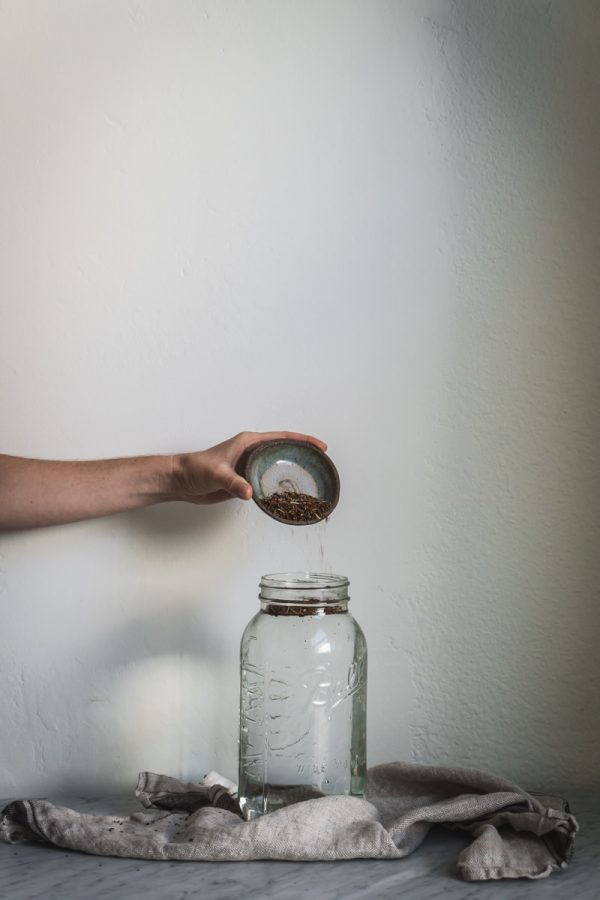 How to Make Sun Tea:
Combine loose leaf or bagged tea with water in a glass jar and set in the sun for 3-5 hours. Then, strain and cool in the fridge or pour over ice. Done!
Any tea that you would drink hot you could drink as sun tea. Black is the classic, but I like rooibos or herbal blends the best. I'm currently loving a roobios, honeybush, lemongrass and raspberry blend, which is what I used for these pictures. You can brew the tea on its own, or in combination with fresh or dried herbs, or just herbs itself. Which is then technically a tisane, not a tea, but moving on…..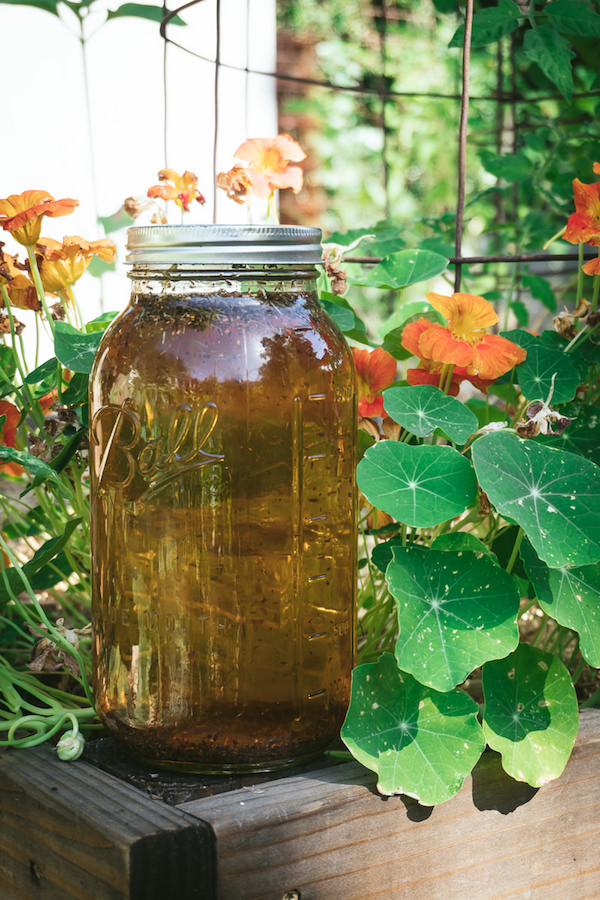 Sun Tea is pretty forgiving and is not at all pretentious. Like popsicles, it's hard to screw it up. I steep my tea in a half-gallon mason jar and follow this ratio:
Sun Tea Ratio
8 cups of water

2-3 tablespoons loose tea, or 6-9 tea bags

&, if desired, 2 tablespoons dried herbs or 2 large sprigs of fresh herbs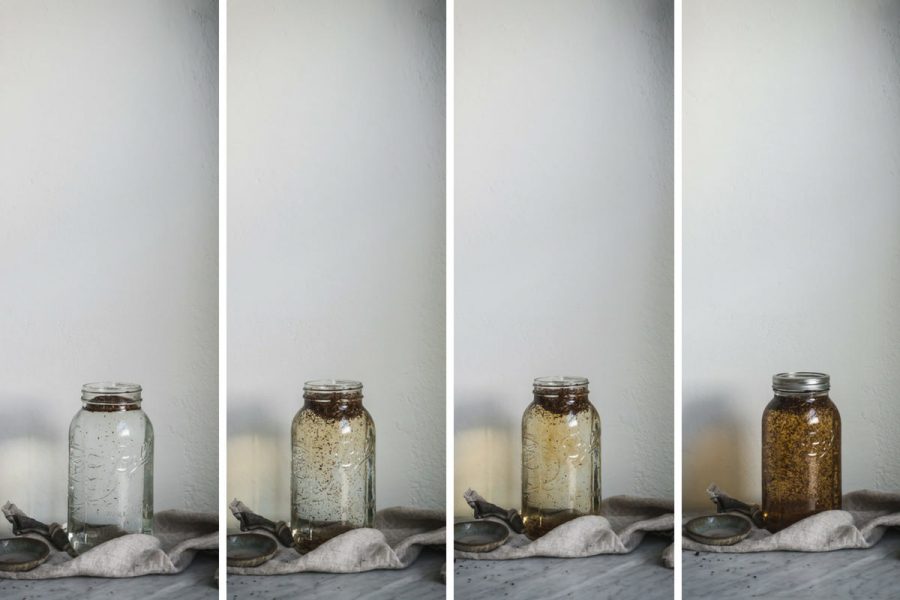 I usually make tea from a variety of loose tea blends purchased from boutique tea stores or from the bulk bin section of the local coop. I will often use herbs and flowers that I have previously harvested and dried, or I'll pick herbs fresh from the garden. Here are some of my favorite combinations:
My Favorite Sun Tea Flavor Combinations:
Rooibos + lemon balm

Rooibos + lemon verbena

Rooibos + mint

Jasmine Green + mint

Hibiscus + lemon verbena

Honeybush + calendula

Honeybush + lemongrass

Mint + chamomile + rose

Black + lemon verbena
I personally love my tea sweetened, but a splash of elderflower cordial added after the tea has brewed would also be magical! Do you have a favorite flavor? Let me know! I always like trying new things!
Important to Note:
The official guidelines from the Man will tell you that making Sun Tea isn't safe, because the sun never gets the water hot enough to kill any bacteria that may be present in the tea, the jar or the water. A fair concern, but I personally pay no heed to this warning. However, if you worried, you could easily produce a similar tea by letting it steep in the fridge overnight. Regardless of your brewing method, it's probably best to wait until after steeping if you want to add fresh fruit, honey or sugar to the tea.