Yeasted banana bread is the perfect way to use up overripe bananas. Not too sweet, this fluffy white bread is perfect for sandwiches.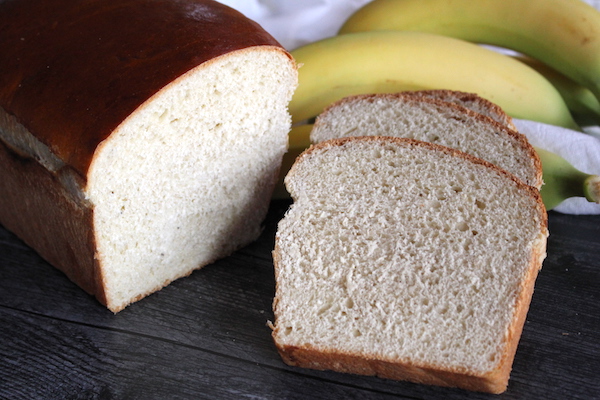 If you keep bananas in the house, it' inevitable…you'll eventually have an accidental bundle of banana bread worthy specimens browning on the counter.
Maple banana bread is my go-to solution, but these days with two little ones starting school, we've been going through sandwich bread like nobody's business. I've fallen in love with this honey wheat bread recipe, but life's too short for the same bread every single day.
Time to test out some yeasted banana bread recipes…and this one's a winner.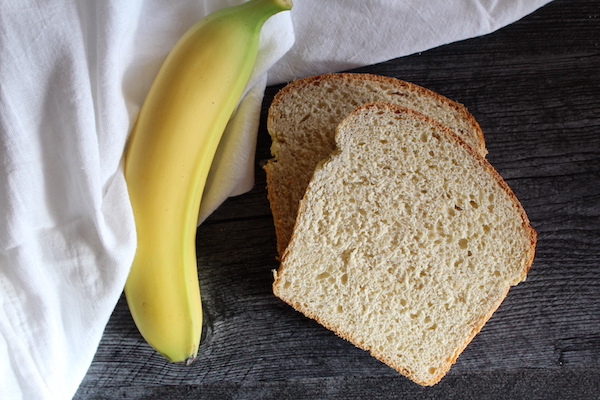 While your standard banana bread is basically a cake, this yeasted banana bread is actually a slightly sweet sandwich bread that's spectacular as a classic PB&J. Add a few sliced bananas and it's out of this world!
The trick is, you need to know a thing or two about working with yeast breads…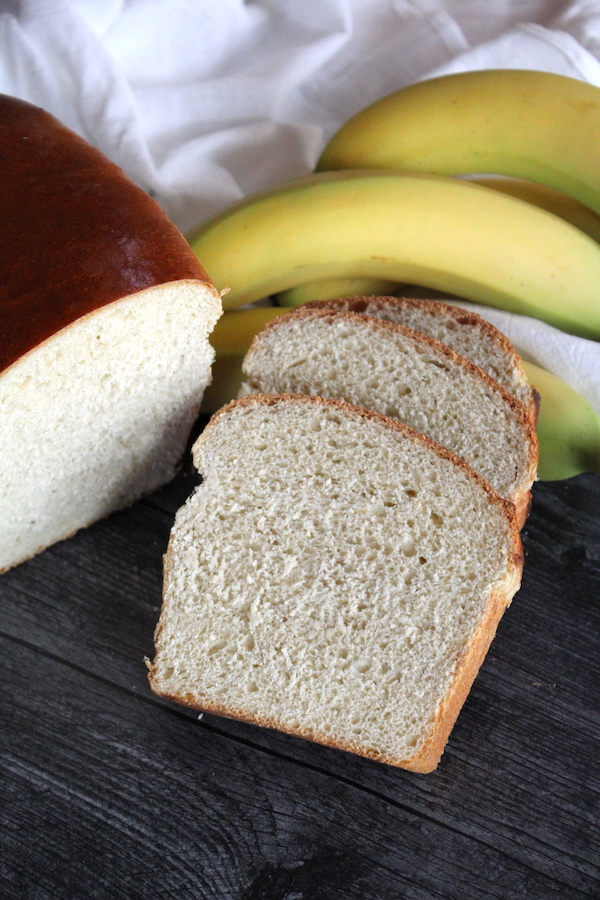 Making Banana Bread with Yeast
Most banana bread recipes include baking soda or baking powder as levening, but yeasted banana bread incorporates yeast (of course). That means you'll need to knead the bread to develop gluten, which helps yeasted bread rise.
If you've made an enriched sandwich bread before, yeasted banana bread isn't all that much different. Just make sure the bananas are really well mashed before starting. The occasional chunk of banana is great in cake-like banana bread, but it's less appealing in fluffy yeasted banana bread.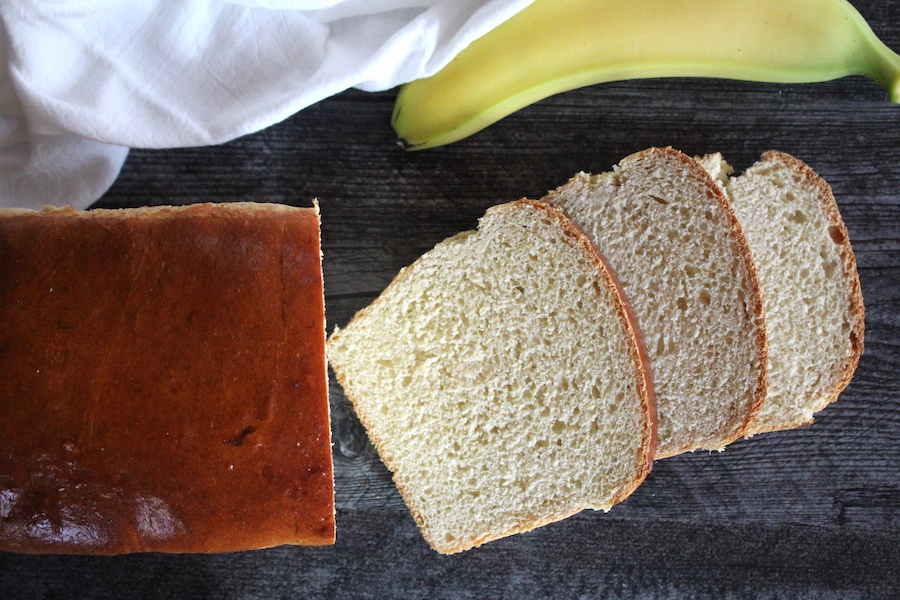 Dissolve the yeast in lukewarm milk for a few minutes, and then mix all the wet ingredients together until fully combined. Add about half the flour and beat it together with the paddle attachment on your stand mixer (or a spoon by hand).
Switch to the dough hook (or turn the mixture out onto a well-floured counter) and then add the remaining flour. Knead by hand for 8-10 minutes, or on in a mixer with a dough hook for 5-6 minutes.
At this point, the dough should be well-formed and cohesive, and just ever so slightly sticky.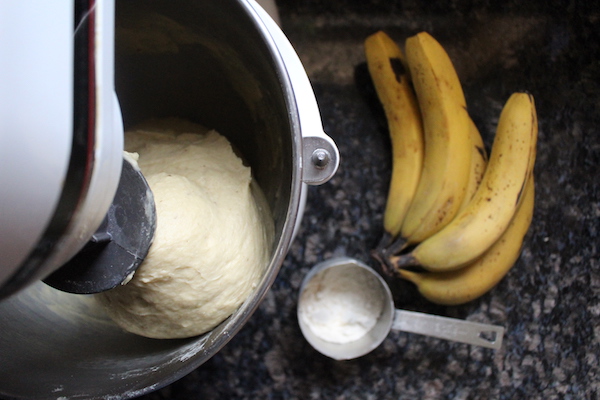 Place the dough in a greased bowl and allow it to rise in a warm place for about an hour until doubled in bulk.
Punch the dough down, divide in half and place in two greased loaf pans. Allow the bread to rise again until it's just up above the edge of the loaf pan. This should take about 45 minutes to an hour.
Beat an egg with a small amount of water, then use that to brush the top of the loaves. This is optional, but it really gives them a beautiful glaze.
Bake at 350 for 30 to 35 minutes, until the loaves are well browned.
I know it's hard, but allow the bread to cool completely before cutting. Or, if you have to, cut into one of them and eat it piping hot with butter. That's honestly what we did, and it was out of this world. Another good reason to make a two loaf batch!
Yield: 2 Loaves
Yeasted Banana Bread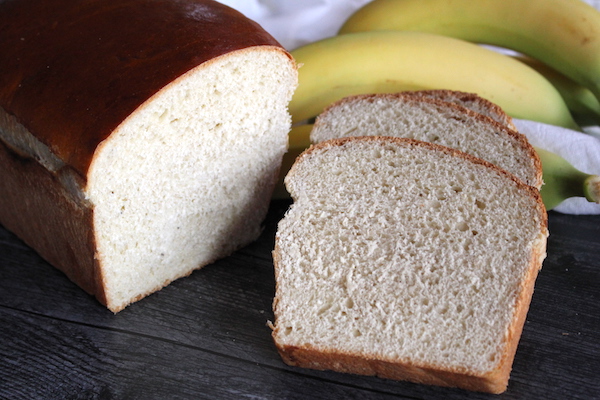 Yeasted banana bread is the perfect soft sandwich bread, with just enough sweetness for an epic PB&J at lunch time.
Ingredients
5 1/2 cups flour (plus more for kneading if necessary)
4 1/2 tsp. active dry yeast (2 packets)
3/4 cup milk
1/4 to 1/2 cup sugar (see note)
1 teaspoon salt
1/2 cup butter, melted
2-3 ripe bananas, mashed (1 cup)
2 eggs
Instructions
Warm milk slightly, until just barely lukewarm (about 90-100 degrees). Add yeast and allow it to dissolve for 5-10 minutes.
While yeast is dissolving, mash bananas and melt butter.
In a stand mixer with the paddle attachment (or by hand): Mix mashed bananas, melted butter, sugar, salt, and eggs. Then add yeast/milk mixture and stir to combine.
Add half the flour and mix with the paddle attachment (or by hand).
Switch to a dough hook (or turn out onto the counter) and knead in the remaining flour.
Knead the yeasted banana bread dough for 5-6 minutes with a stand mixer, or 8-10 minutes by hand.
Place bread dough into a buttered bowl and allow it to rise for 45-60 minutes until doubled in bulk.
Punch the dough down, divide it in half and form it into two loaf pans.
Allow the dough to rise again until it's raised up above the lip of the pan (about 45 minutes). Preheat the oven to 350 degrees while the bread rises.
(optional) Beat an egg with a tablespoon of water and use it to brush the top of both loaves.
Bake the loaves at 350 degrees for 30 to 35 minutes, until well browned.
Remove from the oven and turn out onto a cooling rack. Cool bread completely before cutting.
Notes
This recipe uses between 1/4 and 1/2 cup of sugar. I generally prefer just a very lightly sweetened loaf, so I use 1/4 cup and it makes the perfect sandwich bread. If you'd like a sweeter bread, go with 1/2 cup.
More Homemade Bread Recipes
Looking for more tasty homemade bread recipes?