Old fashioned pumpkin pie doesn't need any special ingredients, just mix farm fresh pumpkin (or canned) with cream, maple, and eggs for the best pumpkin pie you've ever had.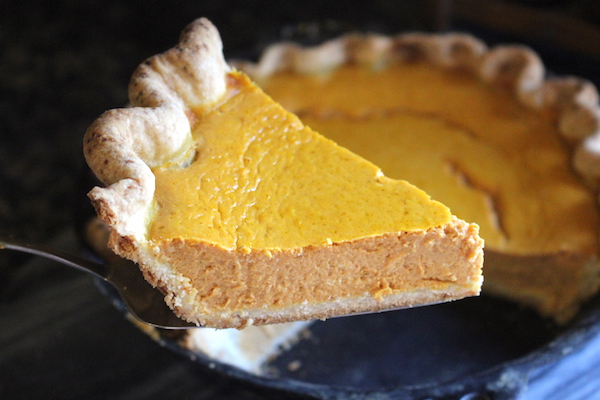 Growing up I was told you just couldn't make pumpkin pie without evaporated milk. I'd watch my grandmother painstakingly cook the pumpkin, spend hours straining it through cheesecloth and puree it into the finest homemade pumpkin puree you'd ever set eyes on.
What happened next always seemed so strange…she'd crack open a can of evaporated milk. You have to, there's no other way. The pie will be soggy if you use anything else.
The thing is, evaporated milk is a relatively new ingredient and pumpkin pie has been around for hundreds of years. Surely there's another way?
Of course, there is! Just as before Crisco there was lard…before evaporated milk there was real cream, whole milk, half and half and all manner of raw, nutritious farm-fresh dairy right from the cow.
I like to use half milk and half heavy cream (or you can just use half and half if it's easier for you). The pie comes out perfectly creamy and rich, full of pumpkin flavor without that metallic taste that canned milk can have.
For a real old fashioned treat, I sweeten it with maple syrup. Lacking fresh maple syrup, use sugar and add a dash of vanilla.
This old fashioned pumpkin pie comes out just barely sweet, and if you're fond of a sweeter pie, add in 1/4 to 1/2 cup cane sugar for a more modern level of sweetness.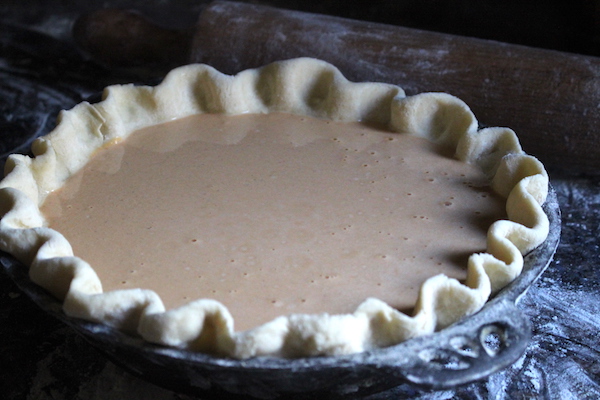 Pie crust for Old Fashioned Pumpkin Pie
I generally make a homemade crust from my favorite recipe:
1 cup flour
1/2 cup butter, cold
pinch salt
a few tablespoons cold water
Cut the butter into the flour and salt, then add cold water a bit at a time until the dough just barely comes together. Work the dough as little as possible for a tender crust.
Roll it out, place in a pie plate and you're ready for pumpkin pie.
(Or use an unbaked pie shell, storebought or your favorite recipe.)
Yield: One 9'' Pie
Old Fashioned Maple Pumpkin Pie (Without Evaporated Milk)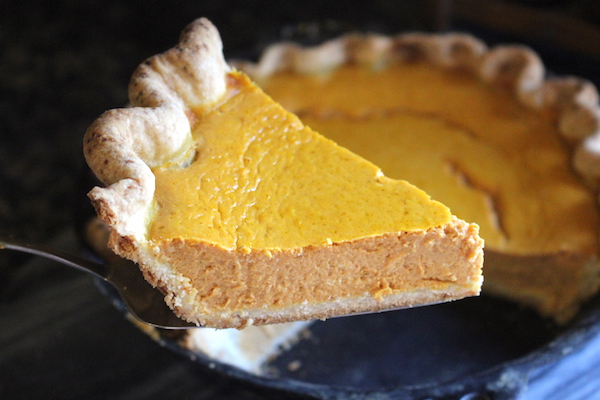 This old fashioned from scratch pumpkin pie recipe is made with farm fresh ingredients for the perfect creamy taste.
Total Time
1 hour
15 minutes
Ingredients
2 cups pumpkin puree (or a 15oz can)
1 cup heavy cream
1/2 cup milk
2 eggs, beaten
1/2 cup maple syrup
1 tsp cinnamon
1/2 tsp ginger
1/2 tsp nutmeg
1/4 tsp salt
One unbaked pie crust from your favorite recipe
Instructions
Preheat oven to 350.
Blend all ingredients together until combined.
Pour into an unbaked pie shell.
Bake at 350 for about 1 hour, until the center is set.
Remove from the oven and allow to cool completely before cutting.
Serve with fresh whipped cream.
Notes
* Be sure to beat the eggs until just scrambled before adding them to the other ingredients. If added whole, there's a chance that white streaks of egg white will remain in the finished pie.
More Holiday Pies
Looking for more homemade holiday pie inspiration?