A spectacular fruit to behold, pomegranates are renowned for their tart sweetness and vibrant ruby-red coloring. Called a superfruit by many, this delicious fruit is packed with antioxidants, in addition to being rich in folic acid, dietary fiber, vitamin K and vitamin C.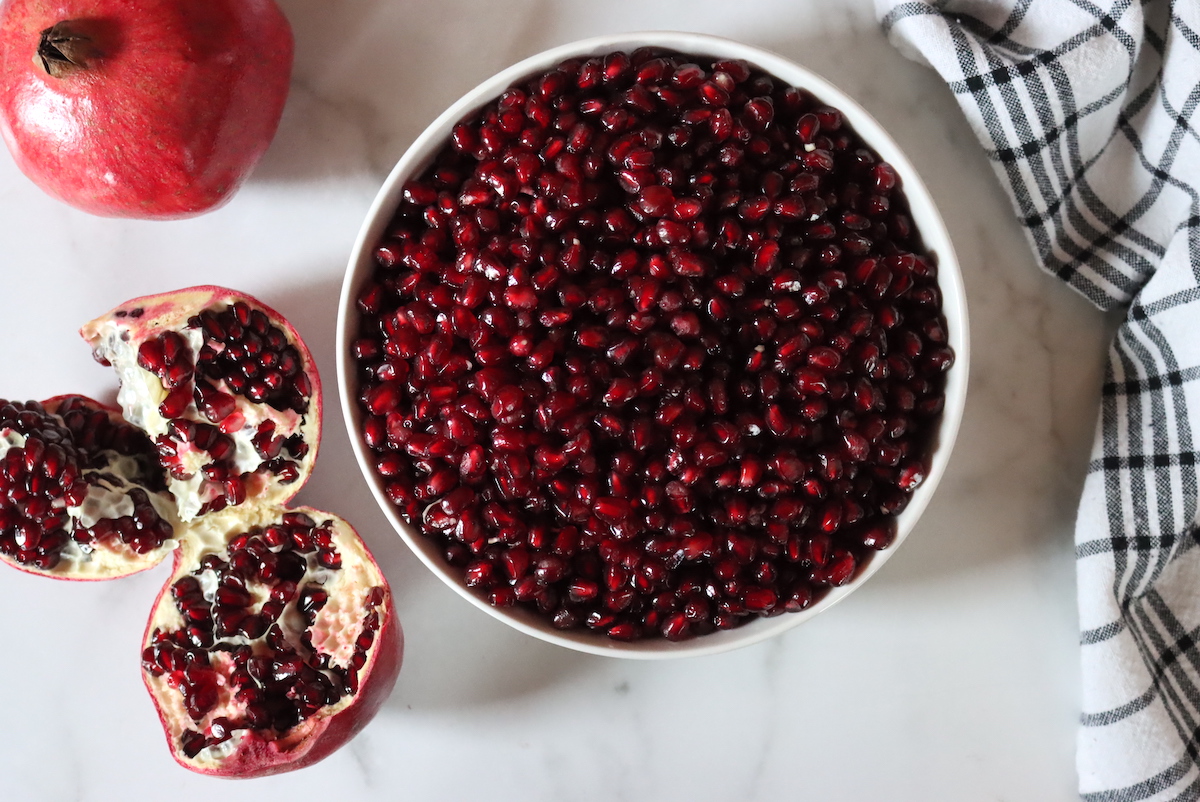 The pomegranate, Punica granatum, is an old fruit. It is believed to be native to the Middle East (particularly Persia) and has a documented history of more than 4000 years. Pomegranates are believed to have first been brought to Spanish America in the late 16th century, finally being introduced to California in 1769 by Spanish settlers.
Pomegranates may be hard to source outside of the southwestern United States, where they are chiefly grown.
Pomegranates prefer semi-arid to subtropical climates, growing in USDA zones 8 to 11. They favor hot summers with mild winters, growing most commonly in California, Nevada, Arizona, New Mexico and Utah.
Once peeled, the seeds of the pomegranate are exposed. Also called arils, these flesh-covered seeds taste lovely on their own, added to dishes or juiced.
Choosing the Best Pomegranate
Pomegranates grow on small trees and shrubs about 10 to 15 feet in size. Pomegranate trees have glossy, green foliage with lance-shaped leaves. The branches are often described as stiff and spiny, sporting thorns which develop as the tree matures. Blossoms can be either crimson, pink, orange or even white.
When exactly pomegranates are best for picking depends largely on the variety. Some early varieties will be ready as soon as September, while other cultivars may need to wait until midwinter. The season for pomegranates in the U.S. spans from September to December.
Some popular cultivars include Wonderful, which was first propagated in California in 1896, Utah Sweet which has pink skin and pulp, Ambrosia, and Early Wonderful, which ripens slightly ahead of the regular Wonderful variety.
When picking pomegranates, look for fruits that are rounded, plump and heavy. Some recommend looking for split fruit on pomegranate trees as an indicator that pomegranates are ready for picking.
Harvest pomegranates by cutting them from the tree – ripe fruits are easier to bruise or damage, so a pair of shears will come in quite useful.
Pomegranates will not ripen any further after harvesting, so wait until truly ripe to pick. Luckily, properly stored pomegranates can keep for up to 2 months or more when refrigerated.
Wondering how to prepare pomegranates for all their culinary uses? Prepare pomegranates by cutting off the top of the pomegranate and revealing the red seeds beneath. Score the pomegranate peel with a sharp knife from stem to end and pull the pomegranate into sections. Do this over a bowl to catch the seeds which will inevitably fall out.
Another tip for deseeding pomegranates is to turn your pomegranate sections inside out, pushing out seeds into the bowl below.
Discard any white bits of membrane and pull off any remaining seeds. Ripe seeds should be removed easily and are ready to be enjoyed immediately.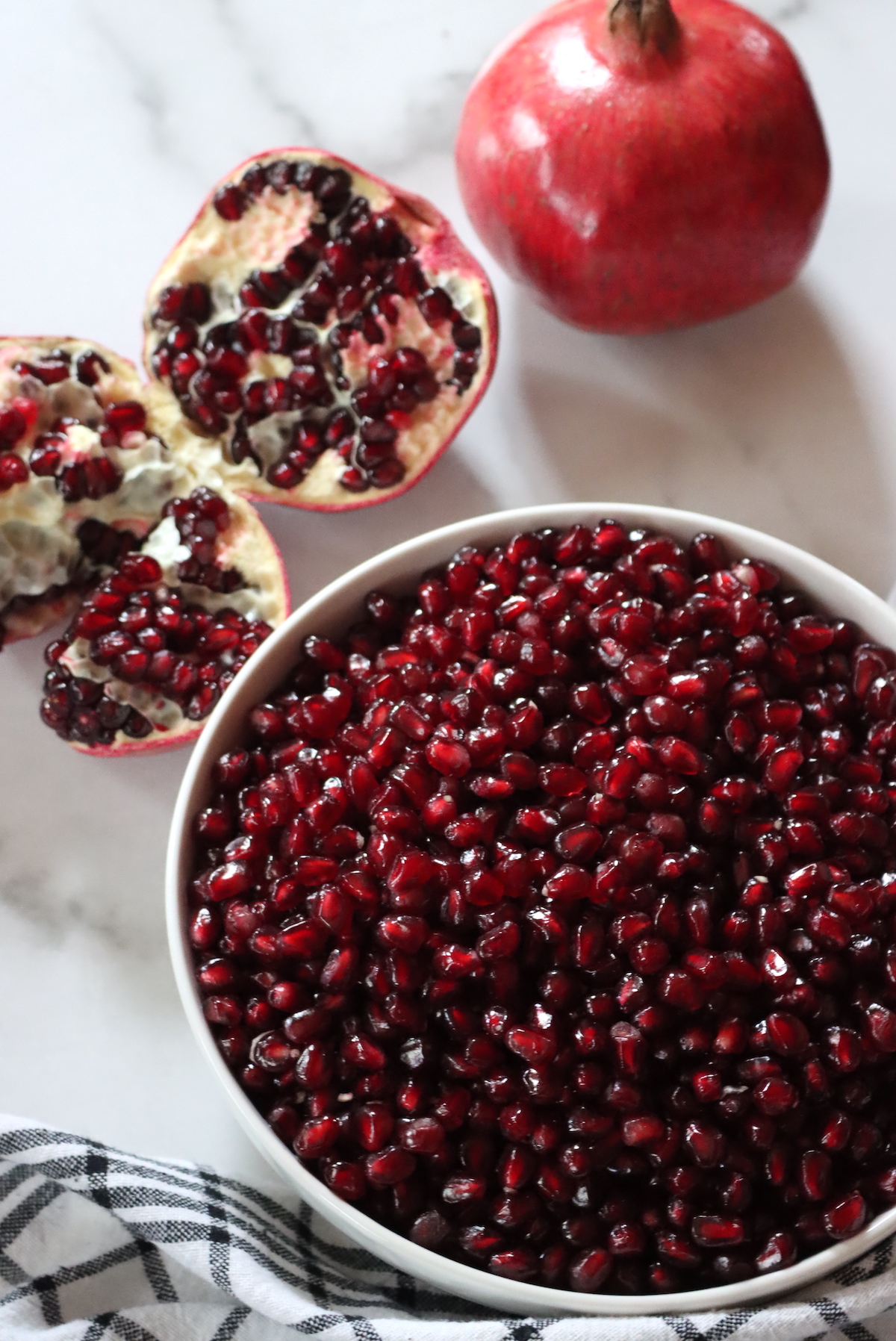 Pomegranate Recipes
While all pomegranates have a vibrant sweet and tart flavor, different varieties of pomegranate may harbor slightly different flavors. Utah Sweet possesses a sweeter flavor with softer seeds. Wonderful holds juicier arils and is a common variety for juicing, although the flavor will be more tart than sweet. Ambrosias are larger than the Wonderful variety and slightly more tart.
Pomegranate seeds can be added to a variety of dishes from appetizing salads and salsas to serving alongside meats or popping into drinks. From breakfast to dessert, pomegranates have a brightening effect, infusing flavor and vibrancy into a variety of dishes.
Fresh Pomegranate Recipes
You can add fresh pomegranate seeds to numerous plates, be they sweet or savory. Fresh salads benefit from a sprinkling of pomegranate seeds. Try a pomegranate salad with pears, pecans and goat cheese, or sample orange, almond and pomegranate with balsamic dressing. Fresh seeds can be juiced to make a sweet and tangy vinaigrette.
A smattering of seeds can also top soups as well. Try Persian ash-e anar, a pomegranate soup with meatballs, or test out a sweet cantaloupe and papaya soup with cloves. Fresh pomegranate seeds can be used in tarts and crisps also. Pair with cream cheese, chocolate or apples and cinnamon for delightful results.
Pomegranate Breakfast Recipes
Pomegranate seeds add just the right amount of zing to counteract groggy mornings. Soothe yourself with a vitamin-packed breakfast parfait with pomegranate seeds, Greek yogurt, granola and pumpkin seeds, or sample overnight oats with pomegranate, almond milk and chia seeds. For more ideas, add pomegranate arils to oatmeal, breakfast bowls, toast or bubbling pancake batter.
Three-ingredient pomegranate compote can top waffles, French toast or yogurt. Looking for a family-sized breakfast? Consider an apple and pomegranate crumble with honey, coconut and cinnamon – if you eat it with yogurt it's totally breakfast. Crowd-pleasing breakfast cookies made with mashed banana, dates and blueberry yogurt are another option.
For savory palates, consider adding pomegranate to a breakfast salad with bacon, eggs, cinnamon sugar croutons and a maple vinaigrette, or try narnumru, a Middle Eastern dish in which eggs are fried over a bed of pomegranate arils.
Sweet
Savory
Pomegranate Savory Main Courses
It may come as a surprise to some, but pomegranate pairs wonderfully with a number of dinner dishes. Pair pomegranate with chicken in a simplified version of Persian fesenjan, made with chicken thighs, coconut milk, warming spices and pomegranate juice. Sheet pan chicken and brussels sprouts with a sticky pomegranate sauce is another spectacular choice.
Pomegranate and beef are yet another great partnership. Sample a roast with potatoes and pomegranate molasses, strip steak with quinoa, or short ribs braised with beef stock, pomegranate juice and brown sugar. Beefy meatballs and butternut squash-beef stew make a magnificent comfort food as well.
For fishier fare, consider combining pomegranate with salmon and seared fish. Pomegranate juice makes a remarkable glaze and seeds can be used to whip up a delicious salsa for topping cod and halibut.
Pomegranate Drink Recipes
A variety of drinks and cocktails can be made with pomegranate, be it from fresh seeds, bottled pomegranate juice or pomegranate simple syrup. Make antioxidant-rich pomegranate juice from fresh pomegranates to make pomegranate punch, pomegranate lemonade or vanilla-pomegranate soda. Use sugar and pomegranate juice to make pomegranate simple syrup (also known as grenadine) to add to beverages and cocktails like palomas, martinis and Moscow mules.
Fresh pomegranates can be made into a caffeine-free fruit tea or juiced and blended with raspberries and black tea. Healthy smoothies are another opportunity for this vibrant fruit to shine.
Cocktails and Mocktails
Tea and Smoothies
Pomegranate Snack Recipes
Pomegranate seeds lend tartness to an array of snacks and appetizers. Blend arils into salsas, sprinkle them over crostini, coat cheesy holiday-worthy delights or mix them into honey-coated fruit salads. For a sweet and salty idea, consider a popcorn mix of pomegranate seeds, chocolate chips, salty popcorn and lemon zest.
Chocolate and pomegranate are truly a delicious pair. To satiate your sweeter side, try pomegranate chocolate bark, powerful pomegranate energy balls with dates and cocoa powder, or three-ingredient dark chocolate pomegranate bites with sea salt.
Even little ones can appreciate the flavor of bright pomegranate. Work pomegranate seeds into granola bars or popsicles for healthy treats or blend seeds to make pomegranate fruit leather. Too tart? Add sweet strawberry to entice young palates.
Appetizers
Sweet and Salty
Kid-friendly
Pomegranate Dessert Recipes
Tart pomegranate brings dimension and unusual flavors to cakes, ice cream and desserts. Consider adding pomegranate to lemon cookie bars with cream cheese frosting. Meringue bars with pomegranate curd and fluffy pomegranate meringue are another dessert sure to impress. Simply scatter pomegranate seeds into cake batter or use atop cakes and other concoctions.
Can't get enough pomegranates? Explore pomegranate cupcakes filled with pomegranate jam, slathered with buttercream and topped with fresh pomegranate in addition to a pomegranate macaron. Other options include decadent pomegranate mousse cake, pomegranate mousse brownies and layered pomegranate mousse parfaits.
No-bake holiday trifles layered with vanilla pudding, cranberry sauce and pomegranate are absolutely stunning for single-serve desserts. Another spectacular end to a meal? Pomegranate ice cream – both churn and no-churn recipes are provided below. Consider mixing with dark chocolate for an even more delightful frozen treat.
Cultured & Fermented Pomegranate Recipes
Looking for fermentable recipes involving pomegranate? First off, there's pomegranate wine which possesses a lovely deep red shade and pronounced pomegranate flavor. You can also try your hand at pomegranate mead. A recipe including pomegranate juice and dried flowers has been provided below. For a lighter, quicker fermented beverage, add pomegranate juice to kombucha for a fizzy refreshment or test out pomegranate kefir.
You can also ferment whole pomegranate seeds in honey, as well as ferment the flavors of pomegranate into hot sauce, relish and kimchi. Just remember to use raw honey in these fermented recipes – regular pasteurized honey is treated to kill off wild yeast and bacteria, two elements necessary for fermentation.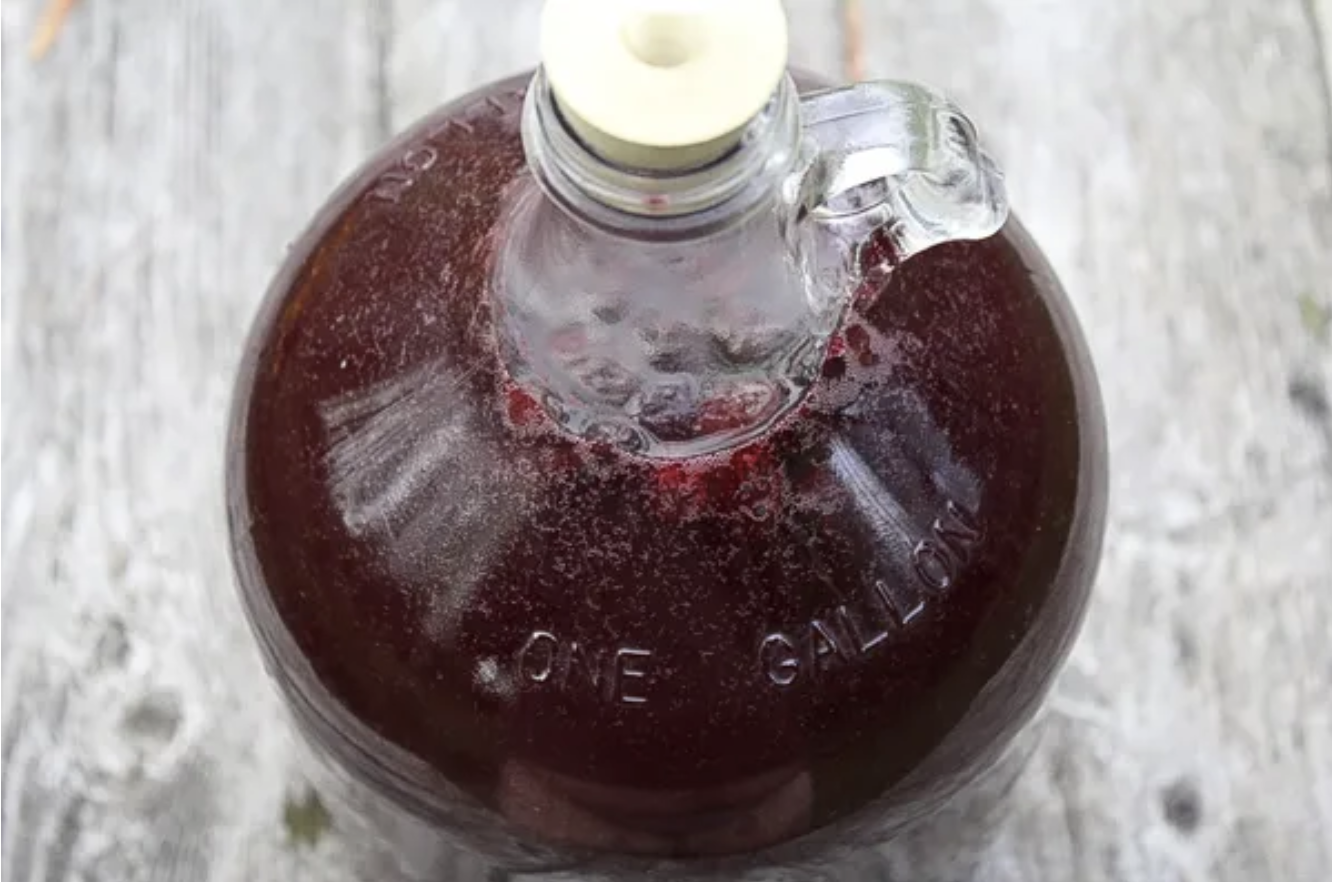 Preserving Pomegranates
Pomegranates can be such a rare treat, that one might easily get a little overenthusiastic and pick (or buy) far too many. Luckily pomegranates do keep for a couple of months when refrigerated. Keep fruits whole, removing the seeds just before cooking for optimal freshness.
You can freeze pomegranate seeds for up to six months. Simply flash freeze arils on a baking sheet, move to a freezer bag, remove as much air as possible and store for future use. Another way to preserve pomegranates is to extract the juice and either can or freeze it.
Two additional preservation options include pomegranate jam and jelly – lovely for spooning into desserts, spreading on scones or gifting to friends and family.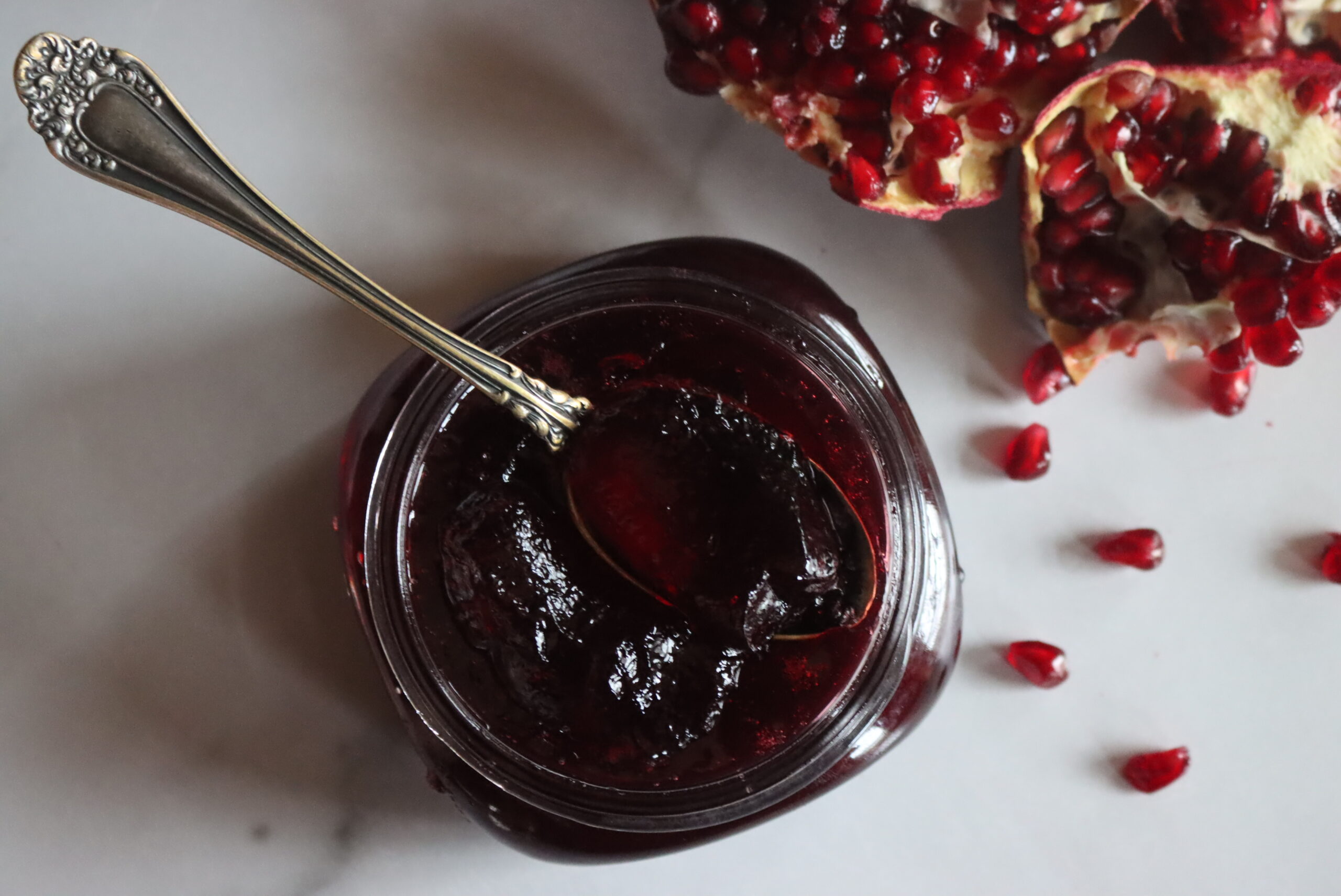 Fresh Fruit Recipe Ideas
Need a few more ways to cook with seasonal fruit?