Persimmon recipes can be hard to find, but there are plenty of ways to use this versatile late-season fruit!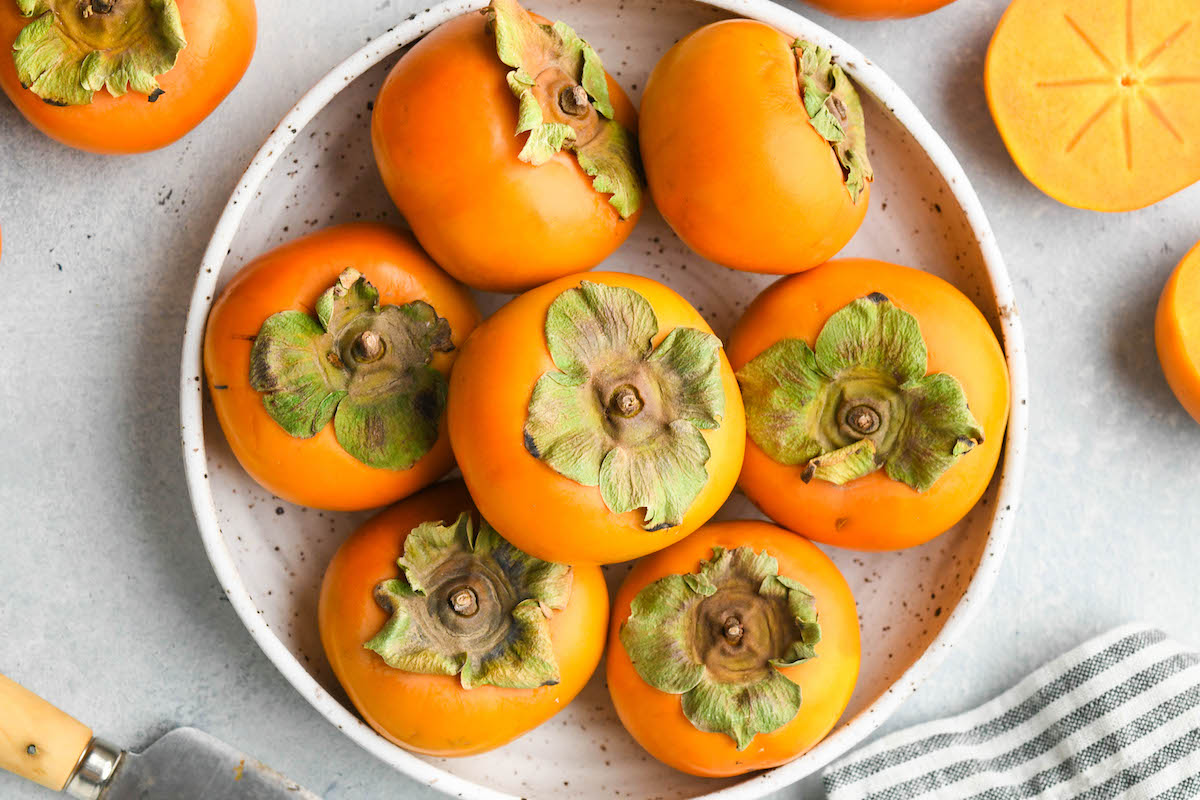 Persimmons were my grandmother's favorite fruit, and she'd buy them by the case each autumn and early winter. She'd chop them for our Thanksgiving table, and there'd be plates of them for snacking all autumn long.
For me, it's not autumn without persimmons, and while we do love them fresh, I also love them in all manner of persimmon recipes.
I developed a specific recipe for persimmon jam to celebrate this luscious fruit, and there are plenty of fresh and baked recipes featuring these little lovelies for you to enjoy.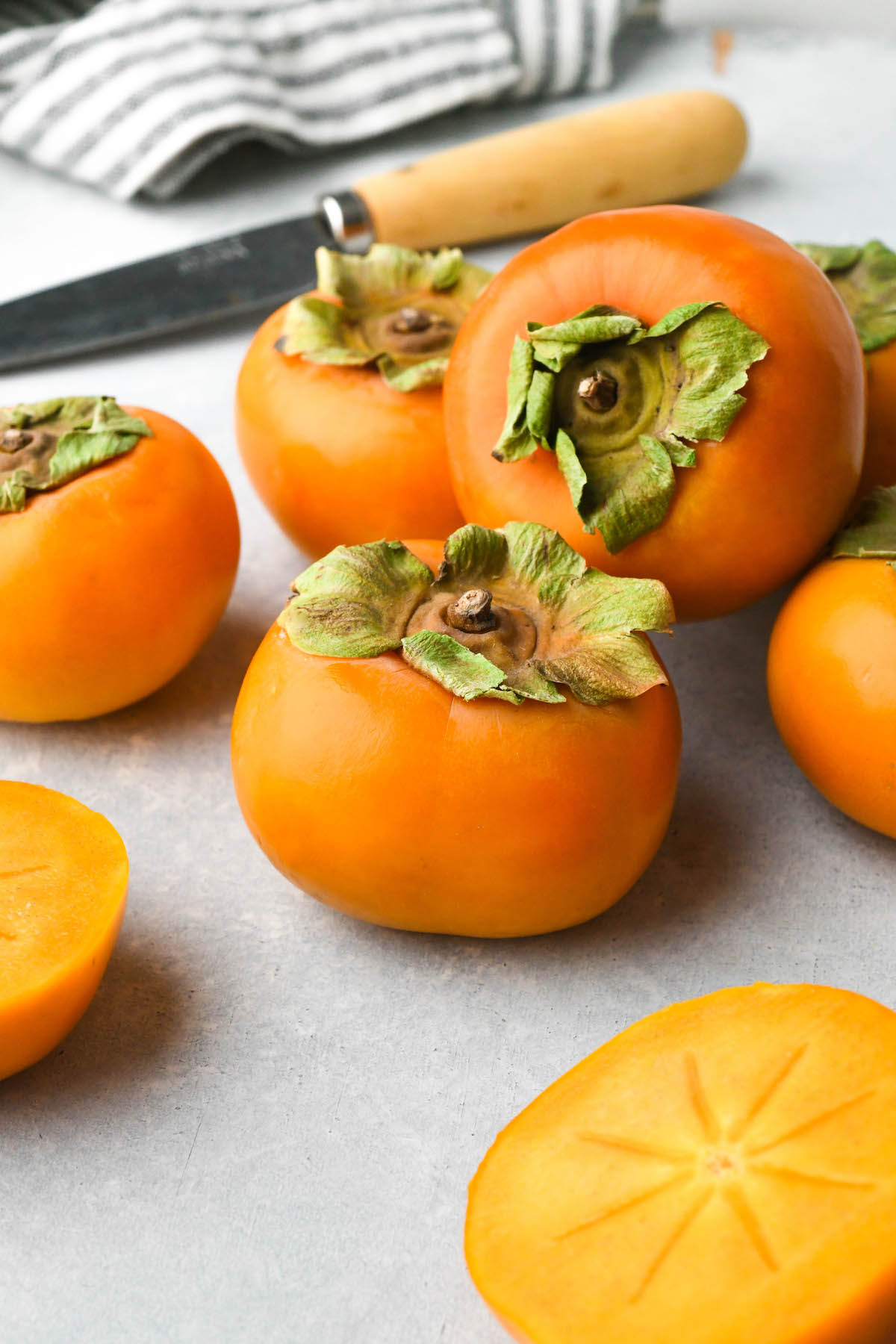 Types of Persimmons
Fuyu persimmons are short and squat, resembling miniature pumpkins or orange tomatoes. You can find Fuyu persimmons in November and December and they range in color from deep yellow to bright orange. Fuyu persimmons should be eaten when they become slightly soft to the touch—the fruit should feel firm but should also have some give when pressed with your finger. Fuyu persimmons can be eaten raw like an apple, or they can be cooked or baked in a recipe.
Hachiya persimmons are taller than Fuyu persimmons and resemble a large acorn, they also tend to be a deeper orange color than Fuyus. When Hachiyi persimmons are ripe the flesh becomes custard- or jelly-like. Hachiyi persimmons are incredibly astringent when underripe and should always be enjoyed when the fruit is at peak ripeness.
Wild American persimmons (also called "sugar plums") make their first appearance in autumn and can be found growing from trees in many parts of the United States. If you're lucky enough to find these bright plum-size fruits growing nearby, you'll want to wait until they look almost rotten before eating them. Once they get to this stage, these orangey-pink persimmons will be exceptionally sweet and delicious. This is one type of persimmon that you won't find at the grocery store, you'll need to find this fruit in the wild in order to give them a try.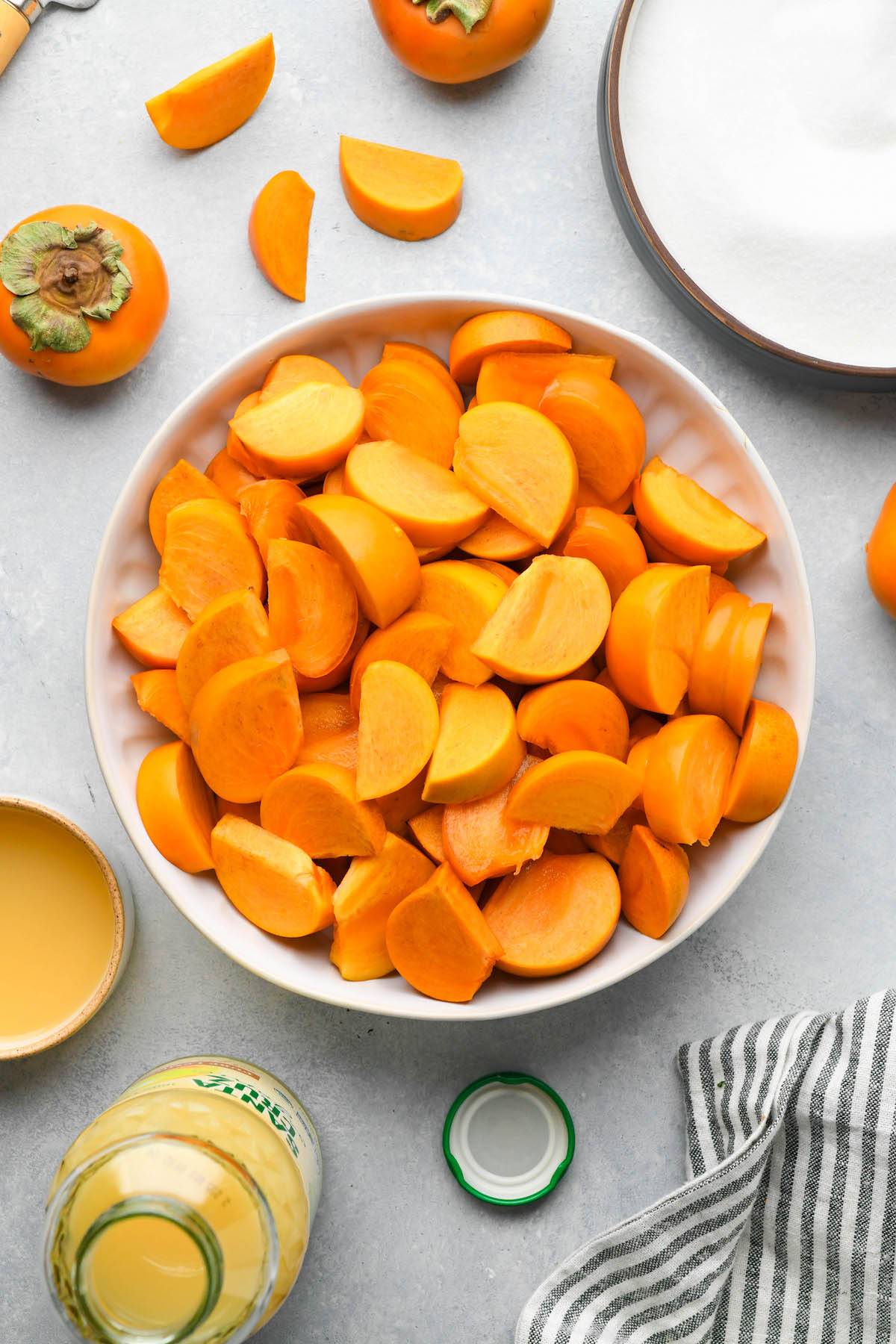 Persimmon Recipes
If you're lucky enough to get your hands on a bounty of persimmons in the winter, you're in for a treat. Persimmons have a wide variety of culinary uses and can be used in recipes for baked goods, desserts, beverages, salads, jams, chutneys, and even raw fruit desserts like puddings and dessert cups.
The manner in which persimmons are prepped for a recipe will depend on what you're making. I like using a mandolin to thinly and uniformly slice slightly underripe persimmons for salads and tarts, or they can be cut into quarters or eighths like an apple or a pear for crisps, jams, and quick breads. If you have a very ripe Hachiya persimmon, the inner flesh can simply be scooped out with a spoon and eaten as-is, straight from the peel.
Persimmon Salad Recipes
When making a salad with persimmons, choose slightly underripe fruit for best flavor and texture. For inspiration, think of salads made with tart green mangos or green plums. Fuyu persimmons work best for most salad recipes and, depending on the recipe, can be cut into wedges, thinly sliced, grated, or spiralized.
Persimmons pair well with big flavors such as bitter greens, salty cheese, earthy beets, cured meat, and citrus fruit. They make a stunning addition to hearty grain salads, particularly grains that have some heft (think farro or bulgur). Finish the salad with a zippy salad dressing made with orange or lime juice, punchy herbs and spices, and plenty of fresh cracked pepper.
Raw Persimmon Dessert Recipes
The custard-like texture of ultra-ripe persimmons, particularly Hachiya persimmons, make them the perfect choice for all kinds of raw dessert recipes. Because ripe Hachiya persimmons are so sweet and dense, there's usually no need to add any extra sweetener.
When sliced into thin rounds, Fuyu persimmons make an elegant topping for a raw chocolate tart (or any other type of raw dessert in need of a bright splash of color). The sweet-tart taste of persimmon works especially well with fruity dark chocolate or cacao nibs.
Cooked Persimmon Dessert Recipes
Persimmons are just as delicious when they're the main star of cooked desserts. Cooked persimmons offer sweetness, a hint of warm spices, and a pleasing tartness to crisps, tarts, pies, pavlovas, and even frozen desserts such as gelato and ice cream.
Of course, nothing beats a simple recipe for baking or broiling halved persimmons. To experience this beautiful winter fruit at its best, cook persimmons until sumptuous and then top with a scoop of vanilla ice cream (or persimmon ice cream if you're in the mood for double the persimmons!) or a dollop of mascarpone cheese that's been doctored with vanilla sugar.
Persimmon Baked Goods Recipes
When persimmons are added to baked goods they add sweetness and moisture, much like bananas or applesauce. Unless a recipe specifically calls for it, peeling persimmons isn't necessary. In most cases, the peel will cook into a pleasantly soft texture with the rest of the fruit.
Persimmon goes well with warm spices commonly used in baking such as cinnamon, ginger, nutmeg, and cloves. Nuts, chocolate, and citrus are also welcome additions to any persimmon-based recipe for baked goods.
Persimmon Drink Recipes
Thanks to the simultaneous tart and sweet flavors inherent in persimmons, they make an excellent candidate as an ingredient in cocktails, teas, and smoothies. If you have persimmon simple syrup on hand, you have the base for all sorts of festive libations. I particularly enjoy it paired with spirits such as bourbon or whiskey, it's also fantastic mixed with champagne or sparkling water if you prefer bubbles with your beverages.
I've also included recipes for a sour persimmon beer and a persimmon wine you can brew at home. Persimmon beer has a long history in the United States, with records showing it was being made as far back as the late 1700s. If you aren't up to the task of making it home, I highly suggest checking to see if your local microbrewery offers it as a seasonal selection.
Persimmon Canning Recipes
If you've ever made and canned your own persimmon jam you'll know how easily persimmon preserves come together. Persimmons have plenty of naturally occurring pectin and will set up without having to add extra pectin to the mix.
In addition to jam, persimmons lend themselves well to recipes for curd, pickles, chutney, and even a persimmon marmalade. If you find yourself with a surplus of persimmons, consider using one of the following recipes to make gifts for your family and friends.
Savory Persimmon Main Course Recipes
From persimmon latkes to braised meats with persimmon salsa, the sky's the limit when it comes to letting persimmons shine in savory recipes. Like apples, pears, and tropical fruit, persimmons can be served cooked or fresh alongside or as part-of soup, fish, chicken, pork, cooked greens, or spicy curry dishes.
Just like salads that feature persimmons, savory recipes with strong flavors are best-suited for this versatile fruit. You'll find Moroccan spices, citrus, fennel, and salmon heavily featured in the recipes below. If you'd like to add the taste of persimmon to several dishes, try making the zesty ginger persimmon sauce, which can be served with pork, chicken, or fish.
Seasonal Ingredients Recipe Guides
Looking for more ways to use fresh seasonal ingredients?