We all have it. That favorite comfort food that eases the stress out of us after a particularly harrowing day. You're thinking of yours right now… My favorite comfort food, fried brussels sprouts with sriracha aioli, comes from the appetizer menu of our local pub. I've been trying to recreate it at home for months, but clearly, I just needed the right stressful inspiration.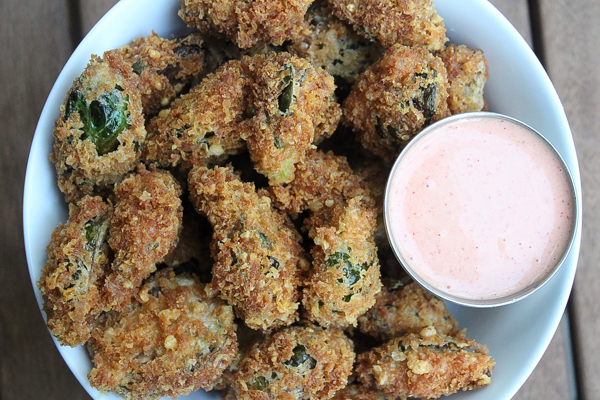 See, here's what happened…
My 1-year-old had just gotten stung by a bee, and here I am carrying a screaming baby toward the garage to ask for my husband's help. He was working in our office upstairs. I'm a few feet from the garage, distracted by a screaming baby, and I look up to see a bear about 10 feet in front of me. It's a small one, not an adult, and my biggest concern is that there's a mama nearby.
I scream for my 3-year-old daughter who's playing nearby in the garden, telling her there's a bear, and head for her. The bear runs off, but only about 50 feet away. I scoop up my daughter and head inside with both my children, closing the garage door.
Only then do I realize the Rubbermaid tote we've been using to brood our baby chicks is turned over, and there are only 3 babies left.
I look out the window, and the bear's still hanging out. I get my kids calmed down, and then snapped a blurry picture of the little guy, with a baby chicken eating grin on his face.
Once the babies are put to bed, my heart's still pumping on full adrenaline. I open the fridge, and what do I see but brussels sprouts. Time to try again, and this time, with the right inspiration, I got it right!
Just the right amount of crisp surrounding tender, flavorful brussels sprouts. A creamy siracha aioli combines the heat of sriracha with the richness of aioli for a well-balanced dipping sauce.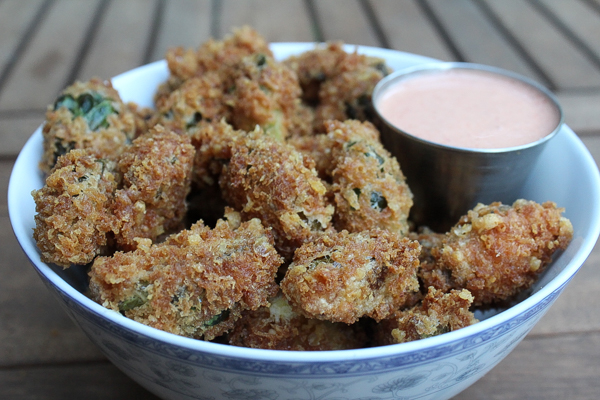 Side Dish Ideas
Stuck on what to serve with dinner? Here are some different side dish ideas you might not have thought of!
Fried Brussels Sprouts with Parmesan and Panko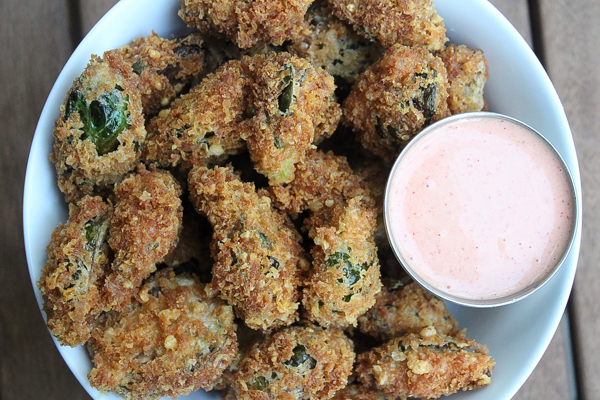 Parmesan and panko coated fried brussels sprouts are crisp, yet tender and get a little spice from sriracha aioli.
Ingredients
½ pound brussels sprouts
½ cup flour
2 large eggs, beaten
1 cup panic crumbs
1 cup canola oil, or other frying oil
½ cup fresh parmesan cheese, finely grated
1 teaspoon paprika, preferably smoked
3 tablespoons mayonnaise
1 tablespoon Sriracha sauce
Instructions
Clean and trim the brussels sprouts. Cut large ones into quarters, smaller ones in half. Vertical cuts from the top through the stem will keep them holding together better.
Using 3 bowls, create a 3 part dredge. The first bowl has flour, the next beaten eggs, and then the final bowl has panko crumbs, parmesan cheese and paprika mixed together.
Working in batches, dip each brussels sprout first in flour, then in egg and then in the panko mixture.
Heat oil in a skillet until very hot, but not smoking. Working in batches, fry the coated brussels sprouts until crispy on all sides. If your oil is deep, turning won't be necessary. For shallow oil frying, the sprouts will need to be turned part way through. Each batch should take about 3-4 minutes.
Remove cooked sprouts to a paper towel-lined plate and serve immediately with a sauce made by mixing 3 parts mayonnaise with 1 part Sriracha.