Summertime cooking is all about quick and easy meals. These zucchini latkes are just that, quick, easy and a great way to use up a summer bounty of zucchini. They're done before you can heat up the house, and they make a great breakfast, lunch or dinner.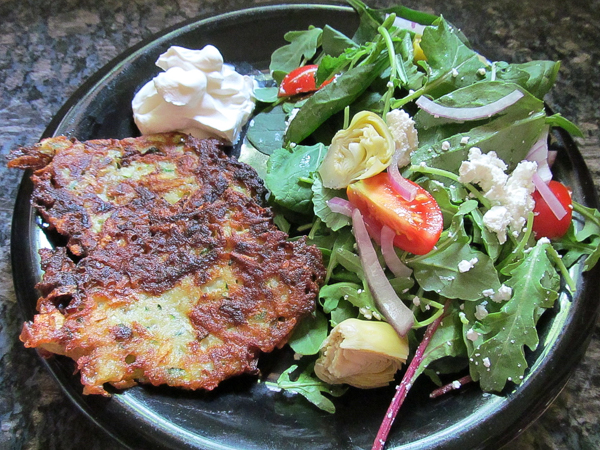 For breakfast, we pair them with pickled beets, homemade applesauce or sour cream. Served alone, or alongside sausage, they're a good start to the day. For lunch, they add a bit of substance to a summer salad, and since they're quick and easy to prepare you'll be back out in the garden before you know it.
Zucchini latkes can be made with just zucchini, but I like to mix them 50/50 with either potatoes, sweet potatoes or parsnips. The potatoes are simple, and they let the flavor of the zucchini shine through. The extra starch from the potatoes helps bind them as well, but other fresh veggies help keep the carbs down.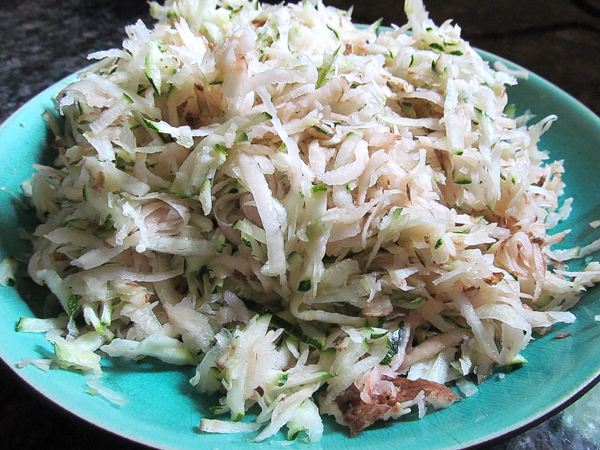 Add in a bit of egg both as a binder and for added nutrition. Think of it as getting your eggs and hash browns at the same time for a well-rounded breakfast right in one patty.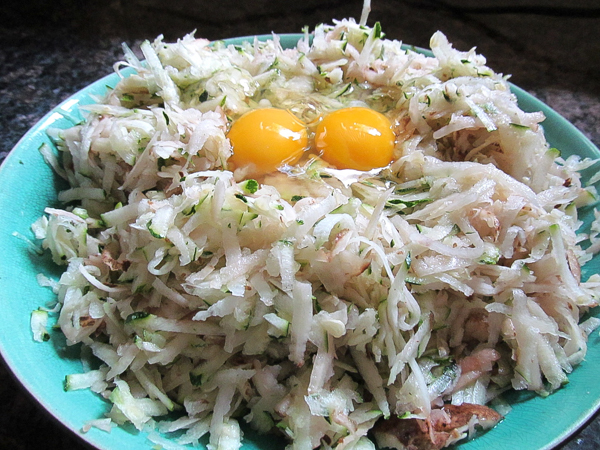 Once the zucchini latkes are formed by mixing the grated vegetables with egg and starchy binder (flour, matzo meal or potato starch), they're dropped onto a cast iron pan with a bit of oil or bacon grease and fried. Adding a binder is completely optional, but it helps make flipping easier. These zucchini latkes can be made low carb by simply skipping the binder, but that means you'll have to exercise extra care in flipping them. I've done it plenty of times, and they're delicious.
Binder or not, zucchini latkes cook through quickly, and a high heat is best to allow them to crisp on the outside. Crispy on the outside is essential, so they're not soggy or greasy.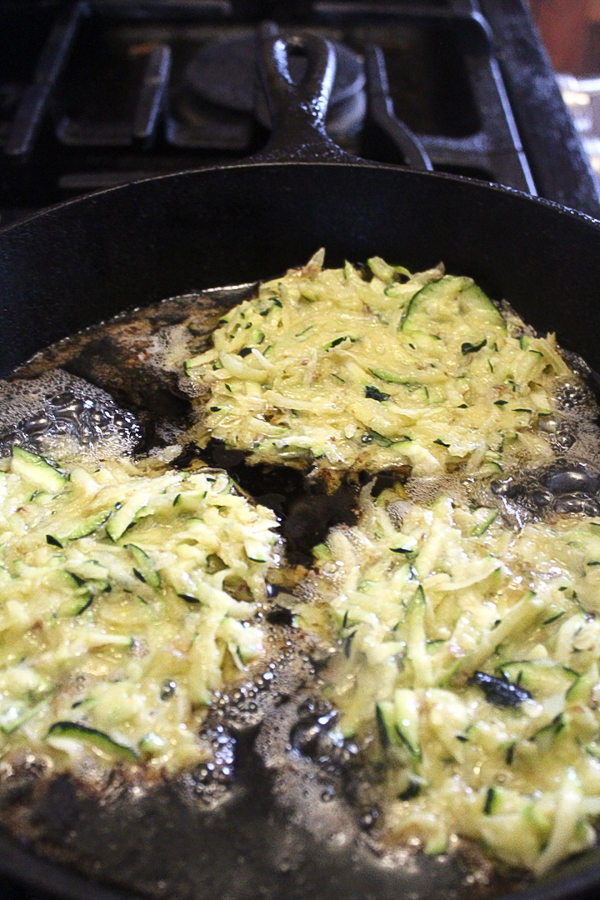 Zucchini Latkes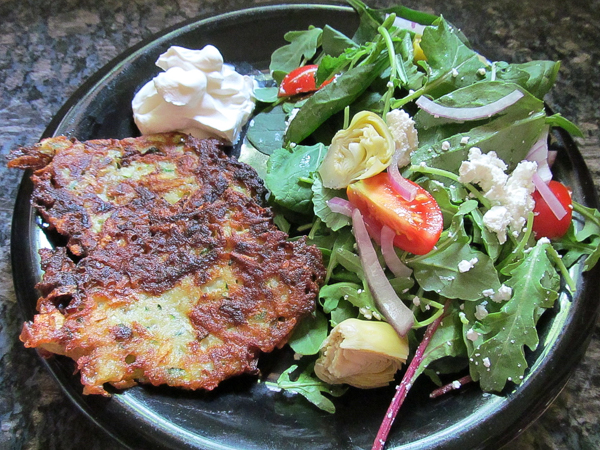 Ingredients
3 cups zucchini grated
3 cups potato, sweet potato, parsnip or more zucchini grated
2 eggs
1/2 cup matzo meal, potato starch or flour optional - skip for paleo or lower carb latkes
1 tsp onion powder
1 tsp salt
fresh black pepper to taste
Oil for frying
Instructions
Grate the zucchini and other vegetables if using. Regardless of the vegetable mix, you'll need about 6 cups of grated veggies.
Mix the remaining ingredients in with the grated veggies, fully incorporating but not over mixing. If you're using flour, use care not to develop the gluten or they'll be gummy.
Heat 1/2 an inch of oil in a cast iron skillet. Once it's quite hot, add scoops of latke mixture and flatten them out with a spatula. Cook on high, until well browned. Flip and repeat.
Serve with sour cream, pickled beets, applesauce or condiments of your choosing.
Love Latkes?
Try our other latke recipes!