Dandelion recipes come in all flavors, but the really magical ones are the dandelion desserts! Most of them use the sweet, honey-flavored petals of dandelion flowers, but I've included a few sweet treats made from dandelion greens and dandelion roots as well.
When my kids were little, just about all our foraging adventures were about edible flowers and fruit. My daughter had a particular passion for edible flowers.
I showed her a few very early on, like sweet pineapple weed flowers or jewelweed blossoms, and lemony wood sorrel, and she was hooked.
At about 18 months old, she'd run around the yard pointing to flowers and asking in her baby voice, "Eating flower, mama?"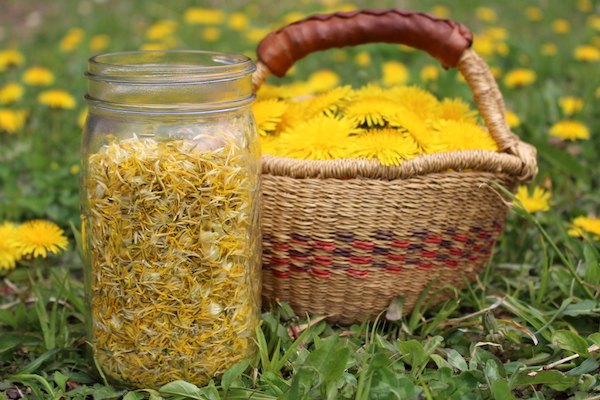 Dandelions were an easy favorite, largely because they're available for snaking just about everywhere in the spring, and because the flowers taste like honey…so they're perfect for dandelion desserts.
Sure, these aren't everyday foods, but a new wild foraged dessert each spring will have the littles itching for foraging time all winter long…and it's the perfect way to kick off a summer outdoors.
And for the adults, you can even end your night with a nip of dandelion liqueur to go with your sweet treats too!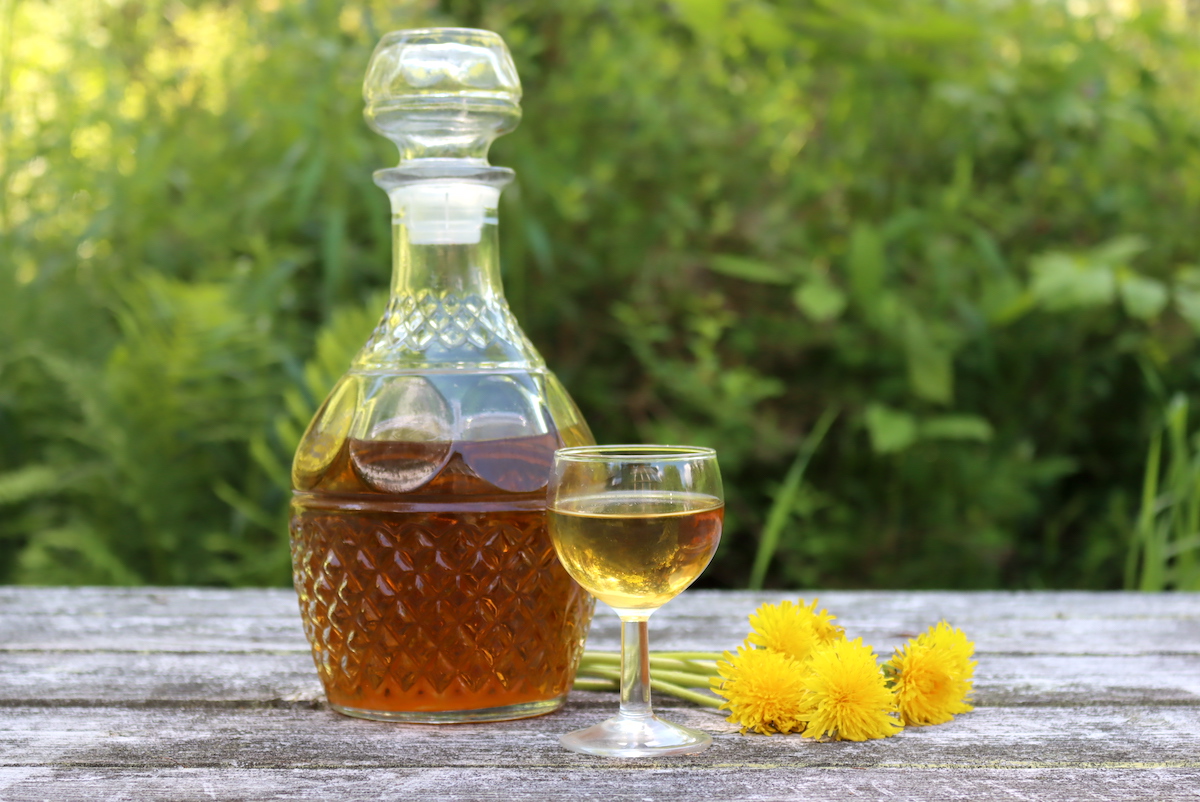 Dandelion Dessert Recipes
As you might imagine, most dandelion desserts make use of honey-flavored blossoms. Dandelion flowers taste like honey…or maybe it's that honey tastes like dandelions…either way.
The roots can be used to make desserts as well, and when roasted, they can be brewed into a coffee-like beverage. So roasted dandelion root flavor is used in baked goods in the same way you'd use coffee. But you can also grate the roots like carrots to make a tasty dandelion root cake.
Dandelion greens are a bit trickier, but there are a surprising number of treats that use greens these days (like kale cookies), and you can substitute dandelion greens for most any green (cultivated or wild). I'll share a few of those recipes too.
Dandelion Flower Cookies & Bars
At this point, I've mixed dandelion blossoms into the dough of perhaps half a dozen different types of cookies. You can mix it into really any cookie dough, but they won't all have great flavor. Sometimes you can't even taste it, as was the case with my dandelion chocolate chip cookies. I even tried white chocolate chips, thinking that you'd be able to taste the mild-flavored petals better, but no luck.
If you really want the flavor of the flower petals to stand out, you need to use a very mild, plain cookie, like shortbread.
But dandelion peanut butter cookies actually work pretty well too, as the honey blossoms go really well with peanut butter as well.
Dandelion Flower Cakes, Cupcakes & Muffins
Like cookies, mild-flavored cakes and cupcakes allow the flavor of the dandelion petals to really shine through.
Opt for a vanilla cupcake recipe, or for even more flavor, try a honey-based cake recipe.
Dandelion Flower Candies
Homemade candies are easier than you'd think, from hard candies to fun gummy candies, and even homemade marshmallows.
These come together quickly and with just a few ingredients.
Dandelion Flower Ice Cream
My littles are particularly fond of a bowl of golden dandelion ice cream. A few egg yolks in the custard base give it an especially golden color, but it's still a beautiful shade of yellow if you make it as a no-cook cream only recipe.
Just infuse the dandelion petals in the cream for a few hours before going on with your ice cream recipe.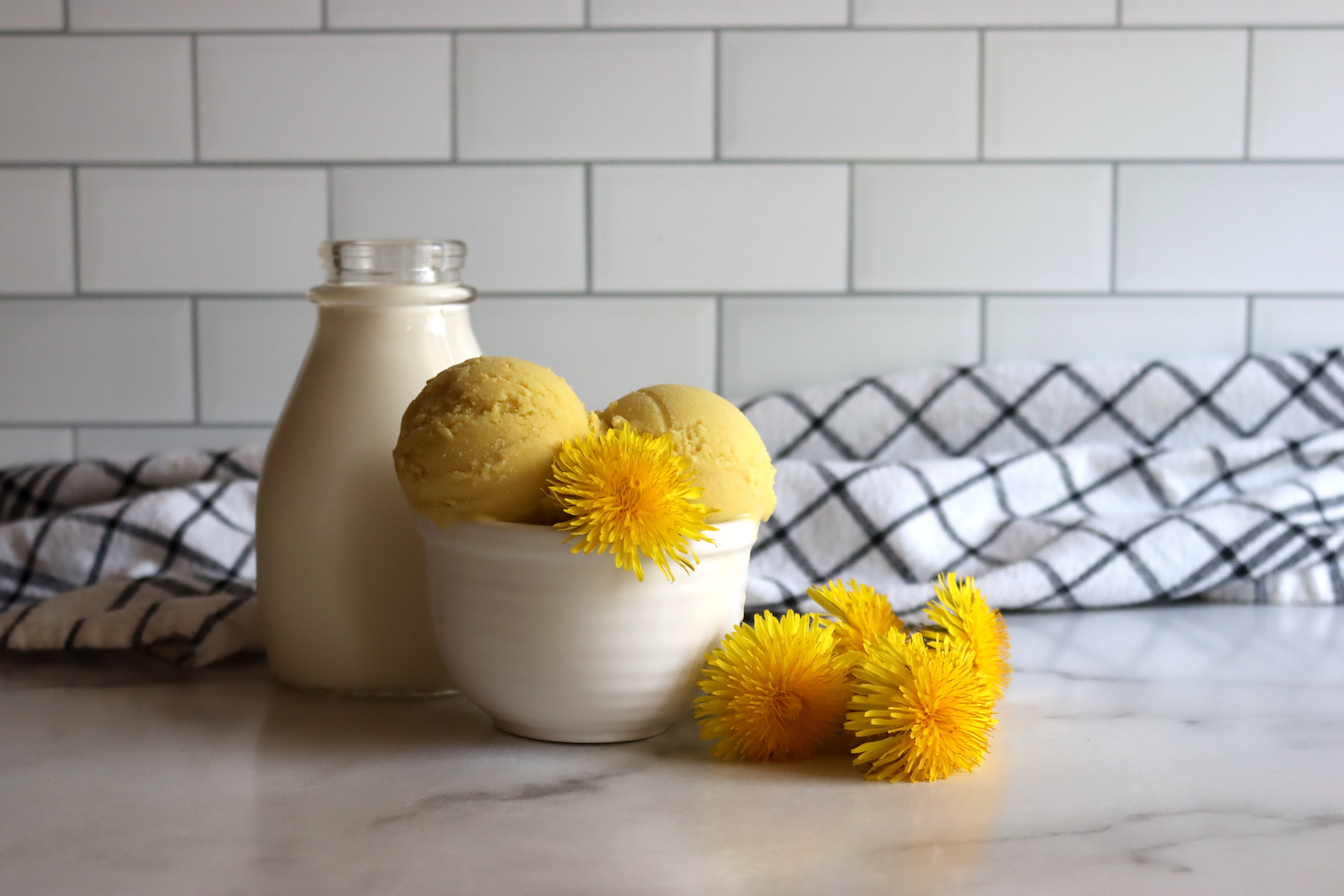 Dandelion Flower Pie
This past year, one of my littles collected a whole basket of flowers and then marched over to ask for dandelion pie. Where he got that idea, I don't know, and I tried everything to convince him that we should make something else….but he wouldn't be deterred.
So I spent the afternoon pouring over my favorite pie cookbook until I stumbled across a recipe for coconut cream pie. In truth, the dandelion petals aren't all that different than shreds of coconut, except in flavor, of course, but they'd make a truly excellent dandelion cream pie.
You can also put the petals into a fruit pie, like rhubarb or apple, but the flavor is mostly lost in with the fruit.
Dandelion Root Desserts
I know dandelion roots are a bit more work than the sunny petals, but if you're pulling dandelions from your garden beds anyway, it's nice to put them to use.
Believe it or not, they make a truly exceptional carrot cake when used in place of carrots, provided you peel the roots first. Dandelion roots can also be roasted and brewed into dandelion root coffee, which can be used to flavor baked goods and ice cream desserts.
Dandelion Greens Desserts
I'll admit, getting greens into dessert is the hardest challenge, not matter what the greens.
That said, there are a few truly excellent recipes that will turn dandelion greens into dessert.
This past year, we made a wild greens cake using the wild greens that we had on hand, and it was truly excellent. You can use all dandelion greens, or a mix including other seasonal wild greens like strawberry leaf, raspberry leaf, violet leaf and others.
The original cake recipe calls for nettle leaf…so you see, it's quite versatile.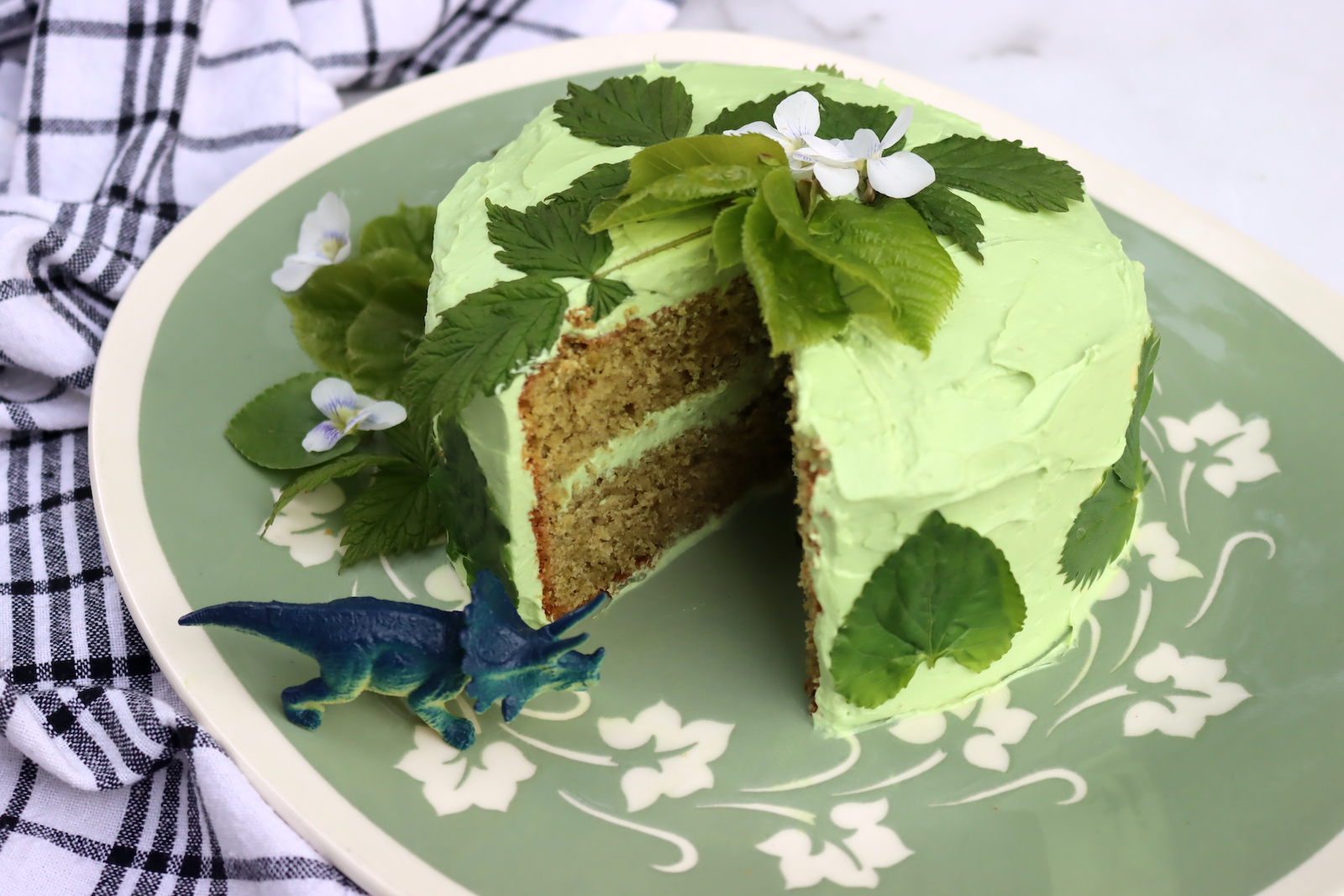 Dandelion Recipes
The roots aren't the only edible part of a dandelion! Bring the weeds into your kitchen with these dandelion recipes:
Edible Wild Weeds
Looking for other edible wild weeds?
Foraging Wild Roots
Looking for more wild edible roots to incorporate into your cooking?