Serviceberries recipes can be hard to find, but people in the north country know that this delicious spring fruit is a real treat. They go by many names, and whether you call them juneberries or saskatoon, these darkly shaded berries are a delicious delight.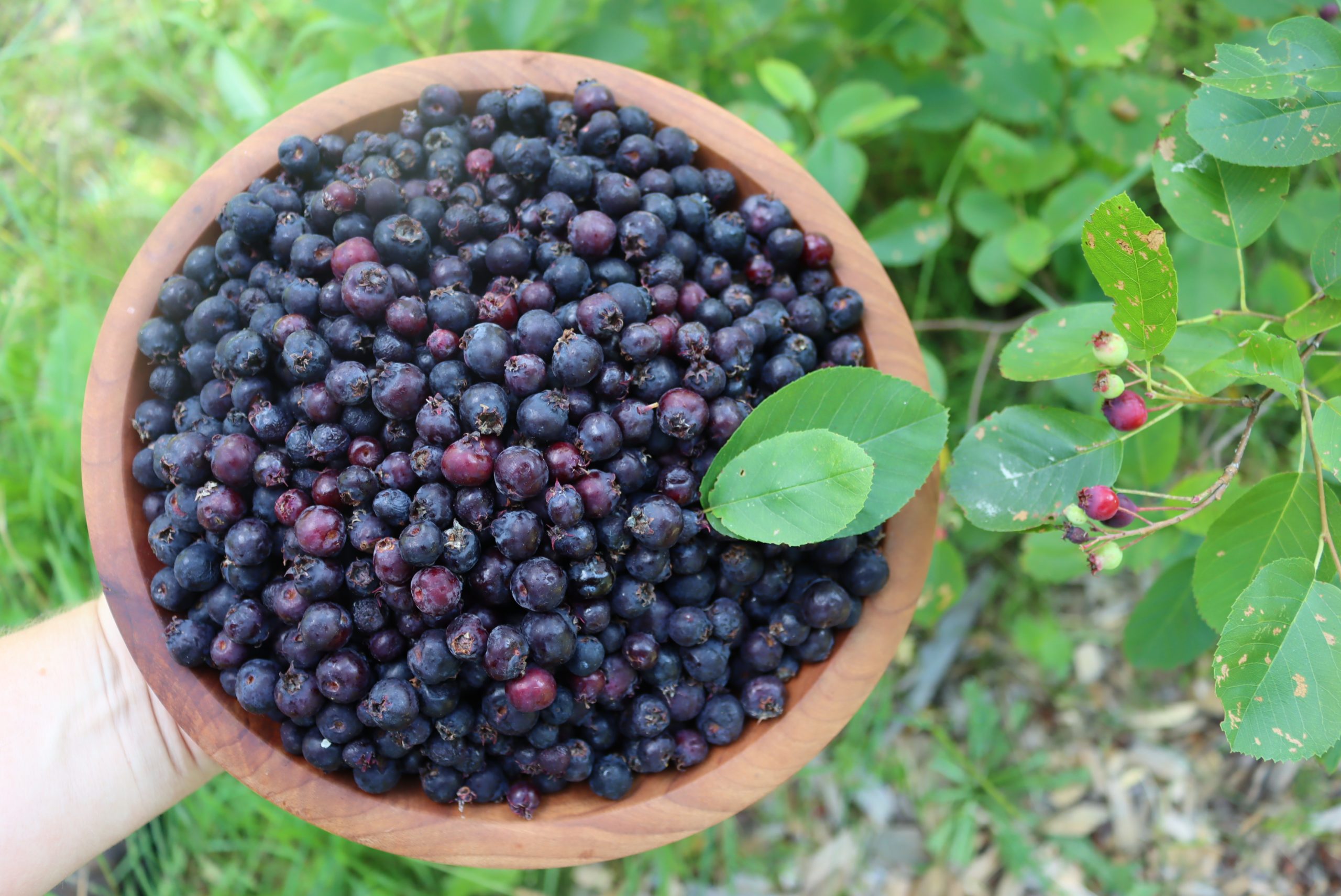 Serviceberries are a marvelous fruit, similar to a blueberry in appearance but tasting slightly different. Also known as shadbush, juneberry, and saskatoon among other names, these deep purple berries can be found in a variety of locations including woodlands, forests, meadows, and fields.
Native to North America, the serviceberry (Amelanchier spp.) can be found growing in northeastern and north-central areas. Multiple varieties exist which can resemble a bush or tree. All possess small white blossoms in spring that turn to small pink berries, then dark purple when ripe.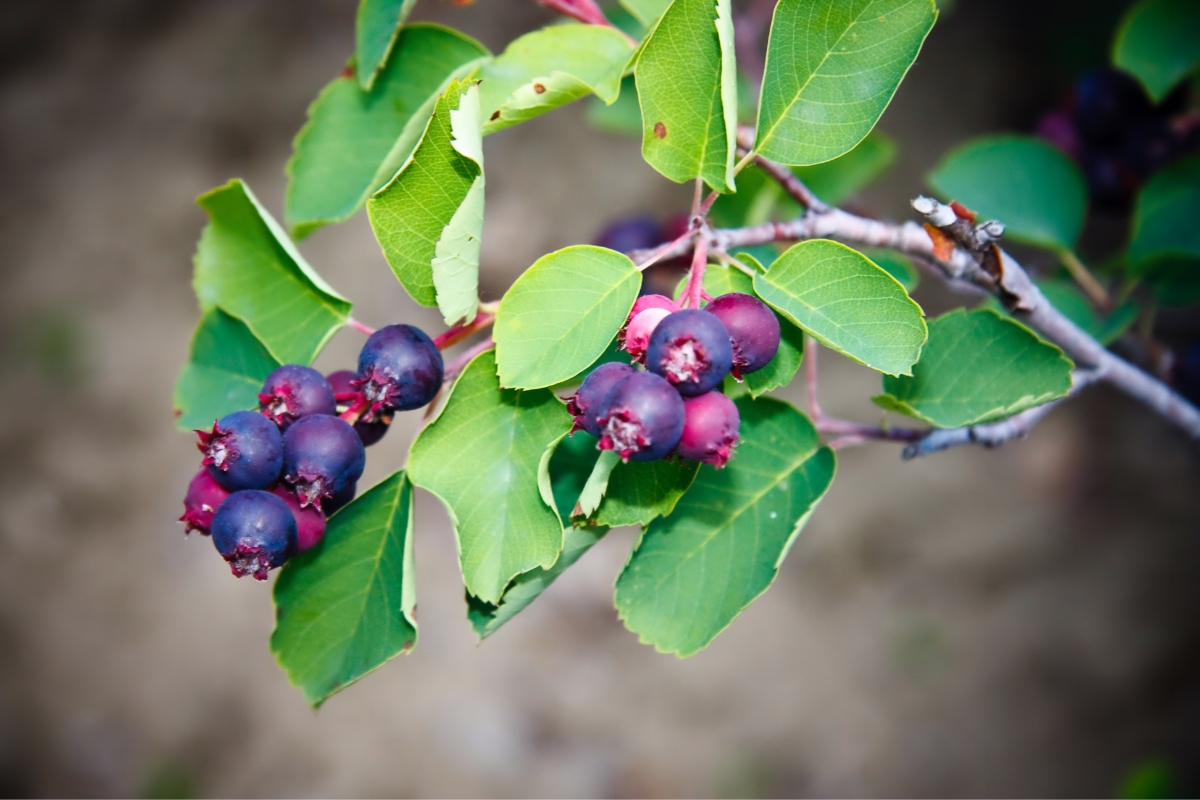 Choosing the Best Serviceberries
Serviceberries are ripe for picking in late spring to early summer. If in doubt as to whether serviceberries are ripe, give one a gentle squeeze. Ripe berries will be softer than unripe ones – when tasted they should be sweet and soft.
When harvesting serviceberries, cluster-picking is not an option as each berry grows on its own stem. Berries must be picked singly by hand or via the shake method. To try this method, place a tarp or cloth below a berry-laden bush and give it a firm shake so the berries fall onto the tarp. Remove any twigs and leaves from your collection and pour them into a bucket or basket for easy carrying.
Be prompt when picking ripe serviceberries. Birds love these berries as well, and will quickly devour them if you're slow to harvest.
You can sometimes find serviceberries at the farmer's markets and organic grocery stores, and they're even cultivated in some areas!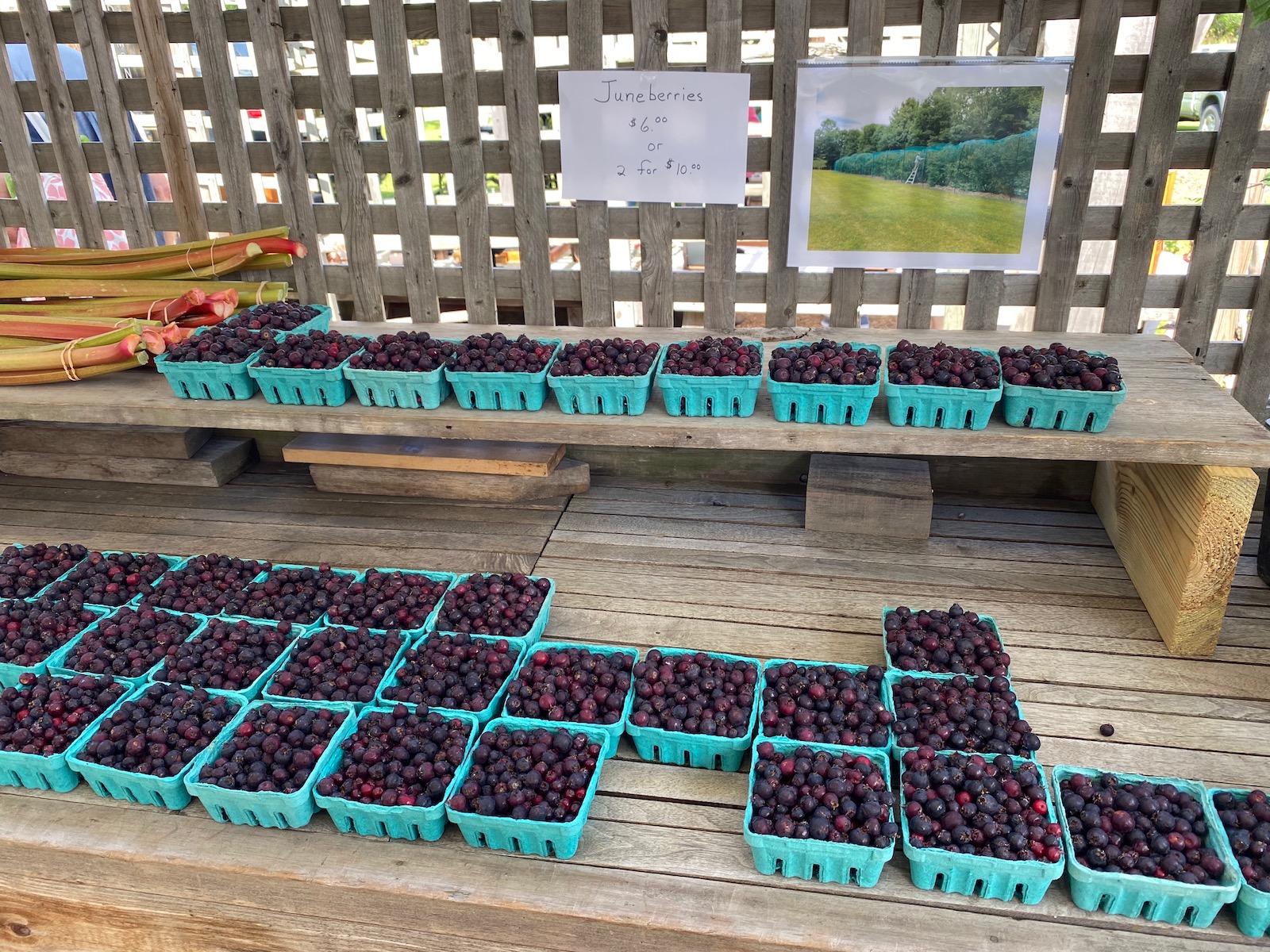 Serviceberry Recipes
Serviceberries taste like a hybrid between a blueberry and cherry with notes of almond. They pair tremendously well with other berries, nuts, citrus and warming spices. You'll find a variety of recipes that combine these berries with cream and dairy as well.
Even savory dishes can incorporate serviceberries into the mix in the form of sauces and fruity vinaigrettes. It's true – serviceberries are complementary to a wide assortment of dishes spanning from appetizers to desserts.
Fresh Serviceberry Recipes
Fresh serviceberries can be popped into salad greens topped with nuts and other fruits. A lemony vinaigrette pairs well with this mixture, bringing out the brightness of the berry. Even pasta salads can be improved by a few serviceberries adding fruity variety to every bite.
A tangy vinaigrette can be made from serviceberries using vinegar, olive oil, and honey to drizzle over your favorite salads. Even herby salsas can be made with these beautiful berries to serve with chips.
Salads, Vinaigrettes, and Salsa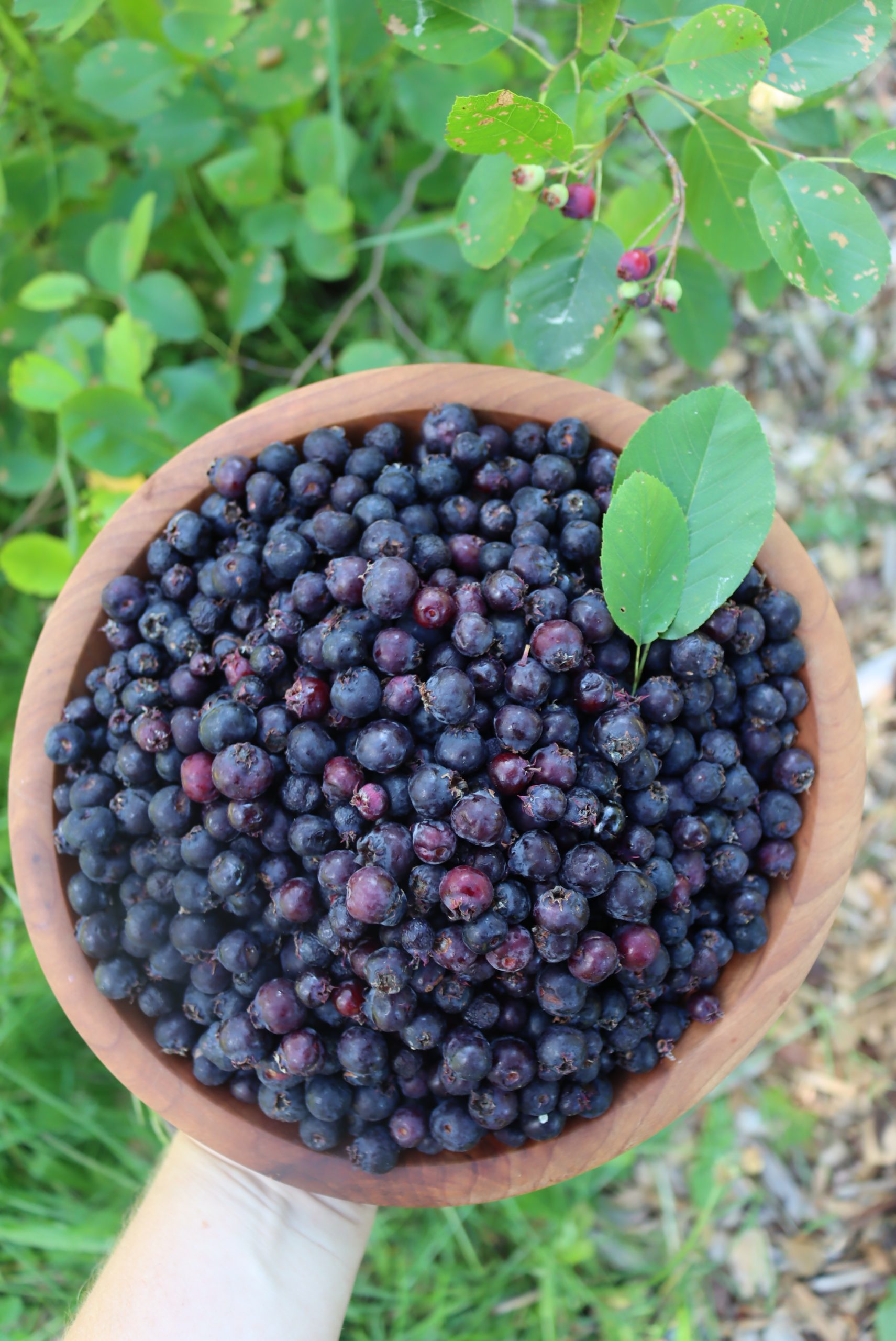 Preserving Serviceberries
It may happen that you have more serviceberries than time to deal with them. In this case, it is best to preserve the fruit so you can decide what to do with it later. You can freeze fruit, thawing it later for jam or jelly-making, or can it for future culinary uses.
Additionally, a few jam and jelly recipes are provided below, including a rhubarb and serviceberry jelly from 1924. Sounds tasty to me!
Serviceberry Muffin Recipes

Muffins, of course, are another option to use fresh berries. Keep it pure serviceberry or pair with oats, lemon flavors, or even zucchini.
You can use almost any blueberry muffin recipe too, of course, and just substitute saskatoons…but their flavor really is different.
Serviceberry Breakfast Recipes
Breakfast can be a delightful occasion to wake to with the addition of a few serviceberries in your morning meal. Add fresh berries to pancakes and oatmeal, or make a berry sauce to drizzle atop waffles and yogurt.
Hungry to bake? Consider trying serviceberry scones or a nutty cinnamon coffee cake. Best of all, you'll now have breakfast for days!
Serviceberry Savory Main Courses
Looking to incorporate serviceberries into some meatier recipes? Add a serviceberry sauce to grilled lamb or pork chops. Serviceberries pair well with gamey meats like bison and venison as well.
Feeling adventurous? Try giving venison-serviceberry jerky a go. You won't find that in any stores, I bet.
Serviceberry Drink Recipes
In addition to meats and baked goods, serviceberries can be incorporated into drinks of both adult and kid-friendly varieties. For those of drinking age, serviceberries can be infused into a vodka or liqueur. A serviceberry syrup can be made too and added to everything from cocktails to sparkling water.
For the entire family, serviceberries can be made into a lovely juice to be added to sodas, lemonades, and other refreshing drinks. And for a healthy snack, these flavorful berries can be blended into smoothies with other healthy ingredients like banana, yogurt and more antioxidant-rich berries.
Alcohols, Liqueurs, and Cocktails
Non-alcoholic
Serviceberry Snack Recipes
Serviceberries can also be incorporated into fruit leathers for snacking along hikes or at picnics. Serviceberry oatmeal cookies are also an exciting treat as well as lemon loaves or banana bread with some ripe serviceberries thrown in for good measure.
And on those days when it's just too hot to bake? Just make serviceberry popsicles – the perfect simple and healthy snack for everyone.
Serviceberry Dessert Recipes
As with almost any berry, you can add serviceberries to pies and tarts for tremendously tasty results. Try combining berries with rhubarb for a rich and colorful dessert. Crumbles and crisps are another option for fresh or frozen berries. Combine with warming spices like cinnamon and vanilla, or add nuts, oats and brown sugar for enhanced flavors.
Cream-based desserts are another fantastic option to use serviceberries. Cheesecake, tiramisu, and other dairy desserts are superb complements to serviceberries. Blended ice cream is just one more dreamy-creamy option.
Pies, Tarts, Crumbles and Crisps
Cheesecake, Dairy Desserts, and Ice Cream
Cultured & Fermented Serviceberry Recipes
Looking to ferment serviceberries to extend their shelf life? You can incorporate serviceberries into a berry wine or berry mead. A fermented syrup can be made as well to be added to cocktails and sparkling drinks.
These berries themselves can even be lacto-fermented, adding probiotics while preserving the fruit. These can be added to yogurt, smoothies, or even eaten fresh out of the jar.
Seasonal Fruit Cooking Guides
Looking for more ways to use fresh seasonal ingredients?