Roasting a goose may seem intimidating, but it's not all that different from any other holiday bird (and it's much tastier than turkey).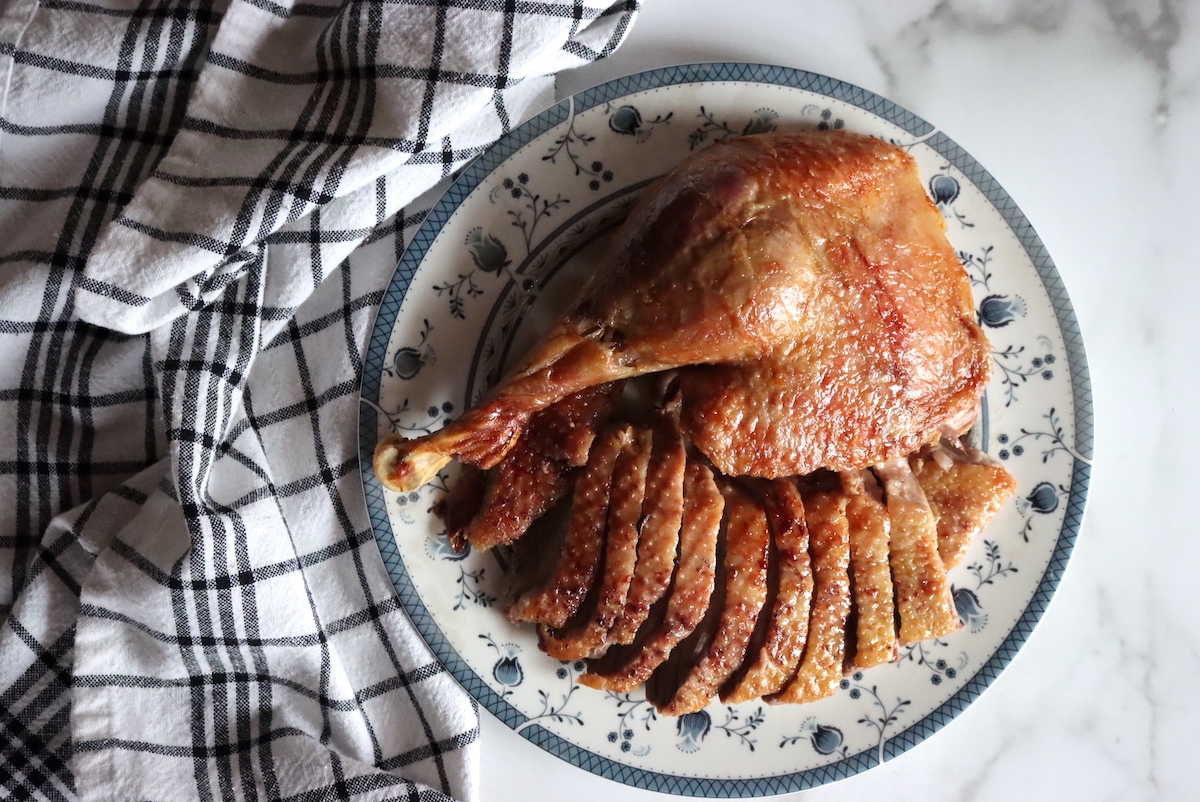 We raised geese here on our homestead for nearly a decade, and I absolutely love their rich, flavorful meat. They're grazers, much like cows, gracefully strolling about the yard snipping off the grass.
As a result, their meat tastes a bit beefy, and roasted properly; goose gives you the best parts of just about every meat you'd put on your table. How else are you going to get both crisp skin and rich, beefy cuts on the same animal?
Roasting a goose is a bit different than your average holiday turkey. While turkey can be dry, a goose is anything but. It's self-basting, and your main challenge is just not to overcook it.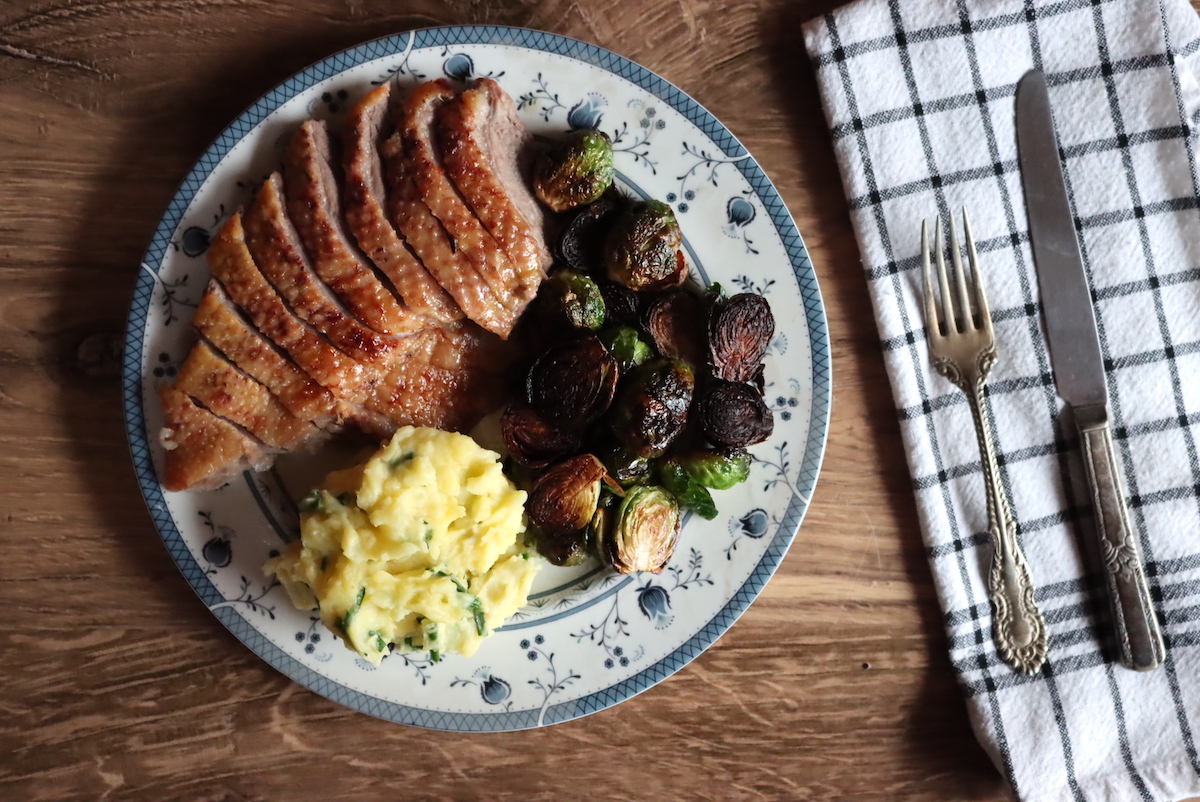 Where to Buy A Goose?
Most people aren't raising free-range geese in their backyard, and they're not something you can just find at any grocery store. We didn't raise geese this year, and we actually had quite a bit of trouble buying a goose locally.
There were a few very small farms in the Northeast that raised them, but they've all switched to other things. Geese are labor intensive to raise, and they don't take to confinement like chickens. They need space to roam, grass to eat, and a careful hand during plucking.
That's all good when it comes to quality, and you won't find factory-farmed goose anywhere…simply because it's impossible. But it does mean that finding a goose to buy can be tricky. If you do find one, expect to pay a pretty penny, as they're not your average chicken.
Eventually, we ordered a goose online from D'artagnan, and at this point, they're the only source for goose meat anywhere in the US that I know of…unless you're lucky enough to find a small farm locally.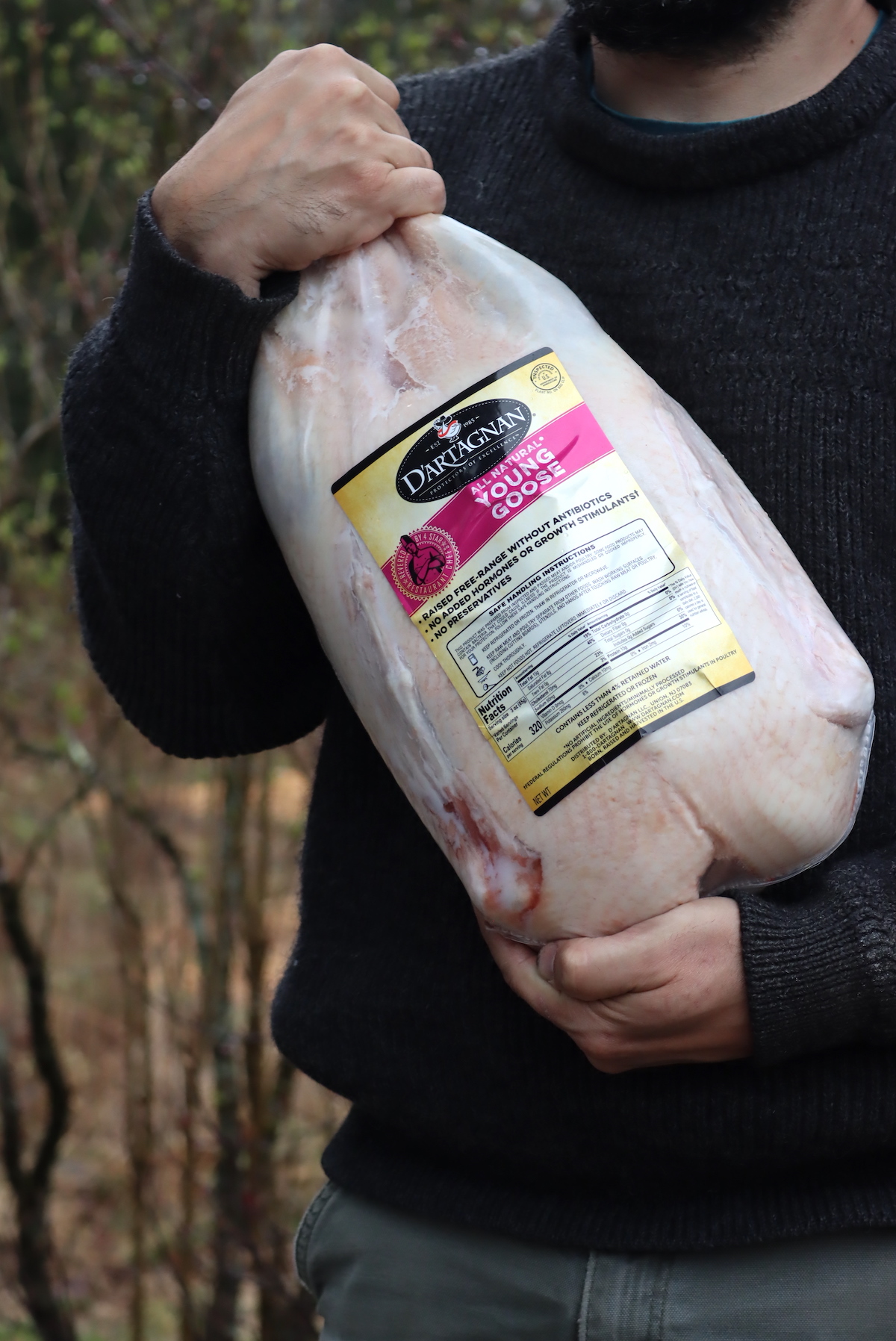 How Long Does it Take To Cook a Goose?
On average, it takes about 15 minutes per pound to cook a whole goose, and geese are usually around 8 to 12 pounds. That's 2 to 3 hours at 350 F.
We started with a goose that was 12 lbs 6 oz in the package. Removing the giblets brought it down to 12 pounds even, and then removing the internal fat for rendering and trimming the extra skin brought it down to about 9 1/2 pounds.
(Yes, a store-bought goose will have that much fat to trim, so be sure you render the goose fat and use it for other purposes. You paid for it, don't let it go to waste. It's perfect for frying potatoes for hash browns, or perfectly roasting brussels sprouts. It's also ideal for reheating goose to use in leftover goose recipes.)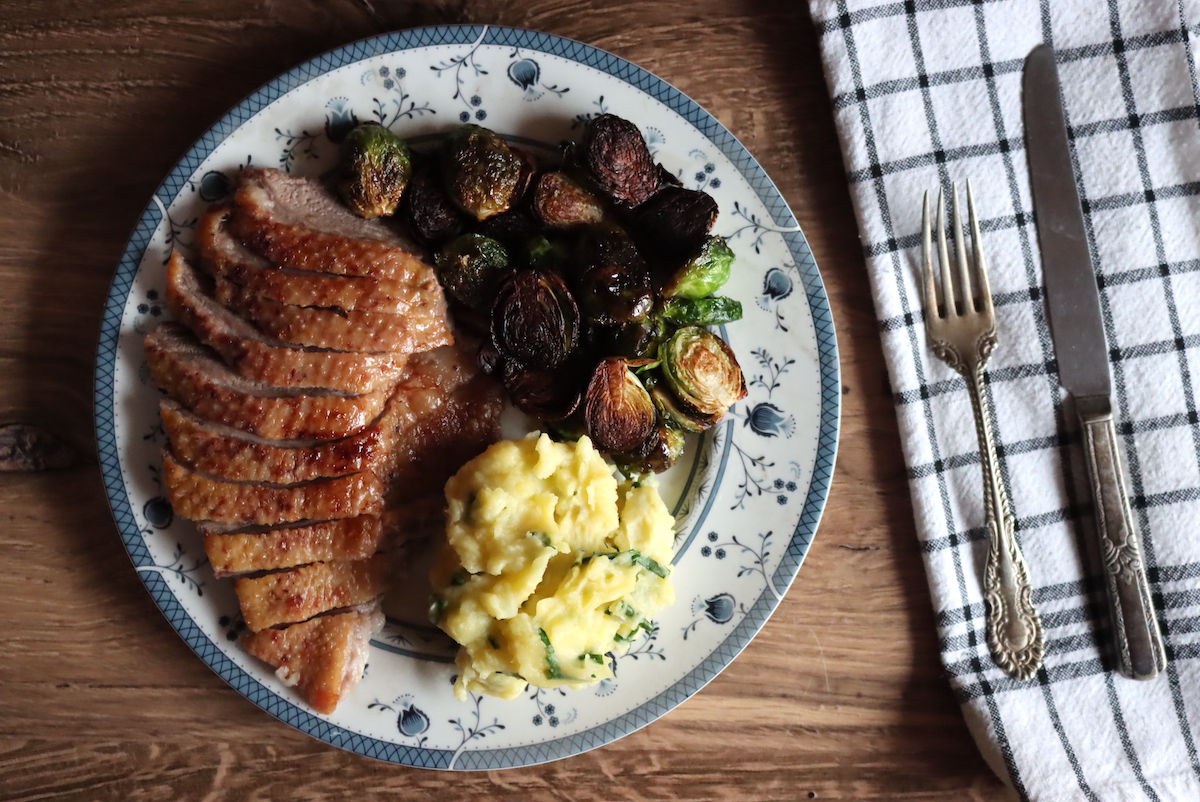 Preparing a Goose for Roasting
The first step is to take your goose out of the packaging, and make sure you remove the giblets from the inside. Since goose liver is so popular, it's almost always included inside along with the heart and neck.
Make sure you get that out of the cavity before cooking.
Start by trimming skin at the back and removing visceral fat. There's A LOT, but you'll render this separately.
Leaving it on will just result in more chance of flare-ups in the oven, and it won't roast nicely anyway. It'll never get crispy, and it'll just be a gelatinous flap at the end.
It's so much better to remove and render goose fat separately.
Removing the tail is optional, and I know a lot of families fight over the "pope's nose" at the holiday table. It always belonged to my aunt carol, and she took it as her tax for making the best gravy each year.
These days, I remove it and add it to the pot to render out the fat.
As I mentioned already, it's a lot of fat in the cavity and skin trimmings. Our goose lost a few pounds in trimming, but all of it rendered down to 3 full pints of goose fat for other uses.
Next, flip it around and remove the skin around the neck.
This is actually where the skin is the thickest and fattiest, and geese basically have a turtleneck of thick skin/fat right up around their shoulders and neck. It's about 1 cm thick right around the neck cavity.
While you want to leave all the skin on the breasts, all the extra skin flaps should be removed because just like in the back, they'll never crips.
In most cases, the neck itself is removed, but the neck skin is intact on the bird.
There are really ambitious recipes for making sausages cased in goose neck skin, but more practically, it's going to go into the pot to render with the rest of the skin/fat.
You're already roasting a whole goose and rendering goose fat; that's project enough for today.
Next, trusting the legs together is optional, but it makes for a better-finished presentation when the bird comes out of the oven and allows you to move/flip the bird more easily.
Some people opt to snip off the wing tips, and that's honestly a good idea since they don't have any meat, and they sometimes burn in the oven.
I leave them on for presentation and because I'm going to want to roast them before they go into the stock pot for goose stock anyway.
I'll also roast the neck and giblets separately to either add to the stock pot, or use to make gravy.
At this point, you want to prick the goose on all sides to help the fat render and the skin crisp. You can use a bamboo skewer, as I'm using, or a big needle or the sharp end of an oven thermometer also works.
This is the most time-consuming part, but it's incredibly worth it.
All the extra holes allow the fat to drip down and baste the bird while it roasts, and removing the extra fat allows the skin to crisp nicely. Ideally, you want to completely cover the goose in pin pricks, with them being around 1/2 cm to 1 cm apart.
Practically, the amount of time you spend on this depends on your patience.
I give it 5 to 10 minutes of work, concentrating on the areas where I want the best crispy skin (breasts, legs, etc). Don't skip the back, that skin can be glorious too.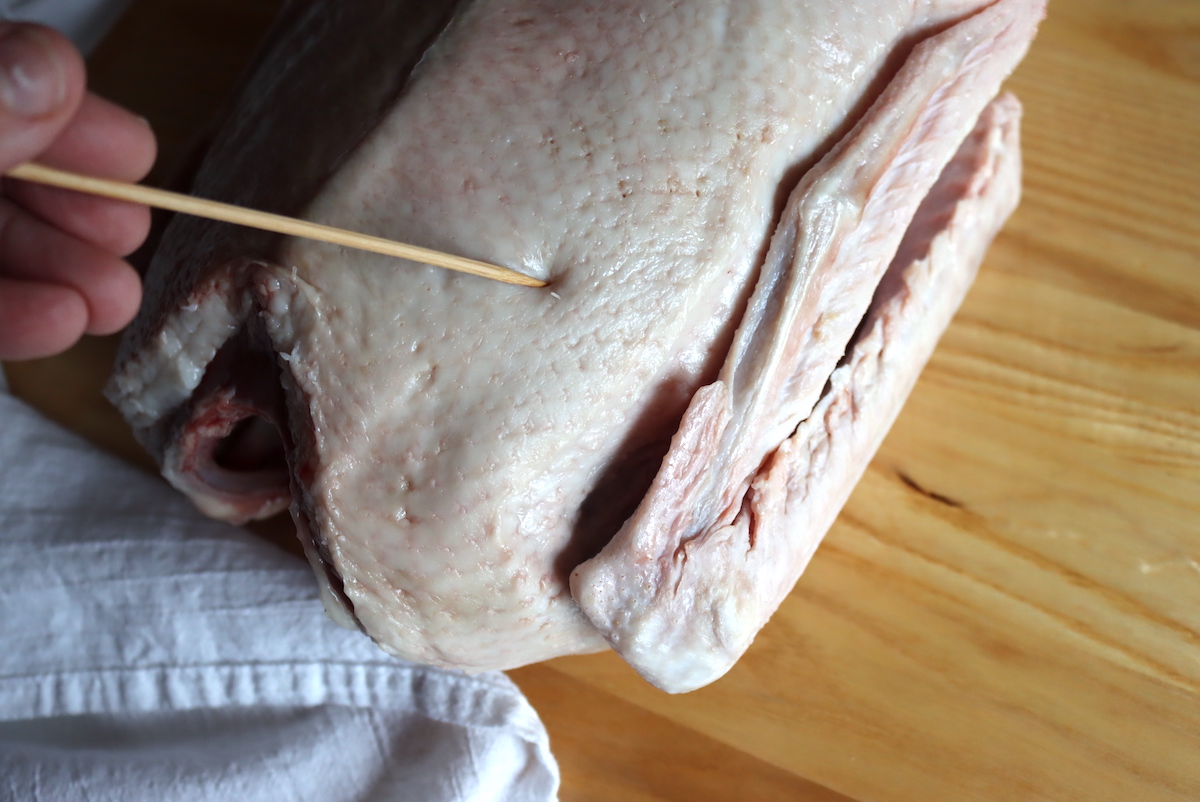 At this point, your goose is trimmed, trussed, and pricked. It's almost ready to go into the oven.
Sprinkle the outside with salt on all sides, which helps draw out moisture to help the skin crips, and also seasons the meat.
The goose is now ready for the oven.
How to Roast a Goose
Now that your goose is prepared for the oven, it's time to get roasting. Preheat the oven to 350 degrees F (175 C or Gas Mark 4). Place the goose on a rack inside a roasting pan, breast side up.
Estimate the total cook time based on the weight of your bird. Mine was about 9 to 10 ish pounds when fully trimmed, so at 15 min per pound, that's a little under 2 1/2 hours.
The goose will start breast side up and cook about 1/3 of the total cooking time in that position.
After 1/3 of the cook time, flip the goose to breast side down. This helps the skin on the back crisp as well, and also keeps the breast moist (as being on the bottom means it's basted more during this part of the cook).
Finally, when 1/3 of the cook time remains, flip the goose back over. Finishing breast side up means the goose will crisp and brown nicely on the breast.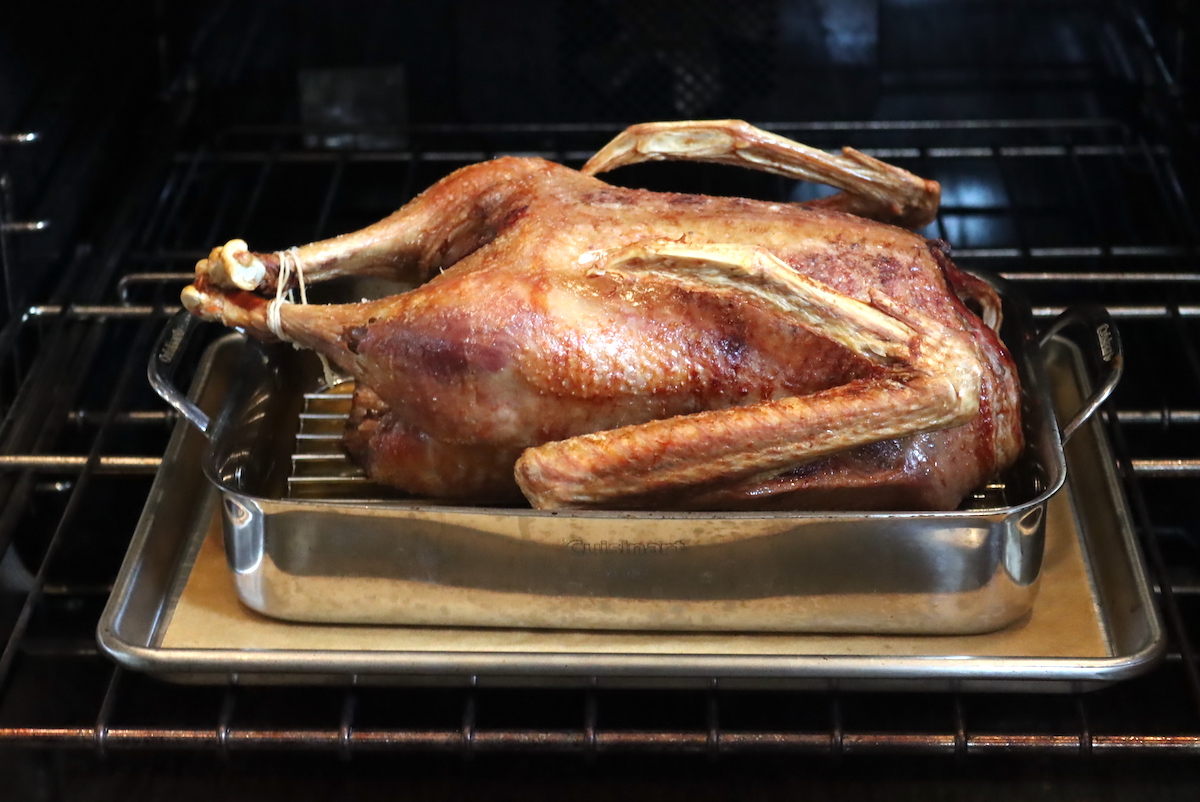 I have a roughly 9-pound goose (once trimmed), and at 15 minutes per pound that's 2 hours 15 minutes (or three 45-minute blocks). If you have a 12 pound goose, that'd be three 1 hour blocks. You get the idea.
Honestly, if you're feeling daunted by flipping a hot goose in the oven, you can skip it and just roast the goose breast side up the whole time. The breast skin will still be crisp, but know that the back skin won't get the same treatment.
The breast may also be a bit overcooked by the time the legs/thighs are fully done.
The goose can be removed from the oven when the internal temperature in the thickest part of the thigh is 165 F (about 74 C).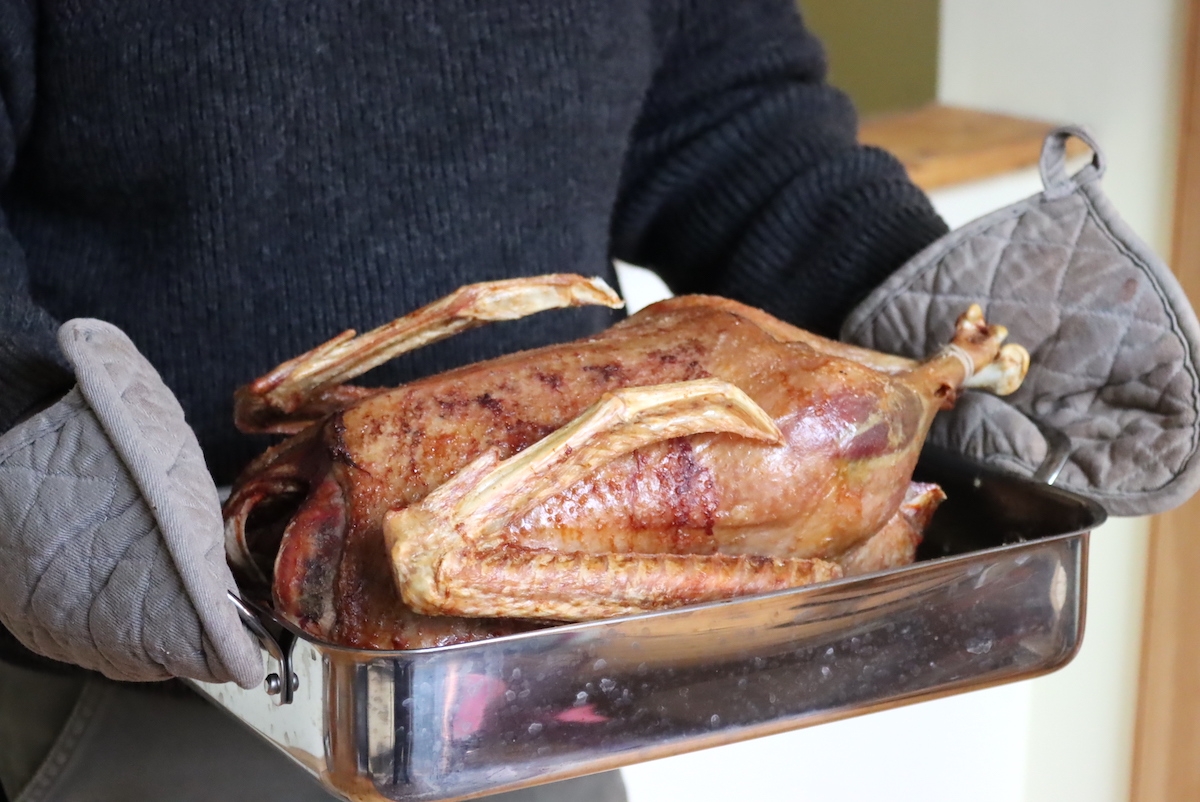 Carving a Goose
A goose is carved more or less exactly as you would a turkey, or any other bird.
Start by stripping the breasts off the breast bone, by running a knife in between the two sides and sliding it along the rib cage. The breast meat should come off each side as a full piece, and you can slice it later for serving.
The leg and thighs come off together at the hip joint, and the wings separate easily at the shoulder.
There's very little meat left on the carcass of the goose, so it's less picking than an average turkey. Still, make sure you save the carcass for making a rich goose stock.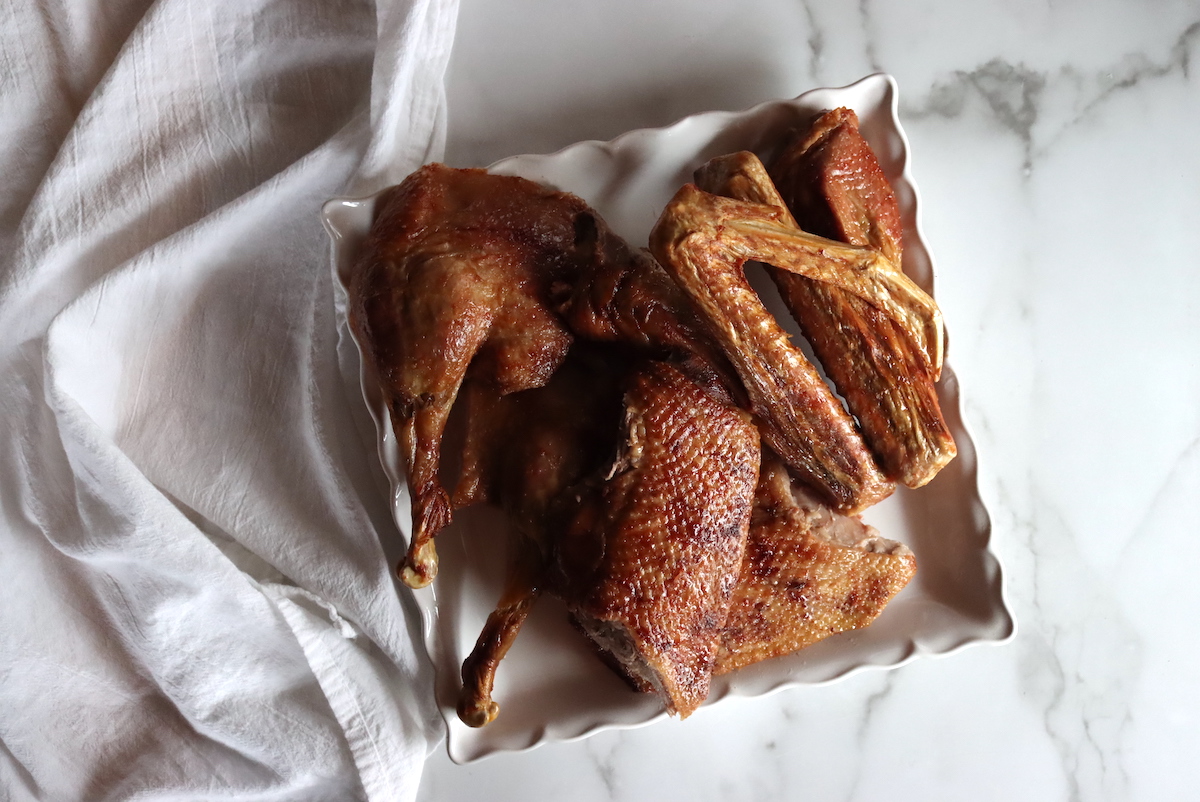 What to Serve with Roast Goose
Goose goes well with most of the traditional holiday sides, including mashed potatoes and stuffing. This recipe for the roast goose is not stuffed, and you'll need to add about 45 minutes to the cooking time if you roast a stuffed goose.
Cooked greens are some of my favorite sides, because it's nice to have something to cut the richness of the goose meat. Not too much though, I still fry brussels sprouts in goose fat.
But, you know, a salad might be nice for a reasonable person.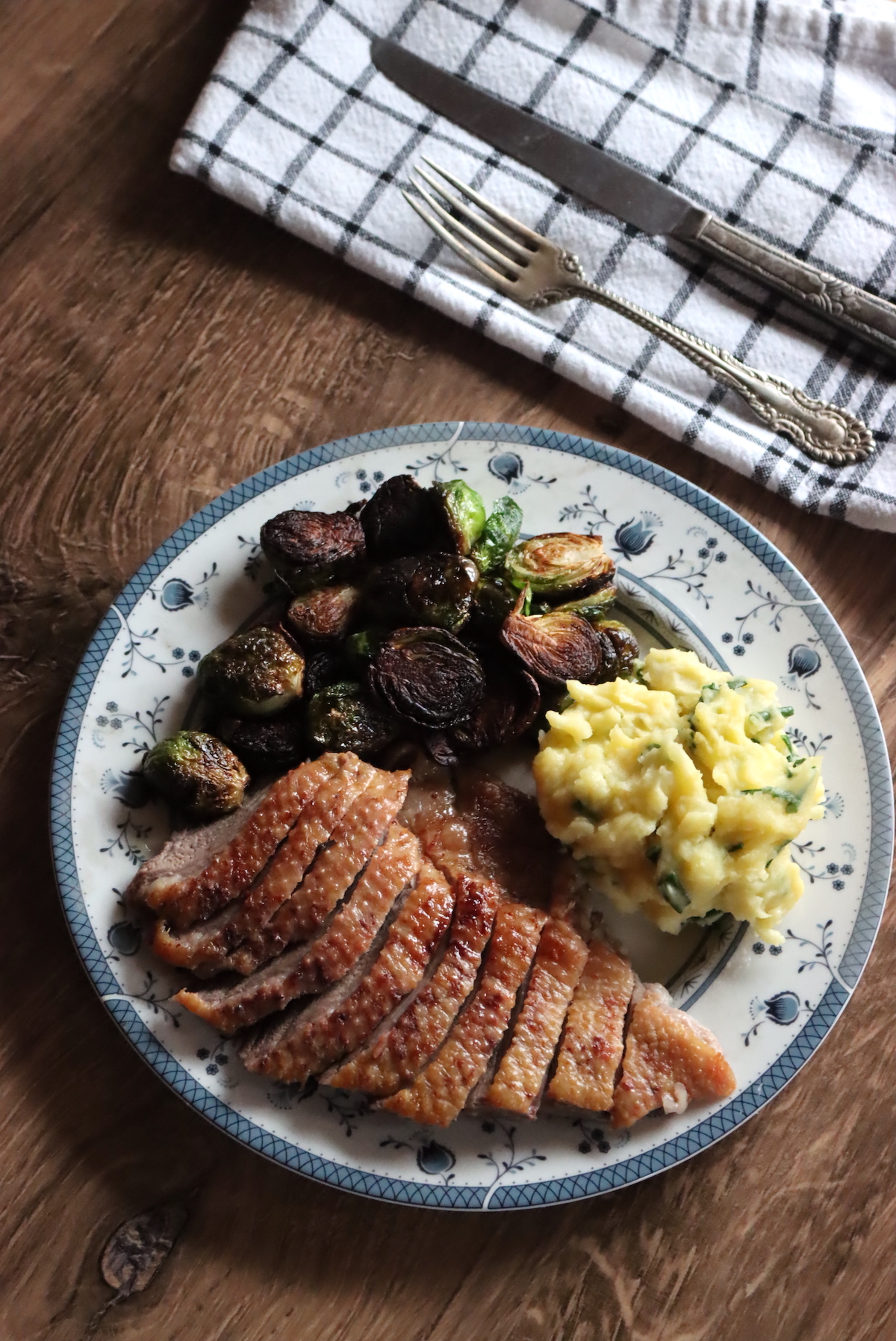 Goose Recipes
Looking for more ways to cook a goose?
Yield: Makes one 8 to 12 pound goose
How to Roast a Goose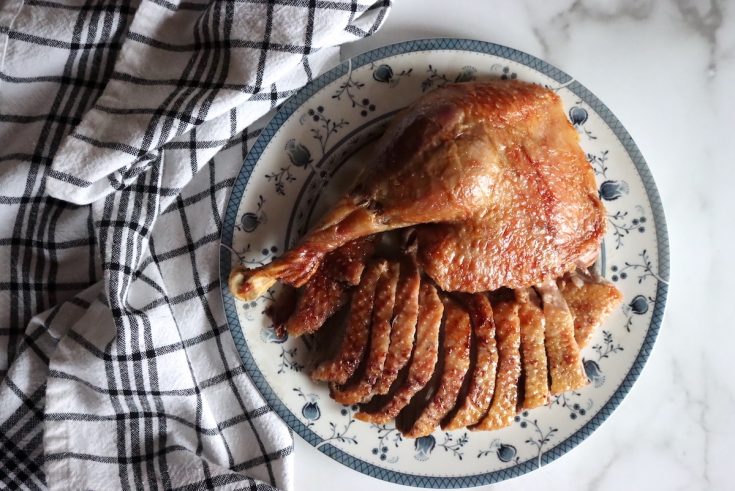 Roast goose is truly spectacular, and it'll be the star of your holiday table.
Total Time
3 hours
30 minutes
Ingredients
8 to 12 pound Goose
Salt to taste
Instructions
Preheat the oven to 350 degrees F (175 C or Gas Mark 4).
Remove the goose from the packaging and remove the giblet bag, which usually includes the heart, liver, and neck. Reserve those for other uses, like gravy.
Trim the goose of extra fat around the visceral cavity. Remove the neck skin, and any other extra flaps of skin not covering meat. Save the skin/fat to the side for rendering separately.
Weight the goose at this point to estimate total cook time. Cook time is about 15 minutes per pound of trimmed goose meat.
Prick the goose on all sides with a bamboo skewer to encourage to fat to render as the goose cooks. This will help the skin crisp. Pay extra attention to places where you want really nice crispy skin, like the breast.
Sprinkle the goose with a bit of salt on all sides.
Place the goose on a rack in a roasting pan, breast side up.
Place the goose into a preheated oven and roast for about 1/3 of the total cook time breast side up.
Remove the goose from the oven, flip it over to breast side down. This helps the goose breast stay moist, and it allows the back skin to crisp. Cook for another 1/3 of the total cook time.
Finally, flip the goose back over to breast side up and complete the cook time this way. You should have another 1/3 of the total calculated cook time (15 min per pound) remaining, but sometimes a goose will cook a bit faster. Roast goose is done when it registers 165 degrees in the thickest part of the thigh on a meat thermometer.
When the goose registers 165 F on a thermometer, remove it from the oven and allow it to rest for at least 20 minutes before carving.
Home Roasted Recipes
Goose isn't the only thing you can roast into a delicious main course for your table!
How to Roast a Duck (coming soon)