Instant pot lentil soup is a quick way to get a healthy dinner on the table. Delicious, nutritious and vegan by accident, this pressure cooker lentil soup will have everyone asking for seconds.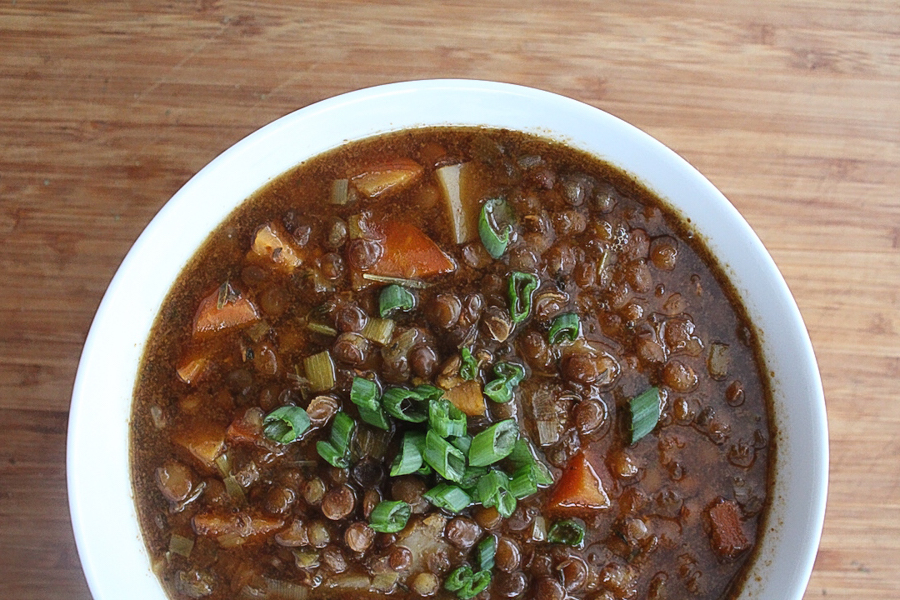 Lentils are a great way to feed a lot of people on a budget. Just like my instant pot pinto beans recipe, this soup comes together quickly and costs almost nothing per serving.
Often I find lentil soup to be bland, lacking in both spice and body. This version is aggressively spiced with warm aromatics to bring out the full flavor and richness of the lentils, but without taking the dish in any particular ethnic direction.
Even after the pressure cook, the lentils remain whole and distinct. That makes this soup very unlike mushy spilt pea soups. There's ample broth for dipping a slice of whole-grain bread, and plenty of bite left to the lentils.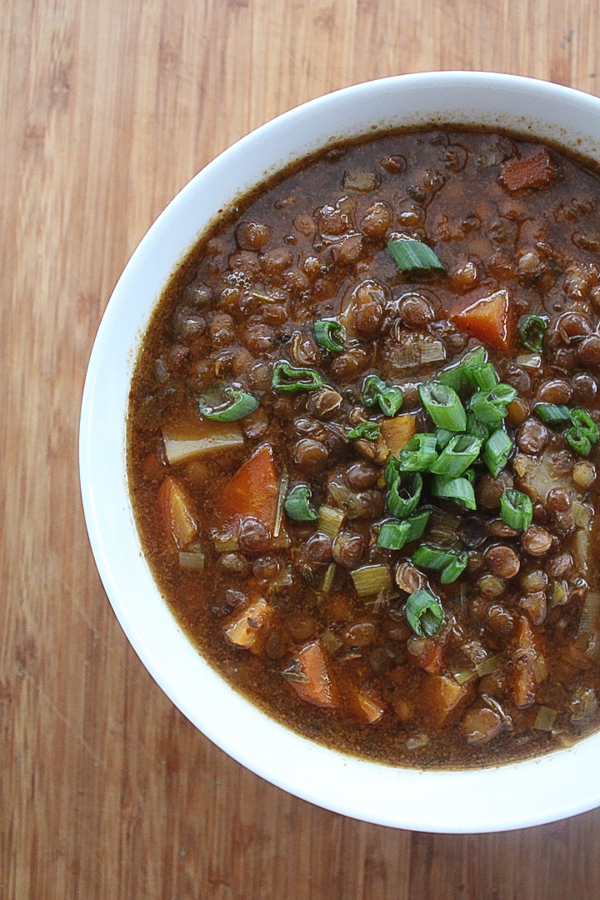 The most time-consuming part of this entire recipe is peeling and chopping the vegetables. Once the vegetables are peeled and chopped into bite-sized pieces, everything goes into the pot. From there, the instant pot takes over and does the rest.
In the ingredients below, you'll notice a lot of vegetables. However, the final soup turns out mostly lentil. The lentils absorb a lot of the flavorful stock, and even though there is only a small amount in the recipe compared to the other vegetables, they still come out as the dominant flavor and texture in the soup.

Yield: 6 servings
Instant Pot Lentil Soup Recipe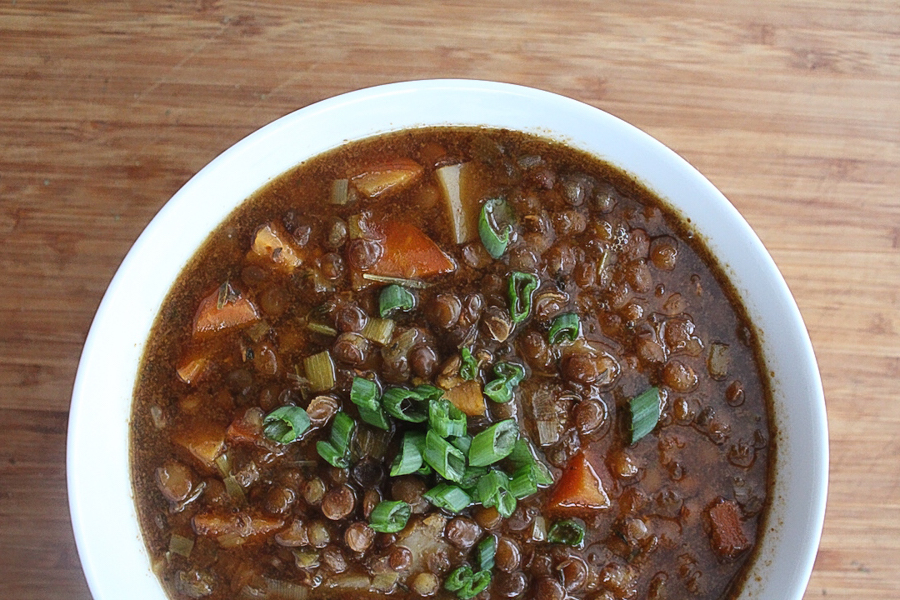 Additional Time
10 minutes
Ingredients
2 cups lentils
2 cups sweet potatoes, peeled and cubed
2 cups potato, peeled and cubed
2 cups carrots, peeled and diced
1 cup leeks, chopped (or onions)
2 quarts stock or broth, unsalted (if stock is salted, reduce or eliminate added salt)
2 Tbls. Soy Sauce
1 Tbls. garlic granules ( or 1 whole fresh garlic bulb, peeled and chopped)
1 Tbls. thyme, dried
1 tsp. coriander, ground
1 tsp. smoked paprkia
1/4 tsp. nutmeg, freshly ground
1 tsp. salt
Instructions
Peel and chop all vegetables and add them to the instant pot inner pot, along with the dried lentils (no soaking required).
Add in spices and top with 2 quarts of stock or broth (vegetarian or chicken, your choice).
Seal the instant pot lid and set the vent to "sealed."
Select pressure cook on high pressure for 20 minutes.
Once the pressure cook cycle has completed, allow the pot to naturally depressurize for at least 15 minutes before releasing the remaining pressure.
Serve garnished with leeks, chives or cilantro. Or just serve plain, it stands up well on its own. It would taste excellent with some toasted hearty whole grain or rye bread.
Notes
Serves 6
Pressure Level: High
Prep Time: 20 minutes
Cook Time: 20 minutes (plus depressurization)
Instant Pot Meal Ideas
Make dinner prep a breeze! Try some of our other favorite Instant Pot recipes!