Modern-day chickens don't get much of a workout. Their wings are just for show, and the oversized breast never sees any use. The more a muscle is used, the more flavor it develops. That's why some of the tastiest cuts of meat are also the toughest and the most economical to purchase.
Chicken thighs are no exception. Packed with flavor and inexpensive, but a little tough unless you know how to cook them right.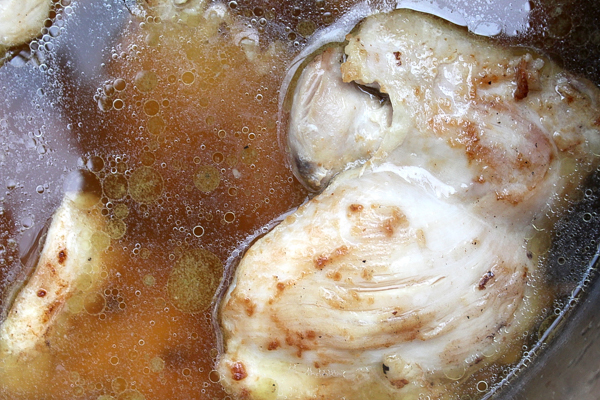 We've taken to cooking up big batches of chicken thighs each week in our instant pot so that we always have food ready to go. Seasoned and pre-cooked, chicken thighs are an easy start to just about any weeknight dinner.
Burritos, sandwiches, chicken fried rice, over pasta…the possibilities are almost endless.
Start by browning the chicken thighs in a bit of oil. You can do this right in your instant pot on the "saute" setting. I usually brown them in a cast iron because there's always one sitting on my stove and easy at hand.
Browning the chicken thighs adds extra flavor and helps to seal in the juices, keeping them extra moist.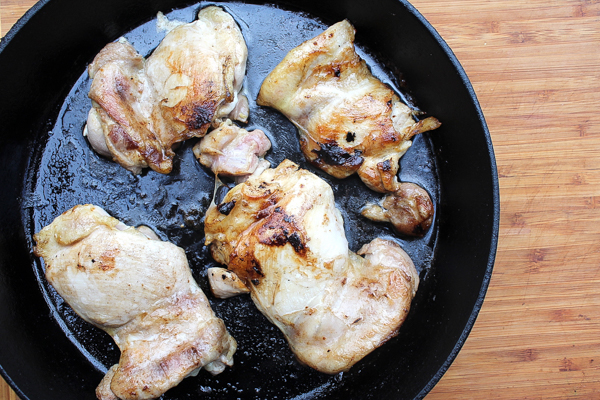 Once the thighs are browned, layer them into the instant pot. I've found that my 6 quart instant pot can hold about 4 pounds of boneless chicken thighs. With the bones in, perhaps slightly less because they're less flexible.
I add one cup of home-canned bone broth or chicken stock for each pound of meat. At the end, you'll be pulling the thighs out of the braising liquid, and it'll be extra flavorful and perfect for a chicken soup or a rich risotto.
In this recipe, you're loading in 4 pounds of chicken thighs, so add in 4 cups (one quart) of stock.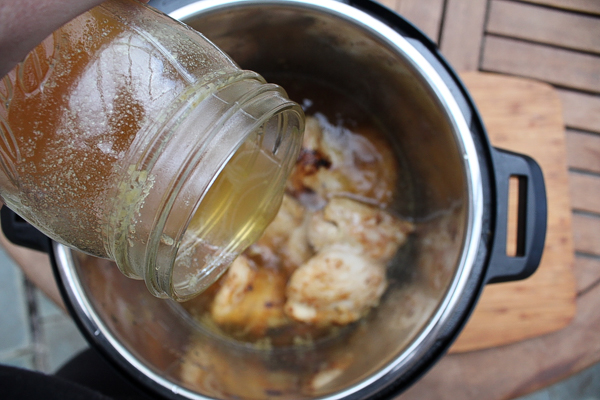 Add in salt and spices. For 4 pounds of chicken, I use 1 full teaspoon of sea salt. I like my food just lightly salted to bring out the flavor, and most recipes would add more salt the braising liquid. Try it this way, and you can always add more later.
For seasoning, it depends on how the thighs are going to be used. My go-to is paprika, garlic, oregano, and black pepper.
For an Indian variation, add in a bit of turmeric, cumin, coriander, and ginger.
For Mexican, try cumin, oregano, and chili powder.
They absorb seasoning very well when reheated and incorporated into meals, so starting with a relatively light and generic seasoning will give you the most versatility.
Yield: Makes 4 lbs Chicken Thighs
Instant Pot Chicken Thighs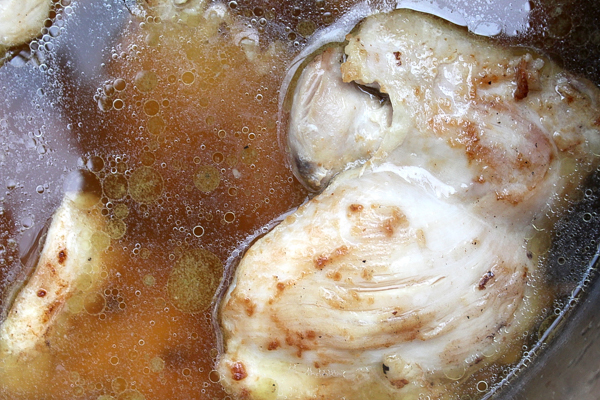 Instant pot chicken thighs is a quick and easy way to prepare deliciously tender and flavorful chicken thighs.
Ingredients
4 pounds chicken thighs (boneless & skinless, or not)
4 cups stock or bone broth
1 tsp sea salt
1 tsp paprika
1 tsp oregano
1 tsp garlic granules
Instructions
Brown the chicken thighs on both sides. Work in batches so you don't crowd the pan. This can be done in the instant pot on the saute mode or in a separate pan.
Add all the chicken thighs into the instant pot, staying below the 2/3rds full mark. A standard sized instant pot should hold at least 4 pounds comfortably.
Add 1 cup of stock for each pound of meat so in this recipe 4 cups or 1 quart of stock.
Seal the instant pot and be sure to turn the steam release from venting to sealed.
Select pressure cook on high pressure for 35 minutes.
Allow the instant pot to naturally depressurize for at least 10 minutes before venting and opening. I generally allow it to completely depressurize before opening.
Instant Pot Recipes
Looking for more easy instant pot recipes?