Elderberry recipes are often lost in old cookbooks, and can be hard to find. Elderberries were once popular homegrown or wild foraged fruits, they fell out of popularity for a time, but now they're making a comeback. Rediscover how to cook elderberries, as there are more than a hundred delicious ways to use elderberries in the kitchen.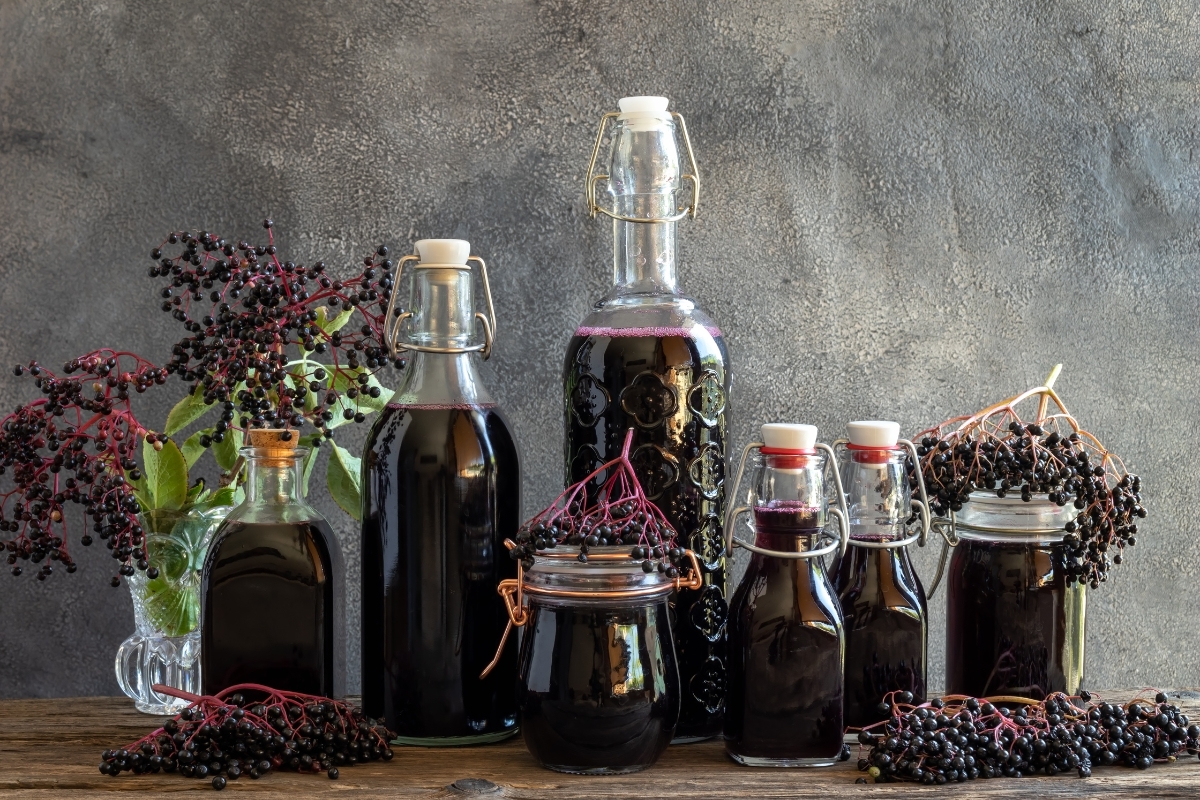 Elderberries are a rich and beautiful autumn fruit to forage for. When faced with a flood of elderberries, a good collection of recipes can be a valuable asset.
Elderberries are a hardy plant that grows particularly well in eastern and central parts of the U.S. You may find them commonly growing alongside streams and ponds where the soil is moist and cool. You'll also find them on the edges of woody areas, particularly where birds roost – this is no coincidence as elderberries are often eaten and spread by birds.
You can easily grow elderberries if you live in USDA zones 3 to 8 to ensure you have a regular supply of this healthy and flavorful berry.
Choosing the Best Elderberries
Elderberries ripen from August to October, with dark bundles of berries hanging in clusters on shrub-like hedgerows. Unlike other berries, eating raw elderberries should be avoided as they can make people sick.
Luckily, cooking the berries destroys any toxins and makes the fruit an enjoyable addition to many recipes.
Elderberries are prime for picking when they've turned a deep purple or black color. In summer, the shrubs produce white flowers which develop into drooping clusters that darken in fall. Green or unripe elderberries should not be picked as they will not continue to ripen once harvested.
When harvesting elderberries, it is easiest to remove the entire cluster by snapping or cutting the stem at the base of the branch. Later, you can remove the berries from the stem over a bowl – some even recommend the use of a wide-toothed comb for de-stemming large batches of berries. Discard any woody bits and leaves, and wash the berries well before cooking.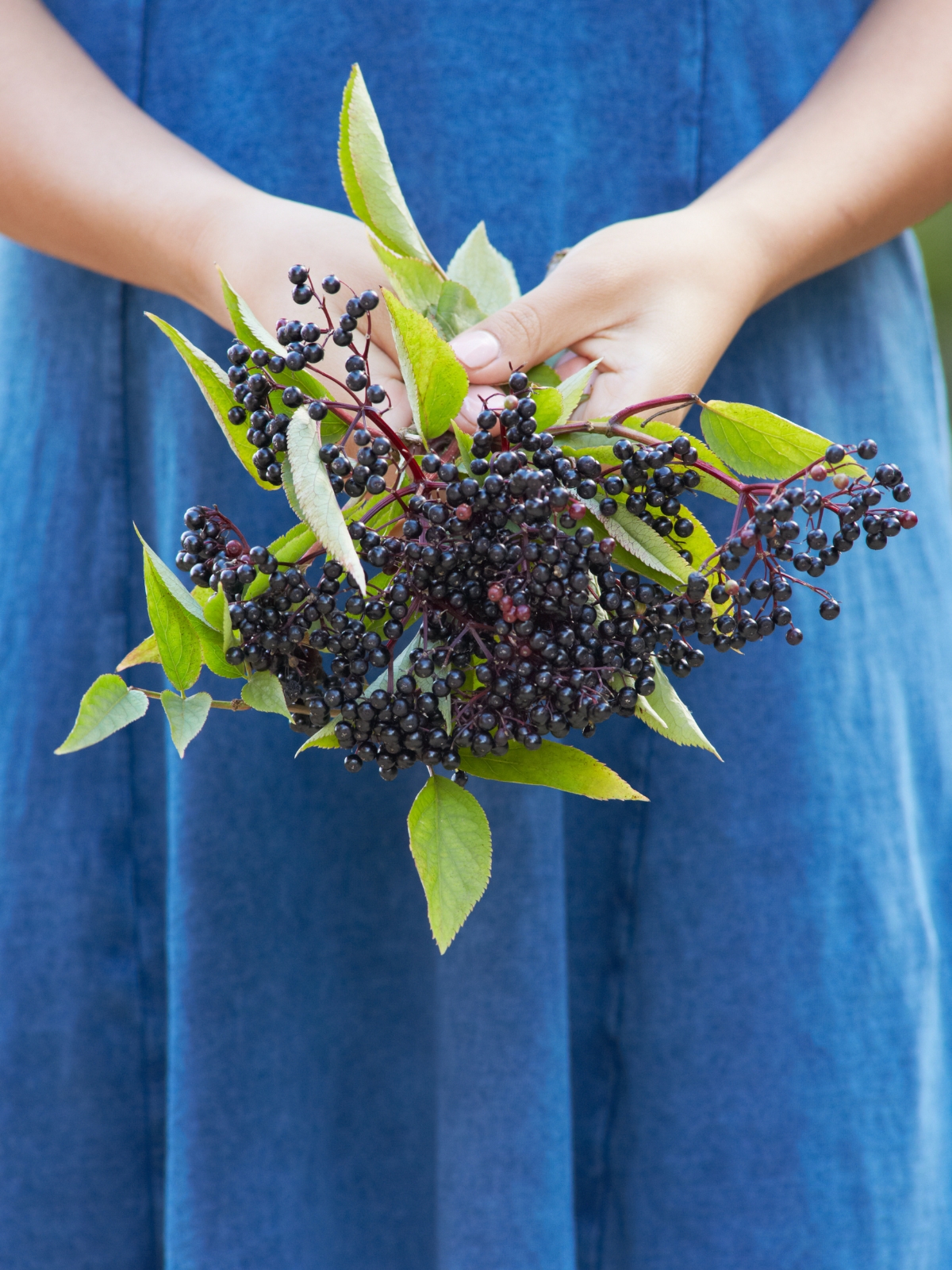 Elderberry Recipes
Elderberries have a dark, fruity flavor with woodsy floral notes and intense tannins. This complex flavor balances well with other autumn fruits as well as more savory pairings, like bitter herbs or meaty proteins. All the elderberry recipes shown below include cooking the berries first. You can find some recipes that include eating elderberries raw – but this isn't recommended!
Raw elderberries are known to contain compounds that are mildly toxic if consumed in a large enough quantity. The symptoms can range from mild digestive issues and discomfort to nausea and some other uncomfortable side effects. Fortunately, heat neutralizes these semi-toxic compounds making them safe for eating.
Therefore, cooking the berries is the safest method of ensuring any toxins are deactivated.
To prepare elderberries for cooking, you'll wish to wash them and remove their stalks. As mentioned earlier you can do this by hand or with the help of a fork or wide-toothed comb. Be sure you aren't wearing your Sunday best when doing so – a few berries are sure to pop and stain you with their ripe juice.
Once prepared for cooking, you'll find elderberries go well in a great variety of dishes, be they sweetened and blended with other fruits or combined with salads, appetizers and meats.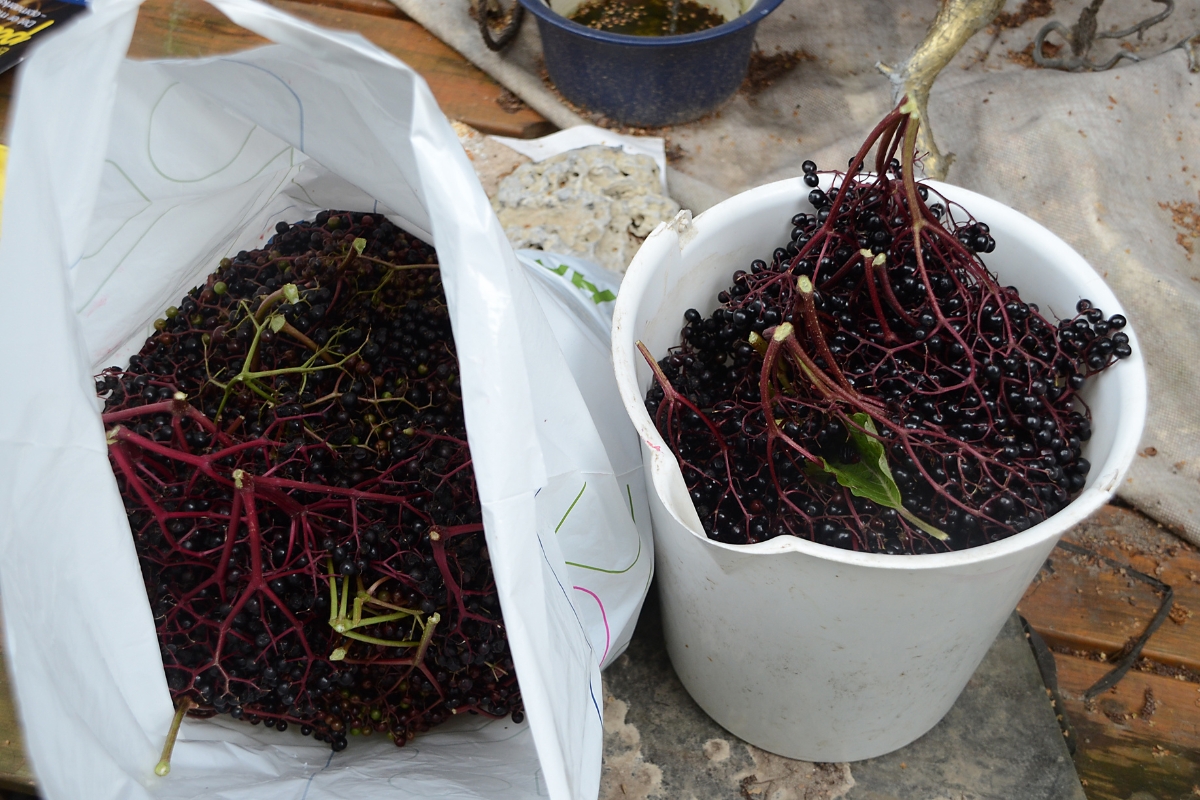 Fresh Elderberry Recipes
Once collected, elderberries are best used fresh or frozen. Some great methods for using fresh elderberries include tarts, crisps and pies. You can go with pure and simple elderberry pie or combine with custard in a tart with cassis. Blend with other fall fruits like apples, plums or pears. A tart with sweet almond-flavored custard is another option, made from elderberry-poached pears. What a treat!
Bread, loaves and even bread puddings can be made using newly picked elderberries. Toss fresh berries into lemon batter for a summery lemon-berry loaf or combine with raisins for some berry-packed raisin bread. Try throwing fresh berries into quick breads like banana bread or incorporating into bread puddings and cakes.
Fresh berries can also be cooked in compotes, chutneys or sauces. Try topping desserts with compote, adding chutneys to charcuterie plates, and sauces to accompany roasted meats.
Tarts and Pies
Bread and Bread Pudding
Cakes, Pudding, and More
Sauces, Chutneys, and Compote
Light Elderberry Recipes
Looking for some lighter fare? Elderberries can be used in making a warm and comforting soup. Popular in European countries, elderberry soup is known as Holundersuppe in Germany. It's traditionally served with small dumplings made with semolina or flour and touted for its health benefits.
Another light option are crispy elderberry cheese cups, made from elderberry jam and topped with elderberry vinaigrette. Elderberry jam also makes a delightful snack atop crackers with honey and pancetta. Elderberry vinaigrette is another way to enjoy elderberries in salad form. Use elderberry syrup to make a balsamic vinaigrette or try making elderberry vinegar to create your own homemade vinaigrette.
Elderberry Breakfast Recipes
Elderberries can be used in a variety of breakfast recipes to add versatile flavor to everyday dishes. An elderberry syrup can be made to top pancakes or stirred into porridge and yogurt. Elderberry syrup can even be used to make overnight oats and healthy breakfast chia pudding. For a bigger health boost, make an elderberry tea to add to breakfast smoothies, but remember not to use raw berries.
Baked breakfast goods benefit from this dark, flavorful fruit as well. Toss fresh or dried berries into muffins, coffee cakes or scones. Try sweet blends like cornbread, spiced up with herbs like thyme, or spoon elderberry jam in banana muffins for a moist and succulent treat. An elderberry sauce or icing can be made as well to drizzle over scones and coffee cakes. Even donuts can be embellished with elderberry – try filling delicate brioche morsels with elderberry jam for a breakfast worthy of a five-star restaurant.
Muffins and Scones
Elderberry Savory Main Courses
When you think of elderberries you might not immediately envision savory dinner dishes, but the rich, tart flavors of elderberry pair tremendously well with several proteins like gamey fare, as well as beef, pork and lamb. Try using elderberry syrup and apricot jam to make a delicious glaze for ham. Elderberry jam or jelly can also be used to create a meat sauce for beef as well. Venison is another notable choice to bring out elderberry flavors in an unusual way.
Additionally, try elderberry sauce with duck, bison, and even goat if you're "game" enough. Likewise, elderberries can be used to make several condiments to accompany savory dishes quite well. Try elderberry honey mustard on sandwiches or test out a little pontack (elderberry ketchup) with some sausages or cheeses. You can even try out some elderberries in your next barbeque recipe with an elderberry barbecue sauce to slather on ribs or pulled pork.
Sauces and Condiments
Elderberry Drink Recipes
Elderberries are also harnessed in liquid form whether for taste alone or to make use of their health benefits. There are several choices for adult beverages that use elderberries including elderberry liquor, elderberry gin, elderberry vodka and elderberry syrup for cocktails. Not sure which combinations to try? Combine elderberry syrup with fizzy soda water and lime, ginger and vodka, or simply elderberry syrup and champagne.
If you're feeling a little under the weather there's also elderberry hot toddies or an elderberry not toddy for those wishing to forgo the alcohol. Other nonalcoholic elderberry drink recipes include elderberry juice, elderberry lemonade, elderberry soda and elderberry shrub – a healthy drinking vinegar made with elderberries, honey and vinegar. And don't forget about elderberry tea for both warmth and immune-boosting properties.
Non-alcoholic
Elderberry Snack Recipes
For some snackable recipes, try elderberry gummies made from elderberry syrup and gelatin powder. It's a fun way to get little ones to try this semi-sweet fruit and sneak in some of those health benefits too. For more kid-friendly recipes consider healthy elderberry popsicles or elderberry fruit leather.
For more filling snacks, try elderberry granola bars or protein-packed power balls. And to stave off any future maladies that may be lurking around winter's corner, try wellness-enhancing gelatin shots. Top with whipped cream and blueberries for added fun.
Homeopathic Elderberry Recipes
Elderberries have long been acclaimed for their potential health benefits. They've been used for years as a natural cold and flu remedy in addition to immune support due to their high levels of antioxidants and anthocyanins. To make use of these prospective health assets, you can make an elderberry tincture from fresh or dried elderberries.
For even more infection-fighting properties consider elderberry cider for a comforting drink when ill or a preventative aid during flu season. Additionally, elderberry cider with ginger and apple cider vinegar can help as a digestive aid.
When ill, suck on elderberry cough drops made from elderberry syrup or dried elderberries. Sore throat lollipops can be made as well with dried elderberries, rosehips, echinacea and soothing raw honey. You'll forget you're even sick! Like tinctures, there's also oxymel – a centuries-old, herbal-honey concoction ideal for using when in need of a health boost. You can even combine elderberries with superfood sea moss to create an edible gel for adding to smoothies and drinks.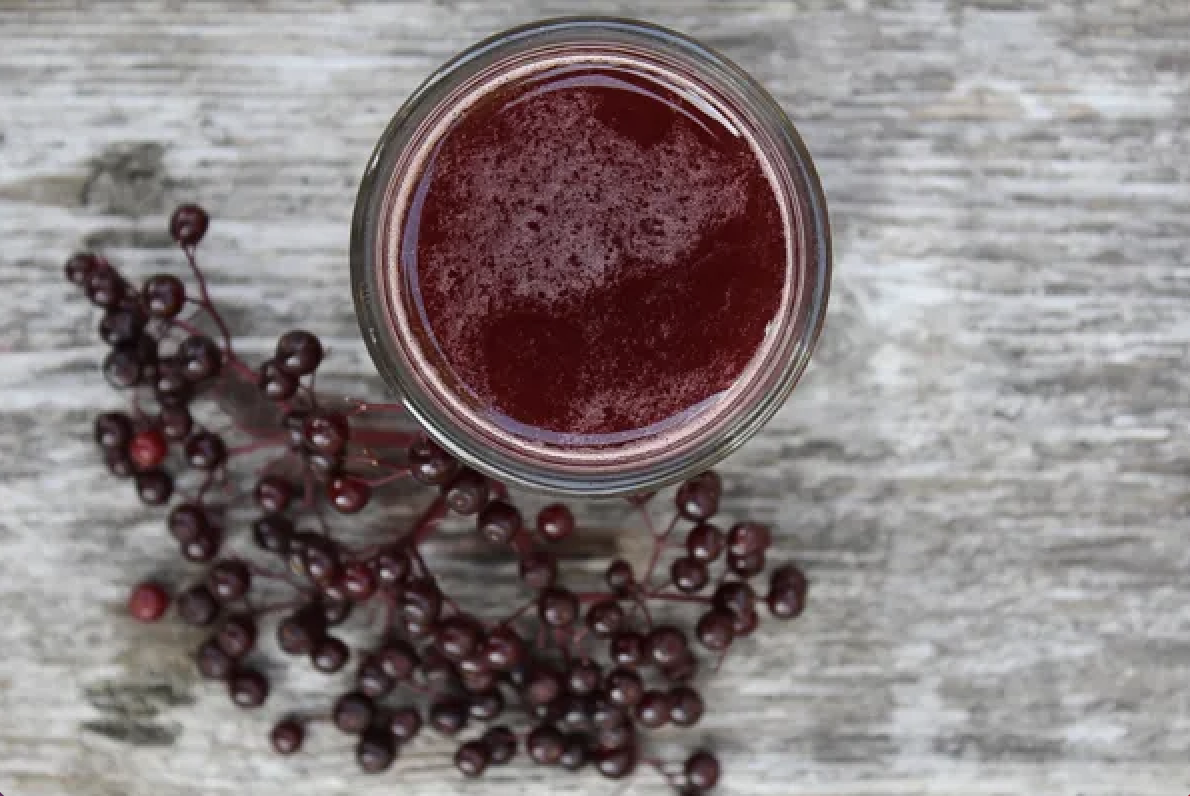 Elderberry Dessert Recipes
A vast amount of desserts can be made with elderberries. Combine elderberries with the flavors of orange, cardamom and blackberries in cakes and more. Elderberry preserves can be used to make cupcakes, tea cakes and sugary thumbprint cookies. Pies and tarts are improved by this robust fruit as well. Try joining with the flavors of honey, chocolate and dairy for delicious combinations.
Dairy-based desserts benefit as well. Try elderberry cheesecake or simply drizzle some elderberry syrup over these decadent desserts. For a cooling treat, try elderberry ice cream or the vegan-friendly dairy-free version known as "nice cream." For an even more decadent treat, try ice cream cups made from vanilla ice cream, dark chocolate and elderberry syrup, all swirled into a delightfully chilly bite.
Cakes, Cupcakes and Cookies
Pies, Tarts and Pudding
Cheesecake and Ice Cream
Cultured & Fermented Elderberry Recipes
Fermenting elderberries is a truly rewarding enterprise. Elderberry wine and small batch elderberry mead are some delectable options wonderful for sharing with friends and family during the Holidays.
For more fermented drinks, consider elderberry kefir or fermented soda made with wild yeast. You can even ferment elderberry honey and elderberry syrup for probiotic benefits. You can also pickle unripe elderberries to use as capers. Their slightly floral flavor is wonderful with pasta, salads and fish.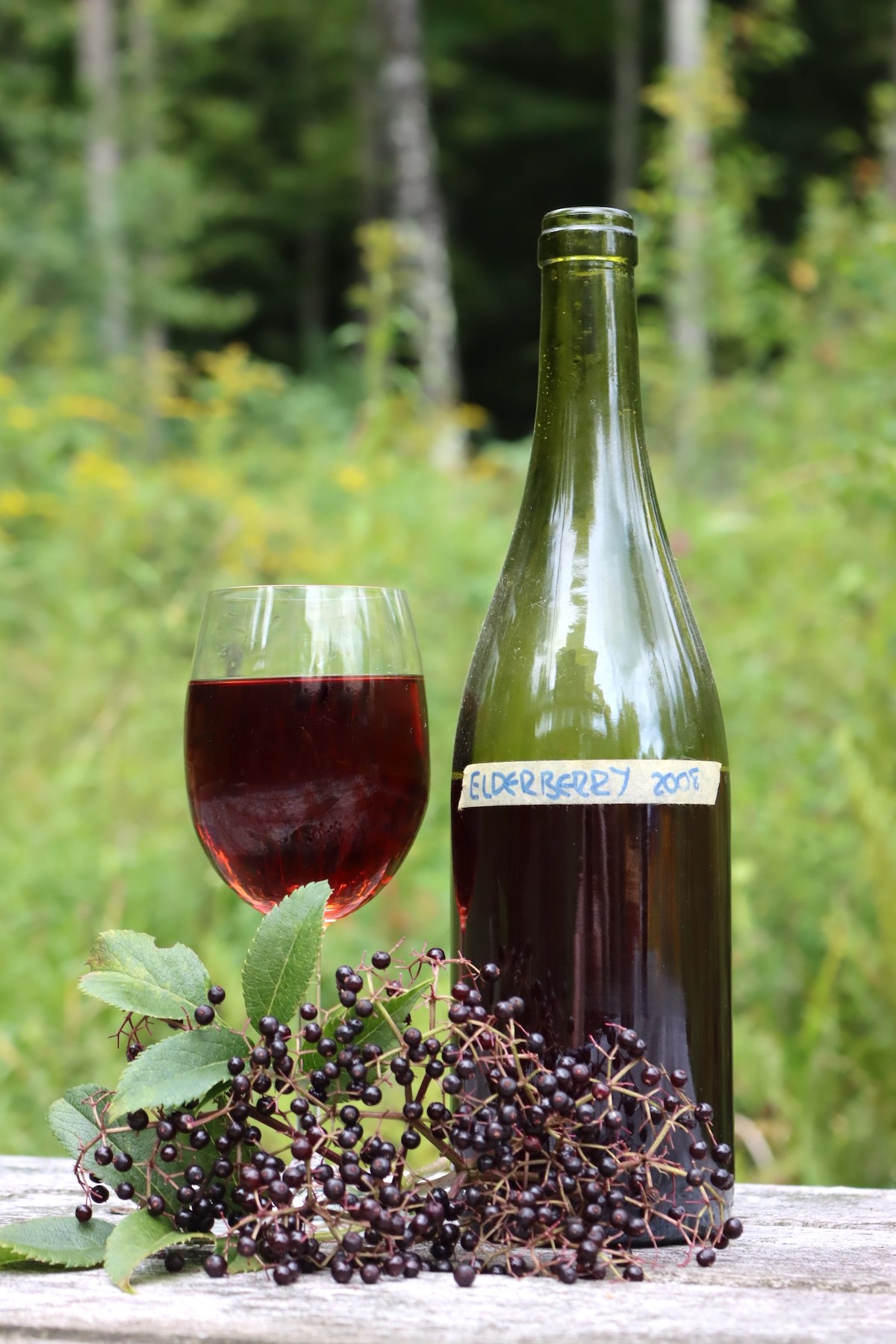 Preserving Elderberries
In times of true abundance, preservation may be the easiest route. Luckily, when faced with far too many elderberries, there are a variety of options at your hands. Elderberries may be dried with the help of an oven or dehydrator. These easily storable dehydrated berries can then be added to baked goods like elderberry walnut bread.
From dried elderberries, a powder can be made to be added to foods and drinks such as this dairy-free elderberry milk. Elderberries can also be frozen and canned for future use. Another option, of course, is jam or jelly – spectacular for gifting or spreading this delightful fruit throughout the year. Try combining with other fruits like blueberries for unusual flavors.
Jams and Jellies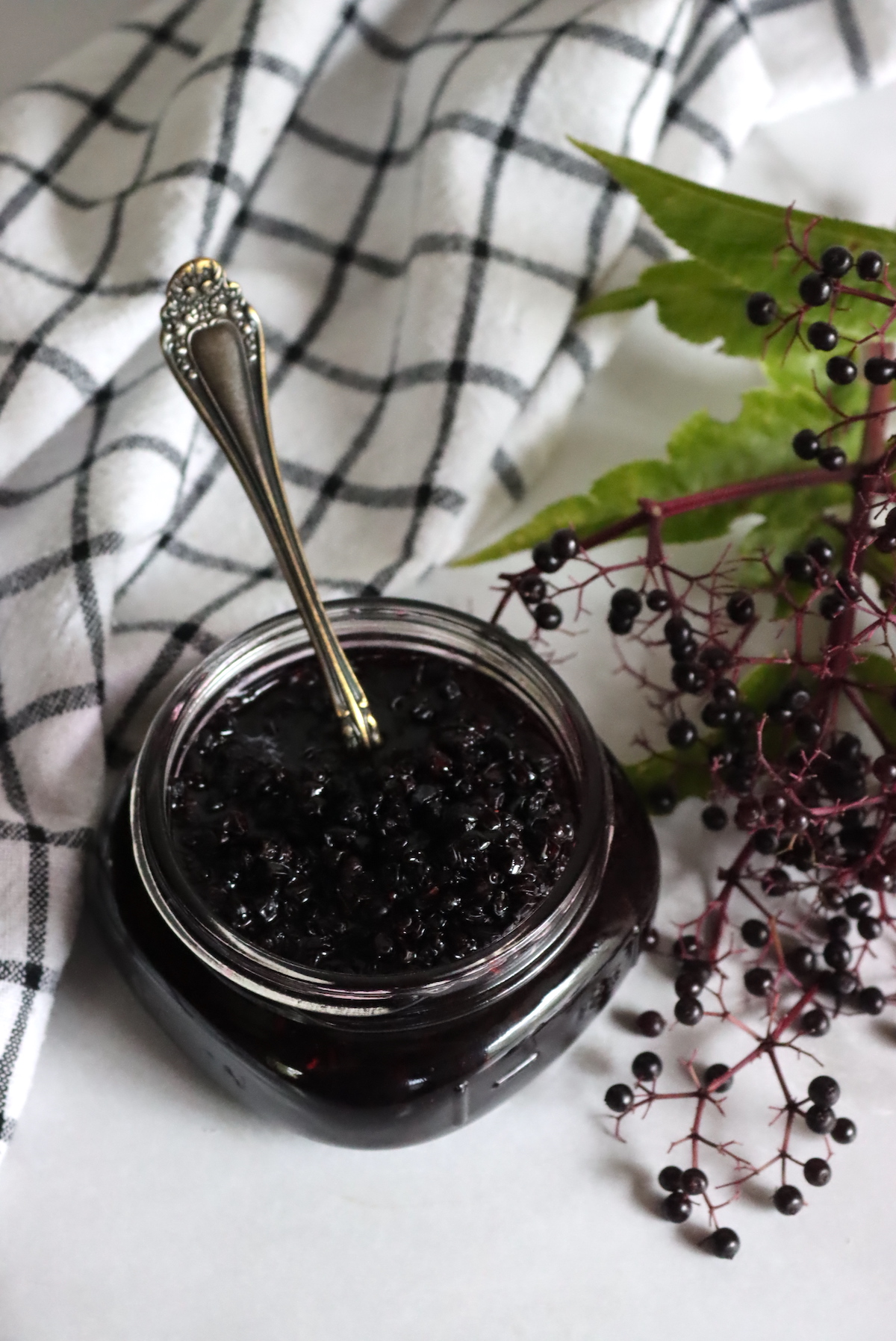 Seasonal Fruit Cooking Guides
Looking for more ways to use fresh seasonal ingredients?