These sweet and creamy Cranberry Coconut Balls are a delicious way to enjoy a healthy afternoon snack. Gluten-Free and Vegan!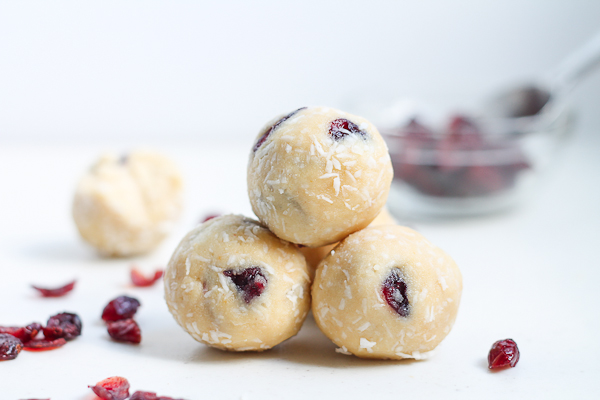 I'm always searching for quick and healthy snack ideas, and they come in especially handy during a long day working out in the garden. I'll pop in the house for a glass of water, and a quick energy boost. The problem is, unless I have something planned ahead of time, my mid-garden day snack ends up being a bowl of cereal. Not exactly nourishing, and lacking a bit on staying power.
In the past, we'd make homemade lara bars by mixing dates, dried cherries, and pecans in the blender, but all that fruit sugar goes right to the brain. The trick to wholesome energy balls is more nuts than fruit and healthy fats for balance.
On that note, I'm so happy to introduce Sharon from The Honour System. She's a food blogger that focuses on whole food and healthy meals, to honour your body. She created this cranberry coconut energy ball recipe just for y'all. Enjoy!
CRANBERRY COCONUT BALLS
This recipe for Cranberry Coconut Balls indulges you with a healthy fat fueled, naturally sweetened treat to keep you energized between meals.
Dried cranberries give these balls a candy-like taste. Ruby red pops of sweetness among the creamy coconut and almond base.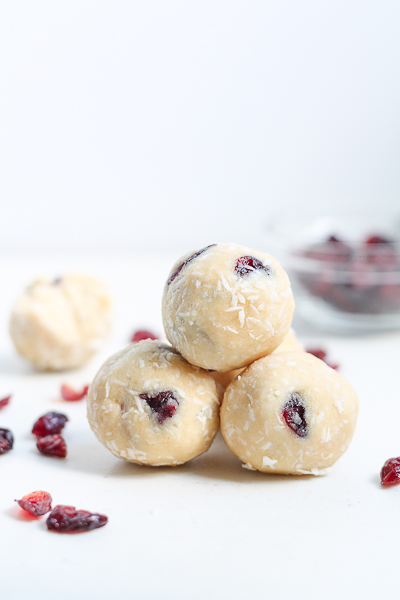 Tip!
Look for dried cranberries in the bulk section of your grocery store or make your own! I have a tried and true recipe for homemade dried cranberries right here.
A short ingredient list is usually an indicator of a more wholesome product. These beauties have seven ingredients and none of them are corn syrup 😉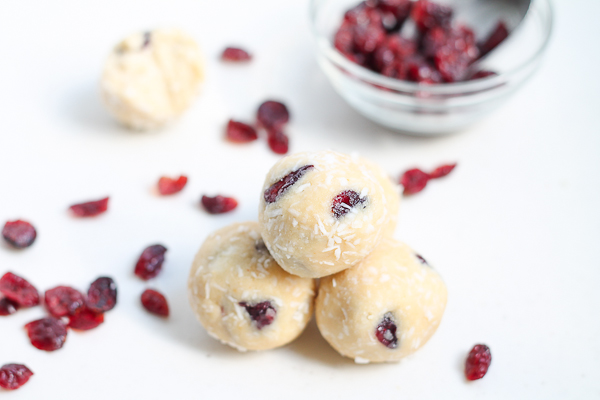 So … tell me … what are these seven ingredients?
Here they are:
Almond flour

Unsweetened shredded coconut

Coconut butter

Coconut oil

Maple syrup

Dried cranberries

Vanilla
Nothing crazy or impossible to find.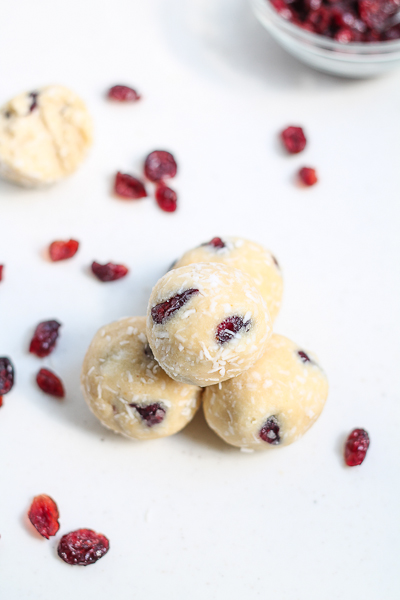 If you want to take the homemade aspect of it up another level you could totally make your own almond flour too!
If almonds and/or nuts is something you want to avoid you can substitute oat flour for the almond flour simply grind the oats in your blender until they reach a flour-like consistency.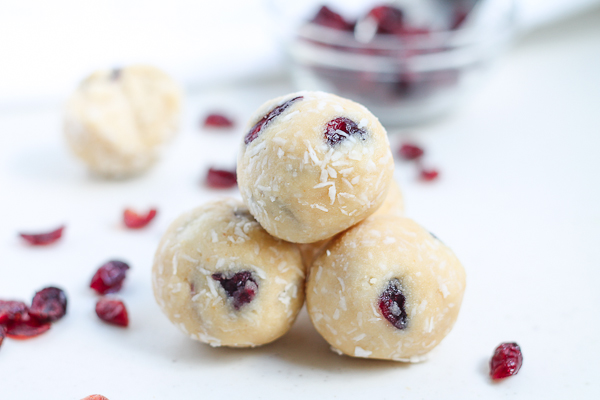 Rolling the balls in the shredded coconut is optional but oh-so cute! I say elective but I really mean it's mandatory! 🙂
They just look too much like holiday snowballs with the white flakes pressed all over to turn not do it.
These Coconut Cranberry Balls are naturally sweet, but if you really want to amp up the sweetness, white chocolate chips would be blissful in these.
Enjoy!
Cranberry Coconut Energy Balls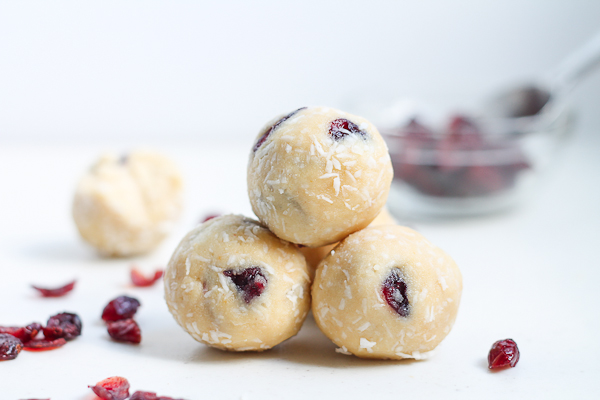 These sweet and creamy Cranberry Coconut Balls are a delicious way to enjoy a healthy afternoon snack. Gluten Free and Vegan!
Ingredients
2 cups almond flour
⅓ cup unsweetened shredded coconut plus 2 tbsp for rolling
2 tbsp coconut butter
¼ cup maple syrup
⅓ cup coconut oil
½ tsp vanilla
½ cup dried cranberries
Instructions
Stir together maple syrup, coconut butter, coconut oil, vanilla
Stir in almond flour and shredded coconut until well combined
*Almond flours can vary so if the mixture is too dry add more coconut oil. If it is too wet, add more almond flour
Fold in dried cranberries and pop the bowl into the freezer for 10 minutes to firm up a bit for easier rolling
Meanwhile, sprinkle shredded coconut on a plate and line a baking sheet (one that will fit in your freezer) with parchment paper
Roll tablespoon sized balls of the mixture in your hand then roll the ball in the shredded coconut. Place each finished ball on the lined baking sheet and pop it in the freezer for 30 minutes
Store in a covered glass container in the fridge or freezer
Snack Recipes
Get your snack on with these other sweet treats!
Sharon is the creator of The Honour System, real-food centered recipe website that features easy to make meals and snacks. Her motto is "Treat yourself but don't cheat yourself". Find The Honour System on Pinterest, Facebook, Twitter, and Instagram.