Brussels sprouts have a bad reputation from too many years of sad, soggy boiled dinners. These brussels sprouts recipes are nothing like those nasty childhood memories.
Learn how to cook brussels sprouts the right way, and you'll fall in love with their delicious flavor!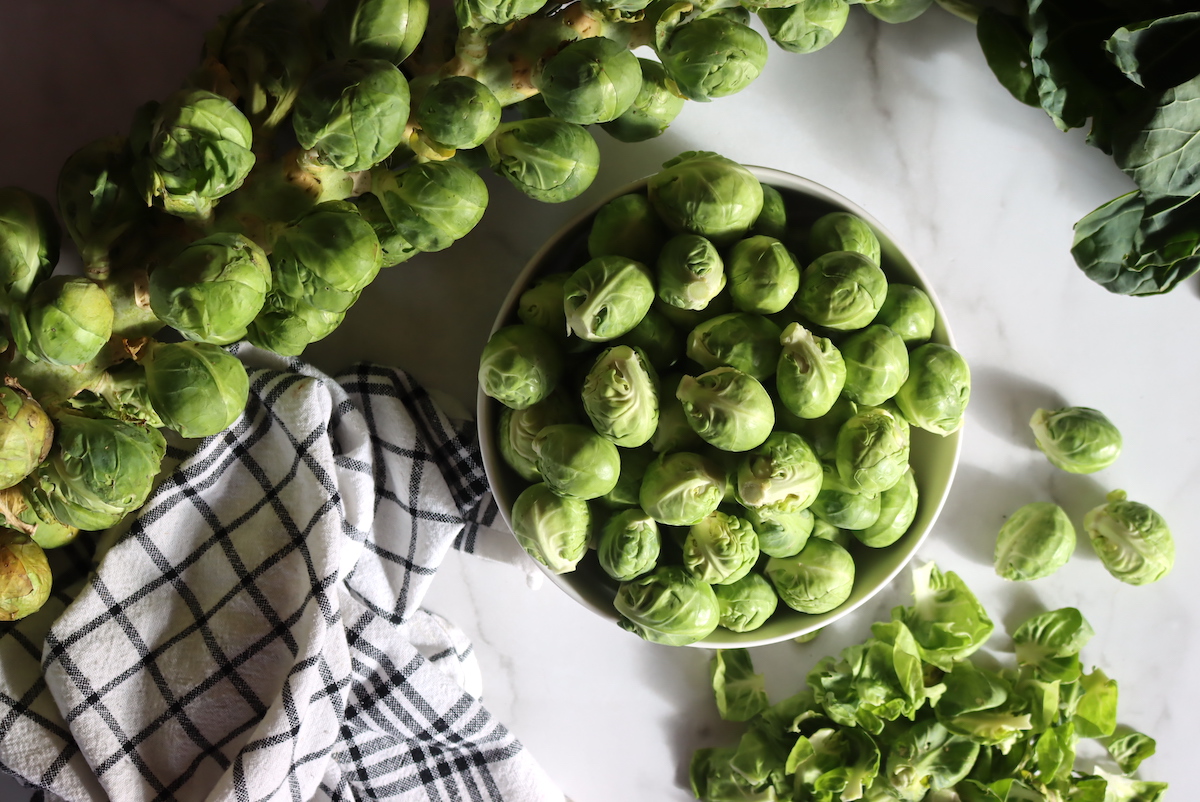 Maybe it's because they were never forced on me as a kid, but I absolutely love brussels sprouts!
They're my very favorite vegetable, and I could eat them every single day. The first time I had them, at some point in college I remember thinking, where have you been all my life?!?!?
(Disclaimer: It could be because it was 2am and it was an appetizer at the local brew pub…and everything tastes good after a few brews with friends…)
Nonetheless, that first taste started a decades-long obsession with everything brussels sprouts, and at this point, I've cooked them dozens of ways…and it's all good. (Just for the love of God, don't boil them…)
When we moved to our Vermont Homestead, I knew they were one of the first crops we'd plant in the garden, and I've been growing brussels sprouts ever since. They're slowly harvested all autumn, and we generally bring in the whole stalks right before our first big snow.

Since our first big snow is usually the week of Thanksgiving, it all works out. They're the star of our thanksgiving table, usually served as a whole roasted stalk of brussels sprouts (more on those recipes later).
That's only the beginning though, and we'll store them in our root cellar and be cooking up all manner of brussels sprouts recipes for months to come.
Preparing Brussels Sprouts
Getting brussels sprouts ready for cooking is pretty simple, as they're almost ready to start with.
If yours are on the stalk, start by pulling them off and giving them a quick wash. Next, trim the stem end, so it's nice and even, and then pull off the outer leaves until you have a nice tight head.
When you get them from the store already removed from the stalk, the stem end is often a bit brown, so take extra care trimming that. Pull off the outer leaves until you have a nice clean, smooth mini-cabbage head.
Those outer leaves will just burn when you cook them anyway, and they're often starting to wilt and brown at the store. Peel them off and get the sprouts nice and clean before cooking.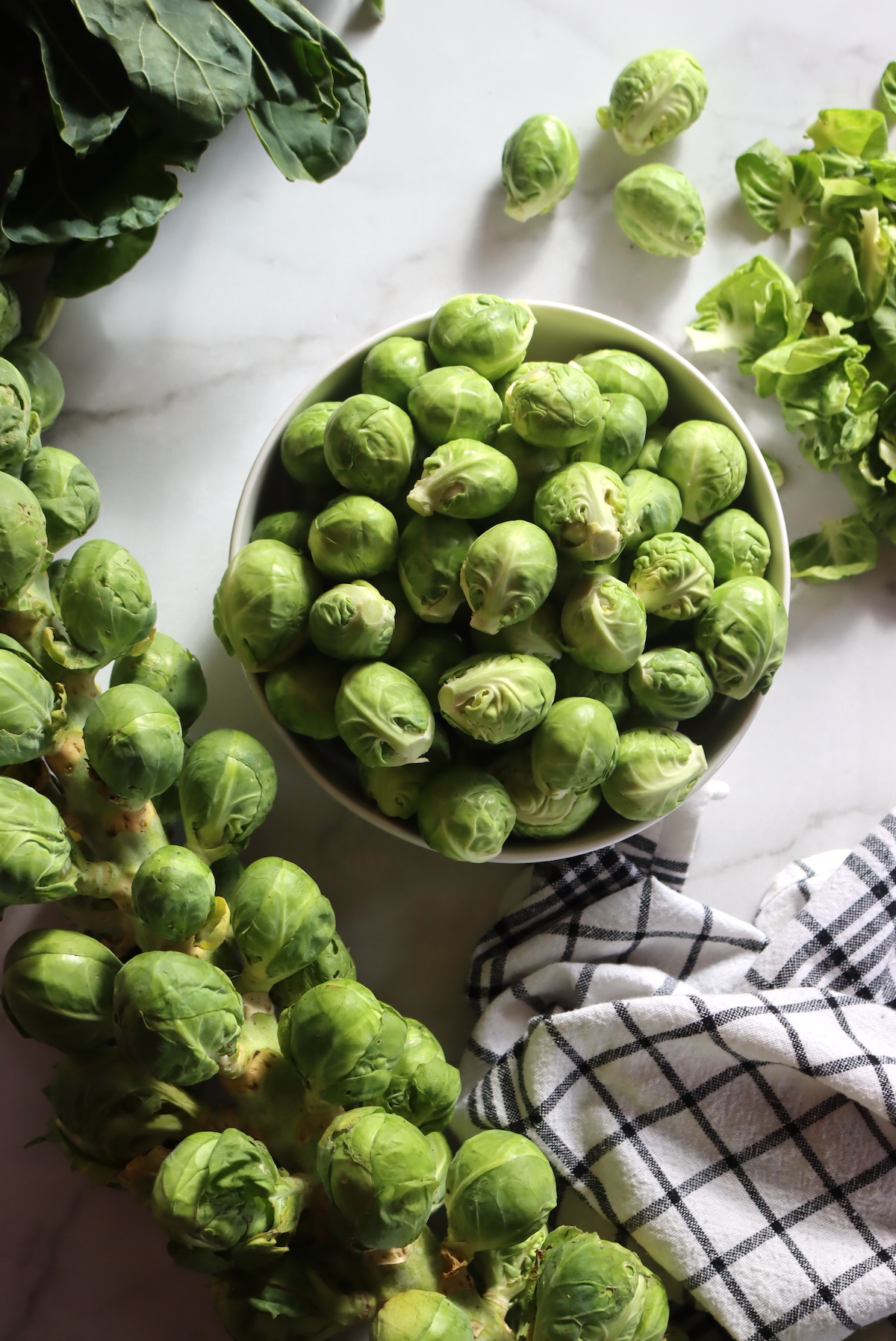 The Best Way to Cook Brussels Sprouts
In my opinion, the best brussels sprouts recipes use dry heat and oil for cooking them rather than boiling or steaming them. The sprouts have a mild natural sweetness, and it's brought out by roasting. Steaming and boiling bring out their sulfurous characteristics, and that's one of the reasons they get a bad rap.
Adding a bit of sweet/salty seasoning helps to round them out, and they're often cooked with strong flavors like balsamic, honey, garlic, and parmesan.
If you do choose to boil/steam them, I'd suggest using an acidic base which helps to prevent unfortunate flavors. Simmering them in tomato juice or sauce is quite good, and they also do well with a splash of lemon.
For a tangy sprout, try pickled brussels sprouts, which are surprisingly delicious. Though not roasted or fried, these salty vinegar-infused morsels turn out just right.
Brussels Sprouts Recipes
I've scoured the internet for all the best brussels sprouts recipes and collected them all in one place for you. They're broken down by cooking type, and you'll be amazed just how many ways there are to cook brussels sprouts.
There are literally a dozen different delicious ways to roast them, so don't stop at just plain brussels sprouts recipes.
Roasted Brussels Sprouts
While old-school recipes rely on boiling or steaming sprouts into oblivion, modern recipes usually opt for roasting brussels sprouts until they're crisp and flavorful. While the roasting process is usually quite similar from recipe to recipe, the main difference is the flavoring.
Balsamic is especially good on Brussels sprouts, and ginger miso adds an Asian touch. Some recipes go sweet and use something like olive oil and maple syrup. No matter how they're topped, roasted brussels sprout recipes are some of the best ways to cook brussels sprouts anywhere.
Roasted Brussels Sprouts on the Stalk
If you're looking for a particularly dramatic presentation, you can prepare brussels sprouts on the stalk…without even breaking them off the plant. This is a good option if you're growing brussels sprouts at home, but you can also find whole stalks at the farmer's market.
Around Thanksgiving time, many well-stocked organic groceries will also bring in whole brussels sprouts stalks. You can usually find them at whole foods and trader joes during the week of thanksgiving.
The bonus when you buy them on the stalk is you generally know they're fresh, but it also allows you to make centerpiece recipes that really draw the eye to your holiday table. Roasted brussels sprouts on the stalk are particularly eye-catching, making an excellent appetizer before the main meal.
Fried Brussels Sprouts
While roasted Brussels sprouts are something you'll find at an upscale steak house, fried brussels sprouts are popping up on bar and pub menus. You'll often find them right alongside buffalo wings, pretzel bits, and poutine.
They're hearty comfort food that you can pretend is healthy, you know, because they're technically Brussels sprouts inside all that bar food.
Healthy or not, they're incredibly delicious, especially when they come with a tasty dipping sauce. Sriracha aioli is one of my favorites, but a maple/garlic/balsamic dip is also delicious.
Brussels Sprouts Salads
It used to be that salad was limited to lettuce, and sometimes you'd spice it up with microgreens or arugula…but not anymore. Kale salads are delicious, and other hardy winter greens are coming into the mix.
These brussels sprouts salad recipes come in both fully raw, partially cooked, and completely cooked, depending on the recipe.
Brussels sprouts are really delicious raw, provided they're sliced very thin and dressed well.
Partially cooked often comes in the form of a hot dressing being poured over the top, such as a bacon fat-based dressing.
Normally you don't think of fully cooked greens as a salad, but more of a hash, but Brussels hold together through cooking so well that they're lovely as "cooked" salads too.
Brussels Sprout Appetizers
Sometimes all you need is a bite, and brussels sprouts make excellent appetizers. They carry flavors really well, and add a nice green balance to small plates.
Their small size makes them especially well suited to brussels sprout appetizer recipes.
Brussels Sprouts Quiche, Tarts, and Pizza
There's something about the rich green flavor of brussels sprouts that goes especially well with a buttery pastry crust. They roast well, so why not roast them into tarts and quiche?
Beyond pastry crust, they also do well as a pizza topping, and on other flatbread crusts as well.
Brussels Sprouts Main Courses
Looking for a recipe that uses a lot of brussels sprouts? Why not make a whole dinner of it?
Brussels sprouts work well as a main course, especially in vegetarian and vegan cooking. (Though, of course, they're even better if you add bacon…)
They're often used as a flavor conduit spiced for Asian cooking, and they do well in place of chicken in classic "American-Style Chinese Takeout" recipes.
Preserving Brussels Sprouts
When all else fails, and you just can't decide how to cook brussels sprouts, you can always just preserve them for later.
One of the best ways to preserve brussels sprouts is by freezing them, which allows you quite a bit of flexibility when cooking them later.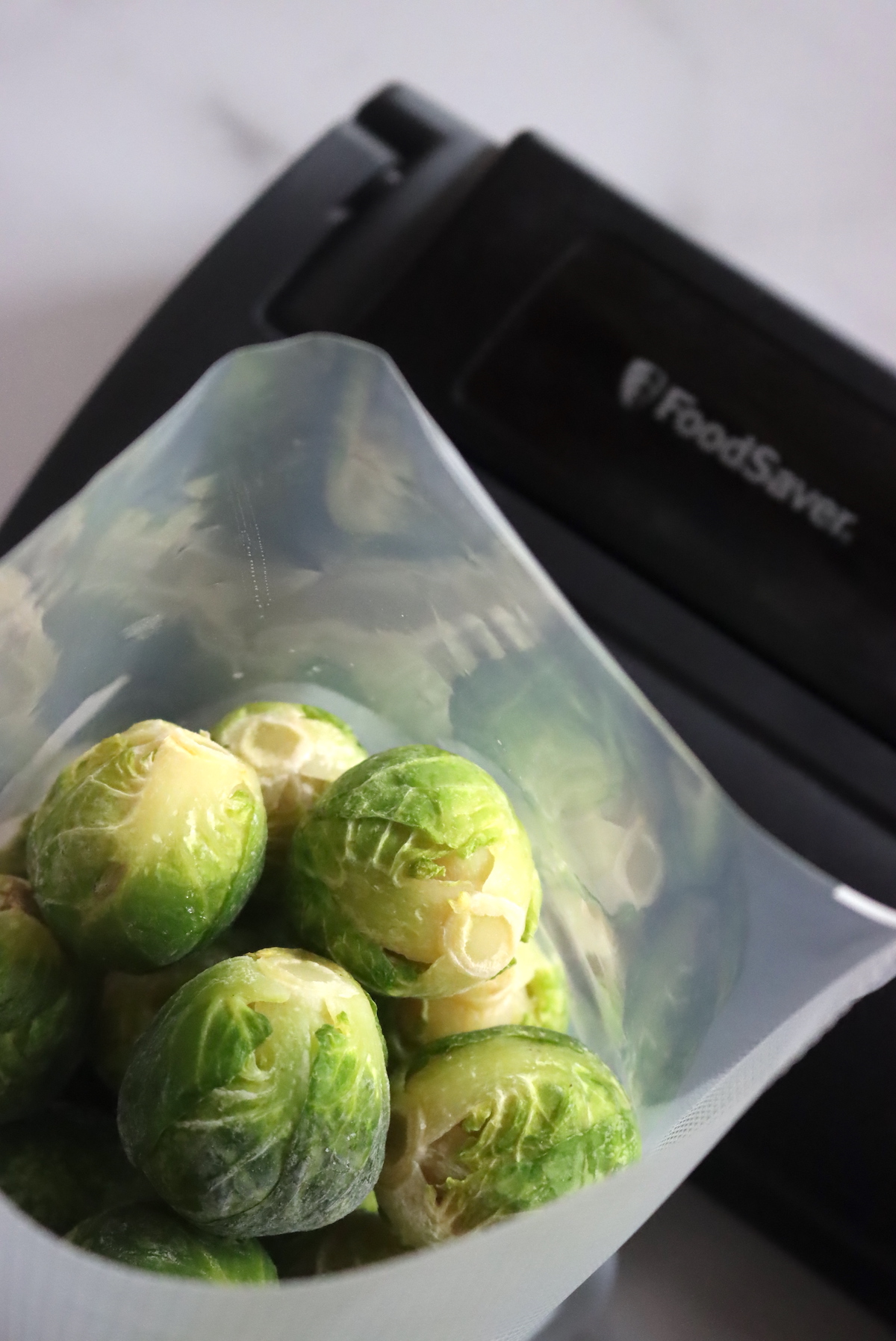 While I love home canning, there are no safe, tested ways to can plain brussels sprouts at home (even with a pressure canner).
Pickled brussels sprouts, on the other hand, are approved for water bath canning, and they're delicious. (They also work fine as refrigerator pickles.)
Dehydrating and freeze-drying are good options as well, though less versatile than freezing. You'll need to rehydrate them for recipes, so these methods are best if you hope to use them in soups and stews.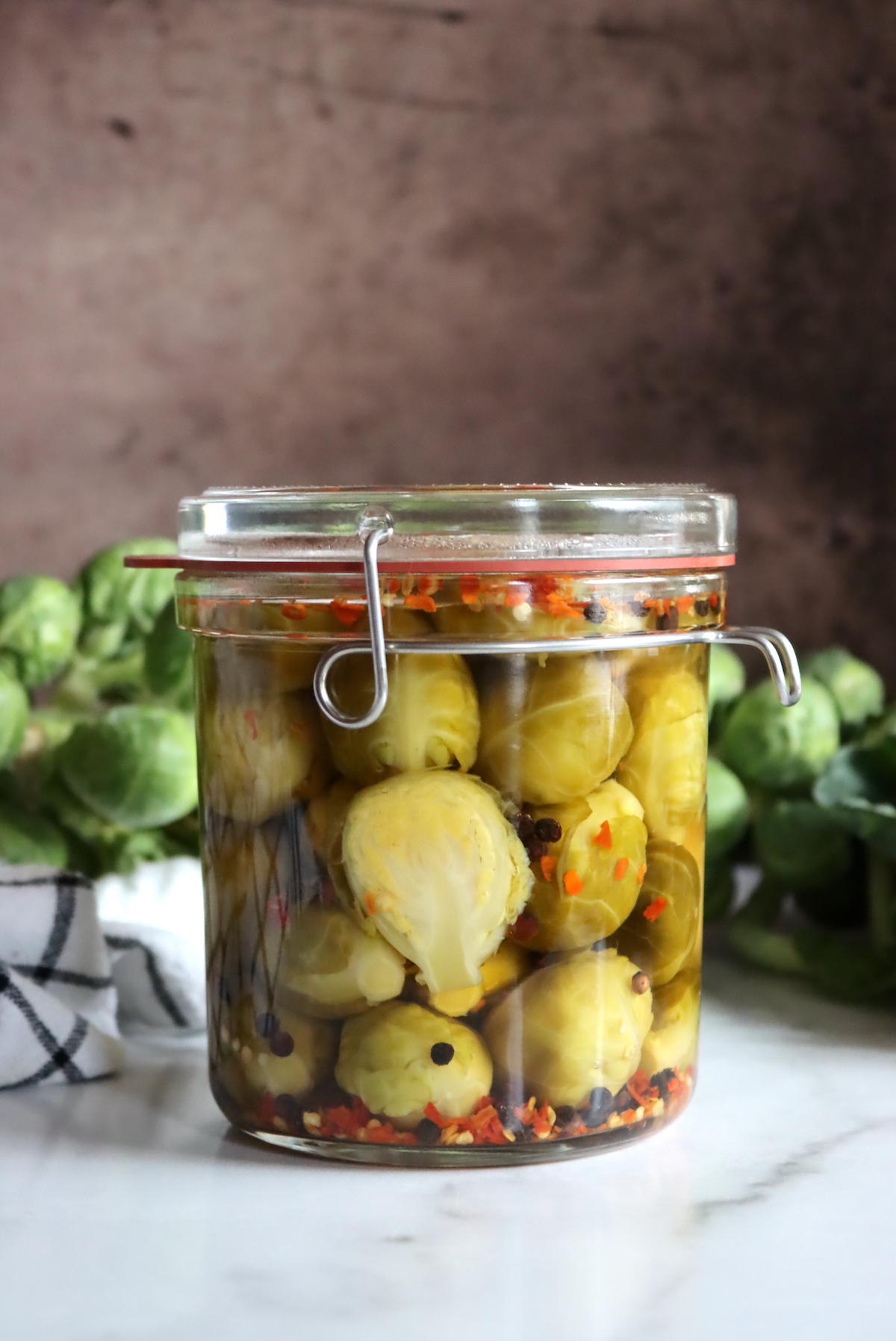 Seasonal Produce Recipes
Looking for more ways to cook with seasonal produce?