Sweet Cream Ice Cream was a classic summertime treat long before vanilla became popular. The cream has a lovely sweet taste that's hidden by the addition of vanilla. If made properly with high-quality ingredients, sweet cream ice cream is the perfect old fashioned treat for your summertime table.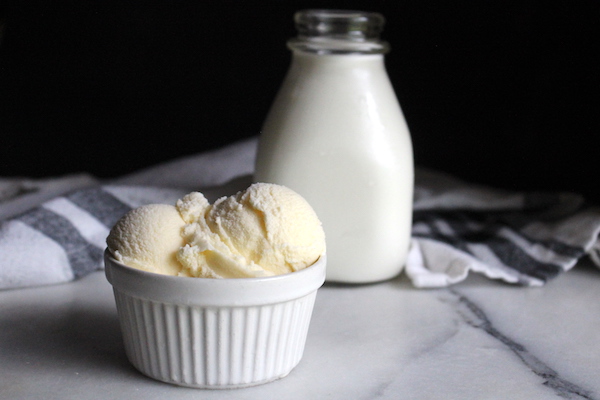 The first time I had sweet cream ice cream was a Cold Stone Creamery as a teenager growing up in Southern California. I'd always thought of vanilla ice cream as "unflavored" and when I saw sweet cream on the menu I realize that there's another flavor in there, hiding behind the floral aroma of vanilla beans.
I absolutely loved it, and sweet cream ice cream became my new favorite treat. Almost 20 years later, I find myself living out in the woods of rural Vermont in a land awash with fresh jersey cream.
There are few things that grow better on this land than grass and cows, and our local dairies produce some of the most flavorful cream around. Grass-fed cows, you see, produce a thick rich cream with a flavor all of its own.
We pick up milk from the dairy down the street, from a self serve cooler right in their cow barn. There's always a smattering of kittens running around, and my little ones love getting to pet the baby cows when we visit.
This time though, they had something special on offer. Half gallon jars of fresh Jersey cream!
I bought a jar, planning on making a batch of cultured butter, maybe a bit of homemade sour cream and of course, sweet cream ice cream.
Traditional sweet cream ice cream is just that, sweetened cream made into ice cream. The rich flavor of the cream shines through, but the ice cream sets a bit firmer than custard based ice creams.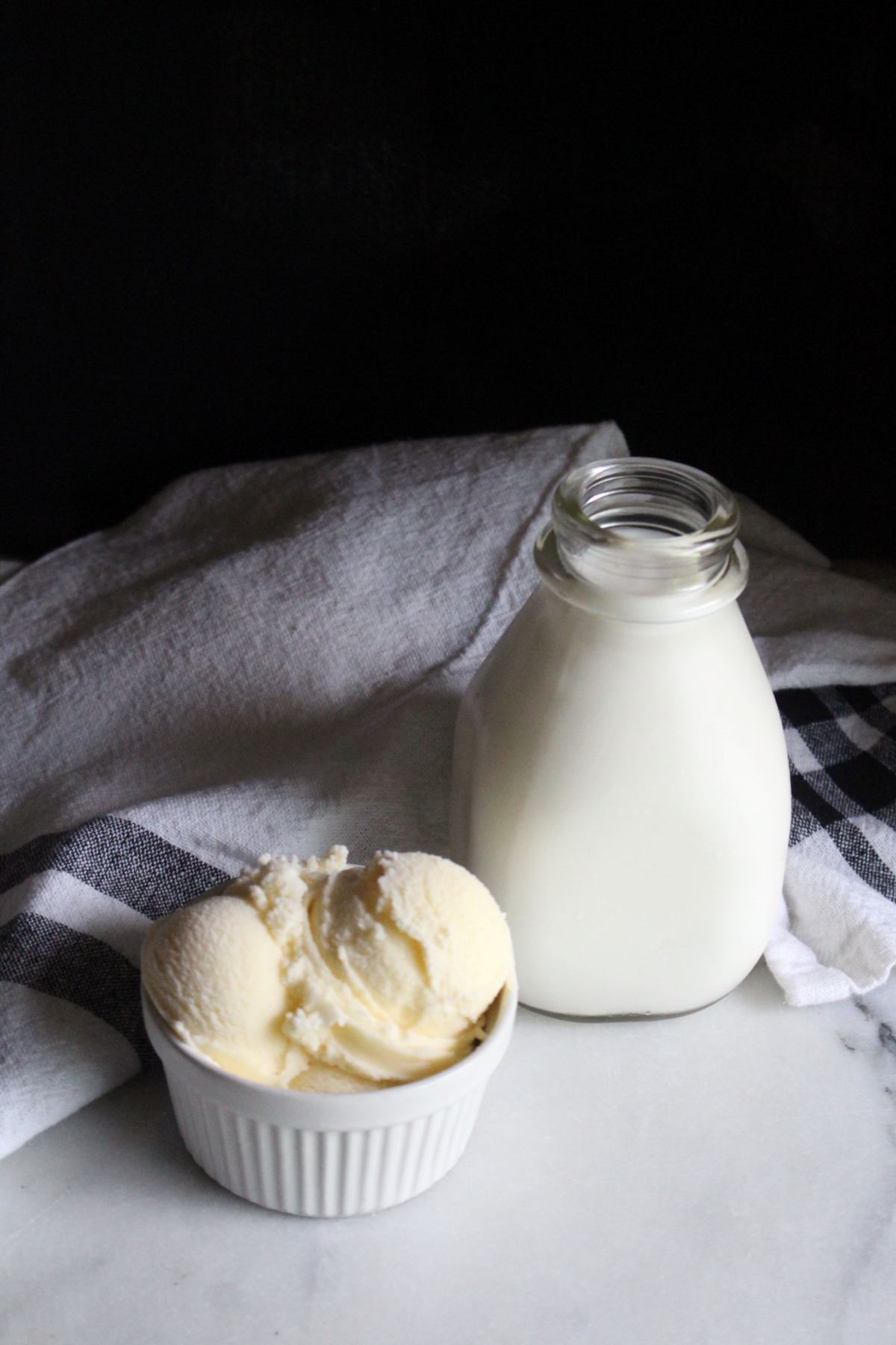 Cold Stone Copycat Sweet Cream Ice Cream
Doing a bit of research online, I learned that Cold Stone's recipe for sweet cream ice cream cheats a bit.
They're adding adding thickeners (guar gum) and corn syrup to adjust the texture. That's an easy way to get an extremely creamy mouthfeel, even if you don't have the highest quality cream. If you have access to very fresh high butterfat jersey cream, I'd suggest trying to make sweet cream ice cream the traditional way with as few ingredients as possible.
Still, I know most people are picking up a pint of ultra-pasteurized cream from the supermarket (rather than the dairy down the road). That already often has stabilizers in it, so you're already part way to a cold stone experience.
In that case, try making the second variation listed which adds corn syrup and cornstarch. That'll give you something that tastes almost exactly like cold stone's sweet cream ice cream.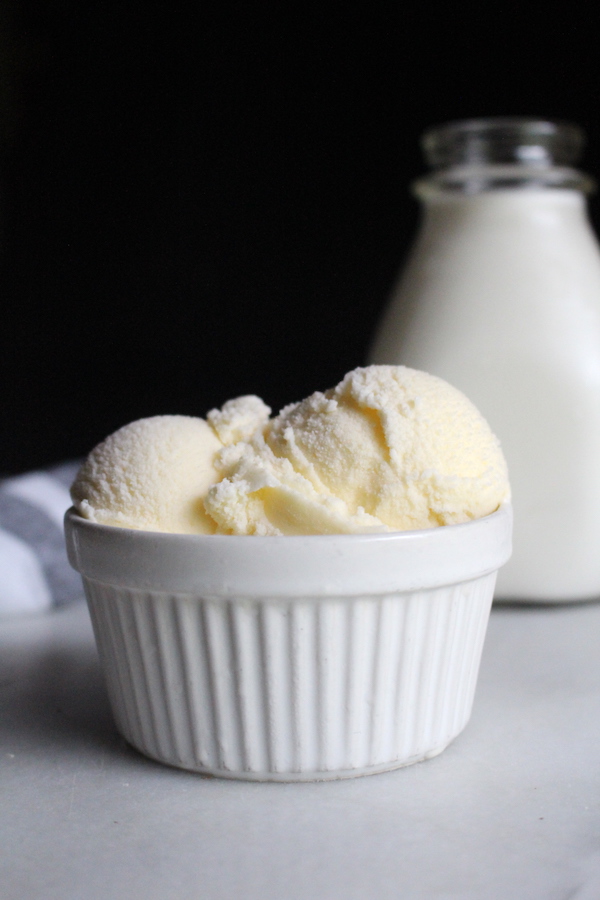 How to Make Sweet Cream Ice Cream
The instructions are the same whether you're making the traditional version of sweet cream ice cream, or the cold stone copycat version. The only thing that changes is the ingredients, where corn syrup and cornstarch are added to the copycat ingredients list.
Add all the ingredients into a saucepan (for your preferred version) and heat over low to medium low heat. Stir continuously to prevent scorching and to help everything dissolve and incorporate.
Bring the mixture to a gentle simmer, and simmer for about 30 seconds before removing from the heat. This ensures that the sugar is fully dissolved in both variations, and allows the cornstarch to dissolve and thicken in the cold stone copycat version.
Pour the ice cream mix into a container and refrigerate (covered) until completely chilled, about 1-2 hours. I just poured mine into a mason jar, which is a convenient way to transfer it to the ice cream maker in the next step.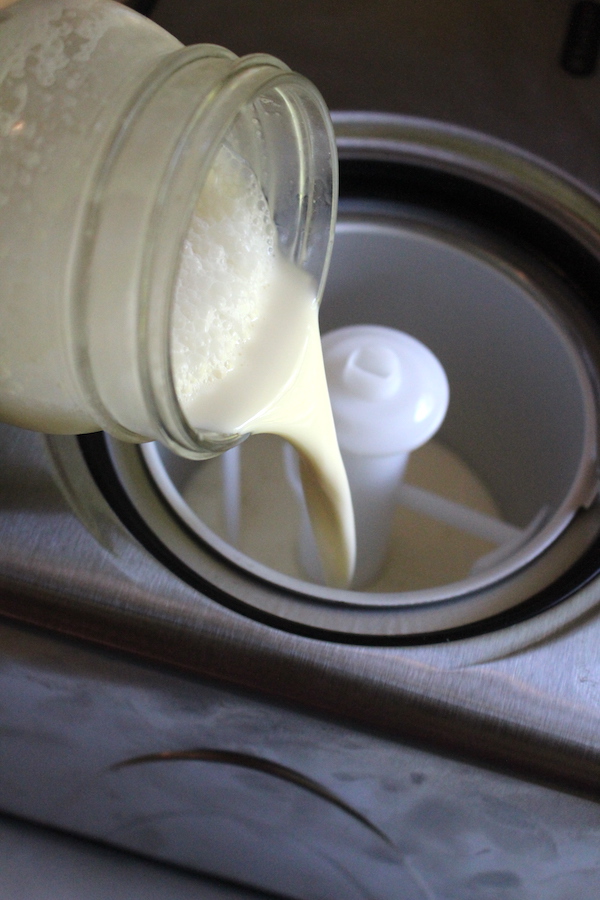 Once the mixture is completely cool, pour it into an ice cream maker and chill according to the manufacturers instructions.
The ice cream will expand as it's frozen, and as air is churned into the mixture, giving it that fluffy ice cream mouthfeel. Be sure your ice cream maker can accommodate one quart of finished ice cream (even though you'll only be pouring in a bit over 3 cups of sweet cream ice cream mix).
I'm using a Whynter Ice Cream Maker that has a built in compressor, which allows it to freeze the ice cream incredibly fast. If you're using a compressor model, you can actually technically skip the "pre-chilling" phase in the refrigerator and allow the compressor to do that work before it begins freezing your ice cream.
If you're using an old fashioned ice based ice cream maker, it's incredibly important that your mixture is pre-chilled (or you'll melt all the ice long before you get to ice cream).
Once the ice cream is frozen in the ice cream maker it'll be the texture of soft serve. It's not completely firm yet, but it's still downright delicious.
My kids will usually demand a bowl right out of the ice cream maker (and I don't blame them). If you want those perfect ice cream scoops though, you'll need to use a spatula to transfer the mixture to a 1 quart container with a lid and freeze completely (1 to 2 hours) before serving.
Yield: Makes About 1 Quart of Ice Cream
Sweet Cream Ice Cream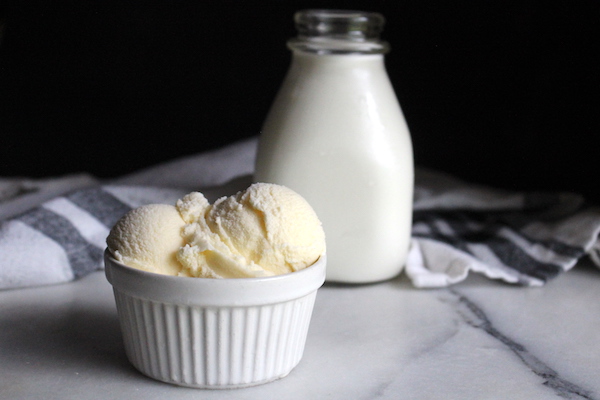 Sweet cream ice cream is about a simple as it gets! Without any added flavors, the natural sweetness of fresh cream comes through and speaks for itself.
Total Time
1 hour
30 minutes
Ingredients
Classic Sweet Cream Ice Cream
2 cup cream
1 cup milk
1/2 to 3/4 cup granulated sugar (adjust to taste)
pinch salt
Copycat Cold Stone Sweet Cream Ice Cream
2 cups cream
1 cup milk
1/2 cup granulated sugar
1/4 cup corn syrup
2 Tbsp corn starch
Instructions
(Note: Instructions are the same whether you're making classic sweet cream ice cream or the cold stone copycat version.)
Add all the ingredients into a saucepan, stirring to mix. Heat over low to medium low heat, gently bringing the mixture up to a low simmer. Simmer for about 30 seconds, stirring continiously until all ingredients are dissolved. Remove from heat.
Place the mixture in the refrigerator (covered) and allow it too cool completely before proceeding. (Roughly 1-2 hours.)
Transfer the chilled sweet cream ice cream mix to an ice cream maker and freeze according to the manufacturers instructions.
Transfer to an airtight container and freeze until completely firm. (or serve directly from the ice cream maker...)
Notes
Traditional Sweet Cream Ice Cream: Traditional sweet cream ice cream has just a few ingredients, and tends to freeze to a very firm set. Using high quality cream is important here, with as high a butterfat content as possible. Adding more sugar will soften the set, but also result in a sweeter ice cream.
Personally, I like my ice cream a little less sweet, and I use 1/2 cup sugar. For a "full sweet" ice cream parlor type ice cream, go with the full 3/4 cup.
Cold Stone Copycat Ice Cream: Cold stone (and other large ice cream chains) add stabilizers and thickeners to their ice cream, and they also substitute part of the sugar with corn syrup. This results in a softer set and creamier mouthfeel. If you want something exactly like cold stone's sweet cream ice cream (or as close as you can get at home), go with the second variation.
Simple Ice Cream Recipes
Looking for more sweet ways to stay cool this summer?