When I first heard about sugar on snow it just seemed silly. Why would you bother pouring maple syrup on snow? It seems like you're making a very expensive snow cone.
Then the old Vermonter told me that you heat the syrup first. So wait, you're making a melted snow and syrup slurry? That sounds grand…
Nope. You heat the syrup until it's thickened well past being "syrup" and then you use snow to rapid cool it into a ball of soft maple taffy. The snow is a tool, you're not actually eating it.
Suddenly it made a lot more sense, delicious maple-y sense…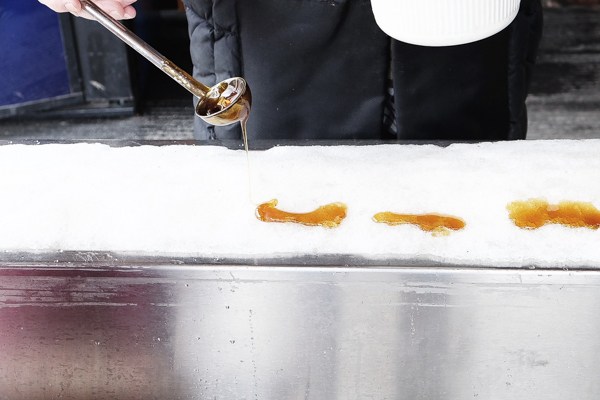 Most often sugar on snow is made at a sugar shack during the spring sugar run. It's a way to entice the tourists in without having to go through all the effort of making pancakes.
They often serve the syrup taffy with plain doughnuts, and surprisingly…pickles. The doughnuts help provide a cakey break from straight maple taffy, and they complement it with their milder sweetness. The pickles, on the other hand, have vinegar and salt which helps to cut through all the sweet from eating straight maple syrup candy by providing some contrast.
While sugar on snow may be a Vermont sugarhouse tradition, there's no reason you can't make it at home.
How to Make Sugar on Snow
Making sugar on snow is pretty simple. Just heat maple syrup to soft ball stage, when a candy thermometer reads 234 to 240 degrees. If you don't have a candy thermometer, you can just pour test blobs of syrup directly onto the snow. You're waiting for it to form into a "soft ball" or blob of maple taffy on contact with the snow.
Bring in some fresh, clean snow from outside. Sugar houses bring it in and store it in ice chests so they can have it ready for tourists. I just go outside and scoop it up with a bowl when I'm ready.
Pour the syrup onto the snow in a blob and give it a minute to cool. You don't want to burn your face off, so give it time and test it with a finger before eating.
Don't wait too long though. Sugar on snow can only be eaten fresh. After a while, the maple will harden too much and you won't be able to chew it. It's still tasty, but you'll be sucking on maple candy rather than chewing on maple taffy.
Maple Syrup Recipes
Looking for more ideas to use maple syrup?