Sheet pan lemon pepper salmon is a simple dinner that comes together quickly, all on one sheet pan. While it's simple to prepare, a full salmon filet makes for a dramatic presentation that's fit for a fancy dinner in with some of your favorite people.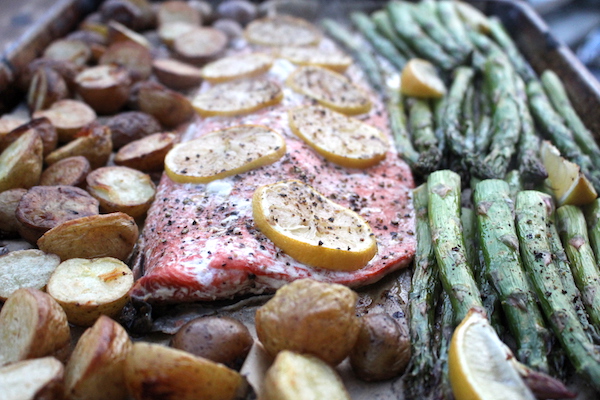 This recipe starts by roasting potatoes for about 20 minutes while you prepare the fish and asparagus. The potatoes take a bit longer to cook, and after that initial roast they're slid over to the side of the pan to allow the salmon to take center stage. For a quicker dinner, skip the potatoes and completely surround the salmon with asparagus for an oven to table dinner in about 20 minutes.
If you're skipping the potatoes, white rice or quinoa will cook up on the stove in that same 20 minutes, giving you a starch to complete your plate. In my case, my little ones are tiny potato fiends, so they're willing to stretch their toddler patience another 20 minutes for the promise of roasted potatoes.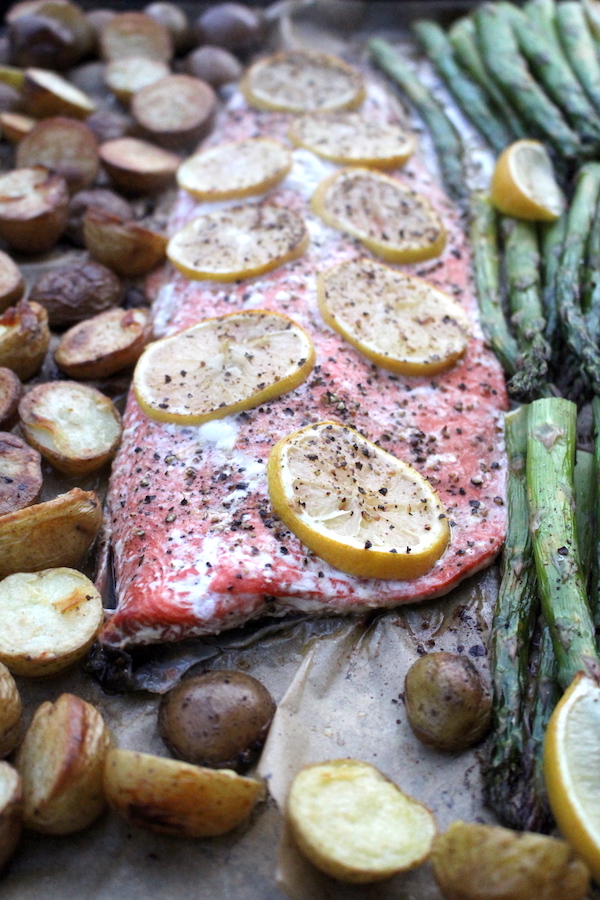 Other green vegetables like green beans or broccoli can easily be substituted in place of the asparagus in season.
For a real treat, try grating a bit of fresh parmesan on top of the vegetables before roasting.
Sheet Pan Lemon Pepper Salmon with Asparagus & Potatoes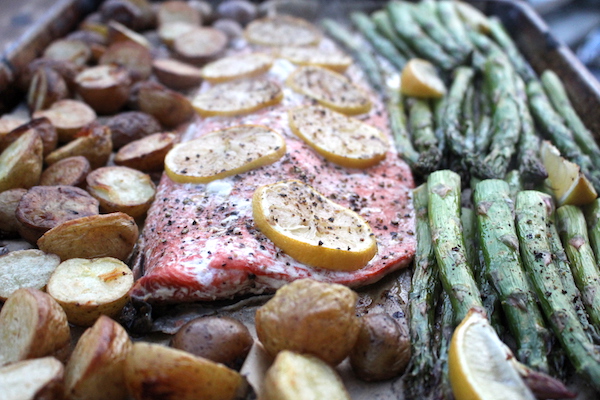 This quick dinner comes together with just one pan and a few simple ingredients. Substitute green beans or another green vegetable for the asparagus if you like. Roasted potatoes are optional and take a bit longer to cook.
Ingredients
1 1/2 lb salmon filet
2 lbs Asparagus, trimmed
2 lbs potatoes, small, roughly 1 1/2 inches
2-3 lemons
olive oil
black pepper, fresh cracked
salt, to taste
Instructions
Preheat oven to 425 degrees.
Slice potatoes in half and toss them in olive oil. Place cut side down on a large baking sheet. Roast in the oven at 425 for about 20 minutes.
Remove the pan of potatoes from the oven. Use a metal spatula to move the potatoes over to one side of the tray.
Lay the salmon filet in the center of the tray. Drizzle olive oill on top, add sliced lemons and plenty of fresh cracked black pepper. Sprinkle salt to taste.
Arrange trimmed asparagus on the other side of the salmon and drizzle with olive oil, salt, and pepper.
Put the whole sheet pan with Salmon, asparagus, and potatoes back into the oven for an additional 20 minutes until fish is cooked through.
More Ideas for Cooking with Fish
Ready to move beyond fish & chips? These recipes are sure to be a hit!