Elderberry gummies are a tasty way to boost your immune system, and a fun way to get children to take their medicine. Elderberry syrup is well known in natural health circles as an immune-stimulating tonic, but why get out the medicine spoon when it's a lot more fun to pop a few elderberry gummies in your mouth!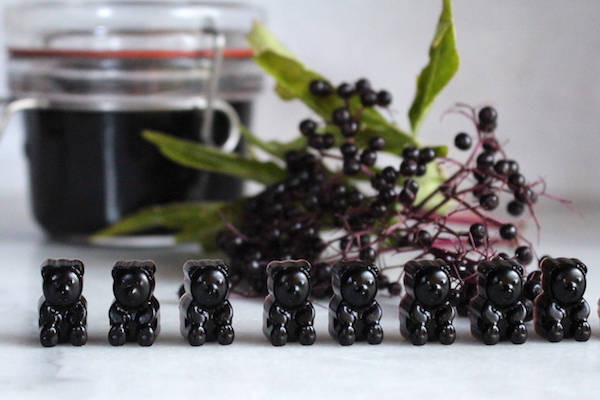 My kids love homemade gummy bears, ever since we made our first batch of dandelion honey gummies this spring. My daughter will pull out the silicone gummy bear molds and beg for gummy bear time.
Why not? They're quick and easy to make. About 20 minutes start to finish, and two pre-schoolers do most of the work themselves!
For the most part, our homemade gummy bears are just fun treats. Sure, we're using grass-fed gelatin which provides plenty of nutrients and protein, but I've yet to try to incorporate herbal medicines into my homemade gummies. Given that the base recipe starts with either herbal tea or fruit juice, using medicinal herbs (or berries in this case) is a logical next step.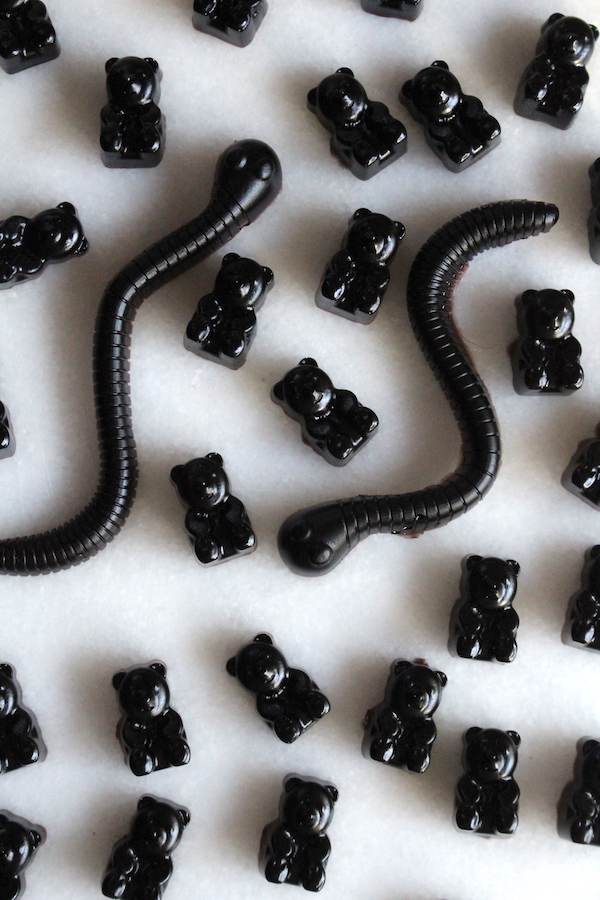 I started by making a batch of homemade elderberry syrup. Recipes vary, but the basic process is to take dried elderberries and simmer them in water for about 30 minutes until they make a strong elderberry tea. I started with 1 cup of elderberries in 2 cups water and simmered it until the liquid had reduced by half to yield 1 cup (about 25-30 min).
Allow the mixture to cool to lukewarm and add in 1/2 cup of raw honey.
At this point, you have homemade elderberry syrup!
Of course, you can always start with store-bought elderberry syrup instead if that's what you have on hand. Keep in mind though, storebought elderberry syrup often has other ingredients, including alcohol and cider vinegar for preservation. If you're opposed to that, be sure to make your own simple elderberry syrup using dried elderberries and raw honey.
From elderberry syrup, there's only one more ingredient to add to transform your syrup into convenient (and fun) elderberry gummies.
Grass-fed gelatin adds nourishing collagen to this recipe, as well as protein. Both of which help to nourish the body, making these the perfect tonic for cold and flu season.
The brand I use is Vital Proteins, which dissolves readily without clumps in lukewarm liquid (~90 to 100 degrees f). That means I can make these homemade elderberry gummies with raw honey, which makes this an even healthier elderberry gummies recipe.
I haven't tried to make it with regular Knox gelatin, but if you do, let me know how it goes in the comments. I'd love to know if it dissolves as easily in a low-temperature liquid so that you can keep the honey raw.
Whisk the gelatin into the elderberry/honey mixture, and pour the mixture into gummy molds of your choice. My kids love gummy bears and gummy worms, as kids would. They come together in a pack of silicone gummy molds, along with convenient droppers that make filling easy.
I've also seen gummy molds for miniature dinosaurs if that's more your thing…
Believe it or not, it only takes about 15 to 20 minutes for elderberry gummies to firm up. Try to peel one out and if it doesn't come cleanly, allow them a few more minutes to fully set. Once removed from the molds, elderberry gummies will keep in the refrigerator for 2-3 weeks. It's important to keep them refrigerated, there are no preservatives and they'll quickly spoil at room temperature.
This is a small batch elderberry gummy recipe, which is perfect for just a few people over the course of two weeks. You shouldn't have any trouble eating these all in a few weeks, and especially if you're trying to take elderberry regularly as an immune booster.
Think of them as your own personal wellness army, just waiting to go to work…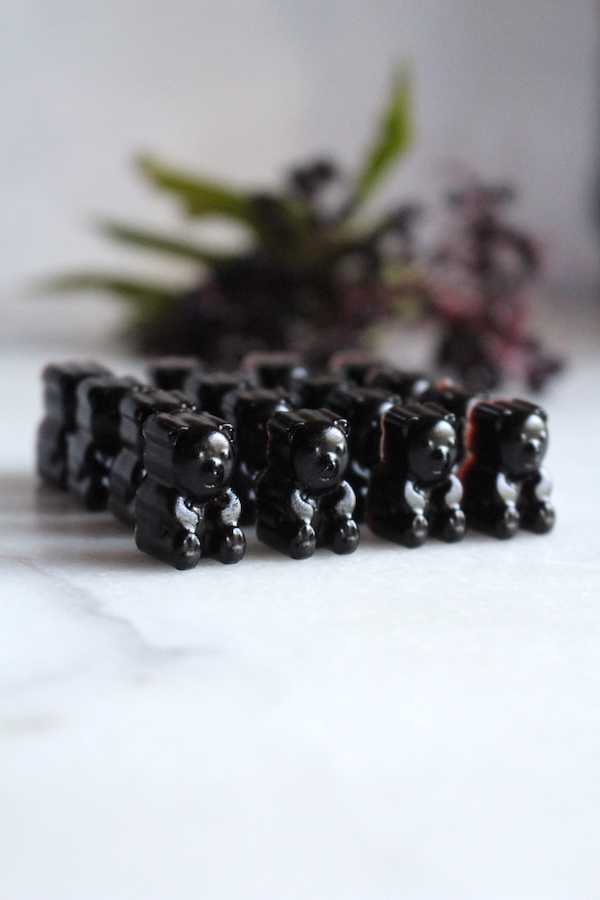 Elderberry Gummy Variations
Given that these simple elderberry gummies can be made with a strong elderberry tea and honey, it's easy to incorporate other herbs into the mix. Consider adding other immune-boosting herbs, or other targeted herbs based on your goals. Cinnamon and ginger are warming and comforting, and are good choices to complement elderberry gummies.
Consider adding any of the following:
Echinacea for further immune-boosting benefits.
Medicinal mushrooms like turkey tail, reishi or Chaga.
Anti-microbial herbs like bee balm, sage or lavender.
Natural herbal cough suppressants like thyme or cherry bark.
Yield: About 150 gummy bears
Elderberry Gummies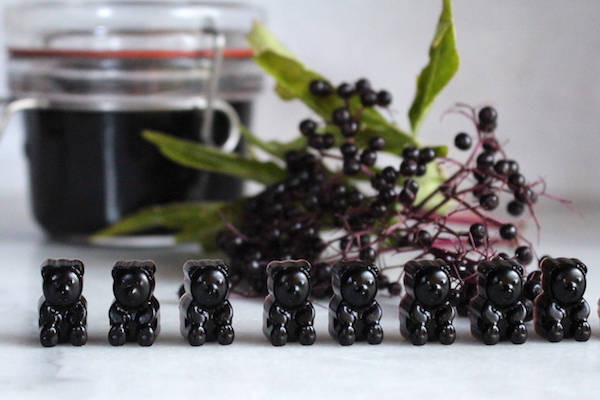 Elderberry gummies are a convenient way to take elderberry syrup to help boost your immune system. They're easy to make and fun to eat!
Additional Time
20 minutes
Ingredients
1 1/2 cups Elderberry Syrup (see note)
3 Tbsp. Gelatin Powder
Instructions
Gently warm the elderberry syrup on the stove until it's lukewarm (90 to 100 degrees).
Add the gelatin powder and whisk until fully dissolved about 1-2 minutes.
Pour the mixture into silicone gummy molds, using a dropper for easier pouring (or simply carefully spooning the mixture).
Allow the elderberry gummies to set for about 20 minutes until firm.
Remove the gummies from their molds.
Store in a tightly sealed container in the refrigerator. Consume within 2-3 weeks.
Notes
To make homemade elderberry syrup, simmer 1 cup dried elderberries in 2 cups water for about 20-30 minutes. The liquid should reduce to about a cup once strained. Allow this strong elderberry tea to cool, and then add 1/2 raw honey for every cup of elderberry tea.
These elderberry gummies can be made with other herbs as well, simply add your choice of ingredients to the simmering pot along with the dried elderberries.
Recommended Products
As an Amazon Associate and member of other affiliate programs, I earn from qualifying purchases.
More Elderberry Recipes