Danish Christmas traditions differ a good deal from American traditions. Hygge is at the centre as the Danes countdown to Christmas Eve. During this dark time, food, alcohol, decorations and presents bring light to the hearts and homes in Denmark.
This post is written by Pia Sonne, a native of Denmark and the writer behind the blog Busy Hands, Quiet Hearts.
Danish Christmas Traditions are Full of Hygge
Danes are famous for our ability to create hygge and Christmas is a season where we go all-in with lights, great food, delicious cookies, alcohol, gifts and even TV-shows.
Counting down to Christmas
Counting down to Christmas is a regular industry in Denmark. With everything from Adventskranse (advent wreaths), kalenderlys (calendar lights), advents- and kalendergaver (advent and calendar gifts) to various kinds of julekalendere (Christmas calendars) and the tradition of being a nisseven (elf friend) or drillenisse (teasing elf).
Danes take counting down to Christmas almost as seriously as Christmas itself. In fact, it wouldn't be Christmas for most families without all of these traditions.
It's such serious business, it required its own article. Read it so you can do your own countdown to Christmas with the Danes. It makes the season even more delightful.
The Role of Alcohol in Danish Holiday Traditions
Let's just be honest here. Danes, in general, drink a lot of alcohol. Alcohol and Christmas have been linked probably since their invention and it's no different in Denmark today.
Every year, the Christmas season begins for many young adults with J-dag. This day, J-day (J for Jul, Christmas or Julebryg, Christmas brew) is in early November and marks the release of the Christmas beer from the Danish brewery Tuborg. It's marked with events all over the country.
During the Christmas season itself, Danes gather frequently and at these gatherings, it's not only common to drink a lot of beer but also snaps.
There are a couple of traditional snaps that you can purchase but many serve snaps they have infused for months with different flavourings. On the island, I'm from, it's custom to make a honningsyp, a honey-infused snaps.
Finally, Danes imbibe a lot of gløgg, also known as glögg or mulled wine. In Denmark, it's often served with almond slivers and raisins that you eat from the wine with a spoon.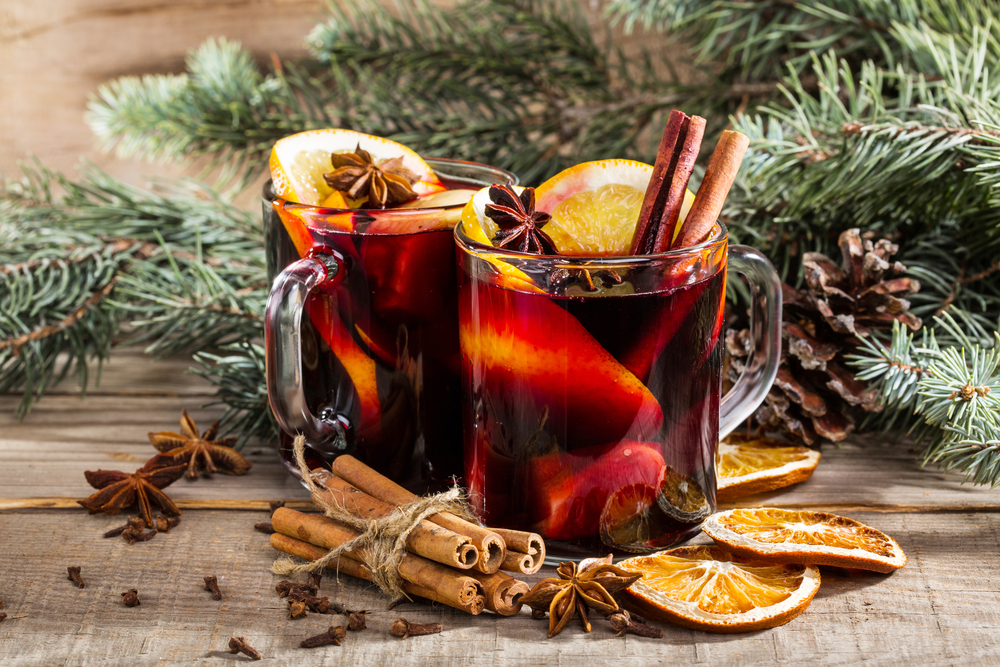 Christmas Markets and Tivoli
One of the things Danes love to do is going to Tivoli to look at the Christmas decor, eat, drink and be merry. Tivoli is an old garden turned amusement park and they put a lot of effort into their seasonal decor. If you are ever in Copenhagen, it's worth a visit any time of the year.
Christmas is also a time where Danes and Tourists alike walk through Nyhavn to see the Christmas market, view the lights and drink beer or gløgg.
Many Danes think of the Christmas markets as tourist traps but that doesn't stop most from taking a quick stroll through to enjoy the decor, especially if they have young children.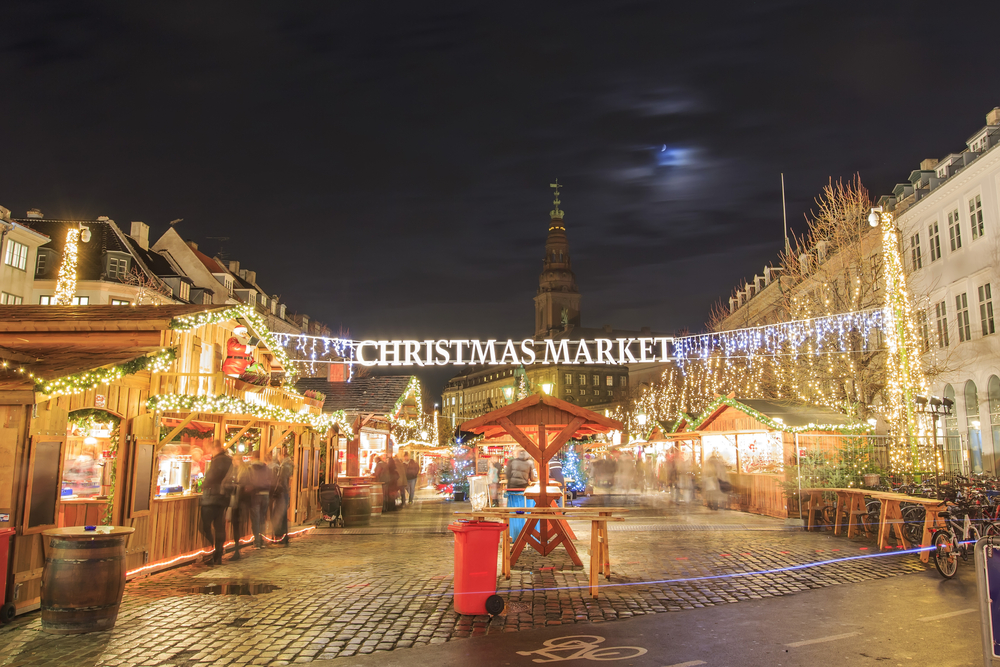 Danish Christmas Decor
Danes have a strong tradition of decorating our homes and trees for Christmas. Here are some of the things we make and decorate with.
Kravlenisser – Crawling Elfs
While Americans are familiar with the elf on the shelf, in Denmark, we have crawling elfs made of paper.
Kravlenisser were invented by Frederik Bramming in 1947. We cut them out and place them around our homes and sometimes they move at night, much to the amusement of the children in the home.
Julehjerter, Kræmmerhuse and Musetrapper
Each year, many families braid their own julehjerter. These Christmas hearts can be filled with treats and hung on the Christmas tree.
Similarly, you can make or buy kræmmerhuse, which are also traditionally filled with cookies or nuts and hung on the tree.
Many families no longer use the tradition of filling the julehjerter or kræmmerhuse but it does add to the enjoyment when you can "eat the tree".
Musetrapper are often made by school-aged children. These go back to the late 19th century. They are quick and easy to make. Here's a short tutorial if you want to make them:
Svenske Julestager
Amongst the older generations, the tradition of placing svenske julestager (Swedish Christmas candlesticks) in windows is still kept. These candle pyramids are often white or red and sometimes decorated with ribbons.
It's originally a Swedish tradition that has suffered some loss of interest in Denmark. But I have a feeling they may be making a comeback.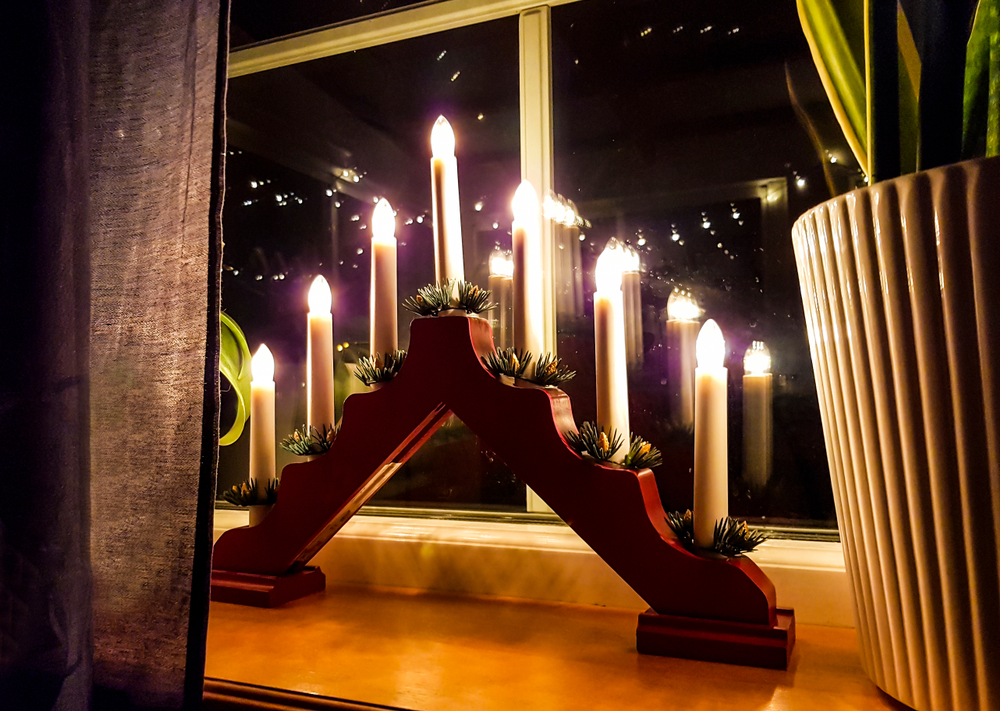 Christmas Tree Decor in Denmark
Christmas tree decor varies a lot from family to family in Denmark. Here are some of the general trends.
Very few Danes have fake trees so every year the family heads out to pick out the perfect tree.
Most Christmas trees in Denmark sit on a skirt which catches most of the dropping needles.
It's decorated with julehjerter, kræmmerhuse, musetrapper, julekugler (glass ornaments), electric lights or real candles.
In some families, the tree is also decorated with garlands of the Danish flag Dannebrog. This tradition stems from Southern Jutland.
The tree is topped with a star, signifying the Bethlehem star, on the top branches we place three lights, signifying the three wise men and the rest of the candles spread out on the tree signify the shepherds.
Christmas Eve Celebration
Danes celebrate Christmas on the 24th. We have our big celebration in the evening, gathering for a meal, carols and gifts. Some Danes end the night with the midnight mass others go to church throughout the day. Even smaller churches usually have more than one service on the 24th.
To pass the time on Christmas Eve's day, many children watch a plethora of Christmas cartoons on the television.
As families gather, dinner is served and the debate begins. Which is better? The duck roast, Andesteg or pork roast, flæskesteg? Some families, mine included, serve both to please all the members on this special night.
We end the meal by eating risalamande, and hoping we get the whole almond when we are already too full to really eat any more. This only adds to the fun of the game.
If you want to know more about what Danes eat during Chirstmas, you can read about the Danish traditional Christmas recipes. There are regional differences and the potatoes alone are worth the read.
After eating all that food, it's time for some exercise. The children have been looking forward to this point in the night for hours. As we gather around the Christmas tree, we join hands and walk around it as we sing psalms and carols.
In my family we always end with "Nu er det jul igen". It's a short song where you sing:
Now it's Christmas again,
now it's Christmas again,
and Christmas lasts till Easter. (All three lines repeated once more)
No, it isn't true,
no, it isn't true,
because therebetween lies lent. (All three lines repeated once more)
After the first round, someone takes the lead and guides the chain of people through the entire house. As we sing the song, we up the speed every time we come to the end. The fun ends when everyone is completely out of breath from running and singing at the top of their lungs.
At this point, we collapse into chairs or onto the floor surrounding the Christmas tree, it's finally time for presents.
In my family, the youngest member of the family is in charge of distributing presents (often with a little help from the adults). We each take a turn opening a present and with a big family, this can take a while.
Often, Christmas ends at 2 or 3 am, when we are all happy, full of food and memories, thankful for our gifts and the lovely time spent together and frankly, ready to pass out.
Most people get the 25 and 26th off from work so we have time to recover. The children, and anyone else who got a gift they want to exchange wait longingly for the stores to open up again. I, for one, love that they are still closed for a couple of days after Christmas Eve.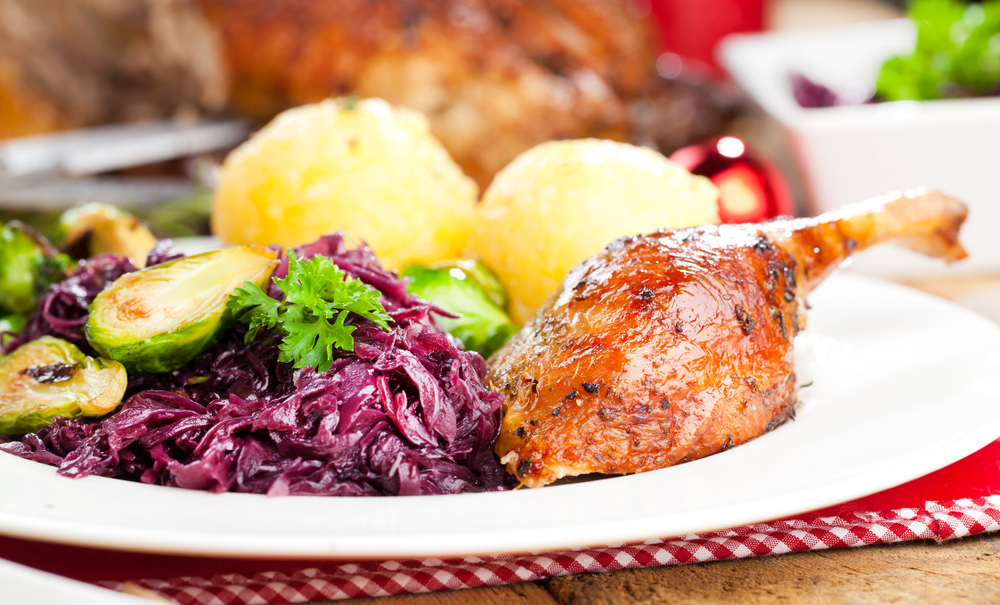 Julefrokoster – Christmas lunches
Throughout the Christmas season, Danes gather at julefrokoster at work, with family and friends. It can get a bit too intense but the food and fun are worth it.
The food, if traditional comes in three rounds.
First, there's a cold serving with fish. Pickled herring takes the front seat. Danes eat pickled herring as is or with various flavourings ranging from curry or mustard to gin and hawthorn. The fish is served with boiled eggs and rye bread and with plenty of beer and snaps of course.
The second round consists of warm foods such as leverpostej (liver paté) with bacon and mushrooms. Frikadeller with rødkål (meatballs with red cabbage), fried flounder, medisterpølse (pork sausage), flæskesteg (pork roast), rullepølse, tarteletter and many more dishes.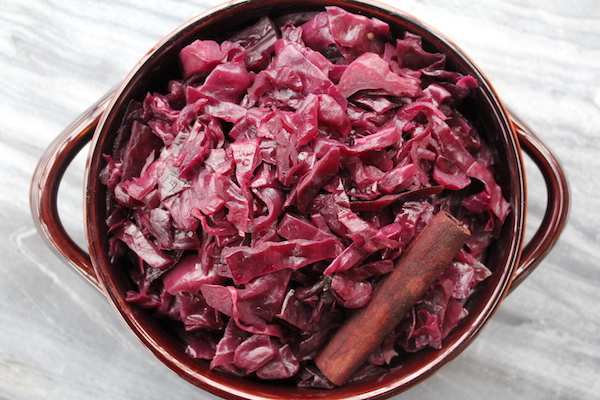 The third round consists of a full spread of cheeses served with crackers and various sides like jams and chutneys.
At these parties, various games are often played. From games with dices involving gifts to little notes under your plate with silly instructions, you must follow all night long.
Such instructions could be to sing a drinking song any time someone talks about politics or sports or it could be to only call everyone else by silly nicknames all night. Only the imagination of the host sets the limit.
Many families gather for their own julefrokost in what is called mellemjulen, the middle Christmas. This is the time between Christmas and New Year's eve and as such, a julefrokost is often the last hurrah of the Christmas season. And Danes go all out.
As we like to say: It's not what you eat between Christmas and New Year's but what you eat between New Year's and Christmas.