Dandelion gummy bears are surprisingly easy to make, and it's a project that even the littlest children will love. Once you have a few dandelions harvested, the whole process is surprisingly quick. Just a few minutes of work, and another 20 minutes for the gummy bears to set…and you'll be eating healthy gummies in no time.
Decapitating dandelions is my 2-year old's new favorite hobby, and if he's going to collect them I might as well use them. It only seems fitting to use his harvest to make something just for him, and dandelion gummy bears fit the bill nicely. He's obsessed with gummy bears you see, ever since I got him a bottle of gummy bear vitamins.
I searched for a while, looking for something I could feel good about, without any crazy ingredients. These gummies from My Kind Organics are made with real fruit, without any added sugar. The problem is, he wants to eat A LOT of them, like any two-year-old would when handed just a single a gummy bear. While they're "healthy" I can't exactly let him gorge on half a bottle of vitamins, so I started researching how to make my own healthy gummy bears.
It turns out, it's really simple. All you need is a bit of flavoring, some gelatin and a hint of sugar. The flavoring can be pretty much anything under the sun, but fruit juices and herbal teas are obvious choices. Any plain gelatin works, but I'm using Vital Proteins Grass Fed Beef Gelatin because it's high in both protein and collagen. It's completely flavorless, so it adds a bit of nutrition without adding a meaty flavor. These are supposed to be "healthy gummies" after all, and every ingredient counts.
For sweetener, I'm using raw honey from a local farm. Dandelion petals have a natural honey flavor to them, so honey is the obvious choice as a complementary sweetener. It doesn't have to be raw honey, but the mixture is only barely warmed (not cooked) to make these gummy bears, so if you do use raw honey it won't lose its health benefits.
That's it…super simple, three ingredients and you have a batch of simple healthy gummies made from the dandelions growing right on your lawn.
You can make these gummies in any shape you like, and an old ice cube tray works well to create simple squares. For kids though, fun shapes are a huge bonus. I got a set of silicone gummy bear molds for just a few bucks, and they came with a dropper for filling them neatly. My 4-year-old loves filling them, and I give her the gummy bear batter and she goes right to work.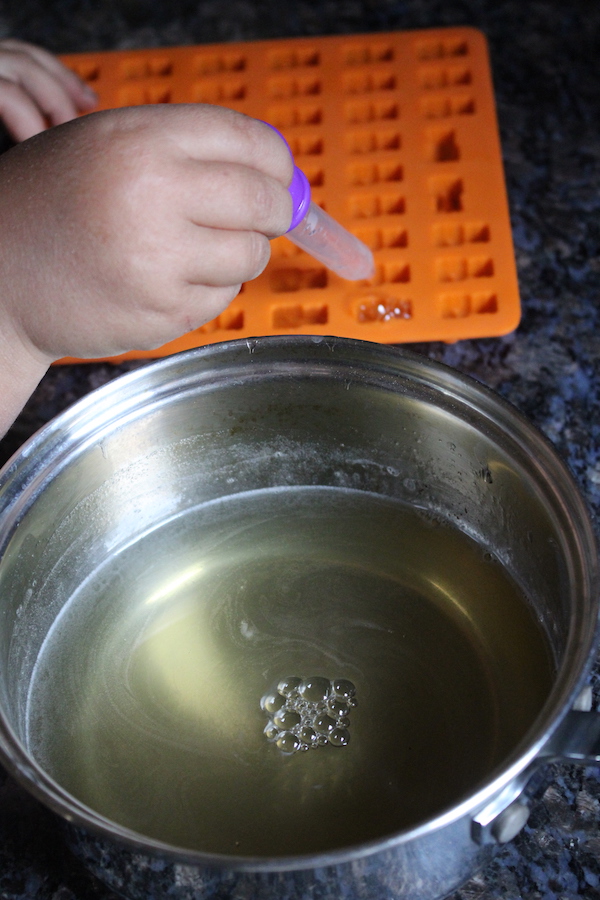 Most gummy bear recipes tell you to place the molds into the refrigerator for 1-2 hours to allow them to firm up. We're always short on fridge space, so I just left them on the counter…and after about 20 minutes my daughter snuck over to pop one out of the mold. It was ready!
It only took about 5 minutes to make the gummy bear batter (with dandelion tea already prepared), and then about 20 minutes for them to set up completely into tasty, healthy gummies. With the silicone molds, they pop right out, no greasing required.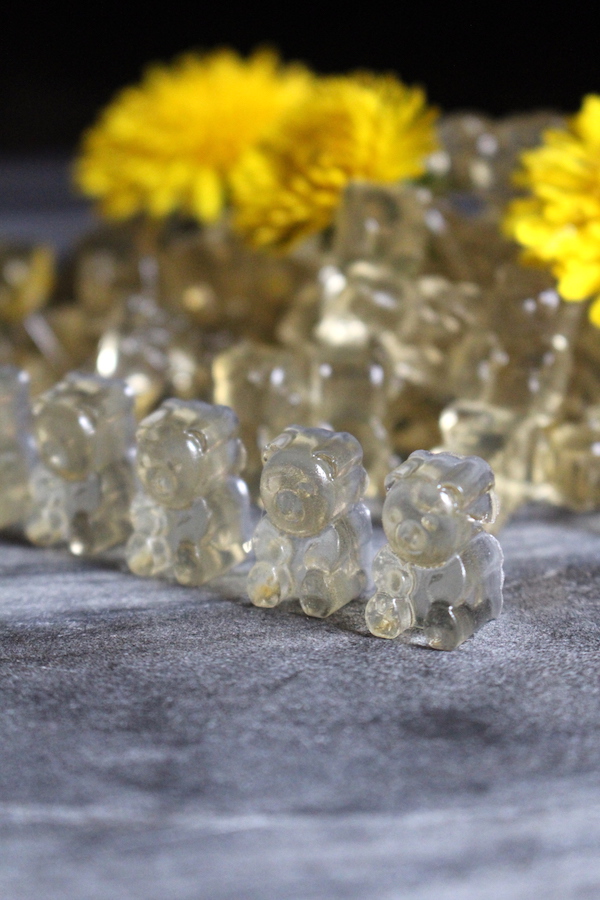 Start by harvesting a few handfuls of dandelions. Pull out the petals, discarding all the green parts. The petals have a sweet, honey-like taste but the green parts are bitter. It's ok if a few stray greens get in the mix, but try to keep it pretty clean. You'll need about 1/2 cup of petals for this recipe.
Pour a bit more than a cup of boiling water over the petals and allow them to steep for 15 to 20 minutes. You can do this the day before too, but you want to give the tea a bit of time to cool so it's not boiling hot.
Pour 1 cup of warm dandelion petal tea into a saucepan and add honey. How much honey is up to you, and as a general guideline I'd say somewhere around 1/4 cup works well for lightly sweet gummies. If you want these to be more of a dessert treat, add up to 1/2 cup honey. Stir to dissolve the honey in the warm tea.
Sprinkle the gelatin powder over the top of the warm tea, a tablespoon at a time. Whisk between additions to help the gelatin dissolve. I found that the Vital Proteins Gelatin dissolved easily in lukewarm dandelion petal tea, and didn't require any additional heating. Just whisk it for a minute or two until it's completely dissolved. If it's not working for you, gently heat it on the stove on very low, whisking continuously until it's dissolved.
At this point, it's time to get the gummy batter into the mold of your choice. The kit of silicone gummy bear molds that I chose actually came with a bonus gummy worm mold too, and those are my daughter's favorite. A large dropper works wonderfully for filling the tiny spaces in the molds, and it's included in the kit.
Lacking specific silicone molds, any container will do, but you may have trouble popping them out. I've also used a Tupperware container with success and then flipped it over, popped them out and chopped them into squares. If you do have any trouble with whatever mold you're using, try greasing it with a tiny bit of neutral oil.
Once you've made these, you'll have the basic process down and you can make just about any flavor of homemade healthy gummies. We made a batch with pear juice (and much less honey) that was a huge hit, and tart cherry juice too. I'm planning on making these with medicinal herbal teas if my little ones get sick because I can't imagine a better way to get my reluctant patients to take their medicine.
More Dandelion Recipes
Looking for more tasty dandelion recipes? Here's a bit of inspiration…
Yield: 160 gummy bears (approximate)
Dandelion & Honey Gummy Bears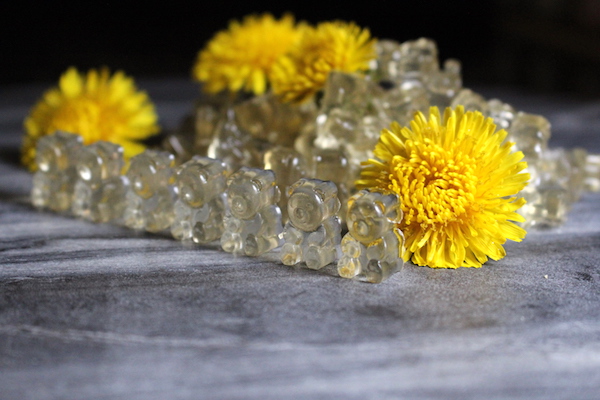 It's incredibly easy to make your own homemade healthy gummy bears, and flavoring them with wild foraged dandelion makes them extra special.
Ingredients
1 cup dandelion tea (made from 1/2 cup petals & 1 heaping cup boiling water, steeped 15 minutes)
1/4 to 1/2 cup honey (I use 1/4 cup and they're just sweet enough)
Instructions
Prepare 1 cup of dandelion petal tea by infusing a heaping cup of boiling water with 1/2 cup of dandelion petals (yellow parts only) for 15 minutes. Strain out the petals.
Whisk honey into the dandelion tea until dissolved.
Sprinkle gelatin on top of the tea, one tablespoon at a time, whisking after each addition. Once all the gelatin is added, whisk 1-2 minutes until it's all dissolved. If it's not completely dissolved, gently heat the mixture on the stove at the lowest setting while whisking until dissolved.
Pour the liquid mixture into silicone gummy bear molds (or molds of your choice) and allow them to set up for at least 20 minutes. After 20 minutes, test one of the gummies and if it's not completely set allow a few more minutes before popping them all out of the molds.
Store in an air tight container in the refrigerator...I can't say how long they keep, mine only lasted about 15 minutes...