There's something about chanterelles that turns ordinary into magical. When I stumbled across a huge score of yellowfoot chanterelles I made everything under the sun with those little beauties. The first thing I made was these simple chanterelle toasts to tide me over while the rest of the feast cooked.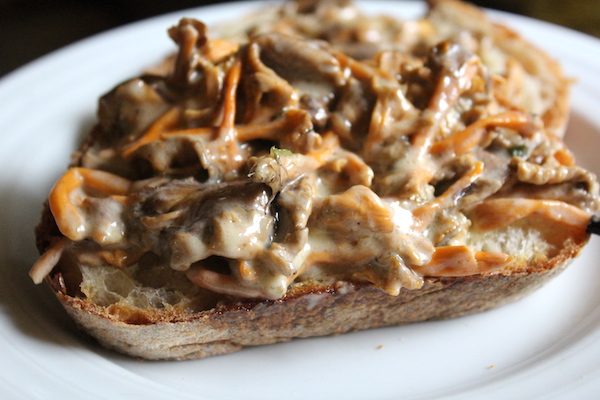 These chanterelle toasts are incredibly simple, with a lot of chanterelles and a bit of butter and cream. The trick is to thicken the butter and cream until they form a cream sauce around the chanterelles. While the cream sauce cooks, the chanterelles are infusing their delightful fruity aroma right into the cream.
The result is nothing short of magic, with just enough savory cream sauce to bring out the best in fresh wild chanterelles.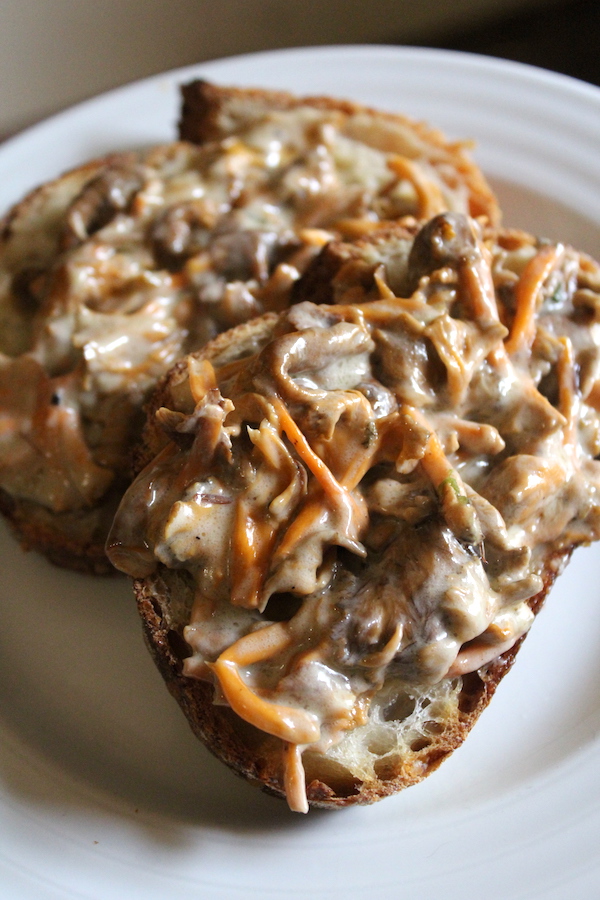 How to Make Chanterelle Toast with Cream Sauce
Start by sauteeing the fresh chanterelles in a bit of butter for about 5 minutes. The mushrooms will wilt a bit, but they will still hold their shape as they begin to release their flavors. Add in heavy cream and stir the mixture with a rubber spatula to evenly coat the chanterelles.
Turn the heat down to low, and slowly cook the chanterelles in cream. It's important to cook them slowly so that the cream thickens but doesn't curdle. Turn the stove all the way down to low and be patient. Slowly simmer the mixture for about 10 minutes, until the cream thickens. Salt to taste and top your favorite crusty bread.
Chanterelle Toast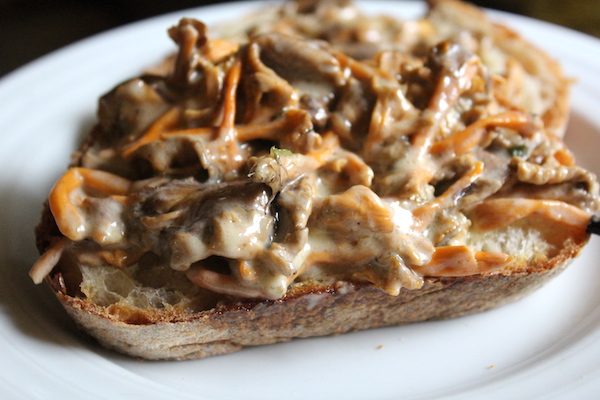 These simple chanterelle toasts are an easy way to experience the magic of wild chanterelle mushrooms.
Ingredients
1/4 lb chanterelles, (about 1.5 to 2 cups whole chanterelles)
2 tbsp butter
1/4 cup heavy cream
salt to taste
Instructions
Sautee the fresh chanterelles in butter for about 5 minutes.
Turn the heat to low and add the cream. Simmer the mixture, stirring occasionally, for about 10 minutes until the cream thickens.
Salt to taste and pile high on top of your favorite toasted crusty bread.
More Chanterelle Recipes