Maitake mushrooms have long been prized in Asia for their potential health benefits and savory umami flavor. In North America, they are often referred to as hen of the woods for their plumage-like appearance and are an eagerly sought-after treat by foragers.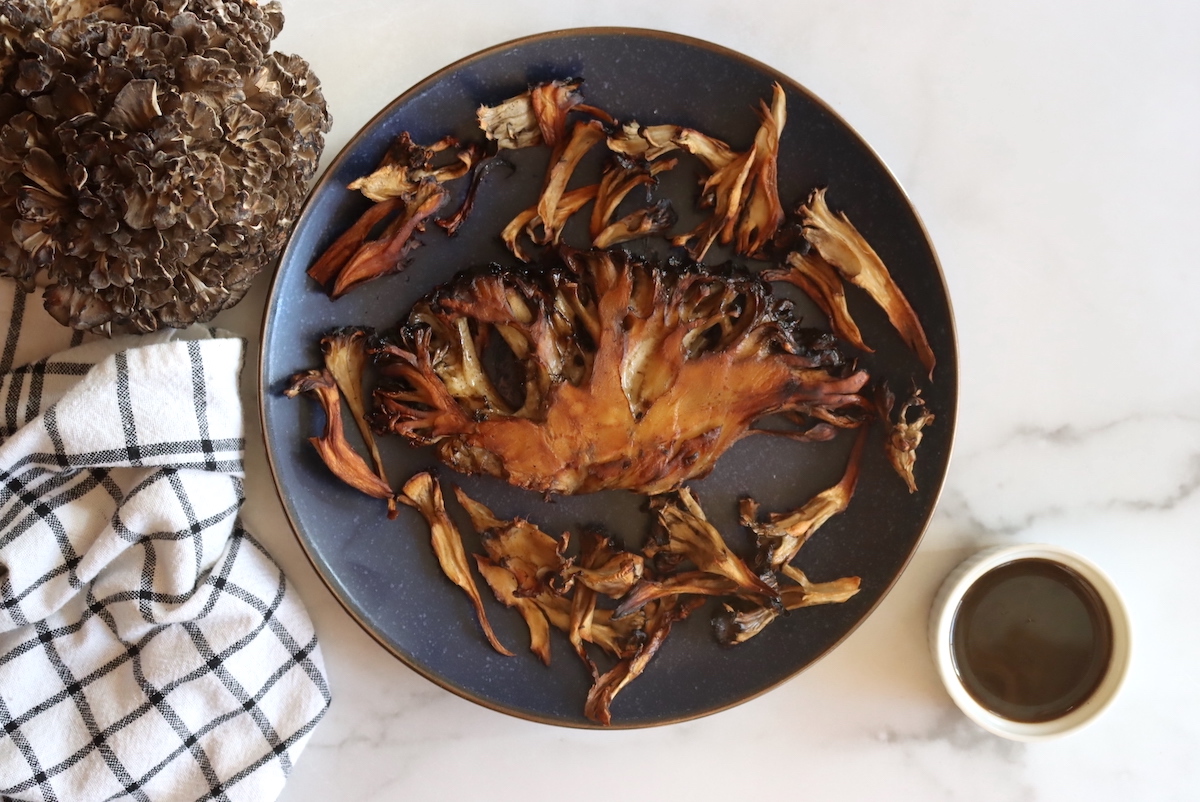 Maitake mushrooms, also known as hen of the woods, are a treasured and fascinating mushroom. Their clustered, branching, coral-like appearance makes them a showy forest find and their delectable flavor is mild, earthy and savory.
This mushroom is known to grow in Europe, eastern North America and more temperate climates of Asia. In North America, maitake mushrooms are only known to grow east of the Rockies. You'll find them in the Midwest, the Appalachian Mountains, the Great Lake region and in the southeastern regions of Canada.
This guide to Identifying Maitake Mushrooms will help you find your own, but they can also be found in season at many farmer's markets.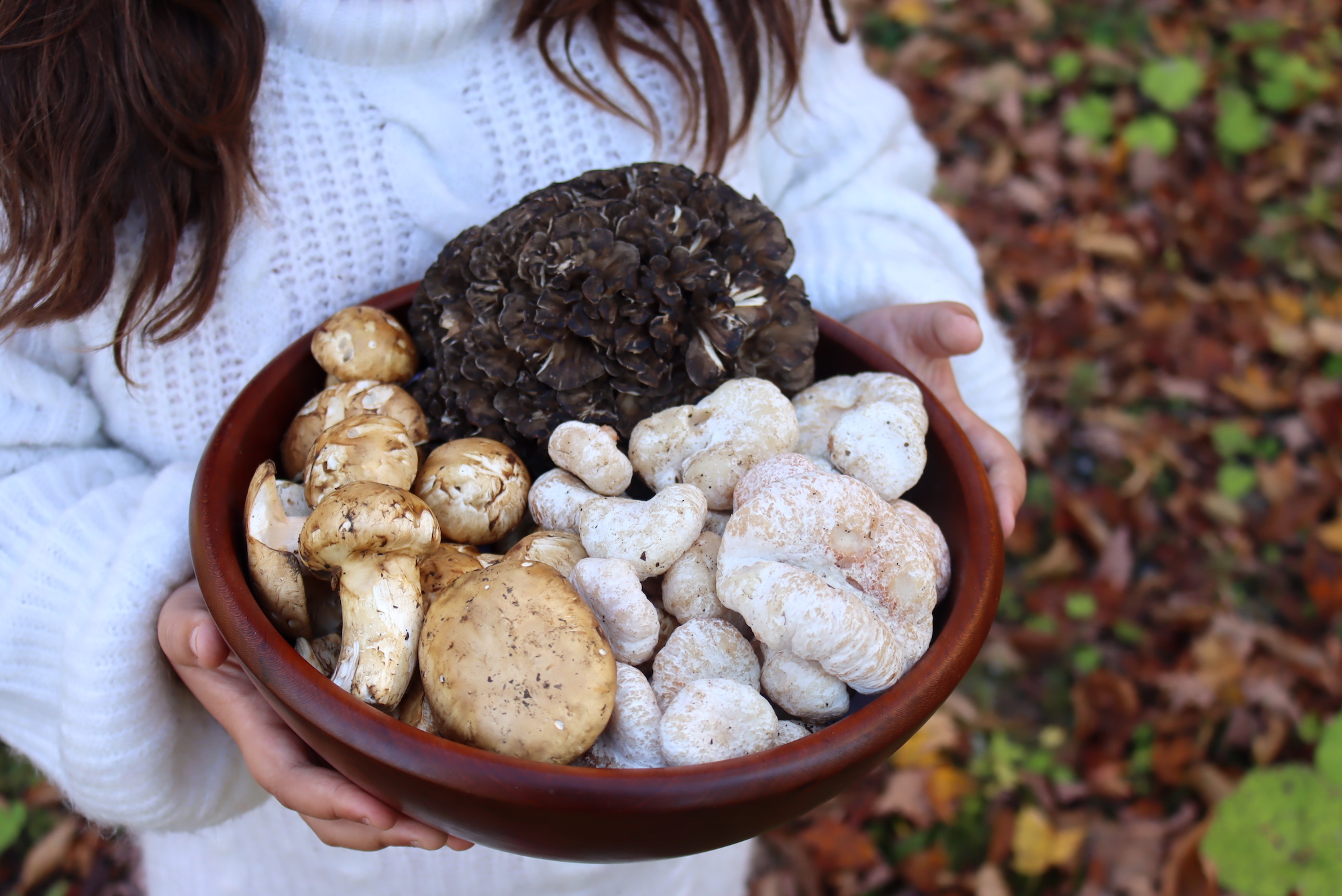 Choosing the Best Maitake Mushrooms
Maitake mushrooms, scientifically known as Grifola frondosa, tend to fruit in the autumn, clustering at the base of oak trees and stumps, although they have been known to also frequent the floors of maples and chestnuts. They are common in hardwood forests with mature trees and can be found frequently in moist woodlands.
Once you find a good spot for maitake mushrooms, you can return to it year after year as this mushroom is a reliable one, reemerging in the same location every fall.
Maitake mushrooms grow in single circular clusters that can be quite large, weighing anywhere from 5 to 10 pounds and as much as 50 pounds. The caps of the clusters are spoon-shaped and grayish brown on top. The underside is white, with a single branching off-white base.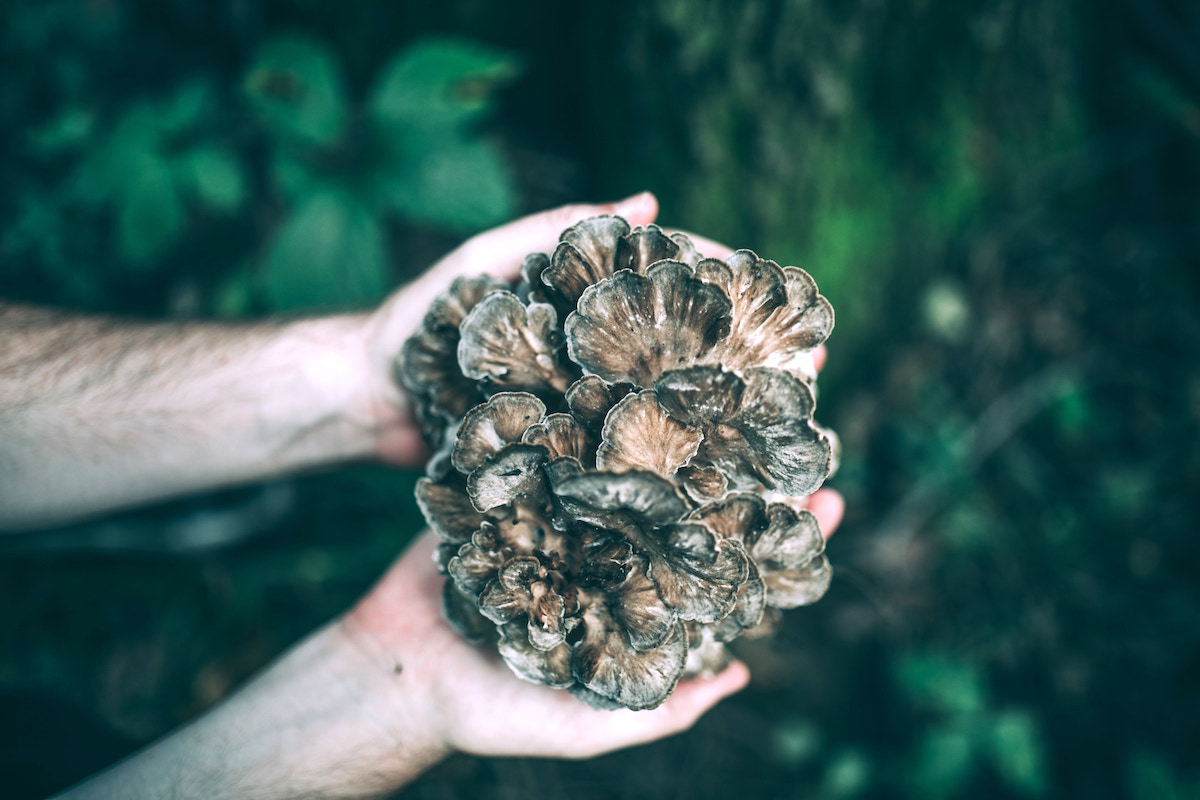 Peak picking season is from late September to October.
When harvesting maitake mushrooms, look for mushrooms that are at the right stage of development. You don't want to select mushrooms that are either too young or too old. Older mushrooms will be hard and tough, tiny mushrooms have room left to grow. Look for mushrooms that have opened up with soft, tender and spongy flesh.
To pick maitake mushrooms, grab the base of the mushroom and pull the entire cluster up at once. Try to remove as much dirt as possible by trimming the stem before placing it in a breathable bag or basket. Once home, you can perform the deep cleaning.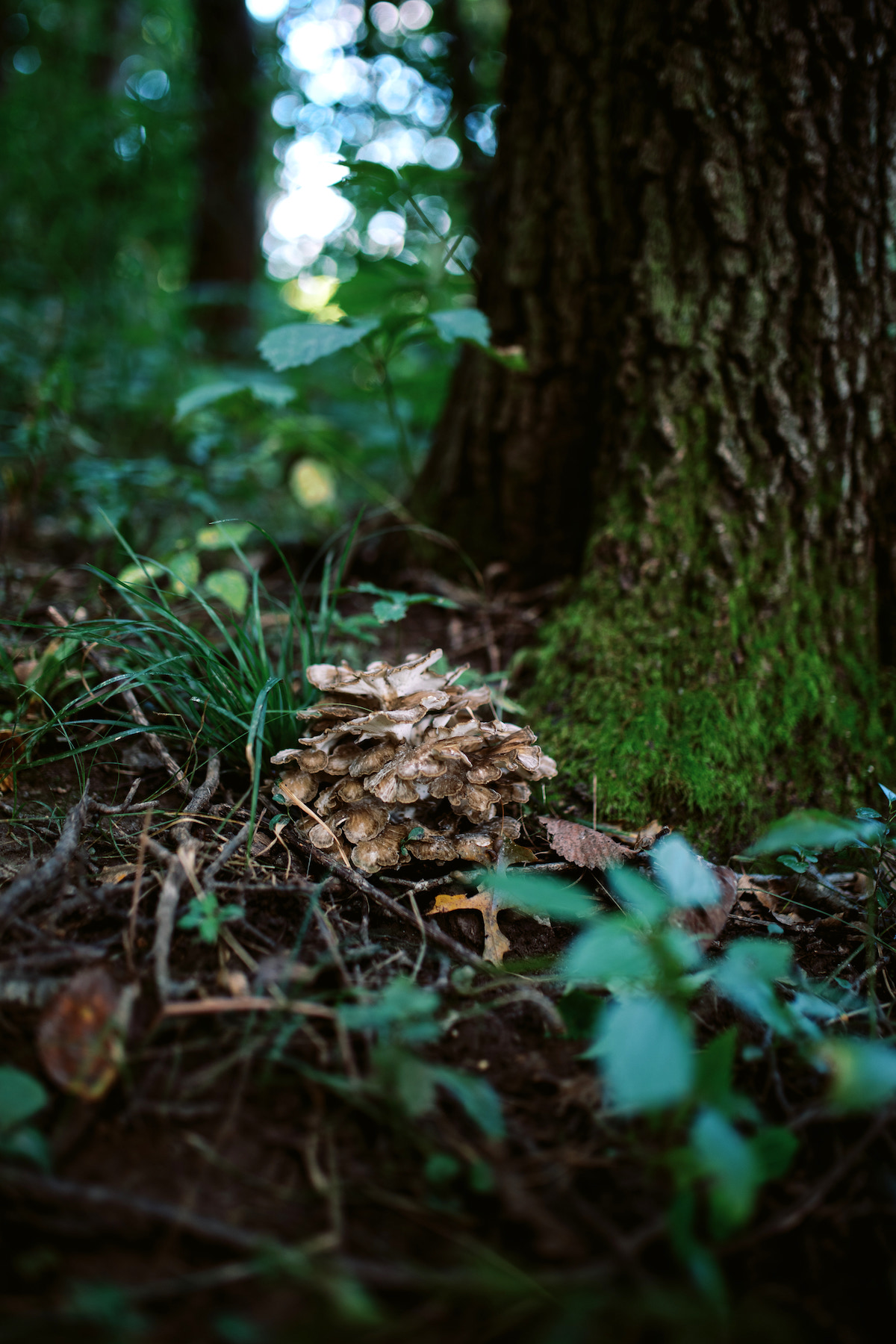 Maitake Mushroom Recipes
To prepare your mushrooms for cooking, break apart the cluster and separate the mushrooms into sections. Leaves, debris, and a few insects may pop out. Remove these along with any discolored portions of your mushrooms and cut them into smaller pieces.
These smaller pieces can be easily washed in a bowl of cool water and placed on some paper towels to dry. Once fully dry, store them in the fridge – many recommend storing them in a plastic bag along with a fresh paper towel to absorb any excess moisture.
When refrigerated, these mushrooms should keep for around a week.
The taste of maitake mushrooms is often described as savory, meaty and chewy. They can be incorporated into hearty stews and soups, rich salads and side dishes, or anchor a main course all on their own.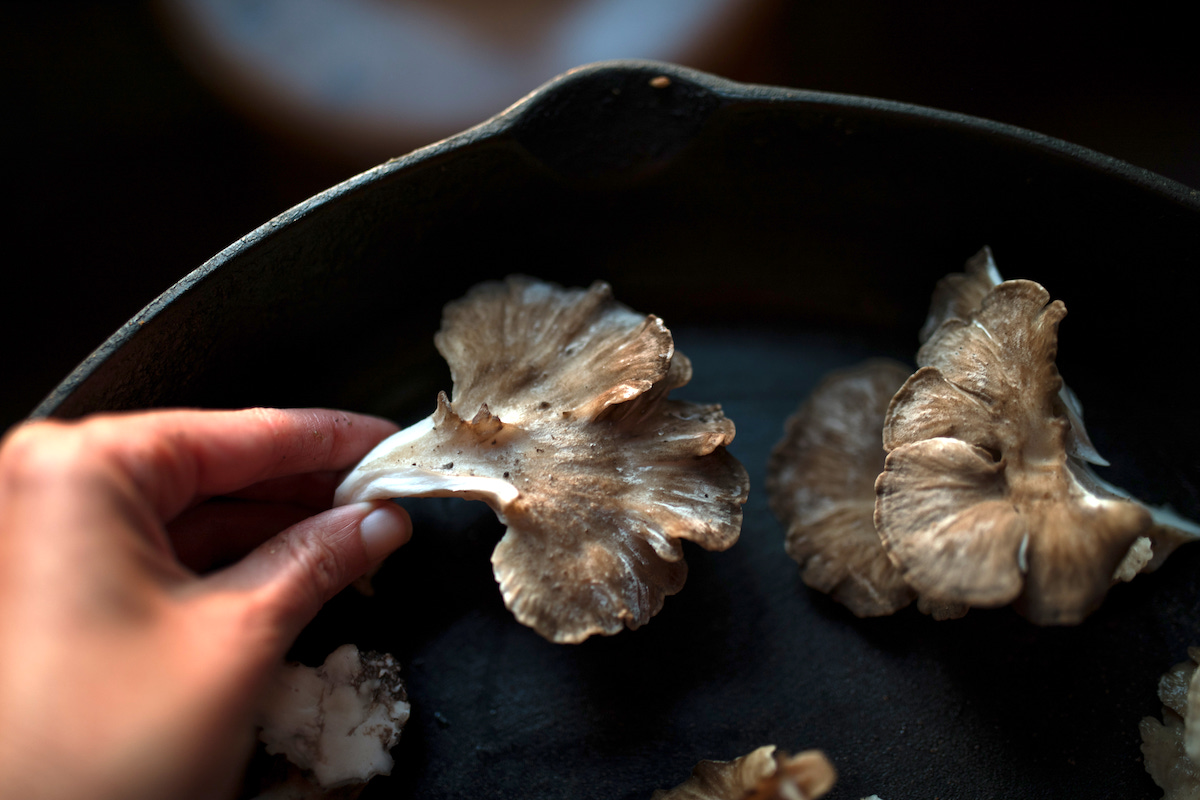 Maitake Mushroom Salad Recipes
Cooked maitake mushrooms can accompany a variety of salads, be it a wild rice salad, or simple arugula. Try a wilted spinach salad with maitake mushrooms and warm bacon vinaigrette or go with kale and ramen mixed with crispy mushrooms in a lemony yogurt dressing.
Roasted maitake mushrooms turn crispy and take on a bacon-like texture – use them to top simple lettuce salads, wedge salads or even crostini and parmesan. Add these mushrooms to a frisée and corn salad, or a gorgeous harvest salad of cucumbers, tomatoes, stone fruits and edible flowers for a meal as pretty as it is delicious.
Maitake Mushroom Soup Recipes
Maitake mushrooms add a lovely flavor and texture to soups and stews as well. Make a maitake mushroom stock for use as a broth base for soups and stews with older tougher mushrooms or grab some fresh maitake for making a variety of crowd-pleasing soups. Cream of mushroom soup with maitake mushrooms, potatoes, carrots and onion is a pleasant treat. A creamy balsamic soup is another choice made with vegan soy milk, balsamic vinegar and wild rice and quinoa mix.
Add maitake mushrooms to a mixed mushroom soup of shiitake, cremini and other assorted mushrooms, or try out a Thai-style soup based on tom kha gai (Thai coconut chicken soup). Both savory and semi-sweet, this appetizing soup features the flavors of lime, coconut milk and lemongrass along with chicken and maitake mushrooms. For even more ideas, consider adding maitake mushrooms to vegan stews or making miso soup.
Maitake Mushroom Breakfast Recipes
In search of filling breakfast fare to slip some maitake mushroom into? Consider maitake mushroom toast built from cream cheese slathered whole wheat bread and topped with maitake mushrooms sauteed in olive oil, balsamic, garlic, lemon pepper and rosemary. Maitake mushroom breakfast wraps are another option, stuffed with salad leaves, scrambled eggs, sauteed mushrooms and sliced cherry tomatoes.
For more eggy delights, sample a maitake mushroom frittata embellished with goat cheese and thyme. For even more options, try baked eggs with prosciutto and cheese or simple fried eggs with cooked kale and maitake. You can easily add maitake mushrooms to an omelet with garlic and chives for yet another savory, cheesy morning delight.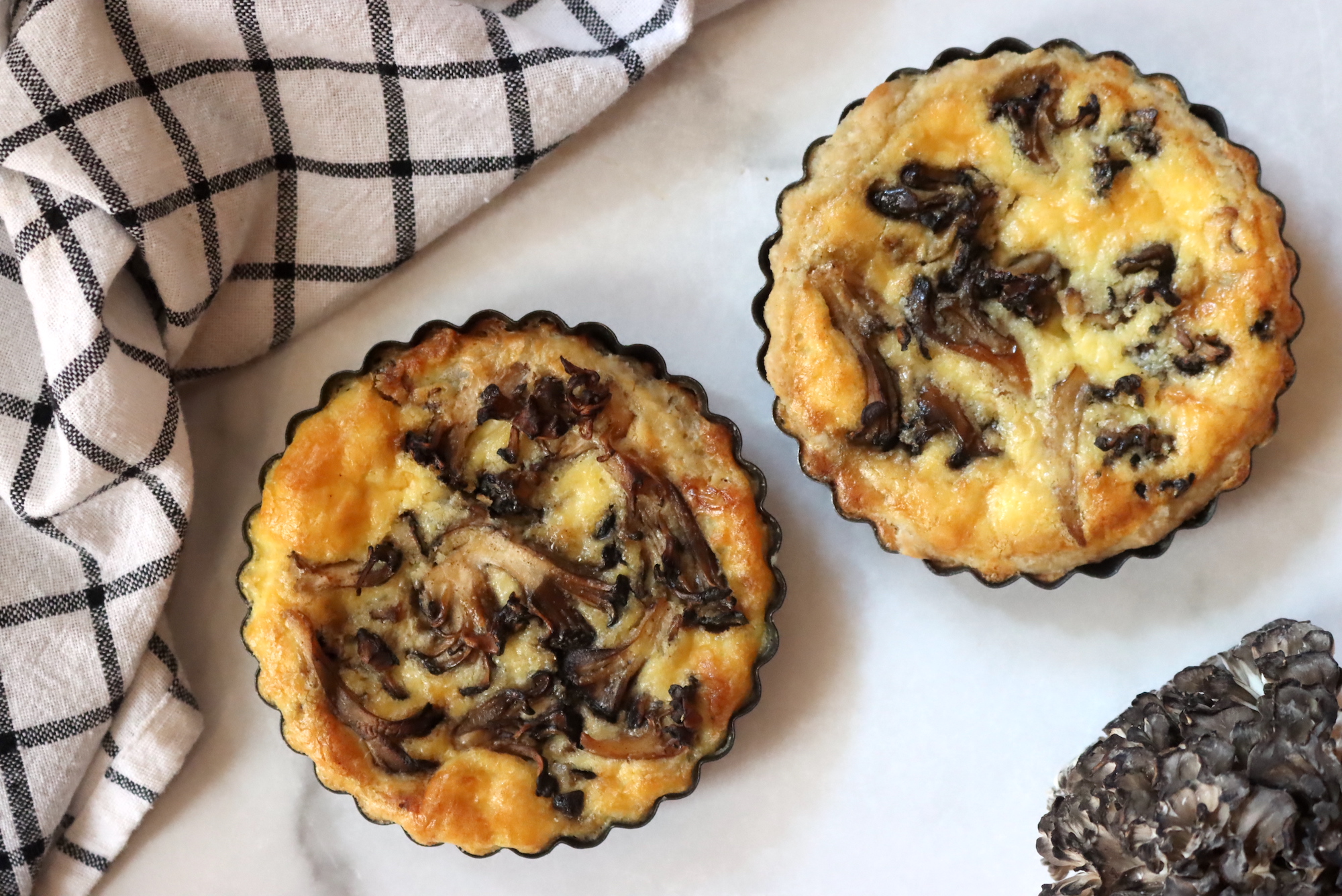 Maitake Mushroom Savory Main Courses
Maitake mushrooms are flavorful enough to comprise a main course in several instances. You'll also find them used as an accompaniment to larger dishes. Maitake mushrooms can be used alongside chicken dishes like chicken marsala and parmesan chicken or used in place of the protein itself such as in this mushroom parmigiano-reggiano, faux chicken piccata or coconut "chicken" burger made with maitake fried in a seasoned chickpea and rice flour coating.
A multitude of meat-free recipes can be made from maitake mushrooms including vegan tacos, Filipino-inspired chicken adobo, barbecued ribs-style maitake or seared maitake "steaks" and "roasts." For dinner recipes including more protein, try blending maitake mushrooms into stir-fried beef, salmon dishes or pan-seared steaks.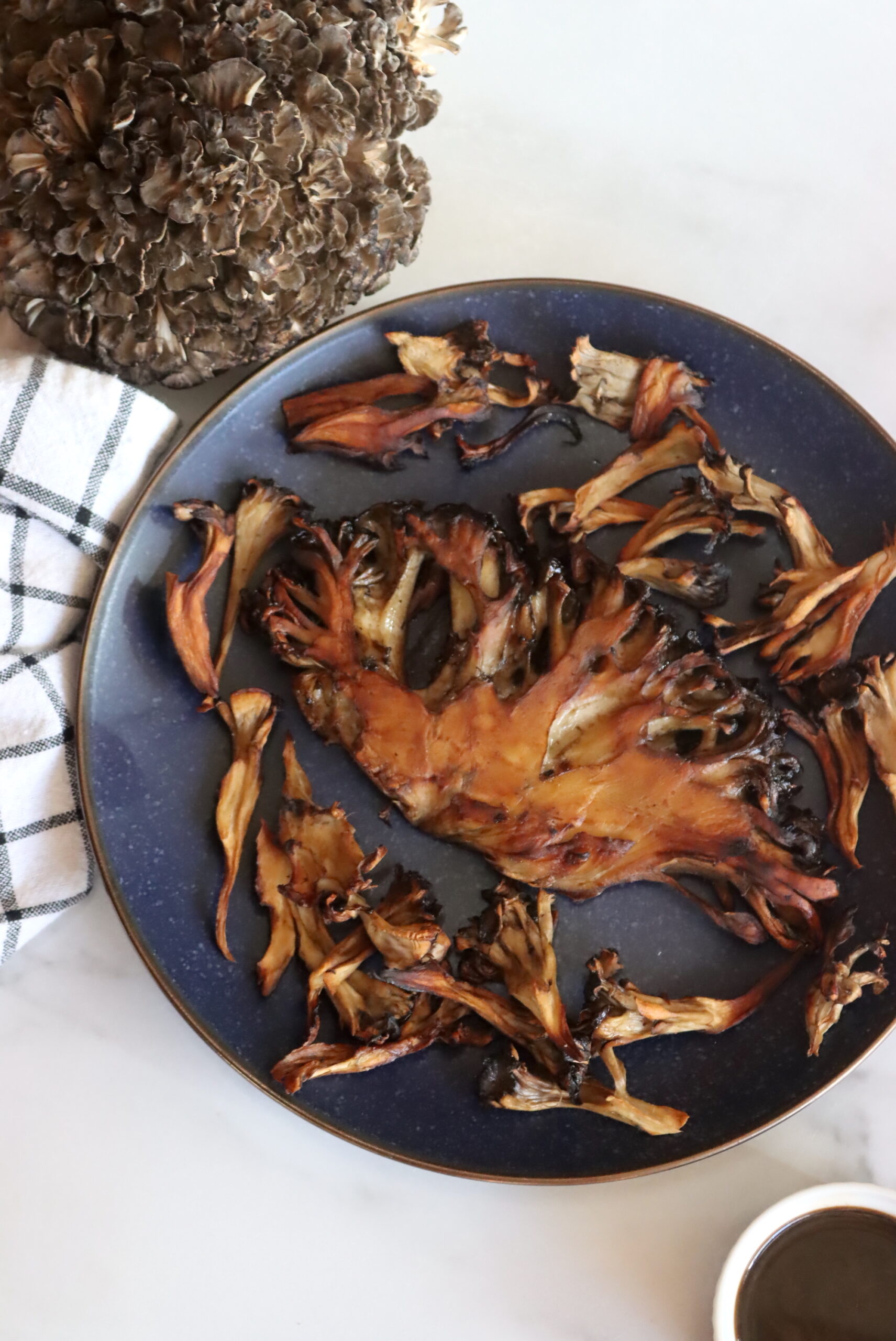 Maitake Mushroom Pasta Recipes
Pasta dishes are another spectacular opportunity to make use of maitake mushrooms, whether you be working mushrooms into a marinara-based dish or creamy sauce. A maitake mushroom sauce can be made with butter, garlic, white wine and olive oil to toss your favorite pasta in. Try adding fresh cooked maitake to pappardelle or penne – add red pepper flakes for some kick or keep it simple with diced parsley or chopped shallots.
For fancier fare, consider adding maitake mushrooms to ravioli recipes like this decadent egg yolk ravioli with fennel. Maitake also pairs with denser recipes like ragu with pork sausage and tomato sauce. Try pairing them with chicken and seafood as well. For vegetable-oriented pasta dishes, there's vegan stroganoff with pasta and creamy mushroom sauce or pesto and kale fettuccine.

Maitake Mushroom Snack Recipes
Look no further for scrumptious snacks including maitake mushrooms – the top contenders are listed below. Maitake mushrooms can be fried for a quick snack Kentucky chicken-style or made into fritters to be served with sour cream and chives.
Maitake mushrooms can also be blended into a smooth pâté for serving as a snack or appetizer. Simply serve with warmed French bread or crackers. For another quick bite, roast whole maitake mushroom seasoned with miso butter – the crispy results are tender and tasty.
Maitake mushrooms also make a great mushroom jerky. The recipe below includes white wine, leeks and curry powder for an exotic twist on this tried and true classic.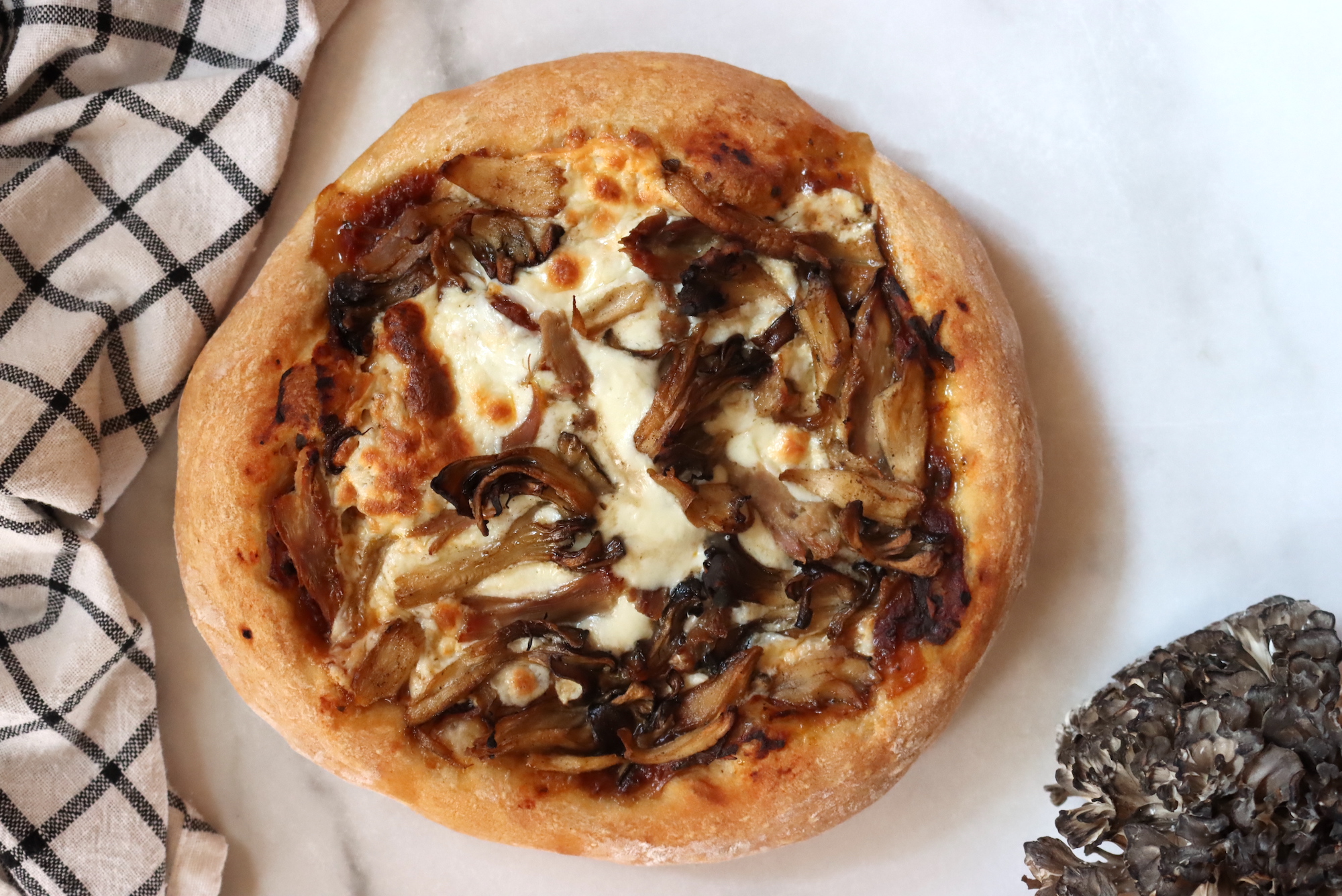 Maitake Mushroom Side Dishes
Maitake mushrooms are a prime ingredient for working into side dishes to complement larger meals. Maitake mushrooms with mascarpone can be served alongside crispy loaves and pasta dishes while maitake gratin is lovely paired with protein dishes like ham or turkey. Simple grilled, roasted and marinated maitake mushrooms are more options for pairable dishes.
Still in search of more maitake side dish ideas? Discover maitake mushroom risotto and gnocchi. For a show-stopping starter dish, try maitake mushrooms roasted with garlic, thyme and olive oil served over cauliflower puree and a poached egg. The recipe is simple but stunning.
Cultured & Fermented Maitake Mushrooms
A few recipes exist for fermenting maitake mushrooms. You can pickle maitake mushrooms by cooking mushrooms and adding them to pickling brine. Two recipes have been supplied below: one with roasted red peppers, onion and fresh chives among other ingredients and a second simpler recipe made from garlic cloves, a few herbs and white wine vinegar.
Pickled mushrooms can be eaten with simple cheese and crackers or used in this recipe for brussels sprouts and pickled mushrooms. Another option for fermenting maitake mushrooms includes making wild mushroom kimchi to serve with steamed rice or stews.
Preserving Maitake Mushrooms
Maitake mushrooms are a splendid sight to behold, but this plumage-like mushroom won't last long even when refrigerated. It seems a tragedy to waste such a lovely mushroom, doesn't it? Fortunately, there are a few means of preservation within reach.
Maitake mushrooms keep for about a week refrigerated. After this point, you'll want to look into preserving these fleshy fungi. In addition to pickling maitake mushrooms and canning them, you can also boil mushrooms and can them, dehydrate them or freeze them.
Frozen mushrooms will last up to six months. Dehydrated mushrooms will last even longer when properly stored. Several outlines on preserving and storing maitake mushrooms have been provided below.