Black walnut recipes can be hard to find in modern cookbooks, but they were once a staple of every homestead kitchen in the Northeast. Delicious, whether roasted or baked into pies, black walnuts are a scrumptious treat to dry and store for future recipes.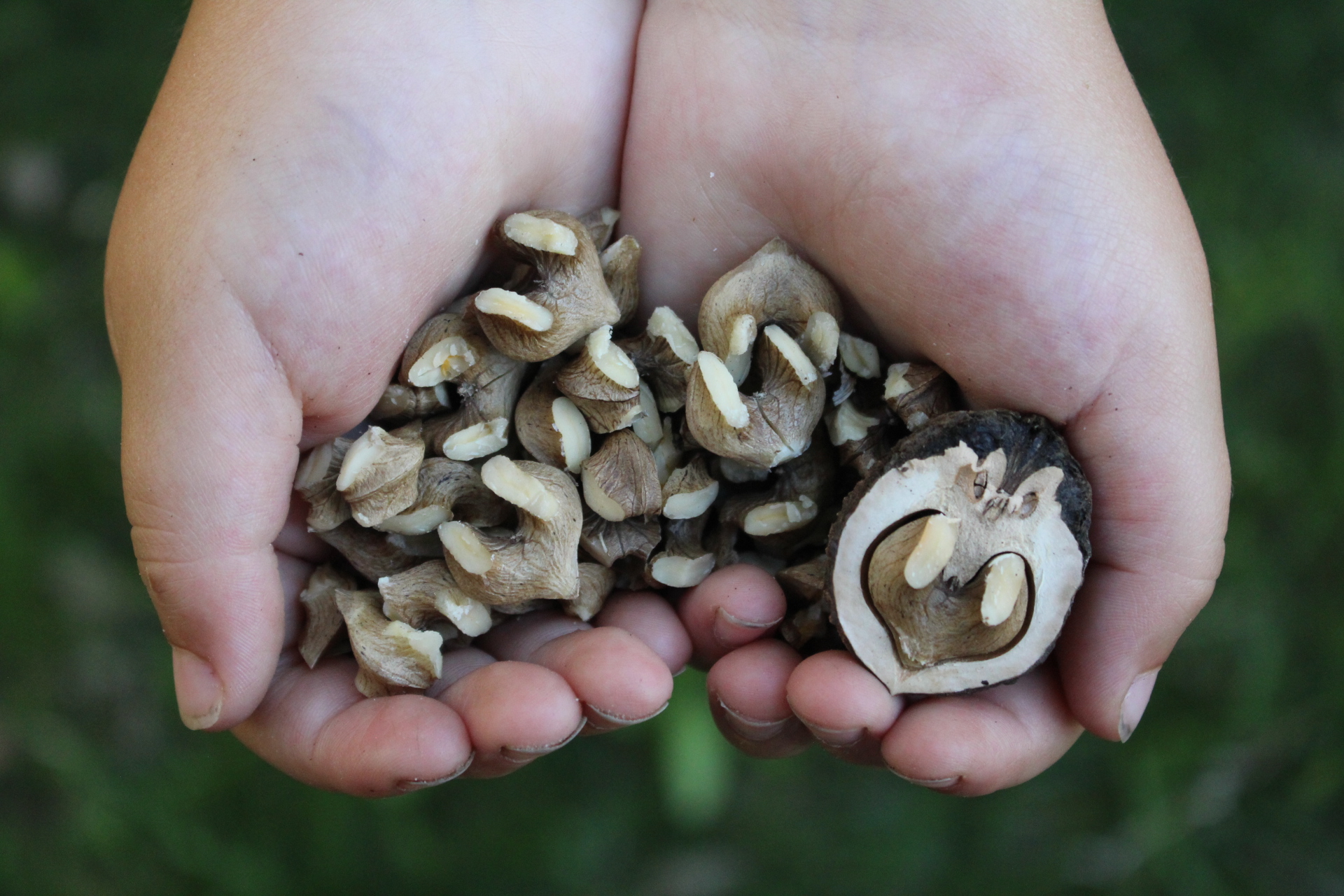 Black walnuts commonly grow in the wild in the Eastern US and Canada, the Central US, and even can be found as far south as Northern parts of Texas and Florida. They're different from their common cousin, the English Walnut, but can take on many of the same culinary uses.
You can forage and dry your own black walnuts, or purchase them online.
What Do Black Walnuts Taste Like?
Black walnuts are quite different from regular English walnuts (Juglans regia) which are mild and buttery. Black walnuts (Juglans nigra) are wilder and slightly bitter, some even find the flavor grassy or floral.
Some find black walnuts to be overly bitter, and choose to opt for the more easygoing English walnut instead, but for those who appreciate the wild and earthy flavor of black walnut, there are a multitude of uses.
Where to Get Black Walnuts
If you find yourself in the right part of the country, you may be able to forage your own black walnuts or pick some up from a specialty food store.
For those outside of the black walnuts normal range, there are several sources online to purchase black walnuts from including Amazon, online nut suppliers, or directly from nut farms. Hammons Black Walnuts is a good source, sourcing local walnuts in Missouri since 1946.
Husking Black Walnuts
If foraging your own black walnuts, you'll want to remove the husk as soon as you pick them. Leaving the husk on can lead to bitter flavors leaching into the nut. Luckily, the husks are quite easy to peel off, peeling off in a similar manner to a citrus peel.
Be sure to wear gloves for this part, the husks of black walnuts will stain your hands.
You can, however, save these husks if you wish to make them into black walnut ink or a natural dye. These husks can also be used for health remedies including a salve for various skin woes or a tincture to treat parasites or be used as topical anti-bacterial.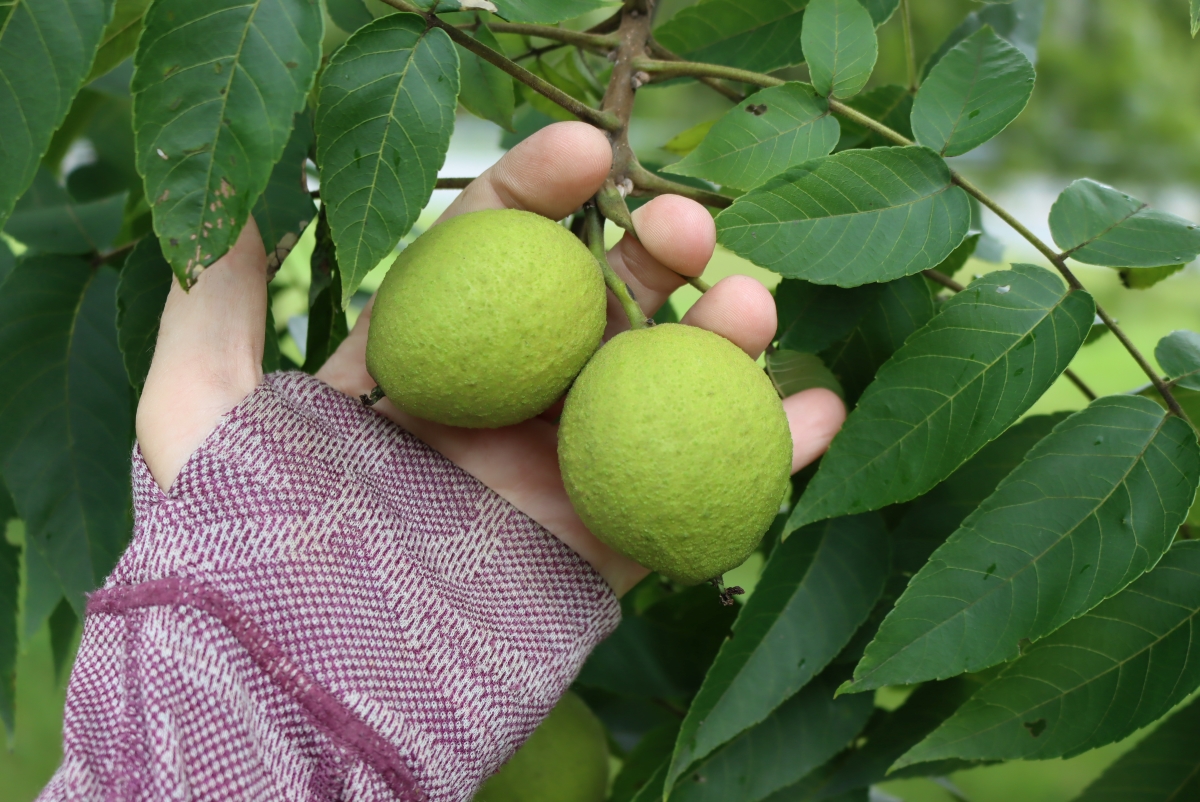 Cracking Black Walnuts
You may have heard from various sources that cracking black walnuts is impossible – it's not. It's actually quite simple if you know the best method.
As outlined in this detailed guide on cracking black walnuts, you simply need to allow the walnuts to dry first. They will develop a crack on their own once dry, and all you have to do is slip a pin, knife tip, or flathead screwdriver into this crack and easily pry the halves apart, leaving the nut meat intact.
Extra stubborn nuts can be cracked with the help of a simple lever cracker, which can also come in handy in cracking butternuts, which are quite a bit testier to crack than black walnuts.

Black Walnut Recipes
Black walnuts are similar to regular English walnuts but have a less mild, more robust flavor. This earthier, stronger flavor is wonderful paired with creamy and buttery flavors or combined with other earthy foods like mushrooms.
Black Walnut Extracts
A black walnut extract can be made to imbue the flavors of black walnut into baked goods or be added to drinks and cocktails.
This involves roasting shelled walnuts and jarring with vodka and bourbon to extract the flavors for a few months. After straining the liquid, you'll find yourself with a concentrated extract to be used in multiple culinary uses. Try substituting black walnut extract for vanilla extract in recipes for an extra nutty flavor.
Simple Black Walnut Recipes
Looking for quick and easy recipes with black walnuts? Try toasting, roasting, and candying black walnuts for a nutty snack.
Black walnuts can also be incorporated into salads with beets, veggies, and wild greens. Even a fruit salad can benefit from the nutty flavors of black walnut.
Interested in making a sauce or dip for chips or bread? Try a black walnut pesto or black walnut butter to enjoy these robust flavors with milder snacks like bread and toast.
Salads
Sauces & Pestos
Black Walnut Desserts
Black walnuts are absolutely wonderful in a whole medley of desserts. There is, of course, traditional black walnut pie, but these nuts also can be implemented in cakes and cookies. Black walnut pairs incredibly well with maple, chocolate, and even caramel.
Try pairing walnuts with vanilla, cream and bananas for an incredible flavor combination. Black walnuts can even be added to delicious French-style churned ice cream with the addition of cinnamon, maple, and brown sugar.
Black Walnut Main Courses
Black walnuts make a tasty addition to a ton of meals, be they a lunchtime burrito bowl or mixed into wild rice to be served with dinner.
Black walnuts also pair amazingly well with mushrooms. The earthy flavors blend well and are a big hit with vegans and vegetarians. Try roasting savory mushrooms or blending with them for a rich paté to serve with crackers and crostini.
Black Walnut Quick Breads and Muffins
Many delightful quick bread and muffin recipes include black walnuts. Try blending this robust but with notes of cinnamon in coffee cake, a delicious treat for breakfast or a late-evening snack.
Add black walnuts to banana bread, pumpkin bread, or even savory cheddar bread. These nuts pair tremendously well with all these flavors.
You can even use black walnut bitters along with chopped walnuts to make extra-nutty muffins. Pair with espresso, cranberry, or lemon for sensational flavors.
Black Walnut Drink Recipes
Black walnuts add interesting and complex flavors to drinks, especially cocktails. Add to nutty manhattans or complex old fashioneds.
Start by making black walnut bitters to add to whiskey cocktails, or make a liqueur to add to hot chocolate for a warm treat on cool winter nights. Be sure to try Nocino, a walnut liquor. The Nocino can be used as a digestif, added to sparkling water for a nutty spritzer as well as coffee-flavored cocktails.
Drinks:
Cultured & Fermented Black Walnut Recipes
Here are two recipes made with unripe black walnuts – one for molasses and one for pickled walnuts. The molasses is like a thick syrup, wonderful for drizzling on pancakes or yogurt or soft cheeses. Relatively unknown outside of England, pickled walnuts can be paired with meats and cheeses for a savory snack.
Preserving Black Walnuts
Preserving black walnuts by drying and curing them is the best way to store a large quantity. Although if they've already been shelled, you can freeze black walnuts to prevent them from going rancid. Some guides and tips are provided below.
A jam or preserves can also be made using whole unripe black walnuts as well. Be warned – it is quite sweet. Forager Chef recommends they be served alongside a plate of sweets commonly served after dinner, known as a mignardise.