Bee Balm recipes make the most of this striking edible flower, and take the unique flavor in both savory and sweet directions. Various Monarda species are used all over the world, both for their spicy flowers and oregano-like leaves.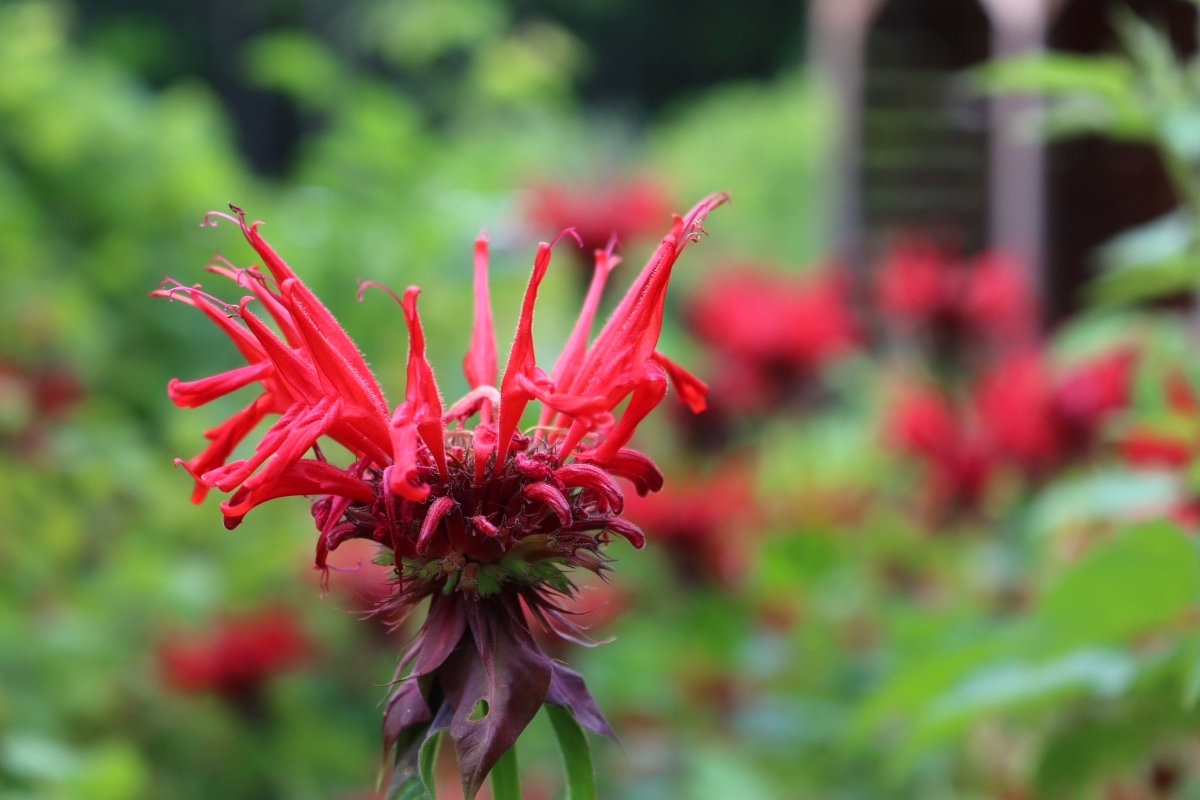 Part of the mint family, bee balm is a fragrant flower popularly used in teas, tinctures, and other means of cooking.
Bee balm is a common herb found in many gardens around the world. This abundant plant can grow up to 4 feet tall, sporting clusters of flowers in purple, pink, white and scarlet, depending on the variety.
This native North American wildflower is a wonderful addition to gardens due to its ease of growing, lengthy bloom season and ability to entice pollinators and hummingbirds. Aside from these benefits, the plant offers many merits in terms of culinary and domestic use. It has been used for years in homeopathic use as bee balm is believed to help with digestion, coughs, sore throats, colds and flu.
Colloquially, bee balm is referred to by many names including wild bergamot, horsemint, and oswego tea.
Choosing the Best Bee Balm
Related to the mint family, this pretty plant can take over gardens if left unattended. This perennial blooms in mid to late summer, with blossoms lasting into autumn.
One popular variety of bee balm is Monarda didyma which displays bright, red flowers. Also known as scarlet bee balm, the flowers of this particular variety are noted by some to be mixed with hints of ripe fruit and berries amongst its thyme-oregano flavor. This variety is ideal for making teas.
Other popular varieties include Monarda fistulosa which produces lavender-pink flowers and Monarda puntata, also known as spotted bee balm.
Both the flowers and leaves of the bee balm plant are edible, but be sure to only pick from plants that are organic and pesticide-free. When eating raw, be sure to give your bee balm a gentle wash right before using.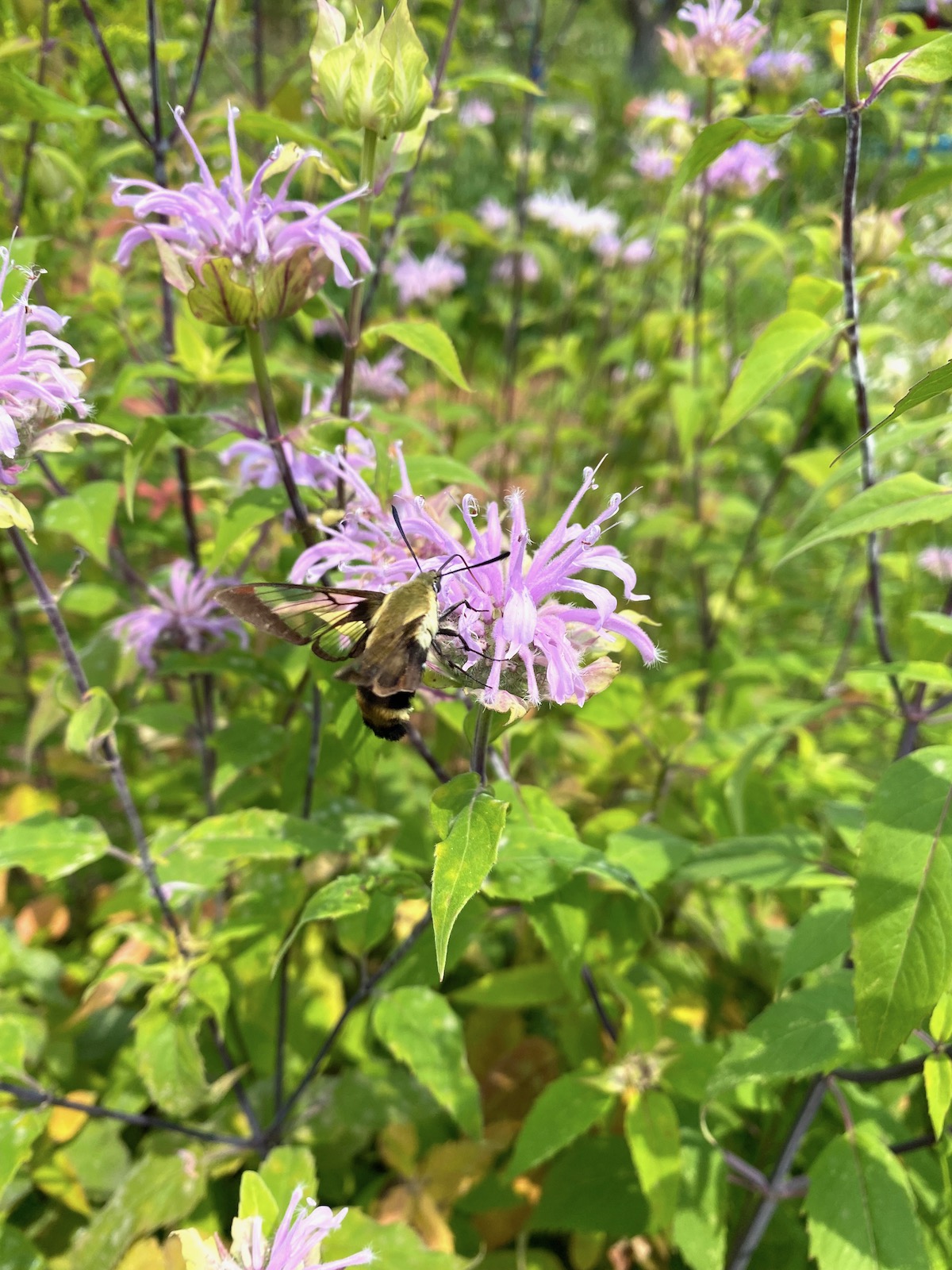 Bee Balm Recipes
Using fresh bee balm will produce a stronger flavor than dried. The flavor of bee balm is reminiscent of thyme and oregano. It can be substituted in many culinary recipes in place of oregano in addition to other dishes.
Fresh Bee Balm Recipes
Bee balm blossoms make a lovely edible salad topper. Sprinkle some fresh petals over salad greens and mint leaves and combine with the flavors of watermelon and feta for a refreshing summer snack. Bee balm can also be added to fruit salads. Add leaves or blossoms to these colorful salads with summer melons and berries.
A wildflower bee balm dressing can be made from bee balm flowers, olive oil, white vinegar, lemon and honey. Drizzle over fresh garden greens topped with your favorite protein. Fresh bee balm petals can also be used to make bee balm bread. You can even use bee balm to make an herbal blossom butter. Combine with your other favorite herbs and blooms like rosemary flowers or nasturtium petals. Spread over biscuits or add to angel hair pasta for a larger meal.
Bee Balm Breakfast Recipes
For breakfast, try adding diced bee balm leaves to biscuit dough. Savor with butter or add a little honey and preserves for a fresh-baked breakfast.
For something on the sweeter side, try a bee balm syrup to cascade over breakfast delights like pancakes or yogurt. Only four ingredients are needed: bee balm, sugar, lemon juice and water. Try bee balm infused honey on morning nosh like toast and oatmeal or simply add to teas for healthy, herbal goodness.
Bee Balm Savory Main Courses
For some savory fare, try mixing bee balm with your favorite proteins when cooking or marinating. Both fresh and dried bee balm petals can be used in this recipe for pork and grilled peaches. Sauces can be made from this fragrant flower as well. Use bee balm leaves in place of oregano to make a light salmoriglio sauce for pairing with grilled fish and other proteins.
A chimichurri sauce with lemon basil and bee balm is another option – use to top pasta salads, serve with steak or toss with roasted veggies for a tasty side dish. Tomato and pizza sauces can also be made with bee balm leaves. Pair with some bee balm brioche or Italian sausage for a filling Italian meal. Got spare time? Add some dried bee balm to your next homemade sausage recipe for an extra herbal kick.
Bee Balm Drink Recipes
Bee balm can be added to drinks through a variety of means. The easiest is to make a bee balm syrup to add to drinks like cocktails or to sweeten teas. You can also use fresh or dried bee balm to make a refreshing iced tea. This soothing infusion is believed to help with digestion and quiet nerves. Hot teas can be made as well with fresh bee balm blossoms.
A beautiful bee balm wildflower lemonade is another spectacularly refreshing option. Mix with lemon juice, hibiscus and lemon verbena for a reinvigorating sipper. Infused water with watermelon, bee balm and mint will also keep you refreshed.
And for the adults, try adding bee balm syrup in place of elderflower syrup in this Italian Hugo cocktail with sparkling water, prosecco and lime. Bee balm leaves can also be muddled in cocktails like mojitos.
Bee Balm Snack Recipes
For some snackable options, consider adding bee balm flowers or leaves with some orange zest to cookies for an unusual bite. Healthy snacks include beet crostini topped with an edible flower mix including bee balm, calendula, chive blossoms and more. These floral garnishes add flair and flavor.
For something savory and snackable, try oven-dried tomatoes with wild herbs. Bee balm and ramp leaves are a recommended combination, but thyme, basil, mint and oregano can be added as well. These tomatoes can then be added to salads, pastas or soups.
For a cooler snack, add bee balm and spearmint to popsicles for extra chilled refreshment on those sizzling summer days. Raw honey helps sweeten the deal for this nourishing and soothing snack.
Bee Balm Dessert Recipes
Ever tried blondies? They're really just brownies without chocolate. Bee balm works wonderfully in this apricot blondie recipe. Vanilla extract and dried apricots make it a unique sweet treat. Bee balm can also be paired with custard, frozen yogurt and buckwheat.
Bee balm madeleines are yet another treasured dessert – be sure to dust with powdered sugar to get the full effect. You can even implement bee balm petals in a dried flower topping for desserts like brownies. Dried rose petals, bee balm, borage flowers and chamomile are a gorgeous mix.
Cultured & Fermented Bee Balm
Bee balm can be incorporated into a wildflower kombucha along with other fruits, flowers, herbs and spices. You'll need to make a simple syrup from the bee balm and other wildflowers that will be used in the secondary ferment. You can also ferment bee balm and other herbs and flowers in brine or use them in a fermented herb paste.
If you're feeling adventurous, add a little bee balm to your next wine or mead recipe. Try substituting bee balm in place of lavender in this lavender mead recipe or in place of oregano in this oregano wine recipe. A recipe for bee balm metheglin (a variety of mead with spices and herbs) has also been provided below.
Preserving Bee Balm
Occasionally, you find yourself with a bounty of flowers and although they are gorgeous to behold, you don't want to leave them too long and risk them going to waste. In such cases, a good idea is to pick your bee balm and preserve it through various means towards the end of the season.
If wishing to store bee balm, your best bet is to dry it. This can be done both by hanging the herbs to dry or using an oven or a dehydrator. Some other options for using up bee balm include employing the leaves and flowers to make oxymel, tinctures or bee balm vinegar. Even a bee balm mouthwash can be made to use up a glut of bee balm.
Bee balm jelly is another option for extended storage. Combine with cranberry and apple for sweeter flavors or stick to classic flower jelly.
Bee Balm Jellies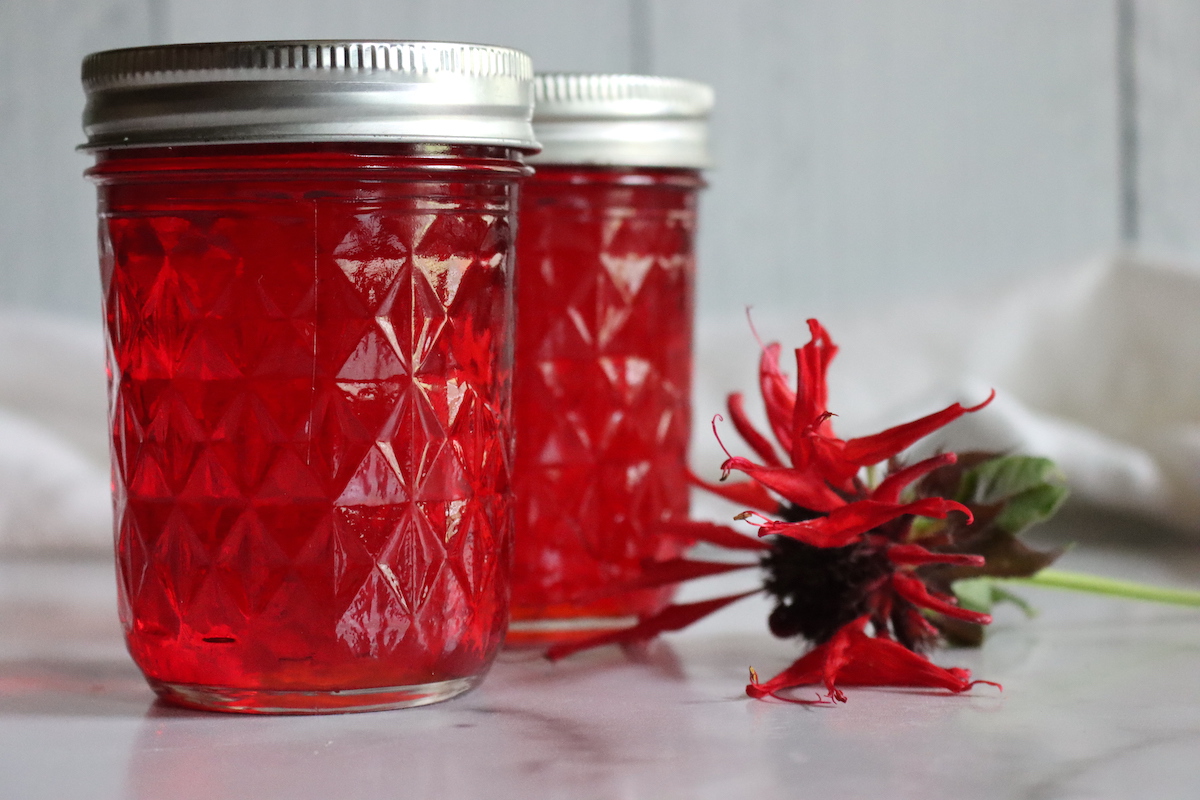 Edible Flower Recipes
Need a few more edible flower recipes?