Apple pie shortbread squares give you the incredible flavor of apple pie in an easy-to-make cookie bar. This apple pie bar recipe comes together in just a few minutes, and you can easily pick up a square for snacking at a potluck get-together (rather than bothering with a plate and fork, as you would with a traditional pie).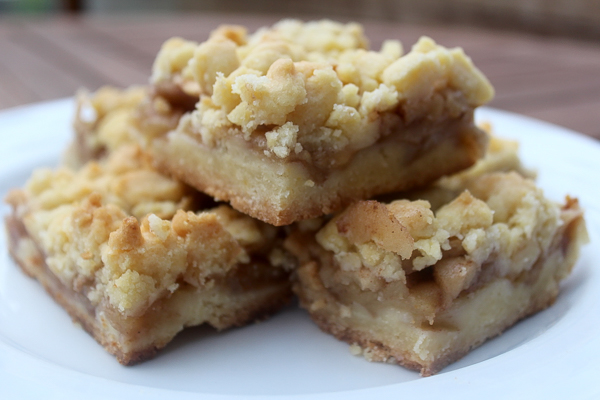 I'm a serious apple pie fiend. I've tried it every way you can imagine, even the unconventional. Give me your old-school lard crusts, and I love it.
Make it savory by adding in sage and brie and it'll be my dinner all week. When I came across a scrumptious summer recipe for blackcurrant shortbread squares, I decided to give it a fall dessert twist using fresh apples. Thus, apple pie shortbread squares were born!
This is a really easy apple square recipe because everything happens in one bowl.
The topping and base are the exact same thing, but the shortbread square base is pressed into the pan, while the topping is sprinkled on so that it forms crisp little bits with toasty brown edges on top. Just look at those tasty nooks and crannies…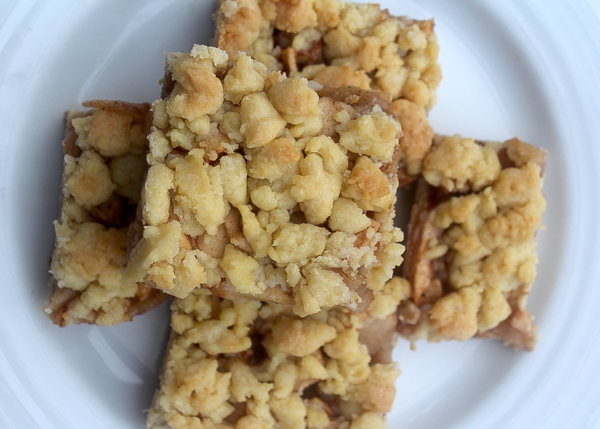 The apple pie filling has just enough spice to give it a bit of warmth, but the dominant flavors come from the apples.
Since these are typically made with jam rather than fresh fruit, the filling has a bit more sugar than I'd normally use for a pie, but that helps the sugars and juices caramelize together, and it complements the very lightly sweetened shortbread square base.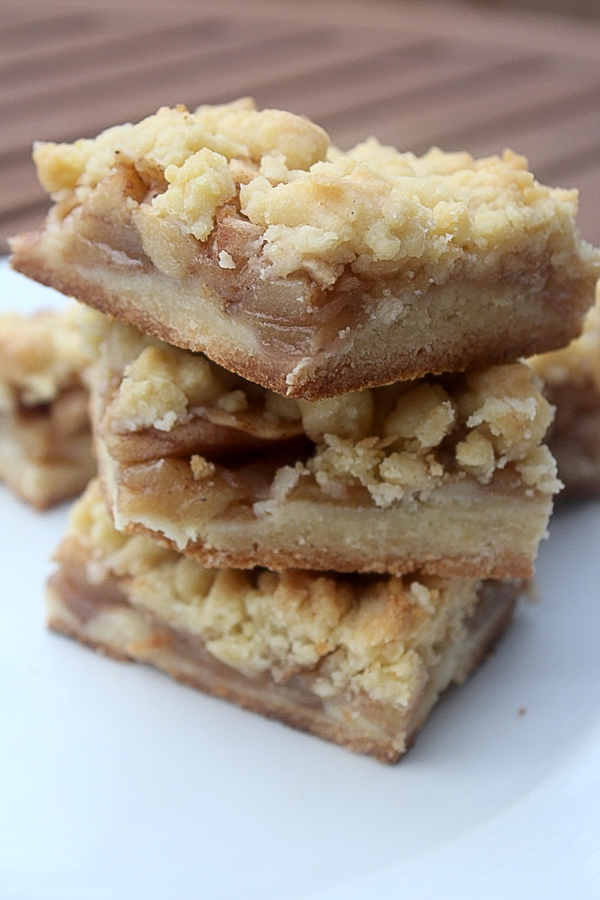 The original recipe had a lot of strange measurements, like one cup plus 3 tablespoons. It also had several different baking steps, where one part was baked at one temperature, then more assembly, then more baking. To heck with that.
No crazy measurements and everything gets stuffed into the pan in this easy apple bar recipe. There's no need to complicate things, and they come out perfectly.
Yield: Makes about 24 bars (One 9x13 inch pan)
Apple Pie Shortbread Bars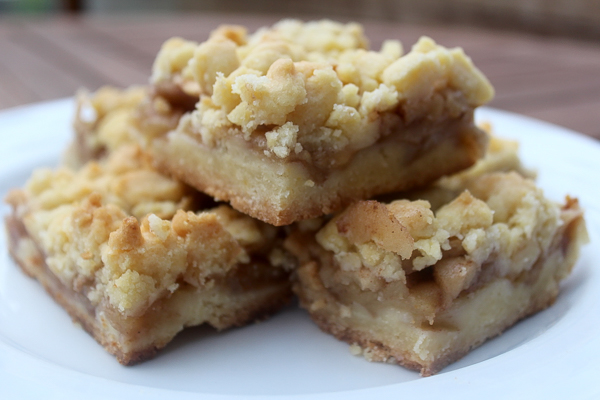 This quick and easy recipe for apple pie shortbread bars uses just one bowl for both the topping and the crust base.  Yum!

Prep Time 10 minutes

Cook Time 1 hour

Total Time 1 hour 10 minutes
Ingredients
Crust and Topping
1 1/4 cups butter, melted (2.5 sticks)
1 cup sugar
1 tsp salt
2 large egg yolks
3 cups flour
Apple Filling
4 cups Apple Slices (Thin Sliced & Peeled)
3/4 cup sugar
1/2 tsp cinnamon
1/4 tsp nutmeg
Instructions
In a large bowl, mix together melted butter, sugar, salt, and egg yolks until completely combined.
Add the flour and mix until just combined. Be careful not to over mix.
Measure out two cups of the shortbread dough and press it into the bottom of a 9x13 inch baking pan. The remaining crust mixture will be the topping, set it aside.
Slice and peel apples, making sure to slice them thinly for even cooking. Use a good baking apple for this, a variety that holds its shape and won't turn into a sauce.
Add the remaining apple filling ingredients (sugar and spices). Toss to coat the apples completely.
Spread the apple slices over the shortbread crust.
Using your hands, crumble the remaining shortbread crust into pea-sized pieces and top the apples with the crust crumbles.
Bake the apple pie squares at 350 degrees for 50 to 60 minutes, until the top is browned and the apple pie filling is bubbling.
Allow the bars to cool before cutting and serving.
Apple Recipes
Looking for more tasty ways to use apples?